Amsterdam, 27 October 2023 - This International Champagne Day, experts at Catawiki, the leading online marketplace for special objects, have revealed that champagne is on the rise, with sales increasing by almost 20% in 2023 and they are seeing a surge in demand for champagne at surprising times of the year.
The unmistakable sound of the pop of a champagne bottle is synonymous with joy and celebration, especially during the Christmas and holiday season. According to Catawiki data, not only is the popularity of champagne continuing to rise, but new trends show that the highest year on year increases happened in August (29%), June (22%) and September (20%), suggesting the consumption of champagne over the summer months is on the rise.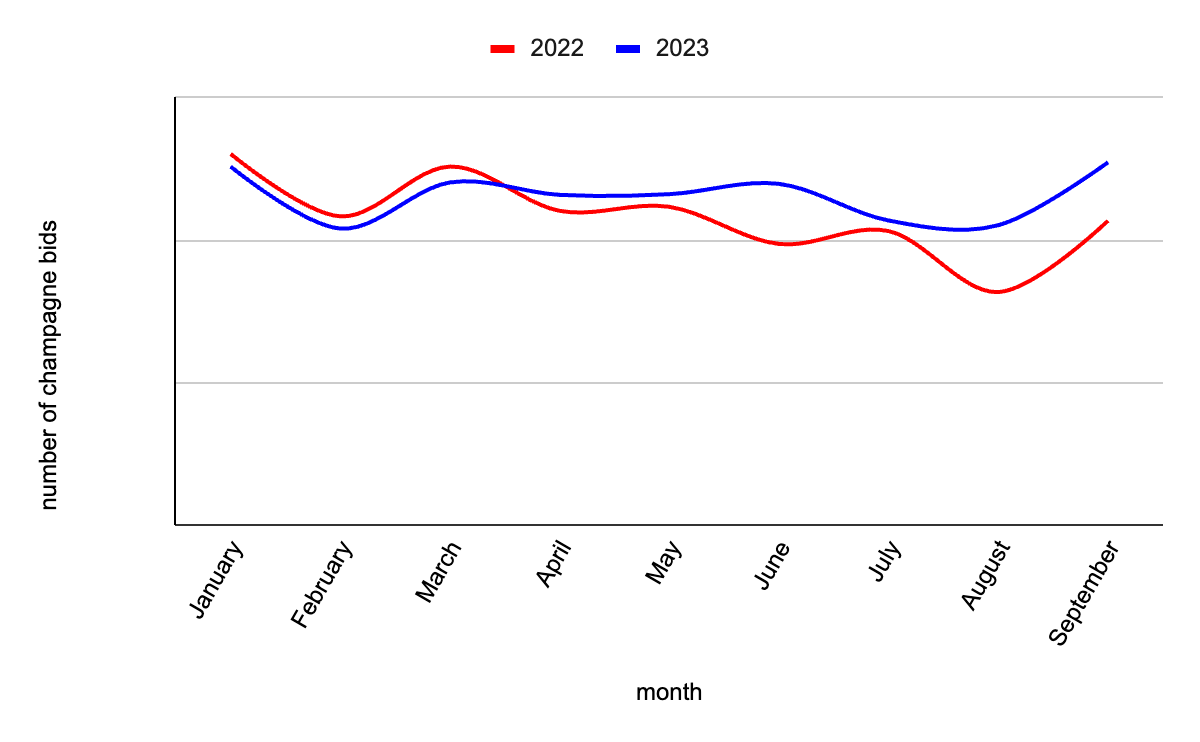 Similarly, while January 2022 proved to be the most popular time to bid on champagne (20th and 27th of January respectively), this year, the trend has shifted to warmer months, with 23 September and June 12 taking the top spots.
Vintage champagne has long been desirable, but Catawiki champagne expert Claire Sorine attributes the shift in the seasonality of buyers to the growing popularity of non-vintage champagne, made from a blend of grapes from harvests across different years versus one single year. "Vintage champagne brands have long been popular, but in recent years we've noticed that consumers are taking interest in non-vintage champagne to enjoy throughout the year for a multitude of occasions. Perhaps due to more accessible price points, but also the fact that special or vintage cuvées are becoming increasingly hard to source. This has led to aggressive demand for non-vintage producers which are typically smaller, family run wine growers."
Here are just few non-vintage producers that Sorine recommends:
Other interesting trends and tips to emerge from 2023 analysis include;
The average price of a bottle of champagne has risen 7% since 2022.

The most expensive bottle sold on the Catawiki this year was a 75cl 1975 Dom Perignon P3 Brut for 7,750 euros.

While it doesn't come as a surprise that the French are the biggest sellers of Champagne on Catawiki, data reveals that Italians have spent eight times more on champagne than the French this year.

The top five buyer countries so far in 2023 are; Italy, Netherlands, Sweden, Belgium and France.

Italians have spent 15% more on champagne in 2023 versus 2022, Dutch 45%, Belgium 44%, Germany 9%, Spain 33%, Portugal 8%.

Experts recommend keeping an eye on Dom Pérignon limited edition vintages because their exclusivity often makes them popular in auction, previous auctions have included, Dom Pérignon x Karl Lagerfeld, Dom Pérignon x Andy Warhol and Dom Pérignon x Lady Gaga.
ENDS
About Catawiki
Catawiki is the leading online marketplace for special objects that fulfil people's passions. Over 75,000 objects are offered in auction every week - each reviewed and selected by one of Catawiki's hundreds of in-house experts specialised in Art, Design, Jewellery, Fashion, Classic Cars, Collectables and much more. Catawiki is headquartered in Amsterdam with over 750 employees across the world. Fulfil your passion on catawiki.com or download the app.
To speak to a Catawiki champagne expert or for other press inquiries please contact:
Catawiki
JP Verhagen | j.p.verhagen@catawiki.nl | +31 642567225

Cat Parkinson | c.parkinson@catawiki.nl

ADDITIONAL INFO:
Dom Pérignon, a brand of vintage champagne named after a 17th century Benedictine monk and Champagne pioneer, has long dominated the rankings in terms of popularity. The most expensive bottle sold on the marketplace this year was a 75cl 1975 Dom Perignon P3 Brut for 7,750 euros, and the most popular lots ranked by the number of bids were: