They say money can't buy you love, but it can certainly buy you an assortment of amazing Beatles memorabilia! Do you have your own Beatles keepsakes or collectables? Discover if they can make you money here…
In collaboration with Jeroen Hamelink - Records / Vinyl expert at Catawiki

When four boys from England named Paul, John, George and Ringo got together in the early 60s, Beatlemania was born and the world was changed. Known as 'The Fab Four' The Beatles recorded 13 studio albums and starred in 5 feature films during their career. Their music and cultural impact is legendary across the world, so the right Beatles memorabilia at auction is guaranteed to turn heads.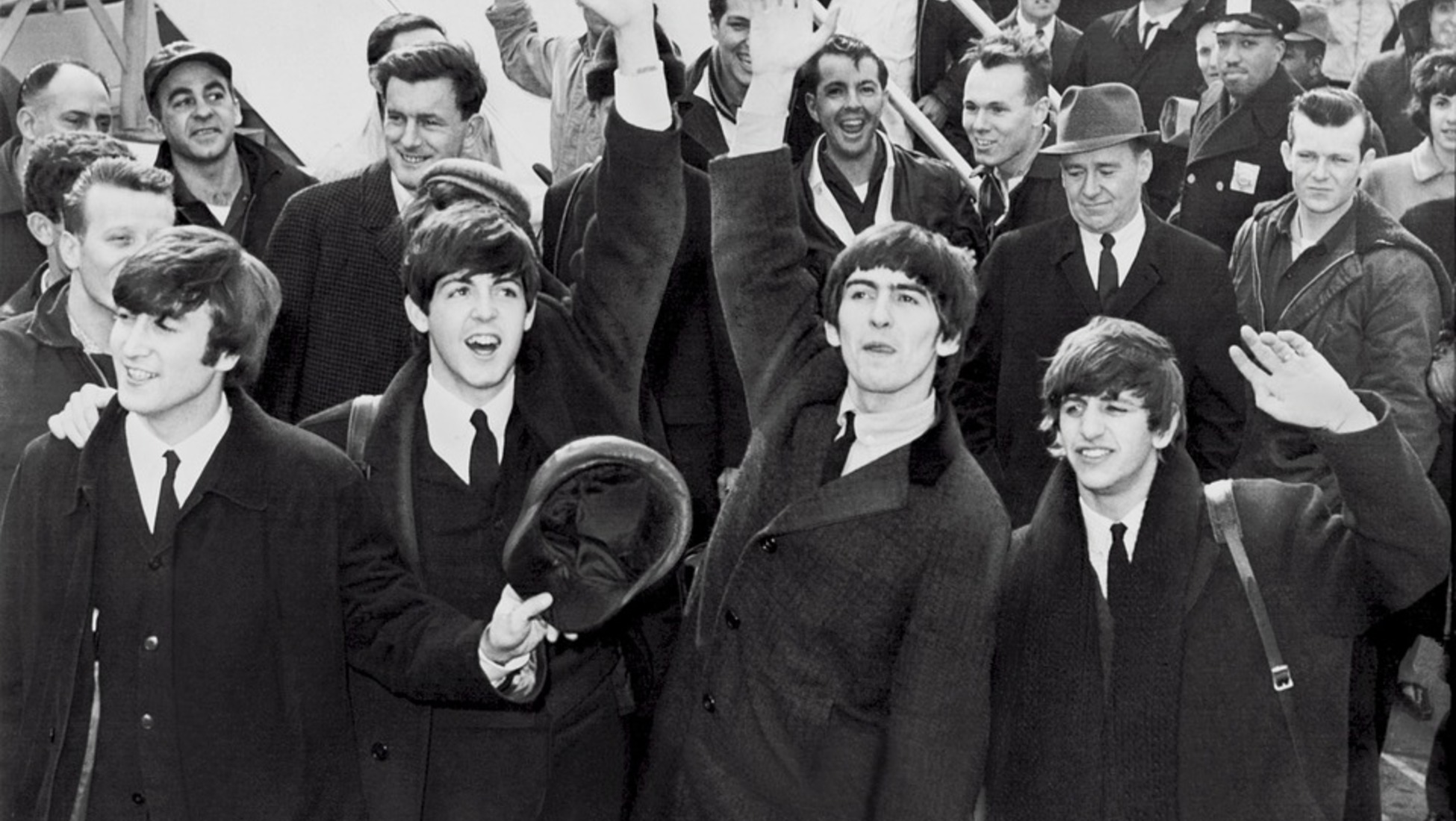 Most Expensive Beatles Memorabilia Sold on Catawiki
Every week, we auction the most coveted selection of Beatles collectables. Here are some of the most expensive items we've sold.
5. Four 1960s Psychedelic Posters of The Beatles - €440
While certainly not the highest priced memorabilia, we wanted to show you that it's not just Beatles records and signed objects which buyers will take an interest in at auction. These posters were exclusively issued by the VARA in 1964 and are extremely rare.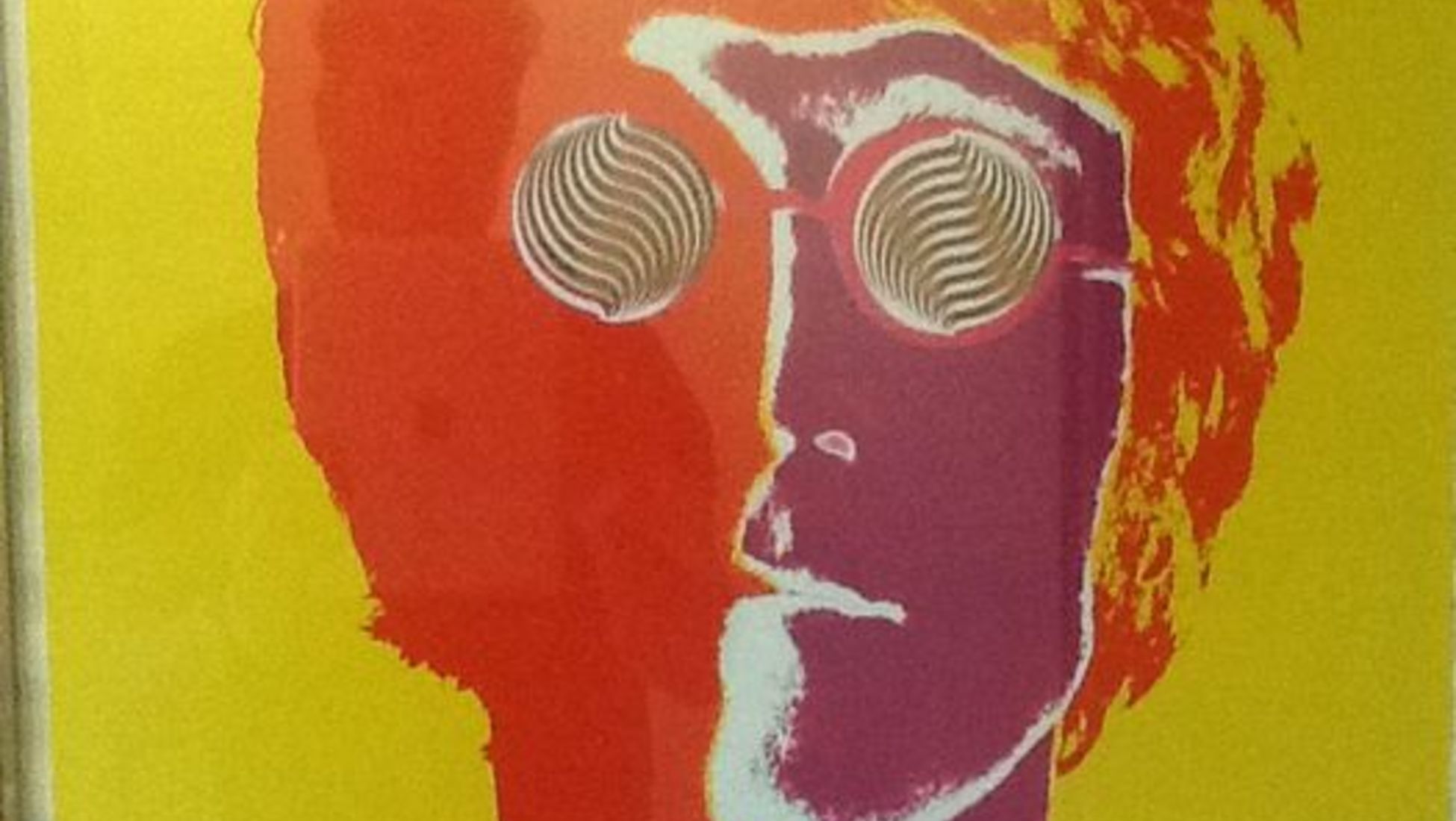 4. George Harrison: I Me Mine Limited First Edition Book - €1,313
Written in 1980, this leather bound signed and numbered copy of George Harrison's book is not only a fantastic read, but also a limited release. This version is copy 1994 out of 2000 and was snagged up at auction for €1,313 by a lucky Beatles fan.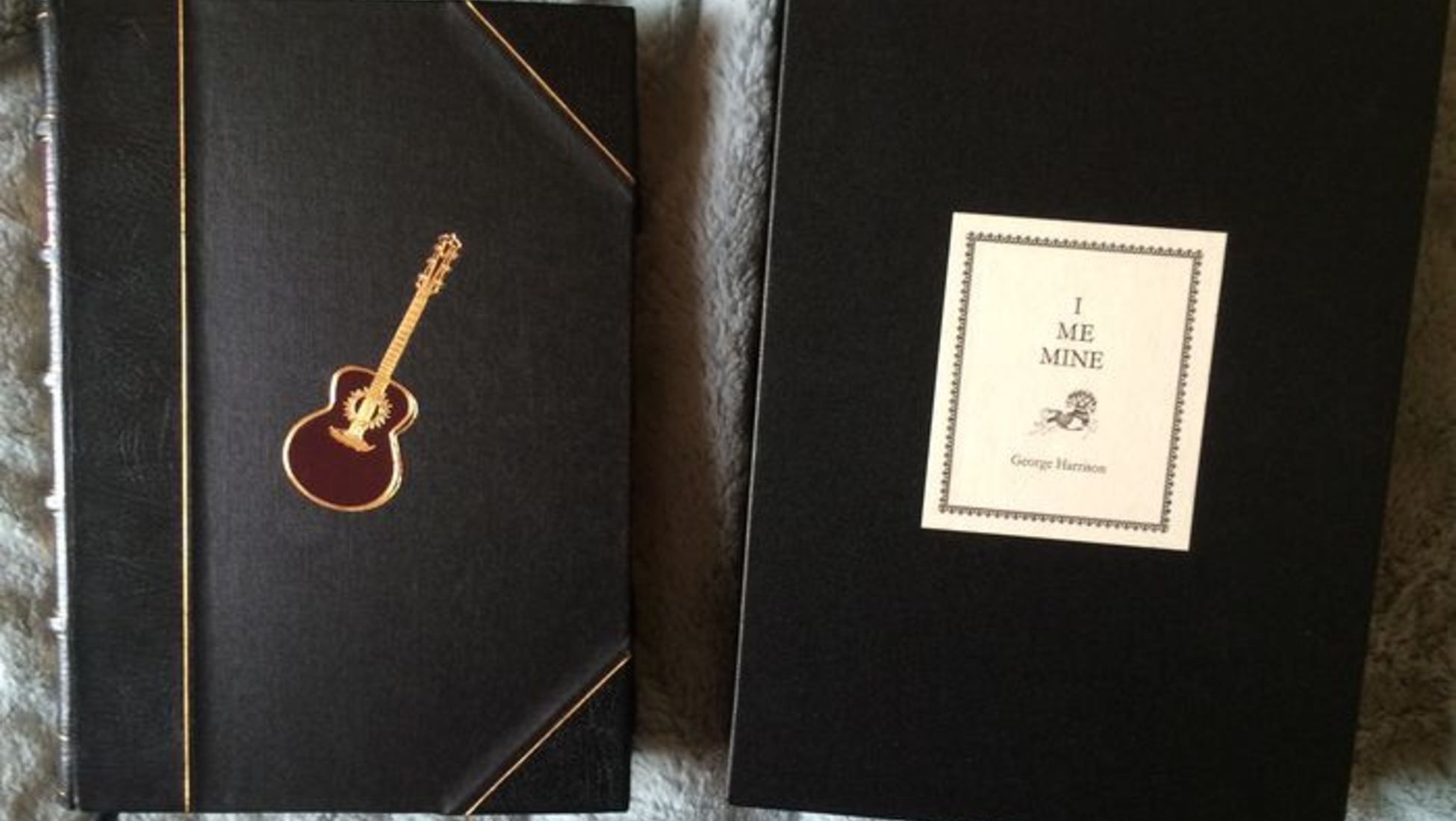 3. Signed 'Help' Album - €1,900

Even though only three of the four members signed this record (where was Ringo that day?), this album certainly didn't need any extra 'help' at auction - because it sold for a mighty $1,900. Help was the group's 5th studio album and was voted number 331 on Rolling Stone magazine's list of the '500 Greatest Albums of All Time.'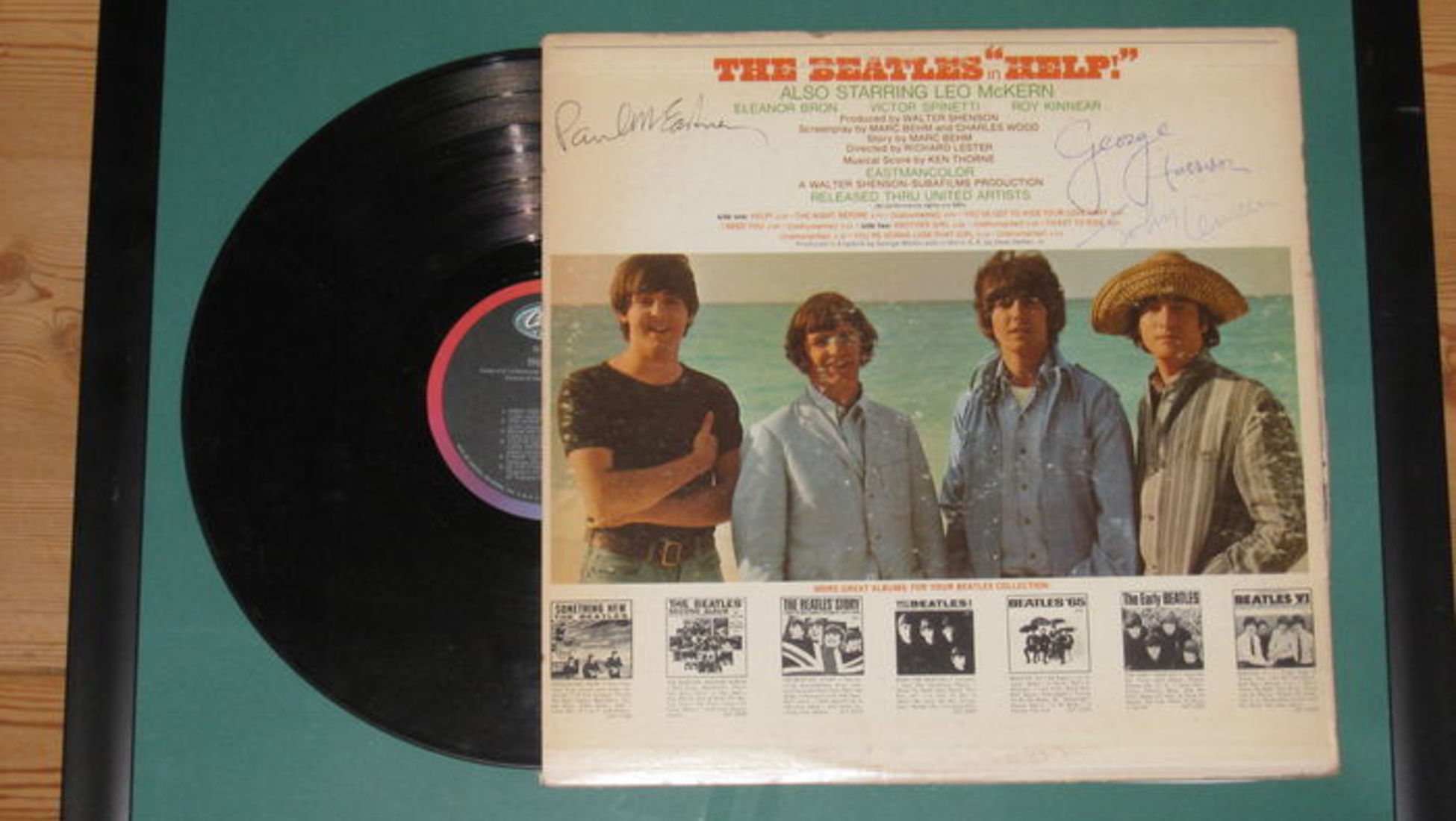 2. RIAA Gold Award Record Award - Abbey Road - €2,200
First issued on 26th September 1969, 'Abbey Road' was the final Beatles album to be recorded but not their last to be released. This RIAA Sales Gold Award was presented to the RIAA on behalf of The Beatles. It is an original gold record of the famous album.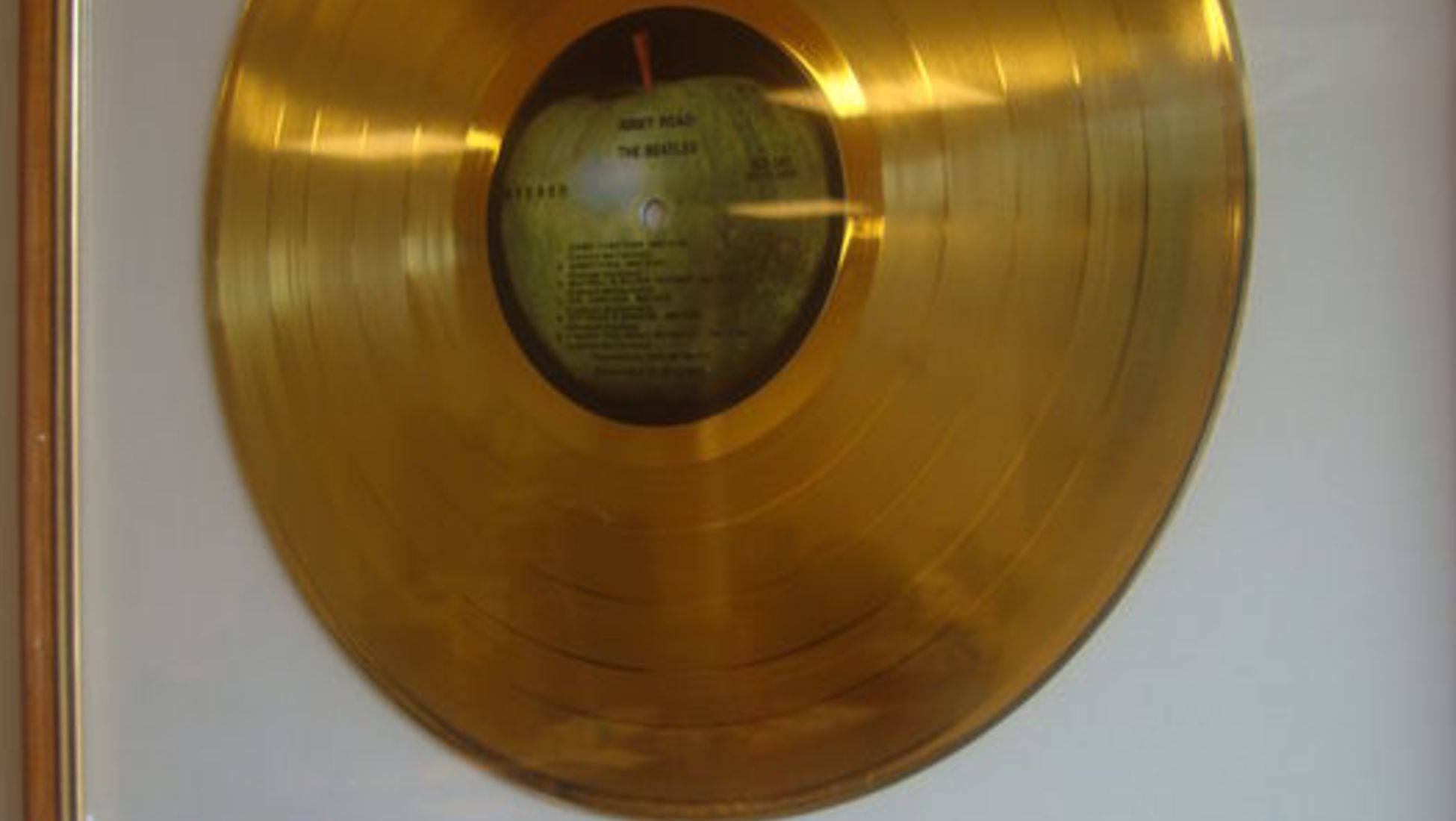 1. 1963 Signed Christmas Card - €3,050
Imagine owning a Christmas card worth over €3,000! This lot was not just any seasonal greeting, this card was intended for Sylvia, founder of the British Beatles fan club and was signed by all four band members. The lot proves that a signed Beatles card has value for life…not just at Christmas!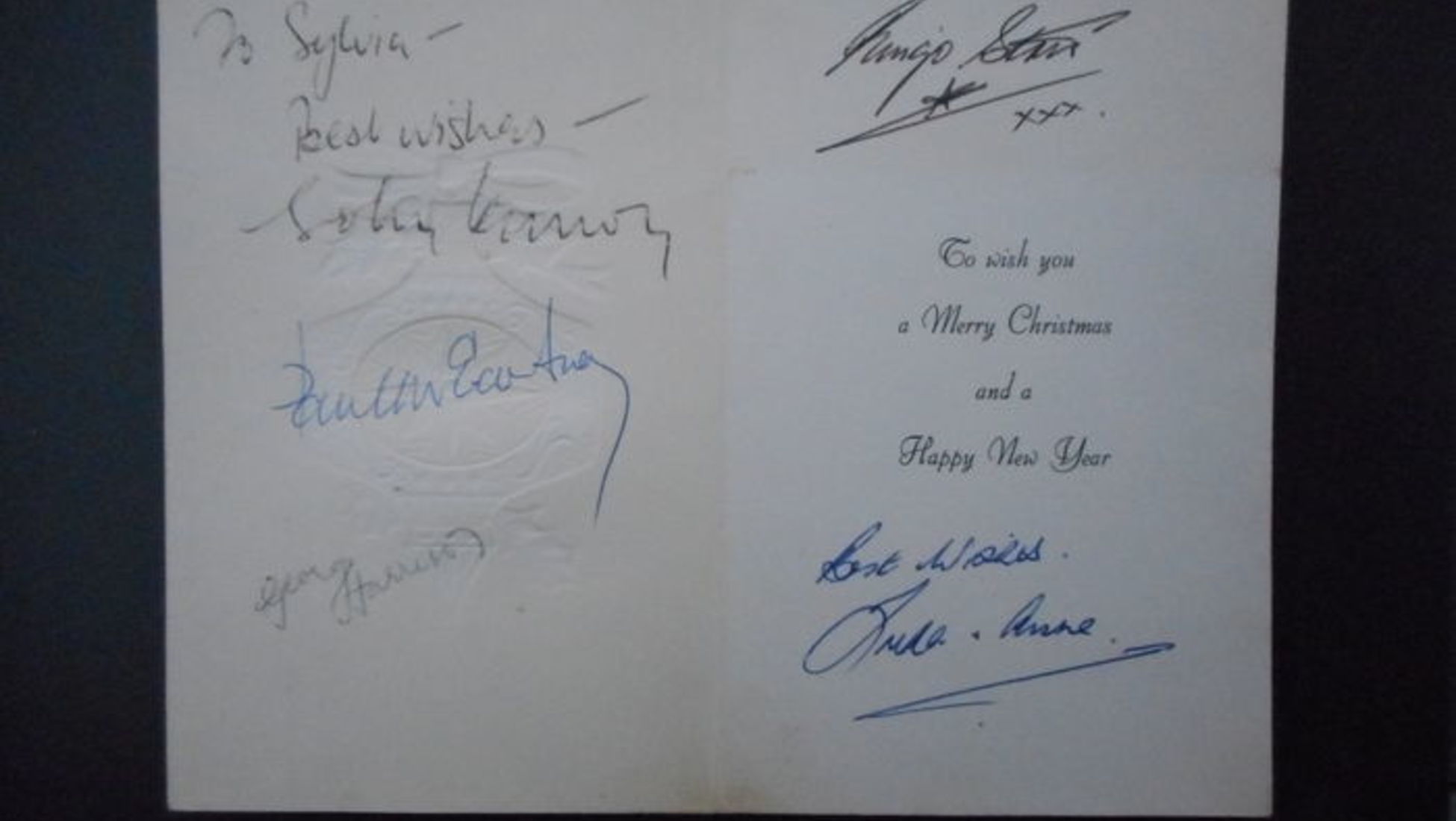 Selling Your Beatles Memorabilia
As with many collectable items, often an object's worth is whatever a buyer is willing to pay for it. This can make it difficult to value an item, but we do know that certain objects tend to be more popular than others. Here's a quick guide to some high-value memorabilia:
1. Instruments
Guitars, drumsticks… the tools behind the music. If a Beatle was near it, collectors could be interested.
2. Personal Effects
Anything owned by the band members, especially it is has special significance or an exciting backstory, will likely be lucrative under the hammer.
3. Signed Items
Things that show a signature from one or all of The Beatles usually pick up a good price at auction. Think autographed pictures, books, vinyl album covers, etc.
4. Rare or Special Release Items
Posters, magazine, albums… If it's a one-off or limited release, chances are it will be well sought-after at auction.
5. Song Lyrics
Some say that The Beatles (and in particular John and Paul) are some of the greatest songwriters of all time. Original, handwritten lyrics by these icons are therefore very interesting to potential buyers.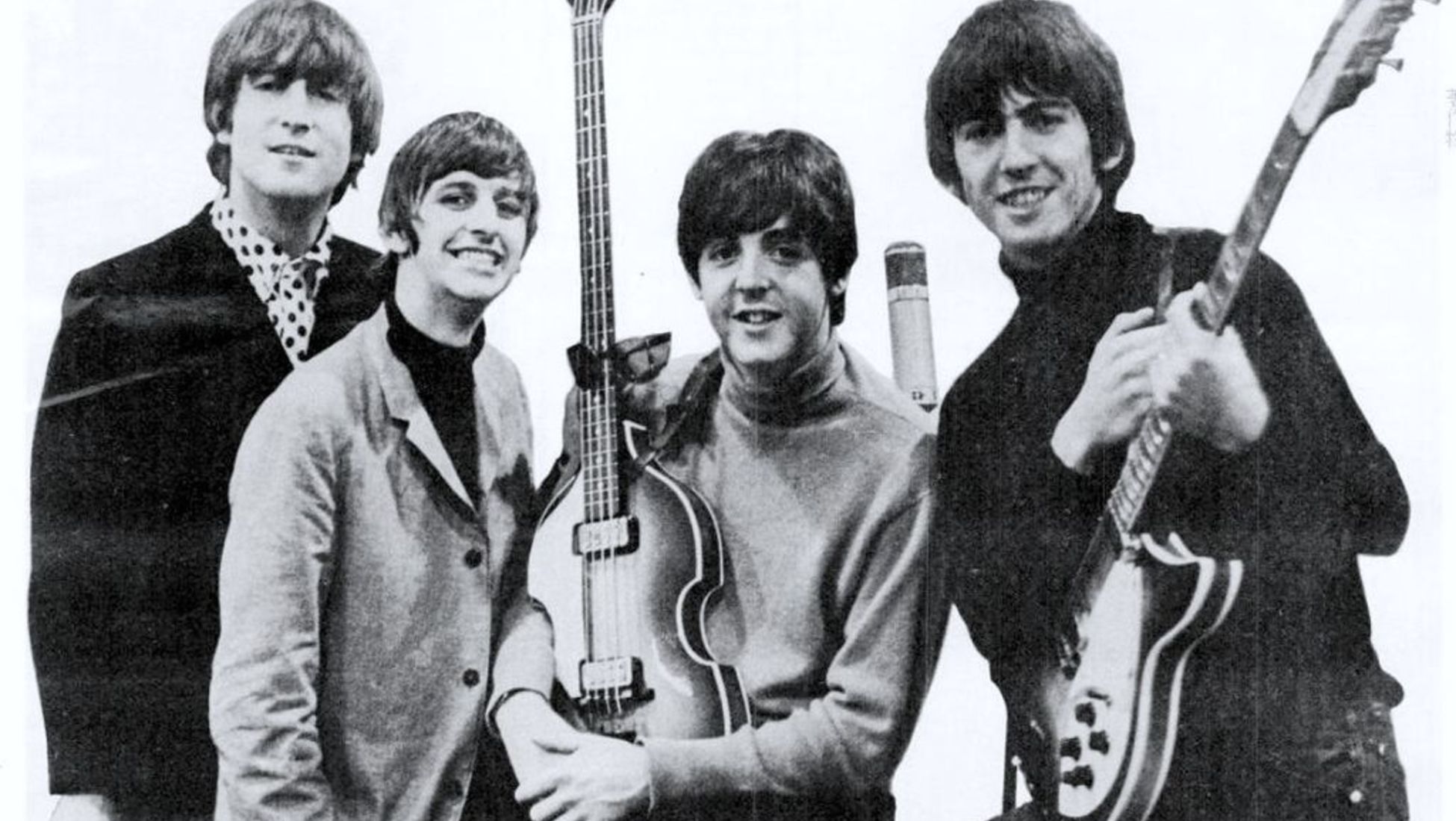 Best of The Beatles
We love seeing the Beatles treasures which come up at auction. So many memories, collections and exciting objects. Perhaps you picked up a signed program from a gig in the 60s? Or bought a special edition album recording years ago? If you're curious to see how much money it could make at auction, register as a seller for free here.
Or if you're a Beatles fan and you want to own a special collectable piece of your own, you can check out our Beatles Memorabilia auction 8 days a week!