Updated by Laura | 16th July 2020
The gigantic ocean liners that circumvented the globe from the 1890s to the 1960s were once known as the Titans of the Sea, hailed as the ultimate luxury experience in travel. While the arrival of air travel signaled the end of the ocean liners, they did leave behind a striking visual history. Some of the early 20th centuries greatest advertising talents were recruited to advertise the ocean liners and, 70 years later, their artwork is still just as striking as it was when the ocean liners first set sail.
Holland America Line by Wim ten Broek, 1936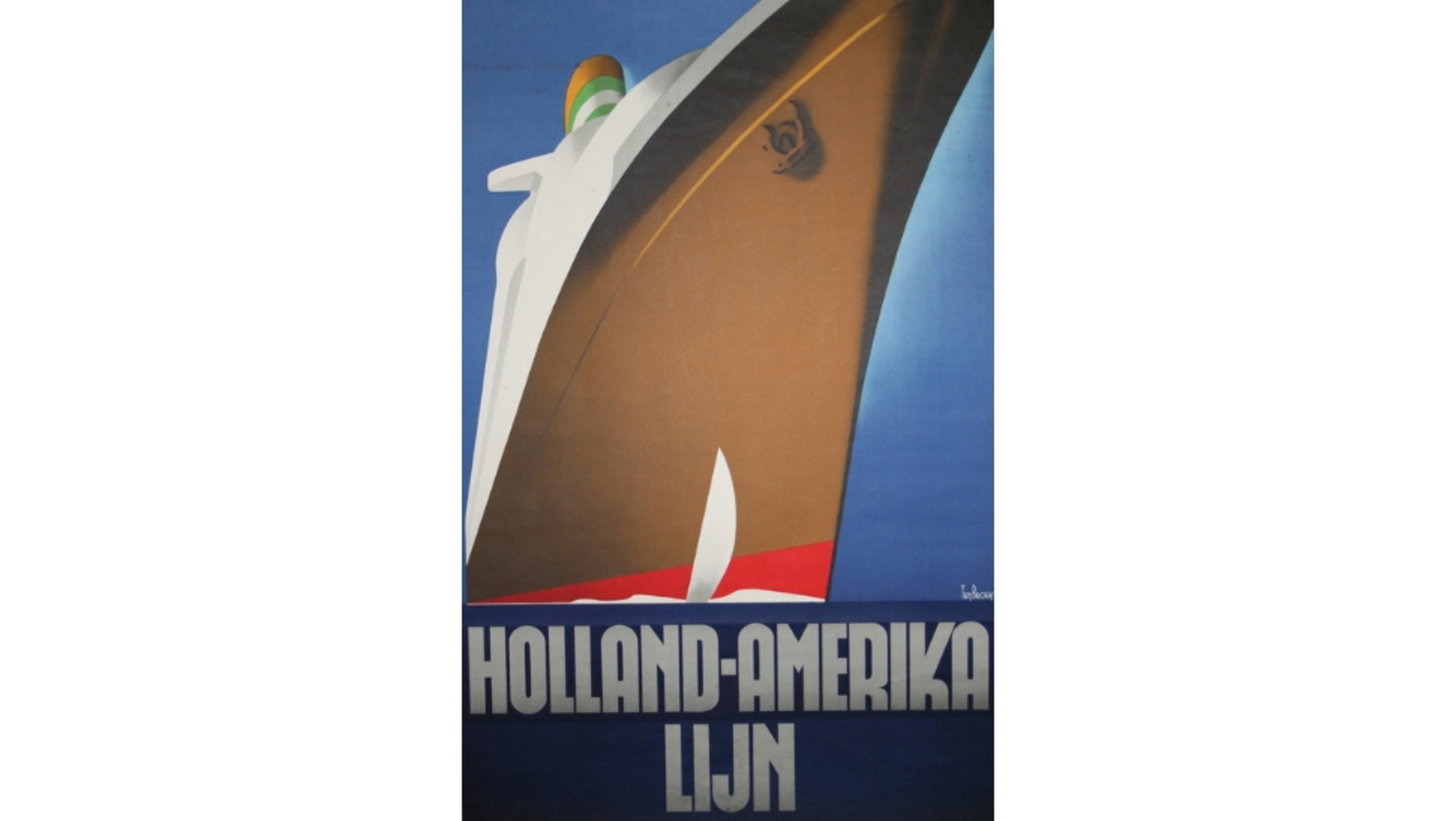 Probably the most famous Dutch Art Deco poster, this iconic design promotes the renowned Holland America Line connecting Rotterdam and New York. A timeless design by Wim ten Broek (1905-1993), who was clearly inspired by the posters of Cassandre, featuring diagonal lines and low viewpoints. A great detail is the white silhouette of a small sailboat in front of the gigantic ocean liner.
Holland America Line, SS Nieuw Amsterdam by Reyn Dirksen, 1953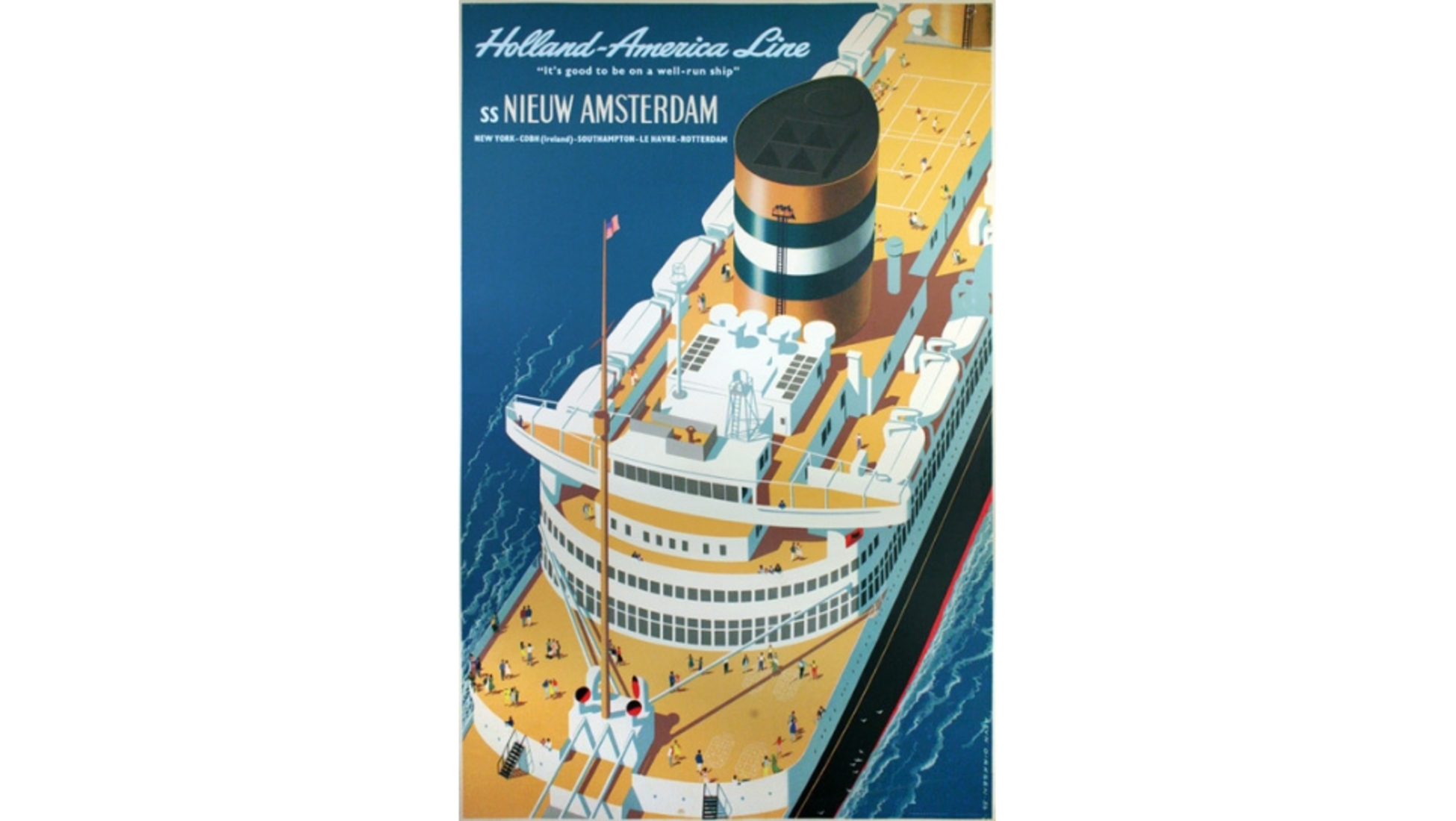 Also promoting the Holland America Line is a mid-century poster by Reyn Dirksen (1924-1999). It shows the SS Nieuw Amsterdam, considered by many to be Holland America's finest ship, with numerous Dutch artists and designers contributing to the ship's interior. The poster text says it all: "It's Good to be on a a Well-run Ship". Dirksen created a diagonal bird's eye view of the fashionable life on the deck in vivid colours.
Norddeutscher Lloyd Bremen by Anonymous, 1930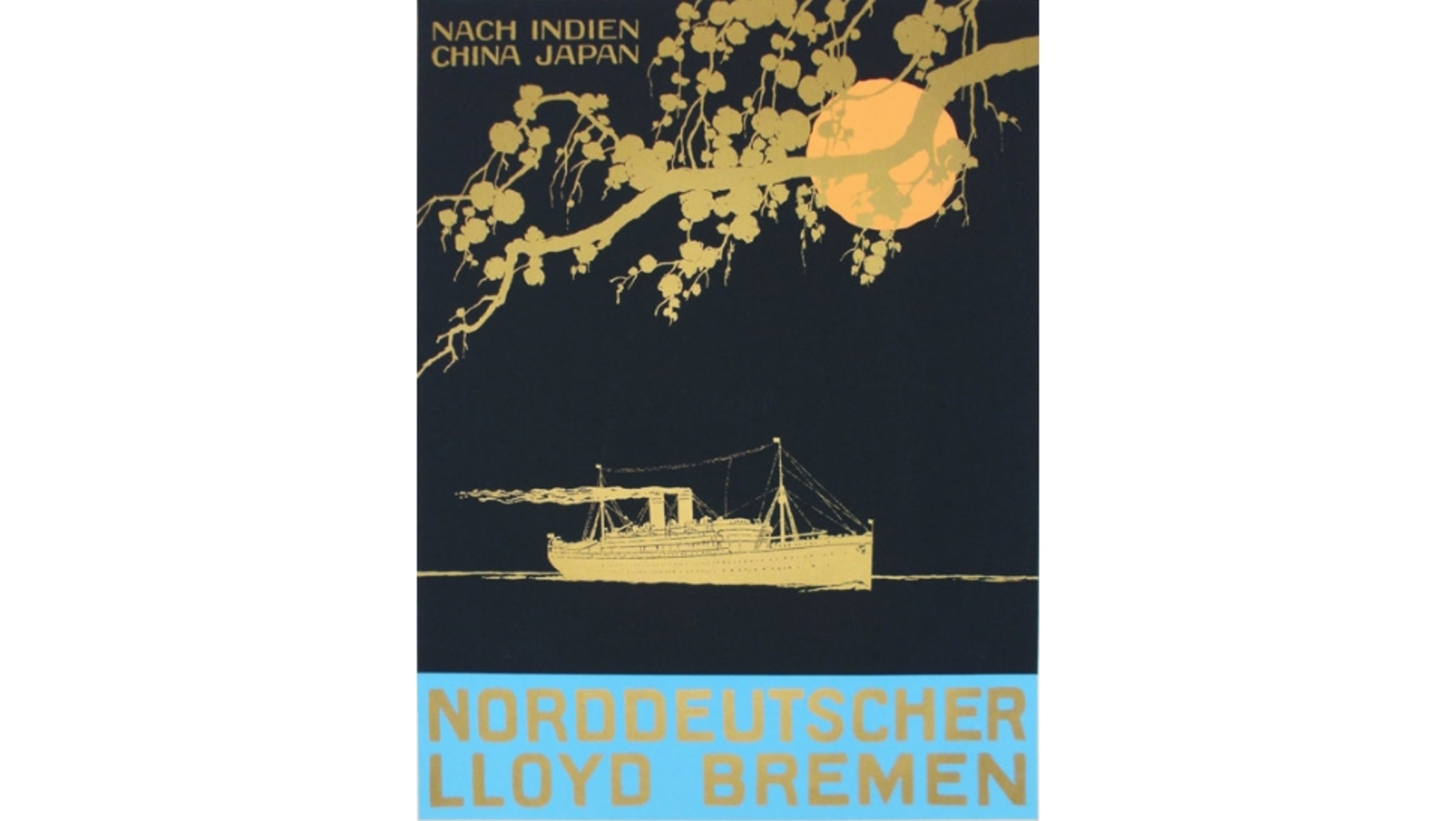 An Art Deco poster in Japanese style dated around 1930, this anonymous piece of artwork promoted the Norddeutscher Lloyd which departed from Bremen for India, China and Japan. The poster is particularly impressive due to the sophisticated printing processes and the resulting incredibly beautiful colours. The letters, the ship and the cherry blossoms were printed in metallic gold ink, which combines very well with the orange moon and the black and blue backgrounds.
Cie Transatlantique, Paquebot ville de Tunis by A. Brenet,
circa 1960

The Compagnie Générale Transatlantique was known overseas as the French Line. It had many Paquebots: freight and mail ships that also included passenger accommodation. Destinations – including the French Antilles and Venezuela, as well as Tunis, Tunisia – were advertised with local women in front of the ships coming in. The French painter Albert Brenet (1903-2005) frequently worked for French railway and airline companies, but was foremost a maritime painter. The alternation of near-photorealism with sketchy brush­strokes is typical of his artistic style.
Marseille, Porte de l'Afrique du Nord (1929) by Roger Broders, 1929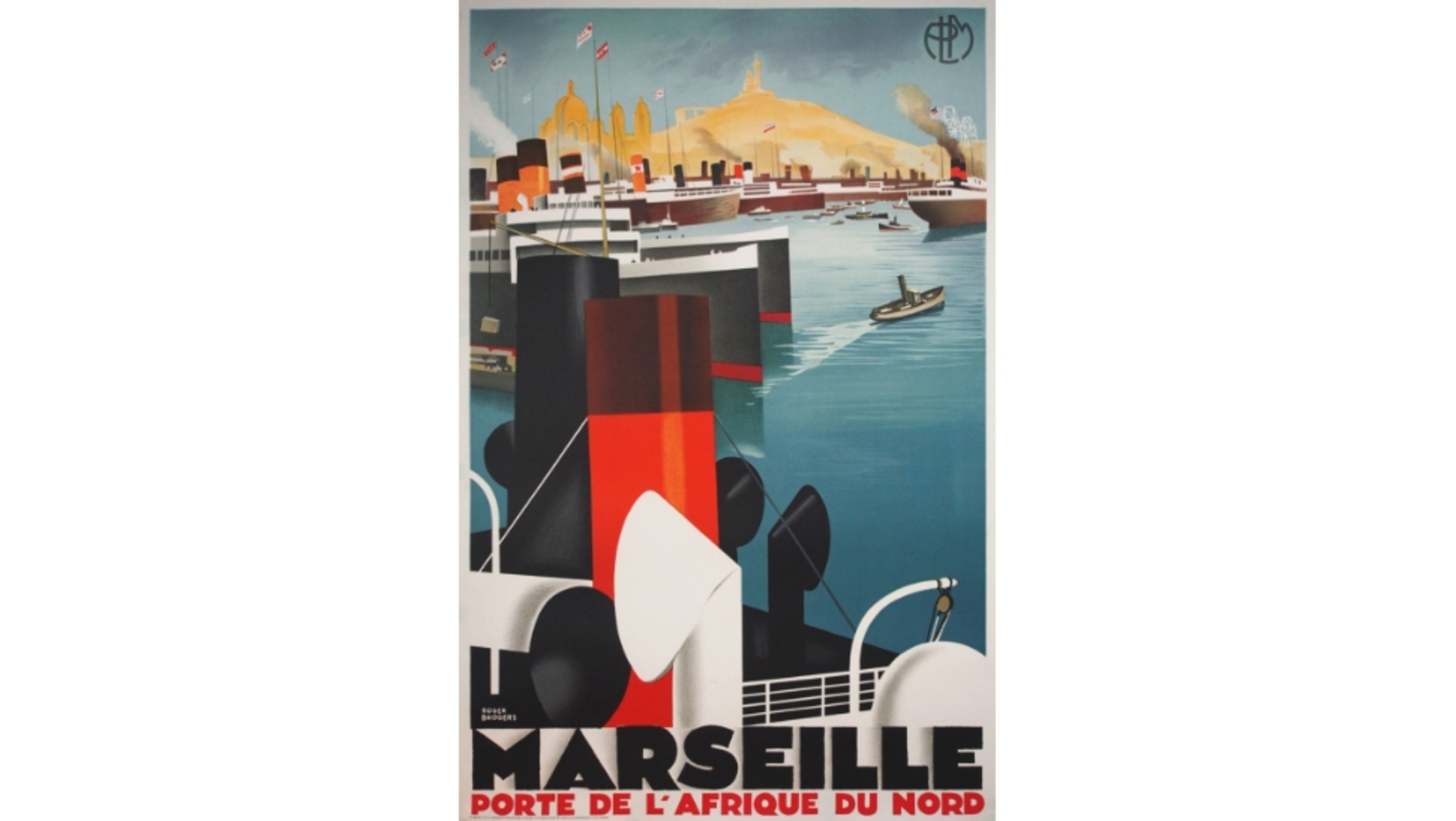 This 1929 Marseille poster issued by the French Paris-Lyon-Mediteranée (PLM) railway company. It depicts the many steamships in the mediterranean harbour departing for North Africa. Its designer, Roger Broders (1883-1953), was best known for his Art Deco scenes of Côte d'Azur beaches and Alpine ski resorts.
Discover more ships | posters | maritime artefacts
You might also like these articles: