Written by Thomas | 7th November 2018
In our Expert's Choice feature, one of our experts shares their favourite items currently in auction. This week our Stamp expert, Nicolas Pereira, selects five exceptional items from our stamps auctions for you to enjoy.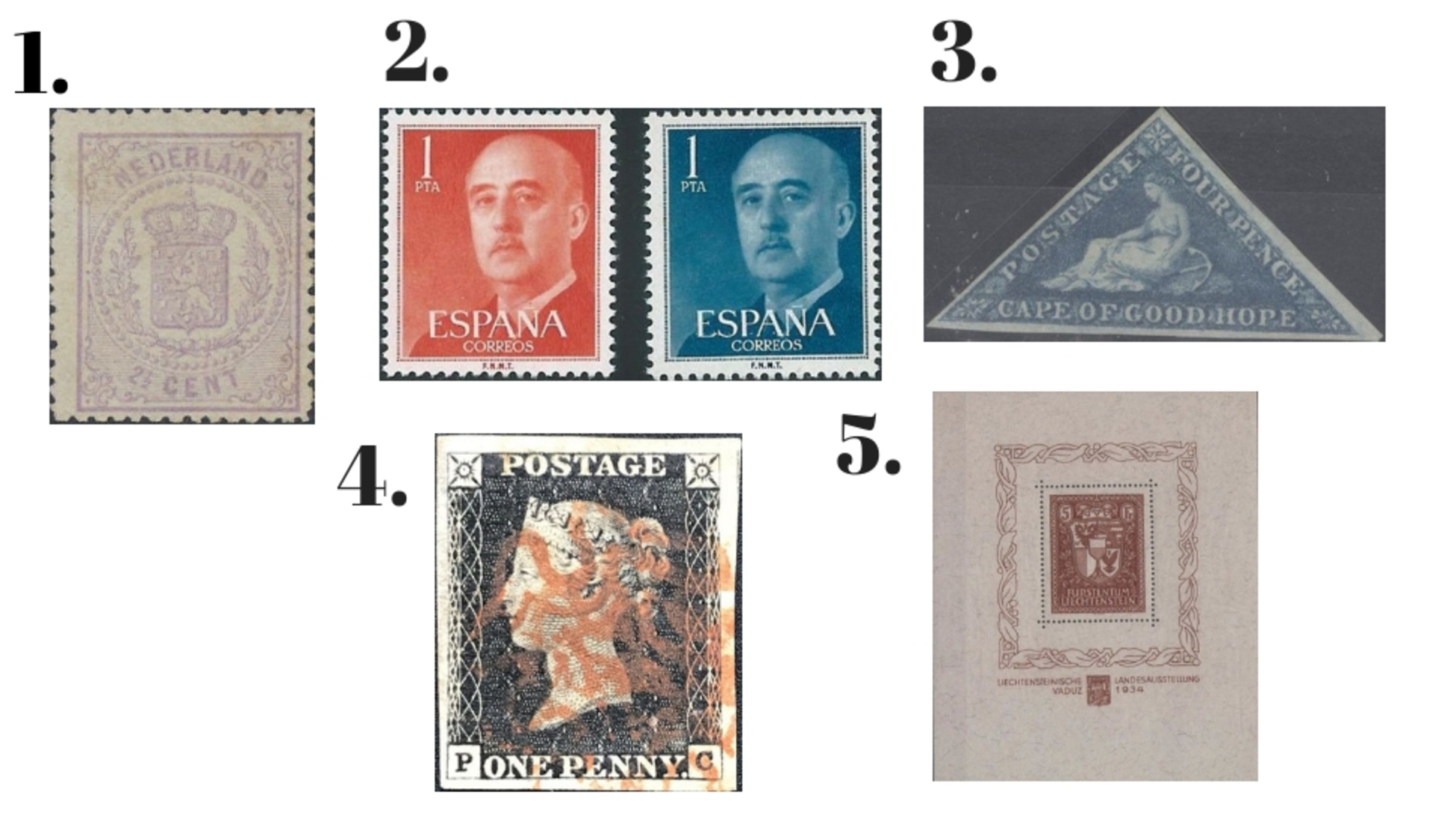 1. The Netherlands 1870 - Coat of arms stamp 2.5 cents Violet MH with cert. - NVPH 18C
The Dutch Republic Lion, also known as the States Lion, was the badge of the Union of Utrecht and the Republic of the Seven United Netherlands. The Dutch Republic Lion depicted here is the precursor of the current coat of arms of the Kingdom the Netherlands. You can find this States Lion and the Dutch coat of arms on other stamps in this week's Dutch Stamps Auction.
2. Spain 1955/1956 - Franco, colour error, 1 peseta - Edifil 1153cc
This 1 Pesetas stamp was printed during the reign of general Franco and dates back to 1955/56. Ordinarily, this stamp is printed in red tints, but due to a colour error, this unique stamp is in blue. Only one complete known sheet of 100 stamps with this error exists. You can find this stamp and more in this week's Spanish Stamp Auction.
3. British Commonwealth 1864/1864 - Cape of Good Hope - Stanley Gibbons 19
Stamps come in many different shapes and forms these days. Did you know that stamps exist that are made of wood, and even chocolate? The first region to innovate with the shape of stamps was Cape of Good Hope under the British Commonwealth regime. You can find this triangle stamp and many more in our British Commonwealth Stamps Auction.
4. Great Britain - England 1840 - Penny black with enormous margins, stunning stamp - Stanley Gibbons 1
The Penny Black was the world's first adhesive postage stamp used in a public postal system. The stamp was first issued in Great Britain on 1st May 1840 but was not valid for use until 6th May. This Penny Black features a profile of Queen Victoria and is a celebrity among stamp collectors. Now is your chance to acquire one of these first worldwide stamps! Find this stamp and many more in this week's British Commonwealth Stamps Auction.
5. Liechtenstein 1934 - Vaduz - Michel blok 1
Stamps coming from small countries have always been appealing to collectors since they generally issue fewer stamps. One of these countries that is highly appreciated by collectors is Liechtenstein. You can find the first block of stamps coming from this country (Vaduz 1934) in pristine condition in this week's Austria/Switzerland/Liechtenstein Stamp Auction.
____________________
Discover more stamps
You might also like these articles: