Posted by Simone | 9th November 2018
At Catawiki we are always seeking to bring the most special and unusual items to our auctions. Beginning on 9th November, we are bringing a truly superb selection of meteorites including a large Sikhote-Alin meteorite from Russia and a beautiful example of a Brenham pallasite meteorite from the USA. However, without doubt, the highlight of the auction is a fantastic, polished slice of the seldom offered Zaragoza meteorite from Spain weighing over 3.6kg. Our Natural History expert Trevor Boyd explains what makes this meteorite in particular so unique.
All meteorites can be classified into particular categories based on their composition and origin. The Zaragoza meteorite is an Iron Meteorite of the Group IVA-an, where the 'an' stands for 'anomalous', indicating that there are unusual aspects to the meteorite and it is one of only 6 meteorites which have this classification.

It is composed mostly of iron and nickel but it also contains such exotic elements as platinum, germanium & ruthenium! The main mass of the meteorite, which weighed 162kg, was found in the 1950's and was subsequently sold to a meteorite collector/dealer in 2006 at the Munich Mineral Show.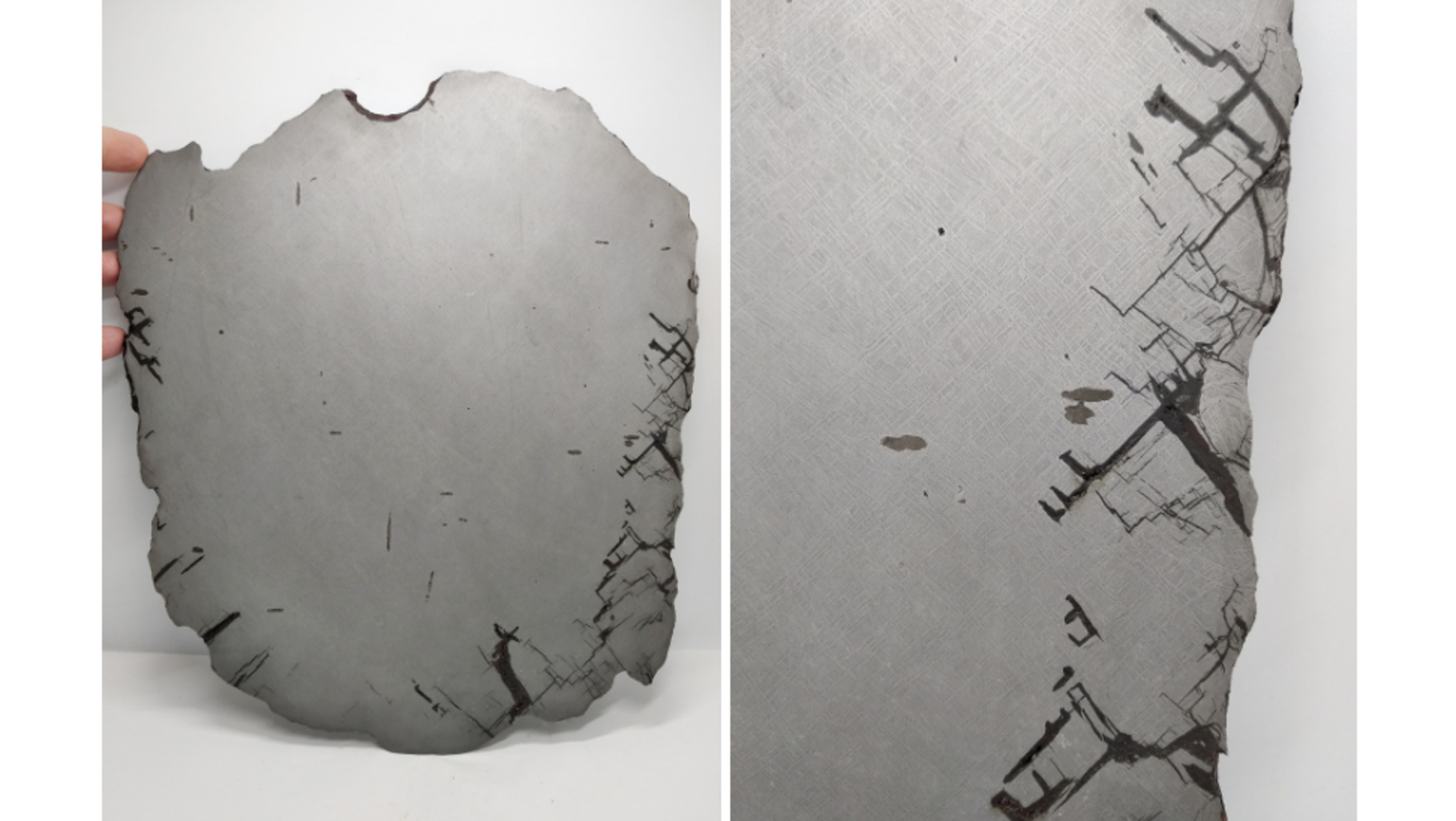 Our seller tells us more: "The Zaragoza meteorite is famous for being one of the most stable and resistant to oxidation, something which makes it stand out from other iron meteorites. It is also believed to be the hardest meteorite that has ever been cut as it takes 3 days to cut each slice! The slice we are offering is one of the largest complete slices of the meteorite produced. One face has been polished and shows the very fine pattern of Neumann lines and because it is a complete slice the outer edge displays the original natural melted crust. This is the first time that this superb specimen has been offered at auction and it is a unique opportunity for either the private collector or indeed a museum, or business to add it to their collection."
This is truly a special opportunity to purchase such a significant object. The seller is a member of the IMCA (International Meteorite Collectors Association), so you can rest assured that this and indeed, all of his items, are of the highest quality and 100% authentic.
____________________
The Zaragoza meteorite can be found in the Meteorite auction (Private Collection) starting on the 9th November - 18th November 2018.
Discover more meteorites | minerals | fossils
You might also like these articles: