Written by Thomas | 2nd January 2019
In our Expert's Choice feature, one of our experts shares their favourite items currently in auction. This week our Stamp expert, Nicolas Pereira, selects several exceptional items from our stamp and postcard auctions for you to enjoy.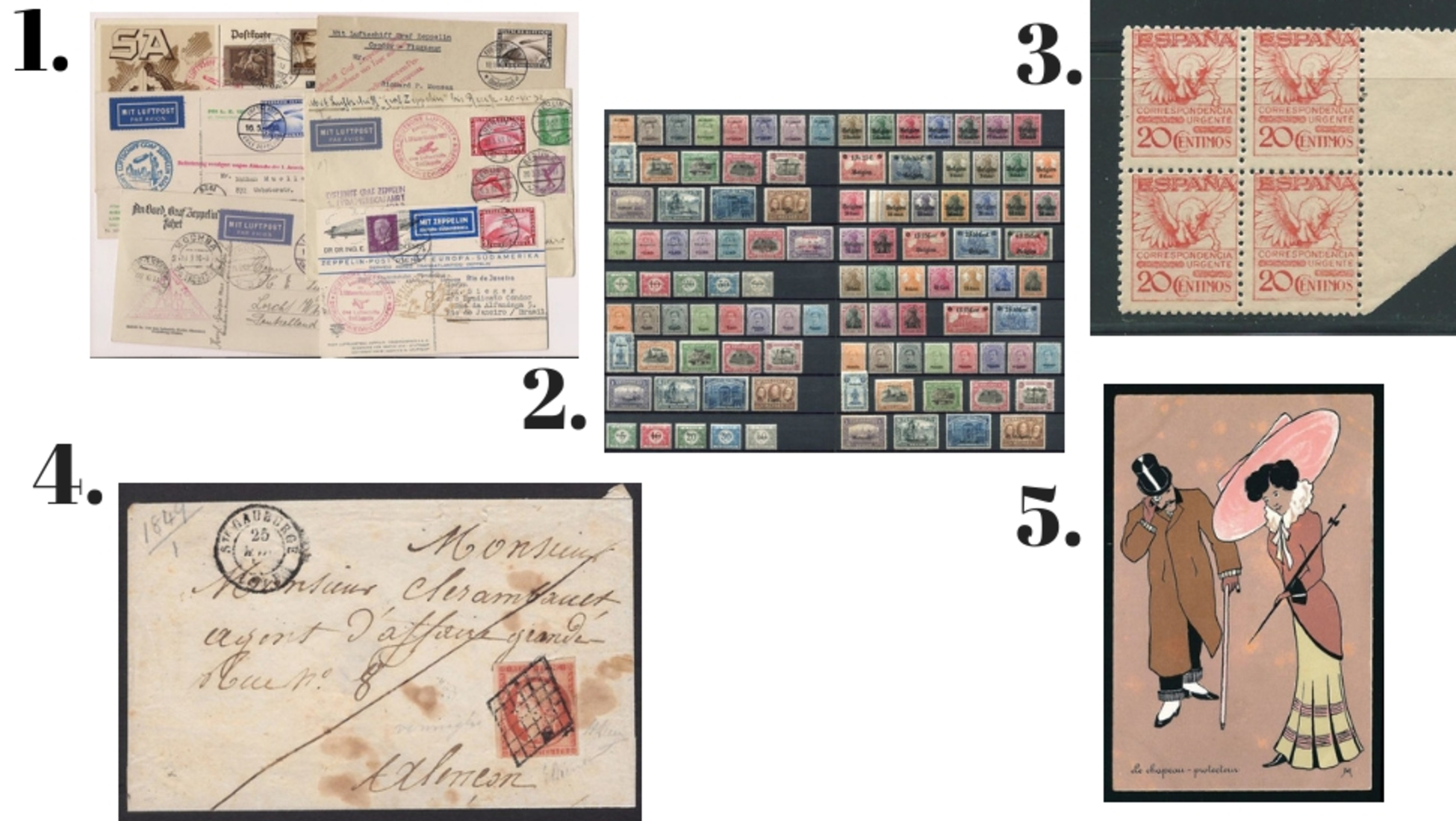 1. German Empire - 9 Zeppelin documents with interesting trips/franking
German zeppelins were often used to carry mail. Almost every civilian zeppelin between 1908 and 1939 carried mail, sometimes in large quantities. The covers of this zeppelin mail received special postmarks, and several nations issued postage stamps that were specifically intended the mail that was carried by zeppelins. Today zeppelin postal history plays an important part within philately. In this week's German Ancient and Classic Stamp Auction, you can find 9 zeppelin documents containing this distinctive franking.
2. Belgium 1914/1921 - Complete collection of occupation stamps - OBP / COB OC1/105
The German Occupation of Belgium during the First World War affected the country's postal system greatly. During this time, both German and Belgian stamps were overprinted. In our Belgian Stamp Auction you can find a complete collection of these occupation stamps!
3. Spain 1932 - Pegasus express without numbering on the back, bl. 4 - Edifil 676

The pegasus, a mythical winged stallion, is one of the most recognized creatures in Greek mythology. Its distinctive figure has been internationally used for urgent mail stamps. In this week's Spanish and Portuguese Stamp Auction is this block of four stamps, depicting this mythical creature. The block with marginal sheet label was issued in 1932 and has no control number at the back. It is catalogued as Edifil 676 and is the most difficult and valuable urgent mail stamp from Spain.
4. France 1849 - 1 fr bright vermilion on a letter - Calves certificate - Yvert 7a
Colour is something to pay attention to when you're dealing with classic stamps. If there is any minimum tone variation on the base colour, then that stamp might be much more valuable and rarer than without. In this week's Exclusive French Stamp Auction, you can find this superb 1849 vermilion 1fr. (Yvert 7a) stamp on a letter from Ste. Gauburge to Alençon. This is probably the only stamp that shows this variation that was known in this French department. This item is perfect for the advanced French stamp collector.
5. Henri Meunier - Postcards (Set of 4) - 1900-1910
Henri Meunier was the son of the etcher Jean-Baptiste Meunier, and the nephew of the sculptor Constantin Meunier. He received his first training in engraving at his father's workshop. After studying at the academy in Ixelles, he worked as a printmaker, poster designer, graphics reporter, and bookbinder. Meunier used flat colours and thick outlines, inspired by Japanese prints, to achieve these powerful images. You can find an appealing set of four postcards that were designed by Meunier between 1900 and 1910 at this week's International Postcard Auction.
____________________
Discover more stamps
You might also like these articles: