Written by Peter Reynaers on 15th February 2019
If the term 'ancient jewellery' makes you think of superb pieces with astronomical prices, you're in for a pleasant surprise. Despite high demand and glamourous associations, most pieces of ancient jewellery are actually very affordable, which is why we asked expert Peter Reynaers to list his top tips for aspiring ancient jewellery collectors.
1. Beaded necklaces are a good starting point
Etched beads like the ones in the necklace below are a kind of wearable art and offer a nice way to begin collecting ancient jewellery. These necklaces may look modern but they were prized possessions in antiquity and are also surprisingly affordable, regularly selling at auction for less than €300 and never above €500.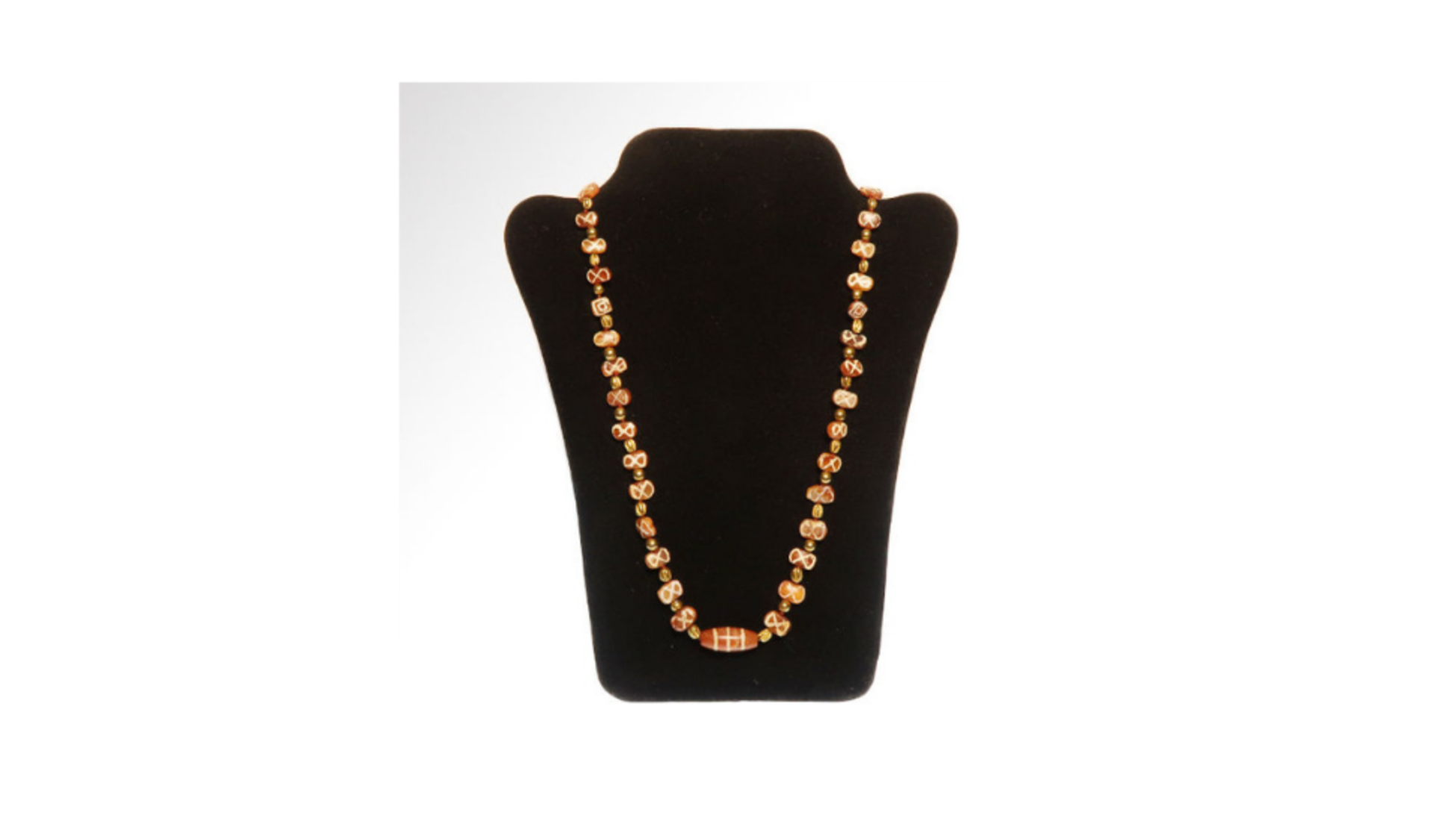 Western Asiatic etched carnelian bead necklace, circa late 3rd - early 2nd Millennium B.C.E.
2. Keep a look out for modern design features
While you're deciding if you want to commit to a full collection you can ease yourself in by looking out for modern design features that will complement your own wardrobe. Byzantine earrings with their openwork gold lunate shape are a regular feature at ancient jewellery auctions and the early medieval gold wire ring pictured below may look modern but it has 1300 odd years of history attached to it.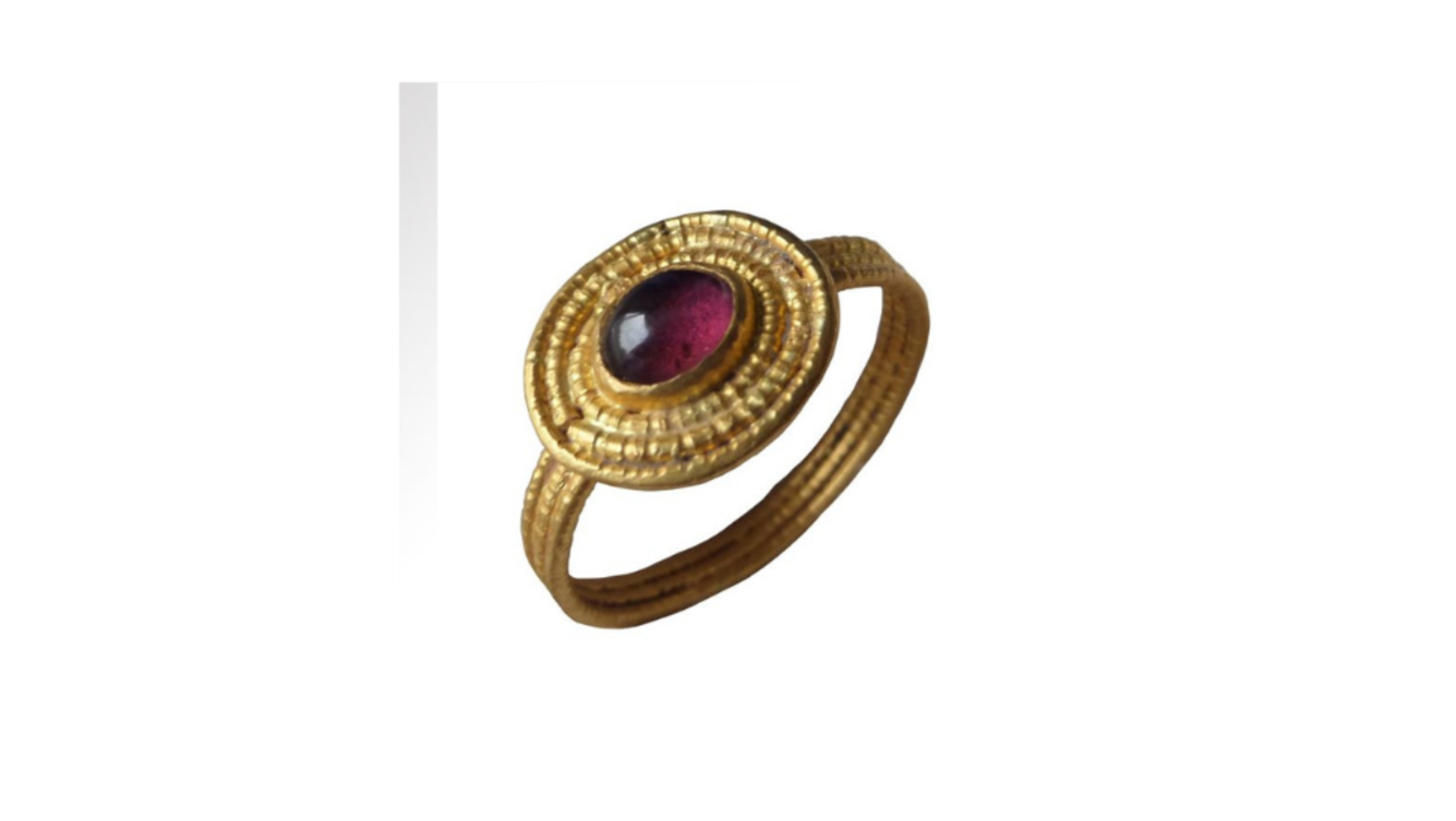 Merovingian Wire ring with Garnet Cabochon, 6th - 7th century C.E.
3. Context will help you choose the right pieces
In the ancient world around the Mediterranean, Near Eastern and Egyptian cultures, gold and silver were highly valued and were also symbols of luxury and status. Because of that some of the most important and valuable ancient jewellery has been melted down for their materials. Silver was extremely rare in Ancient Egypt and valued even more than gold. The gold used by the ancients has a very high carat, mostly 24 carat, 93% pure or even higher. This purity gives it its warm golden hue and a very nice "skin" or texture not typically found in new jewellery.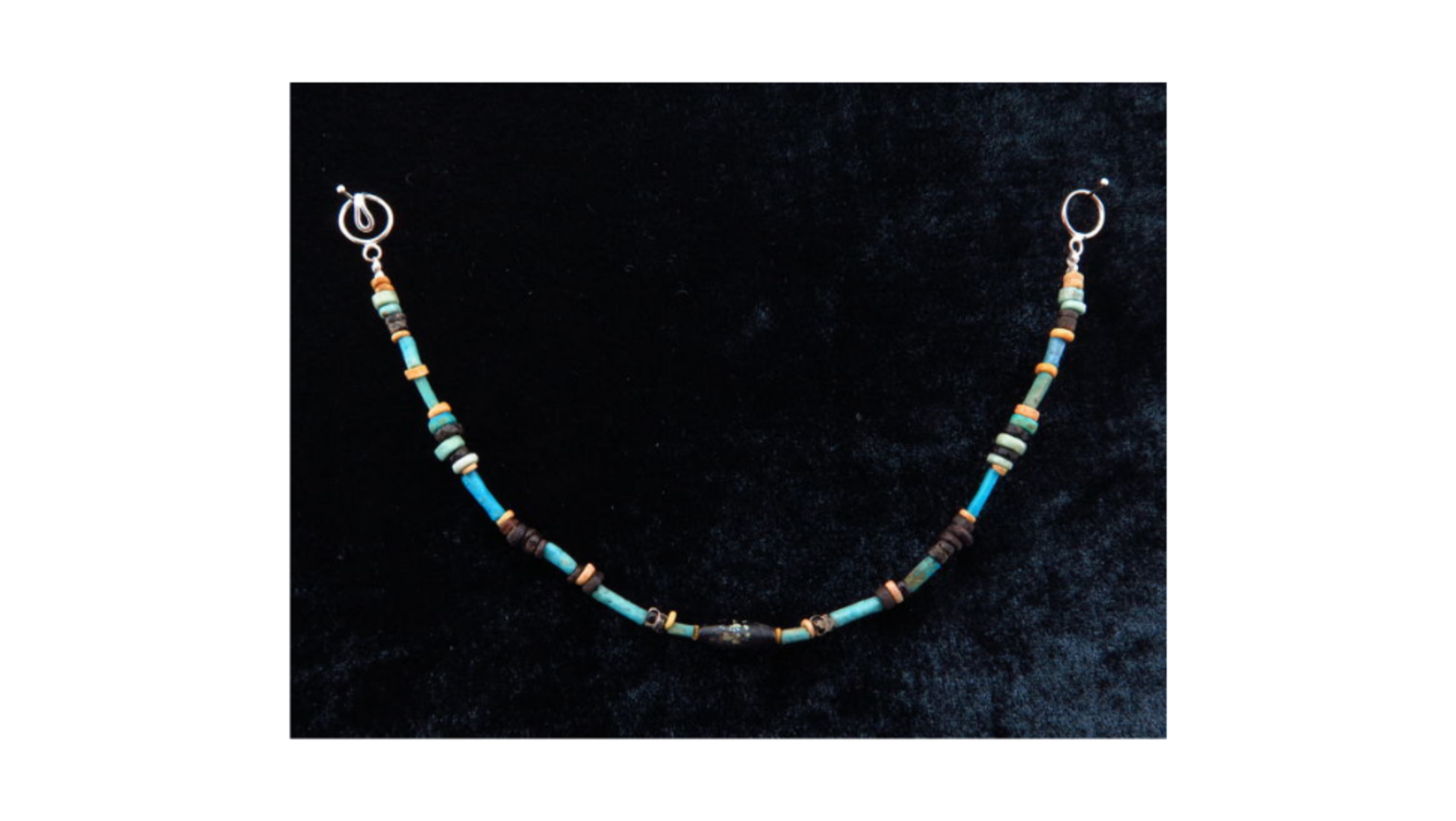 A bracelet made from ancient Egyptian faience beads
Some collectors consider bead necklaces to be more stable than other materials, although the composition of such pieces is uncertain if they have been recently restrung. Keep in mind that you can never tell if a group of Lapis lazuli beads follow a traditional design. Ancient frescoes and paintings on vases tell us something about the fashions of those times, but it is impossible to be exact about how the beads would have been originally worn.
4. Respect the age and limitations of the pieces
The delicate nature of ancient gold necessitates that these pieces be handled gently, particularly when they are worn. The gold Roman ring below is an example of how delicate these pieces can be. This gold is very soft, this means that an ancient stone in an ancient gold setting can not be resized. If you are a collector that wants an ancient stone in a nice gold setting, then it is better to consider a modern gold fixture.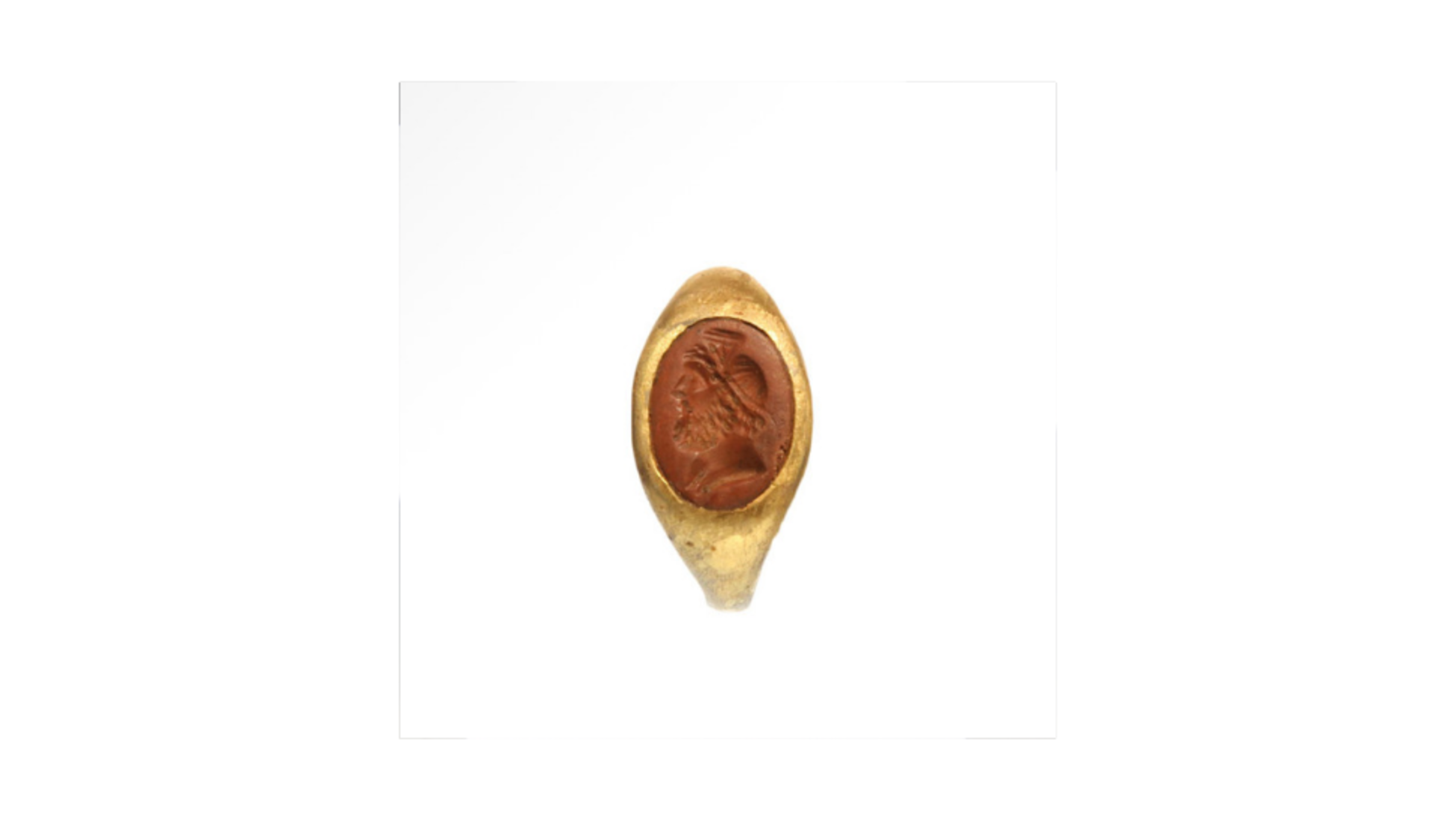 An ancient Roman Gold ring with a Jasper intaglio of Serapis, ca 1st century C.E.
Ancient earrings can all be worn, but it is advisable in most of the cases to add modern gold posts or ear wires. Some of those can be worn as they are, others have lost the piece that can be attached to the ear. It is a good thing to have a jeweller adding modern elements because the ancient gold has a brittle nature, thus reducing the stress on these timeworn parts of the jewel.
5. Make sure you understand the symbols
Most ancient jewellery had a very specific, apotropaic (evil-countering) use and often features a very powerful animal or a divine being that is used for protecting the wearer of the jewel. A helmeted woman is usually Athena (also known as Minerva); she was the goddess of Wisdom and War for Greeks as well as for Romans and was seen as an extremely powerful protector.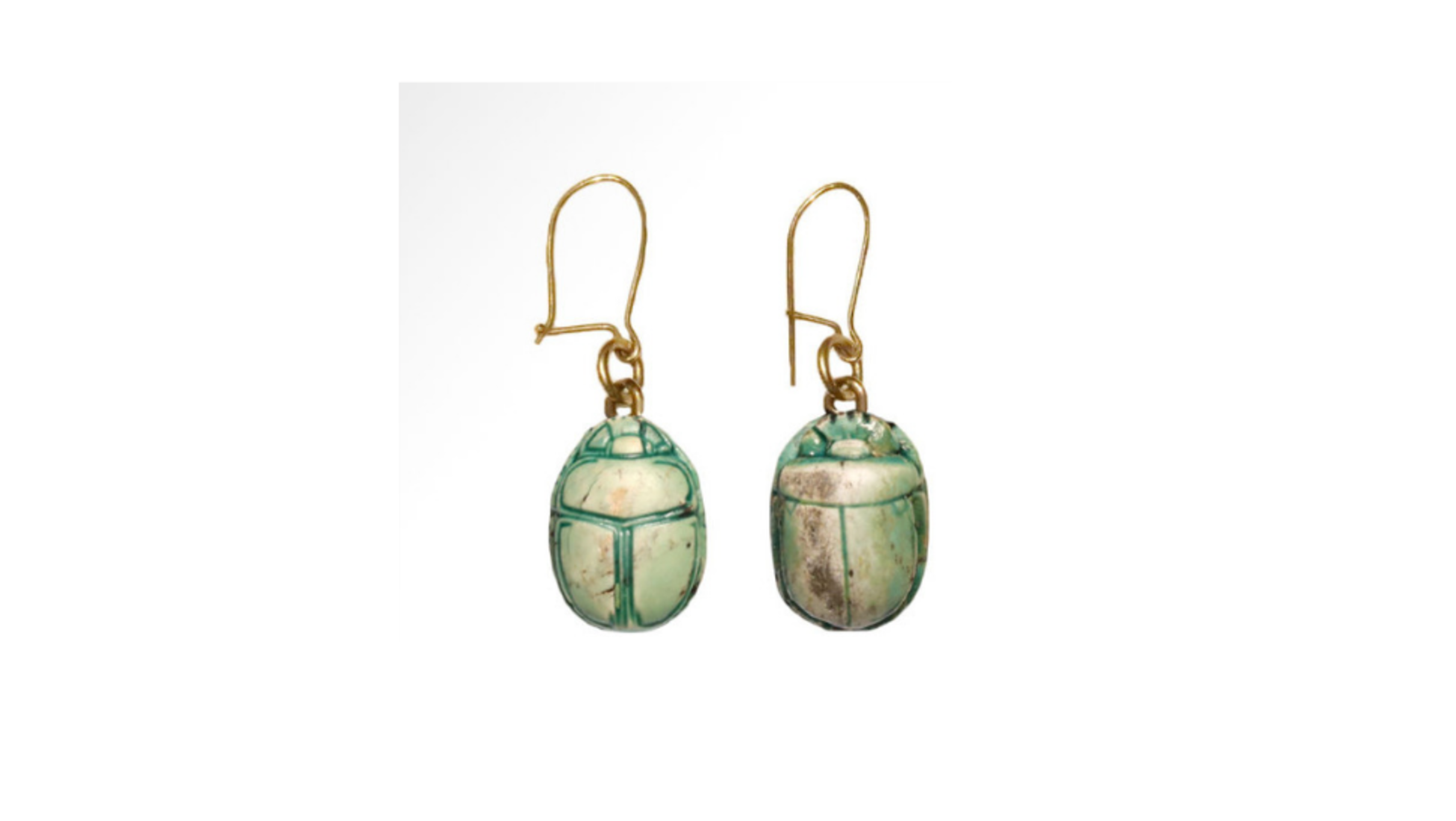 A pair of modern earrings, adorned with ancient Egyptian scarabs, symbols of rebirth
Sometimes the ancients used symbols as well: on ancient Egyptian pieces the Eye of Horus symbols were especially sought after as well as the ever popular scarab that stood for rebirth and eternal life. This can be seen in the earrings pictured above.
6. Beware of diamonds in ancient jewellery
A collector should adopt a healthy skepticism when they consider gold bracelets, necklaces and other ancient jewellery. Diamonds, for example, were very rarely used in ancient times and those civilizations that use them (like the Romans) used raw stones, not cut.
A Garnet intaglio (cut stone) from Roman times with a two heads that are entangled
The stone itself however might have been widely used to carve the fine images in the intaglios you can find in our auctions and in the garnet above. Diamonds that are cut and put in ancient Roman rings are a tell tale sign of a fake. What was used widely was carnelian, prime d'emeraude and lapis lazuli.
7. Consider collecting jewels made from ancient elements
Our auctions also feature jewellery made from ancient elements, combined with modern materials, such as clasps and ear hooks. These jewels are not ancient per sé, but they include ancient elements from Egyptian tombs that were discovered in the 18th and 19th century.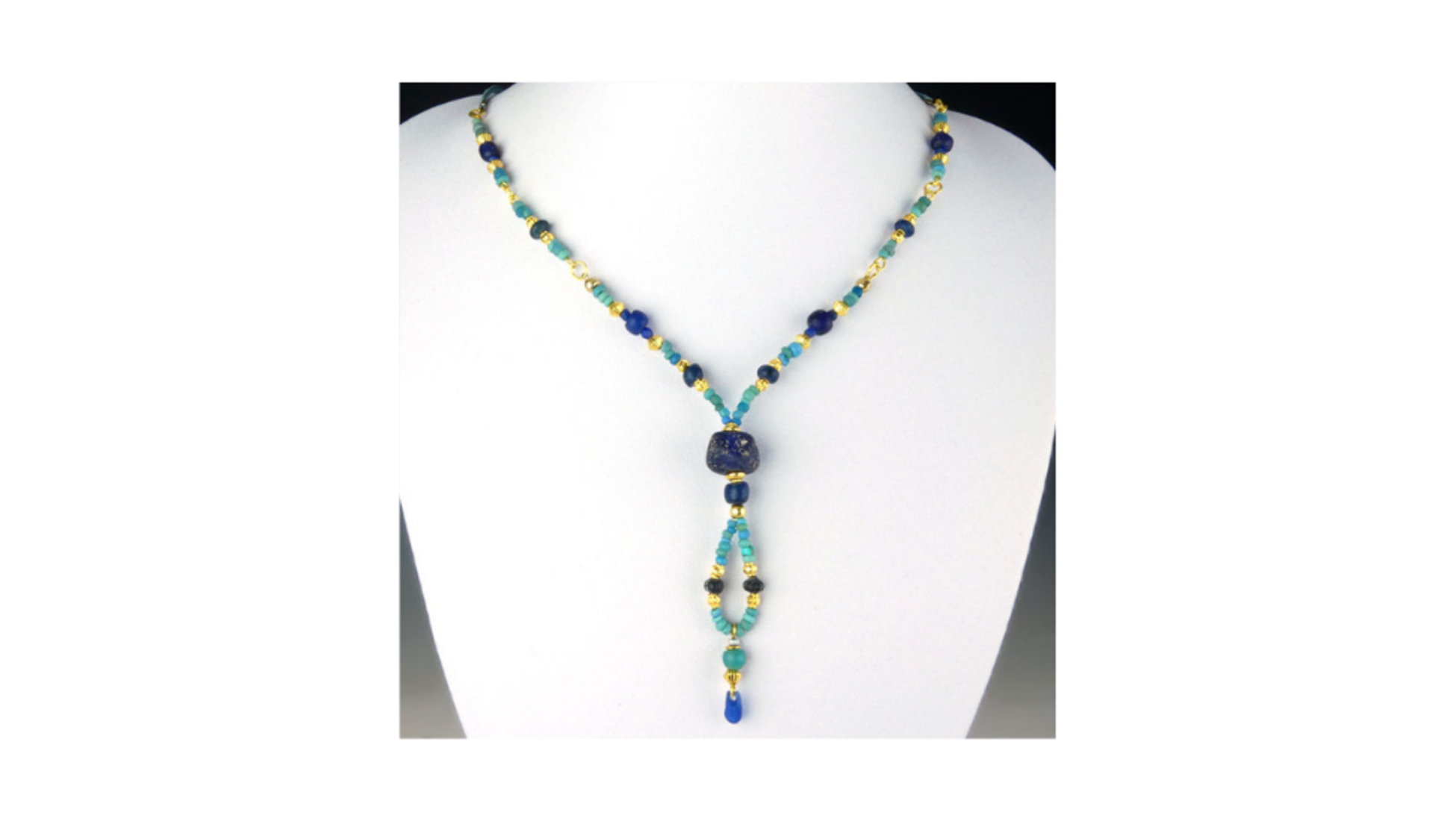 A necklace made from ancient Roman glass beads and modern materials
Nowadays these beads are re-strung together with Roman beads to form newly made jewels with a historical twist. As these reconfigured pieces don't tend to use ancient gold, they are stronger and last longer, making it easy to incorporate them into daily life.
____________________
Discover more ancient jewellery | fashion accessories | archaeology for new collectors
You might also like these articles: