Written by Beulah | 7th May 2019
Gucci handbags have become a byword for opulent luxury. What many of us don't realise is that the Italian brand has a history of innovating and experimenting, especially when faced with adversity. Being ready to take risks and try new things is one of the reasons the Gucci brand has endured. Here are just some of the unique Gucci features that were born out of necessity.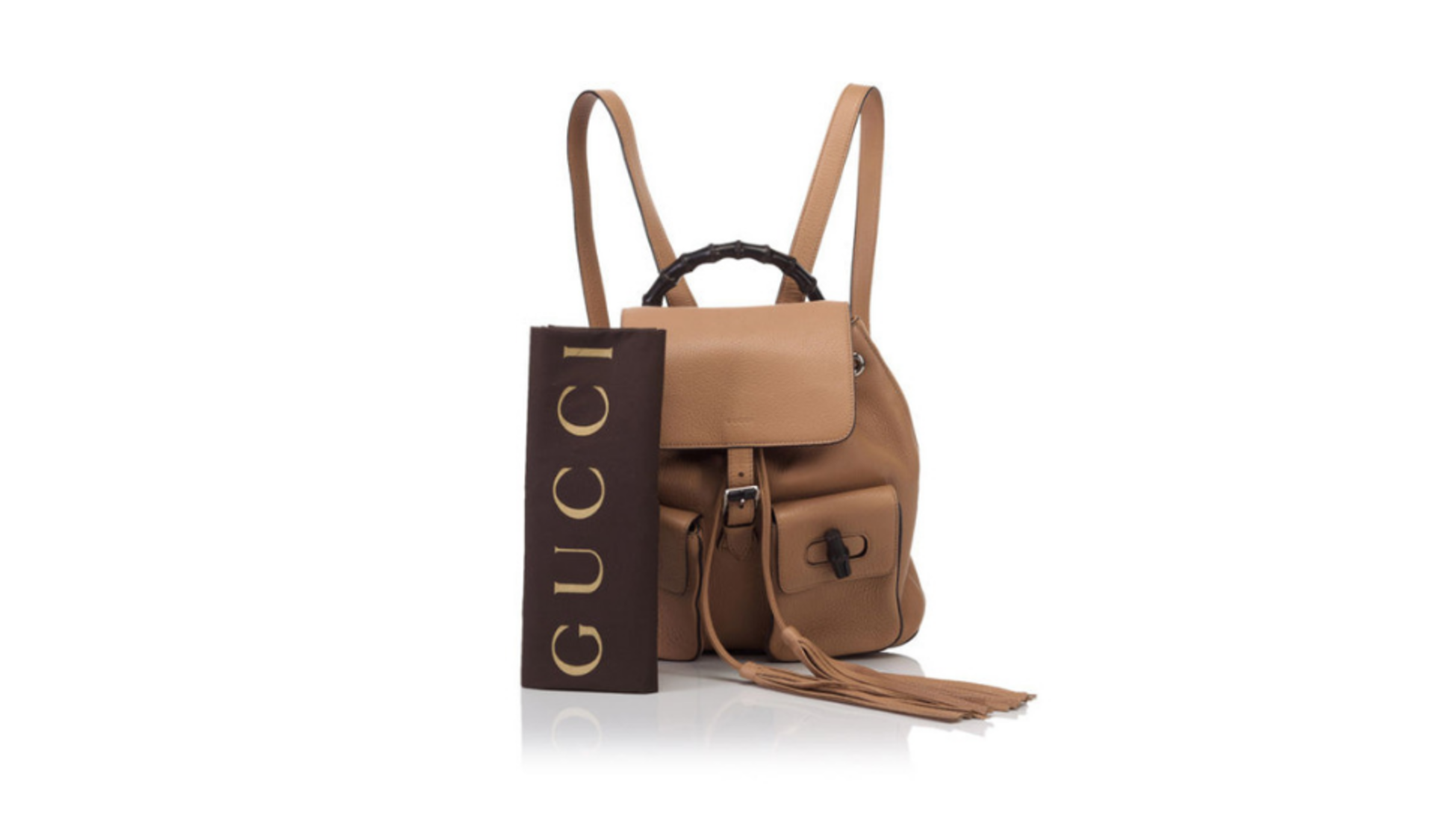 An unusual variation of the Gucci bamboo handle

Hemp
In 1935 the League of Nations imposed a trade embargo on Italy. The intent was to put a halt to Italy's aggression towards Ethiopia and an unexpected (although fairly predictable) consequence was that imported leather was in short supply. Gucci's response was to experiment with alternatives, including a kind of woven hemp from Naples. This fabric was printed with the now familiar pattern of dark brown diamonds against a tan background. It was also strong and durable enough to be used in Gucci's first set of suitcases.
Canvas
After the success of his hemp suitcases, Guccio Gucci was open to trying different kinds of fabrics and an opportunity soon presented itself. Material shortages during World War II made cotton canvas the easiest fabric to source. The cotton canvas bags were branded with Gucci's signature double-G – the first time the symbol was used – and red and green bands were positioned on either side of the GG. It's a combination that is still in use today.
Pigskin
Another experiment with alternative fabrics saw Gucci handbags made out of pigskin rather than the traditional Florentine cow leather. As pigskin is more expensive and the quantities produced are smaller, it's doubtful whether Gucci would have experimented with pigskin if the war hadn't interrupted supply lines. Once they started using it, however, the thin, soft nature of pigskin made it a key feature of some of Gucci's most popular bags.
Bamboo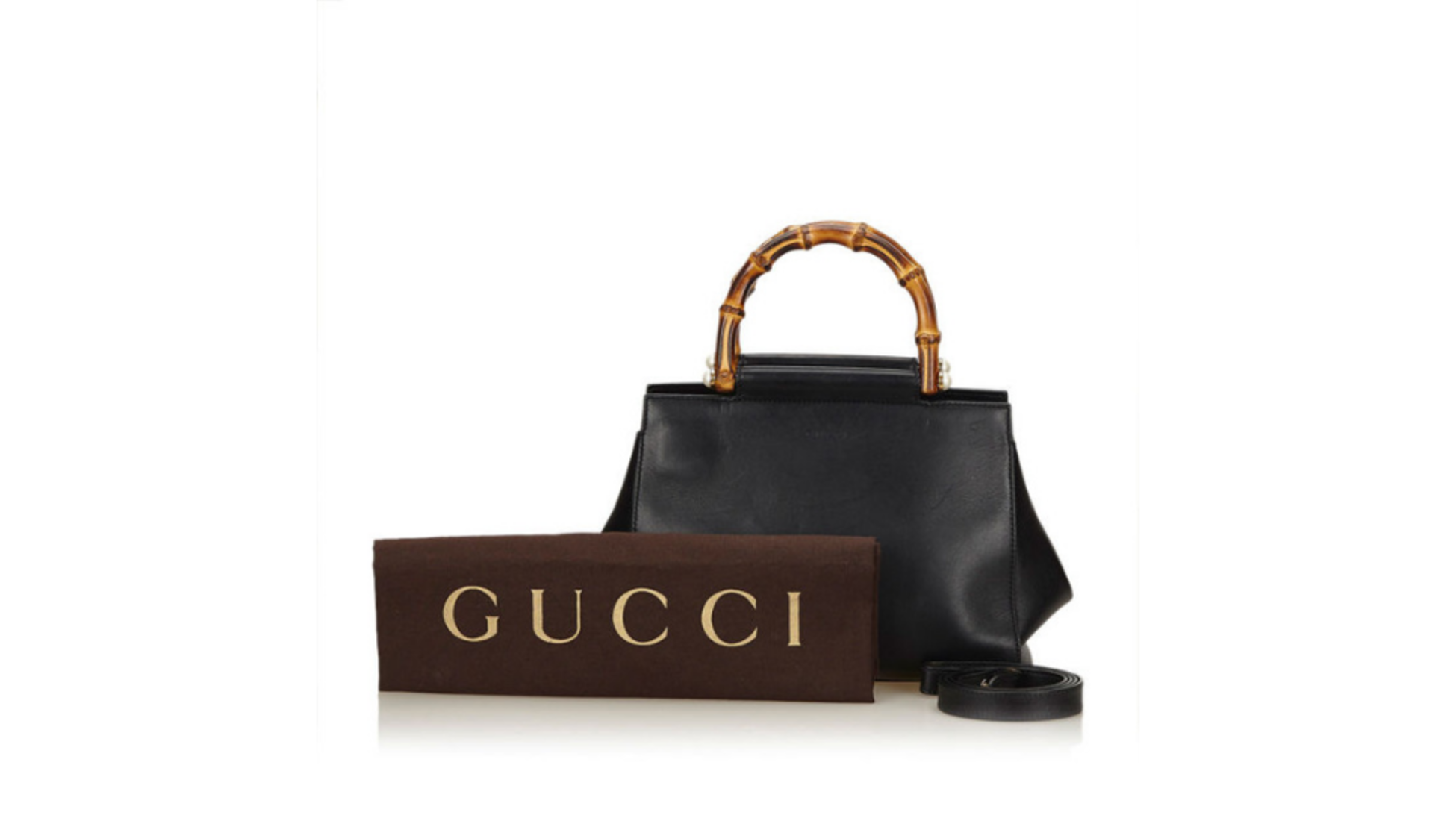 Note the detachable long strap

The bamboo handle is perhaps one of Gucci's most successful experiments. Rationing continued long after the war ended and by 1947 luxury goods manufacturers were struggling. One material that was readily available, however, was bamboo. By heating the bamboo canes, Gucci's craftspeople realised that they could bend the canes into the shape of handles, and attach them to a pigskin bag. Pigskin was too soft to make an effective handle but the bamboo was sturdy and elegant enough to be a great substitute. Over a hundred years later and the Gucci bamboo handle bags are some of the brand's most sought after creations.
Neoprene
Popular with both avant-garde designers like Gareth Pugh and established fashion houses like Balenciaga and Vera Wang: Neoprene or "scuba material" became a fashion staple in 2014. The Gucci Rubber Bucket Tote bag is cut from one piece of neoprene and has an embossed Gucci logo on both sides. It caused quite a stir upon release – both because of its high price and its open top, unitone design, which was a marked departure from the brand's signature style.
3D Printing
2019 S/S saw Gucci make two daring choices. First they broke with tradition, moving their spring runway show from Milan to Paris, and secondly one of the models was carrying a handbag made out of Mickey Mouse's head. The bag was created using a 3D printer, with enamel features and an embossed Gucci logo on the handle. Whether it will become a classic remains to be seen. One thing is clear: the Gucci brand is still very open to experimenting with new and unexpected materials.
____________________
Discover more gucci handbags | gucci clothing | fashion
You might also like:
How to Determine the Value of Your Designer Handbag?

5 Designer Handbags That are Increasing in Value