Written by Simone | 5th July 2019
Frida Kahlo's courageous, bold personality, immense talent and striking appearance have seen her crowned a feminist and queer icon. Her famous features; trademark unibrow, hair braided into a crown, decorated with flowers and traditional Tehuana dress have been commodified onto keychains, mugs, soaps, nail polish and other goods. It's reached the point where her appearance is almost overshadowing her amazing and powerful autobiographical art, so we've taken a look at what Kahlo's paintings can tell us about her life.
The Broken Column, 1944
On a rainy day in September 1925, Frida Kahlo and her boyfriend Alejandro Gómez Arian were involved in a traffic accident that would change Kahlo's life forever. When a trolley crashed into the side of the bus they were travelling in, several passengers were killed instantly and Kahlo was seriously injured, but miraculously survived.
An iron handrail impaled Kahlo's pelvis, fracturing it along the way and puncturing her abdomen and uterus. Her spine was broken in three places, her right leg in 11 places. Her shoulder was dislocated, her collar bone was broken and later, it was discovered, three additional vertebrae had been broken too. Kahlo spent a month in the hospital and was bedridden for months afterwards.
The rest of Kahlo's life would be marked by pain, girdled by her plaster casts, constantly undergoing surgery and still suffering from the effects of polio which she had contracted at the age of six. With the accident, Kahlo's dream of becoming a medical practitioner concluded, and she started painting instead.
Pain was an integral part of Kahlo's life and a constant topic in her paintings. The only overt reference to the incident in her work is The Bus (1929), but the suffering it resulted in is a theme in almost every other painting she created throughout her life. In The Broken Column she expresses this in the most direct and distressing way: her body covered with nails, struck open in the middle exposing a broken column where her spine should be. The column appears as it could collapse at any second, displaying her fragile health.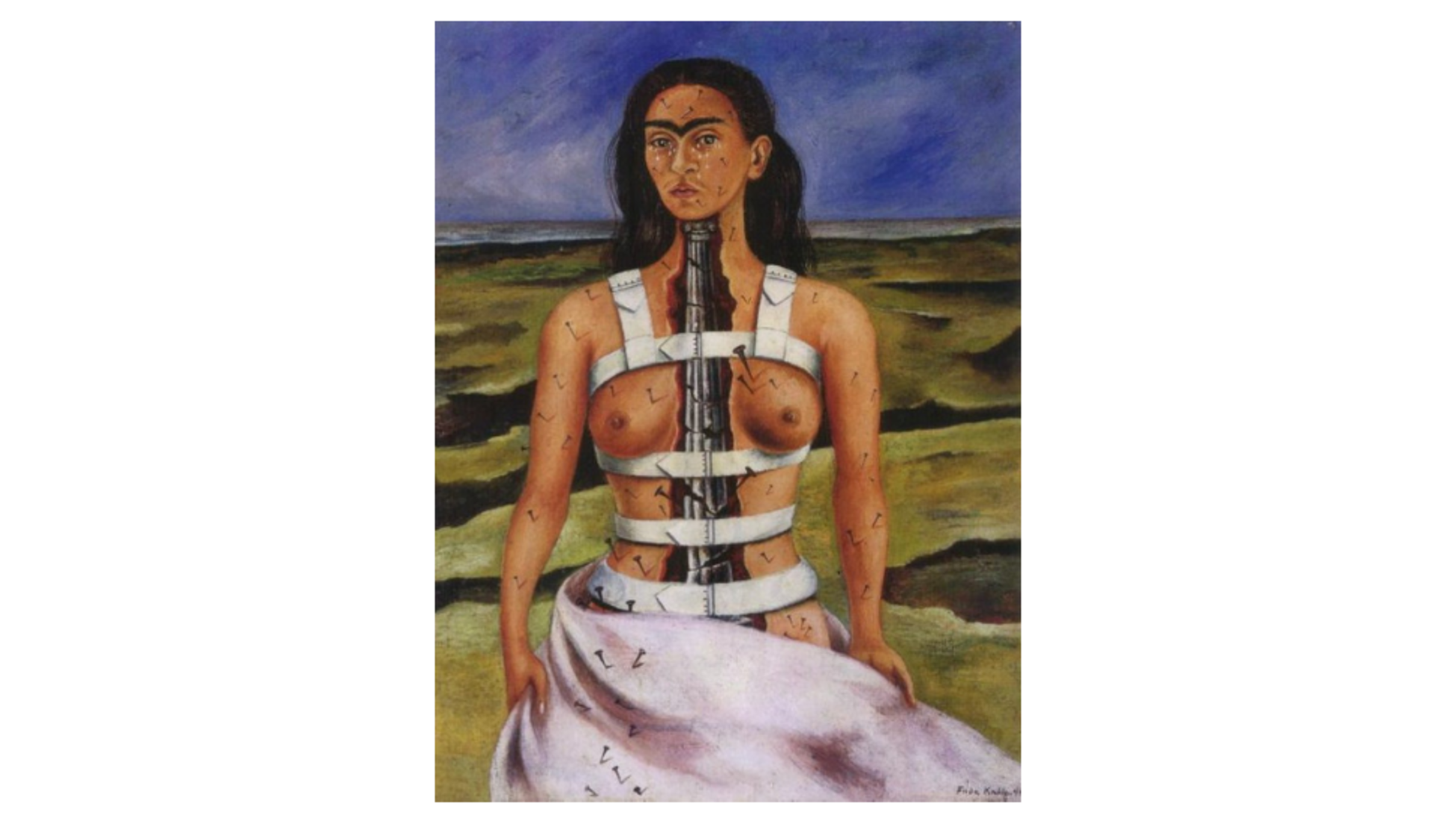 The Broken Column (1944) by Frida Kahlo
Diego and I, 1949
"There have been two great accidents in my life", Kahlo once wrote in her diary. "One was the trolley, and the other was Diego. Diego was by far the worst." In 1922 Frida Kahlo met Diego Rivera, the man that would become the love of her life. She was just 15 years old, he was 36 and he was painting a mural at her high school. They meet again in 1928 at a Mexican Communist Party gathering, and a year later "the elephant and the dove", which is what her parents called them, got married.
Kahlo and Rivera's marriage was not exactly traditional. Despite the fact that they were two passionate lovers, both of them had extramarital affairs. Diego and I was painted during Rivera's affair with Kahlo's friend; film star Maria Felix. Kahlo often joked about his affairs, even though nearly ten years earlier it was his affair with her sister Cristina that caused them to divorce for a year.
Diego and I shows that Kahlo not as unfazed as she wanted to appear and that Rivera's infidelity actually caused her a lot of emotional distress. The affair with Felix became a public scandal, and Rivera was even rumoured to divorce Kahlo and marry Felix instead. The painting shows Kahlo crying, her long hair wrapped around her neck as if it is strangling her. On her forehead, Rivera's bust is placed, which shows he is constantly on her mind and perhaps the source of her distress.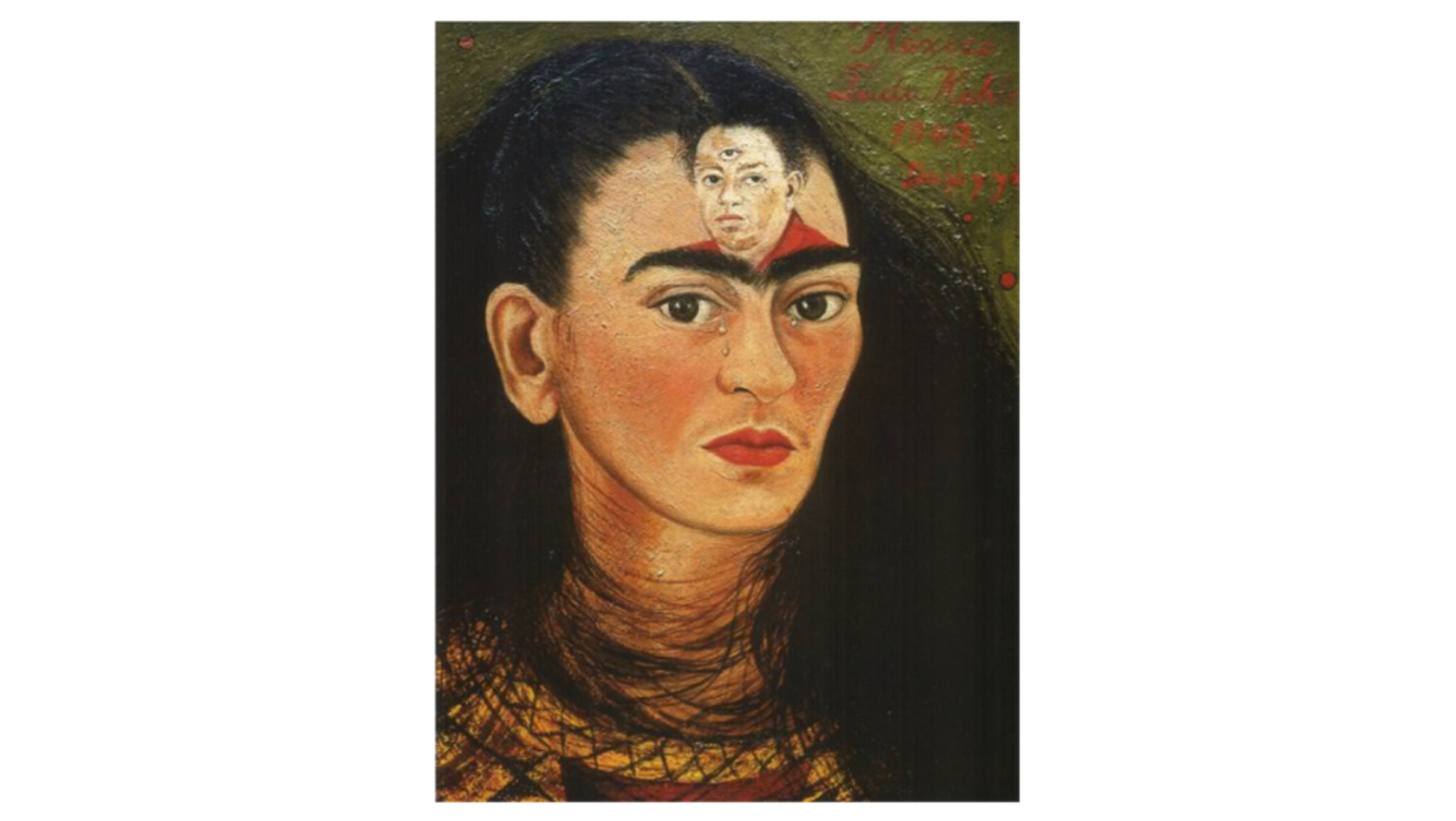 Diego and I (1949) by Frida Kahlo
My Dress Hangs There, 1933
Kahlo was a lifelong communist, and her political beliefs often inspired her artistic endeavours. She even lied about her year of birth [1907] so that people associated her with the eruption of the Mexican revolution [1910]. She also had the hammer and sickle flag draped over her coffin when she died in 1954 and was often seen sporting the symbol on her clothing or cast.
In 1929, Rivera was expelled from the Partido Comunista Mexicano [the Mexican Communist Party] over ideological differences regarding artistic freedom. In solidarity with Rivera, Frida left the party as well, yet both of them stayed committed to the cause for the rest of their lives.
In 1930 through 1934, Kahlo and Rivera travelled through the U.S., stopping by in San Francisco, Detroit and New York City. During their time in New York, Kahlo started painting My Dress Hangs There. Kahlo didn't like the US very much and desperately wanted to go back to Mexico, whilst her husband was enjoying his fame and popularity and didn't want to return.

My Dress Hangs There is the result of the conflict between the two and depicts the superficial side of U.S. capitalism that she so despised, with its tall buildings, factories and billboards, with the implication that society is decaying and the fundamental human values destructed. In other paintings, Kahlo herself is almost always there, but here she is absent – only her dress is there as if she is saying: "I might be in the United States, but my life is in Mexico."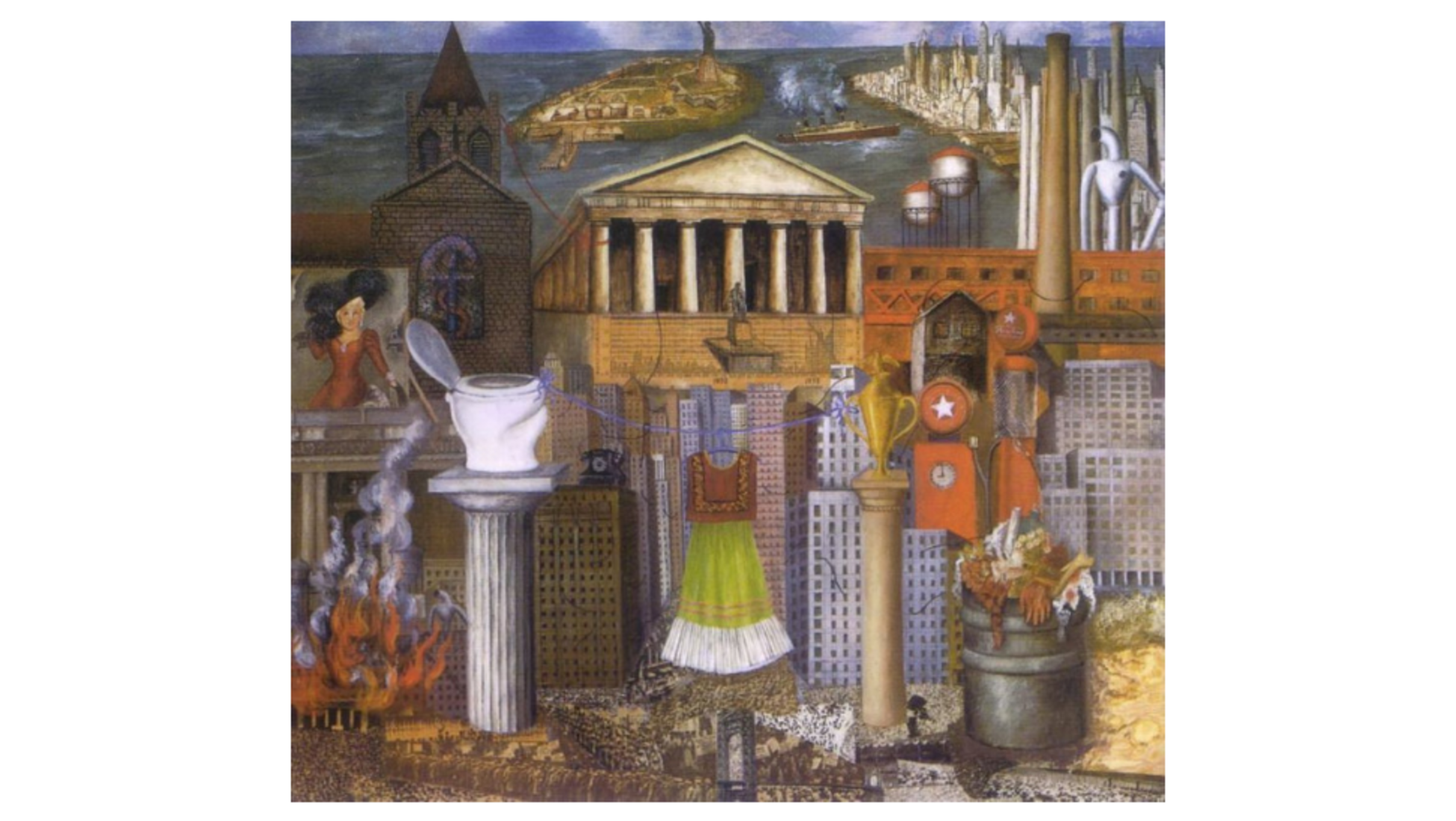 My Dress Hangs There (1933) by Frida Kahlo
Fulang Chang and I, 1937
Of Kahlo's approximately 150 paintings, at least one-third contain her pets. Kahlo saw her pets as an extension of her own being, and she had quite a few. Next to a parrot, a fawn, an eagle, some parakeets, macaws, hens, sparrows and Mexican Xoloitzcuintli [an ancient breed of hairless dog], she also owned spider monkeys, that she kept in the garden of her home, the Casa Azul.
Art historians hold that Kahlo referred to the monkeys as symbols of the children she was never able to bear. She especially liked the monkey's strange appearance with their long, spindly legs because they reminded her of her own right leg. Kahlo's right leg was thinner than the left leg, which was damaged by her childhood experience of polio and would eventually need to be amputated.
Fulang Chang and I is Kahlo's first self-portrait to feature the spider monkeys, but many more would follow. In Mexican mythology, the monkey is a symbol of lust. In Kahlo's paintings, they are depicted as tender and gentle, sometimes with their arms around Kahlo's neck. She has a ribbon in her hair that also goes around the monkey as if they are connected. Kahlo was very proud of this painting and gave it to her good friend Mary Schapiro Sklar, together with a mirror in a similar frame. She told Sklar the painting and mirror should hang next to each other so that Sklar could always see herself next to Frida.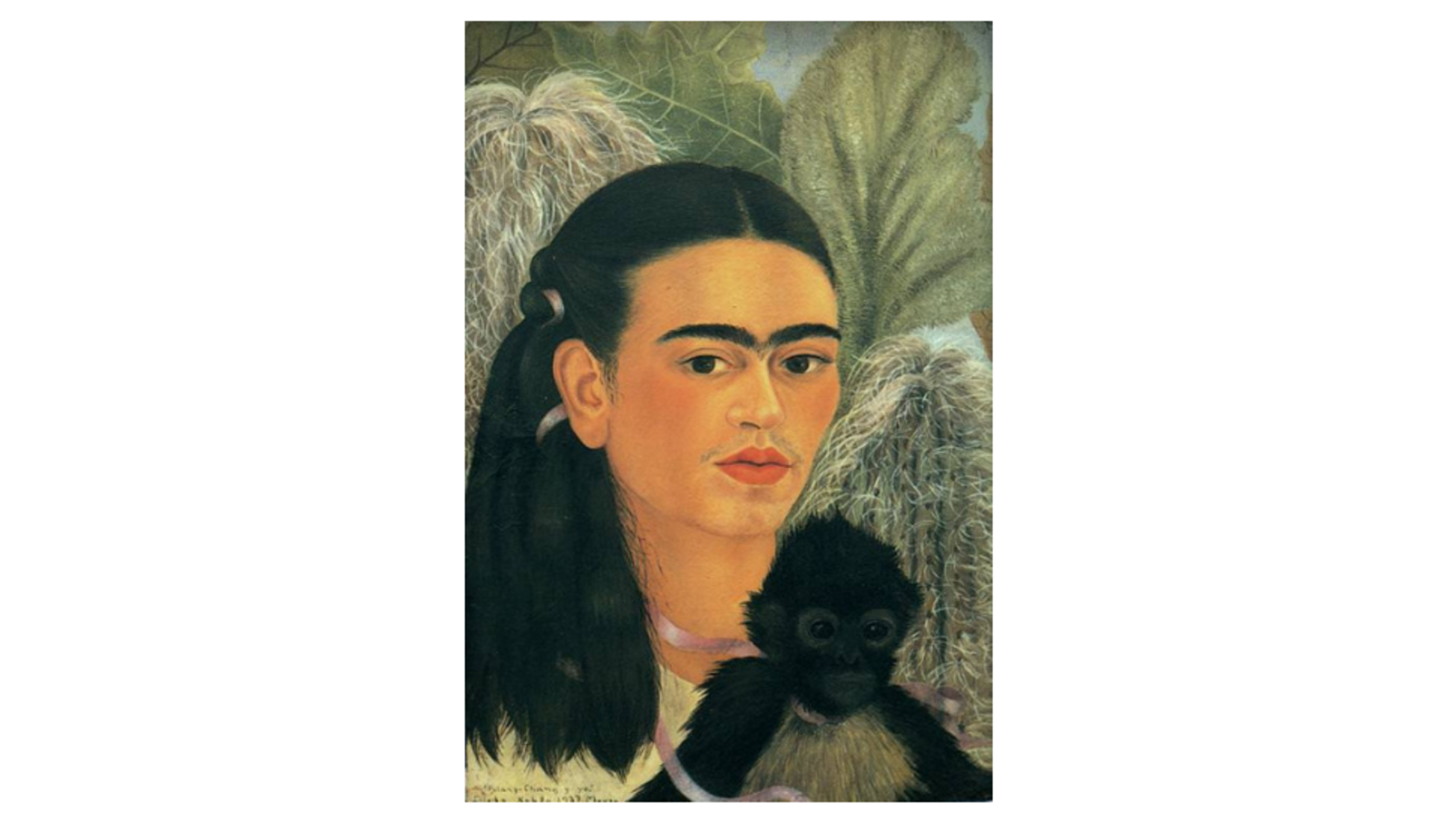 Fulang Chang and I (1937) by Frida Kahlo
The Wounded Table, 1940
By far the most mysterious of Kahlo's paintings, The Wounded Table disappeared in 1955 on its way to an exhibition in Moscow, and only three photos (taken between 1940 and 1944) remain. The Wounded Table is one of only two large paintings by Kahlo and it is by far the most complex.
It was displayed together at the International Exhibition of Surrealism with a number of Surrealist masterpieces, including Persistence of Memory by Salvador Dalí, and The Treachery of Images by Rene Magritte. Kahlo herself didn't actually like being called a surrealist, and famously said: "They thought I was a Surrealist, but I wasn't. I never painted dreams. I painted my own reality."
The tableau of The Wounded Table is rife with symbolism and has often been compared to The Last Supper by Leonardo da Vinci in terms of composition. It features the children of Kahlo's sister Cristina, a tall character that is often called a Judas-figure and supposedly represents Diego Rivera, a pre-Columbian Nayarit figurine, a skeleton that represents the Aztec Queen of the Dead and her pet deer Granizo. The table has human feet and is bleeding.

The result is a cumulation of themes that were the most important to Kahlo. Various objects symbolise aspects of both Kahlo's personality and mexicanidad; the return of Mexicans to their indigenous origins in order to reclaim their own social and cultural self-confidence and identity.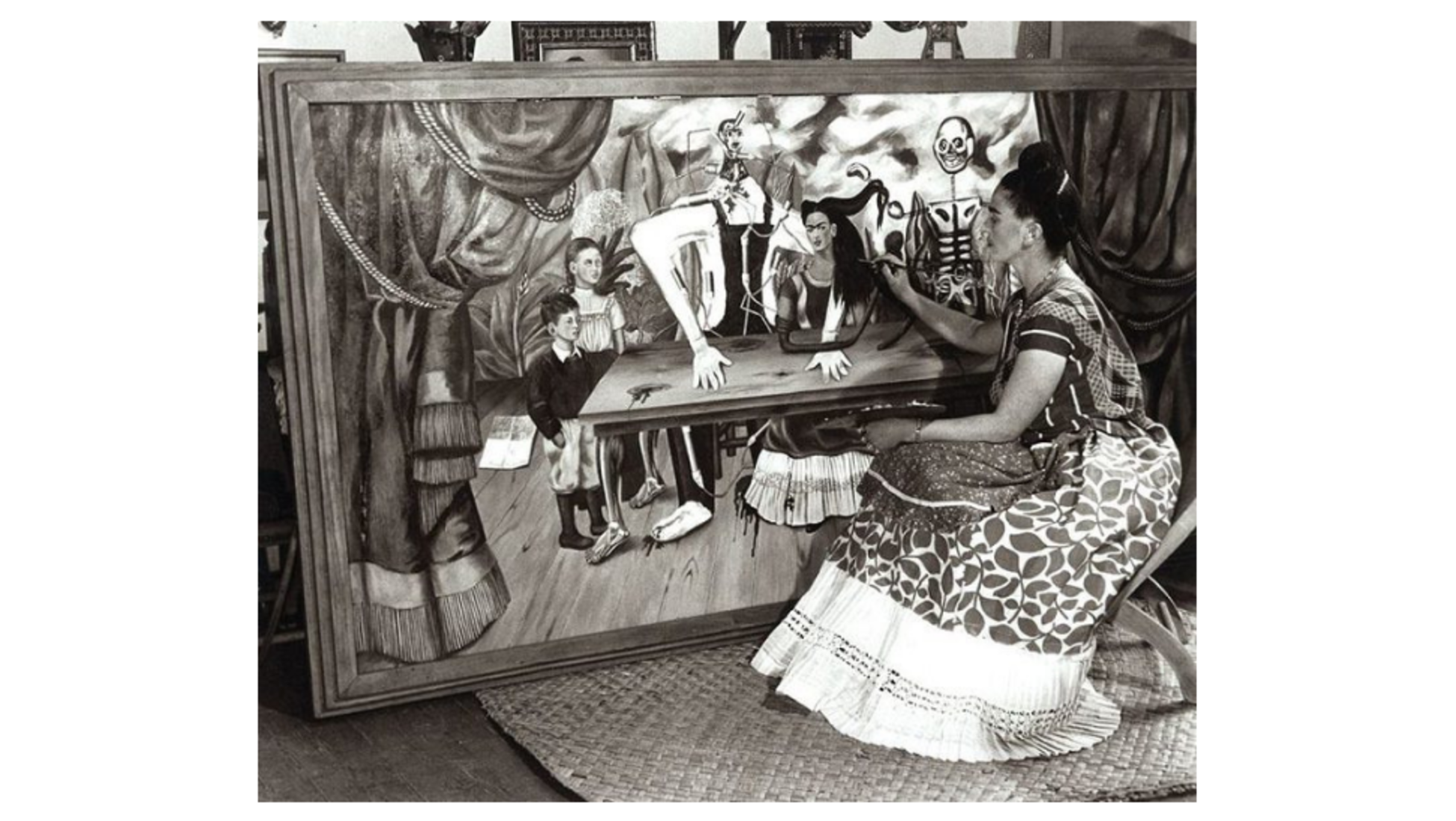 Frida Kahlo with her painting The Wounded Table (1940) before it went missing.
____________________
Discover more modern art | Frida Kahlo | surrealism
You might also like these articles: