Written by Simone | 26th July 2019
Citroën is celebrating its 100-year anniversary this year; an impressive milestone worth taking a moment for. We sat down with some of our classic car experts to discuss three of Citroën's most famous cars, and to figure out the key to the company's success.
Citroën B2
The very first Citroën model, the Type A, rolled from the assembly line in 1919, and a slightly modernised version – the B2 – entered production in June 1921. The B2 was very similar to Type A but looked a bit different, thanks to its curved door sills. The B2 was equipped with a new engine: a more powerful four-cylinders of 1,452 cc with a power of 20 hp that could reach a maximum speed of 72 km/h for the consumption of 8 litres of gasoline per 100 km; about 7 km/h faster than its predecessor.
The B2 was Europe's second mass-produced car – Type A being the first – and 89,841 cars were produced in just five years. By 1925 no other European manufacturer came even close to the production techniques or the sales volumes of the Citroën B2, possibly due to Citroën's bold marketing techniques. Case-in-point: the company made the Guinness World Records when the Eiffel Tower was used as the world's largest advertising sign from 1925 to 1934.
In 1922, the first "sporting" Citroën was launched: the B2 "Caddy". The chassis featured a specially tuned engine that could reach a top speed of 90 km/h. The B2 Caddy's improved hp, luxurious body and interior made the car relatively expensive for its time; which is probably the reason it went off catalogue in May 1924, after production of approximately 300 units. Of these 300, there are only seven known survivors.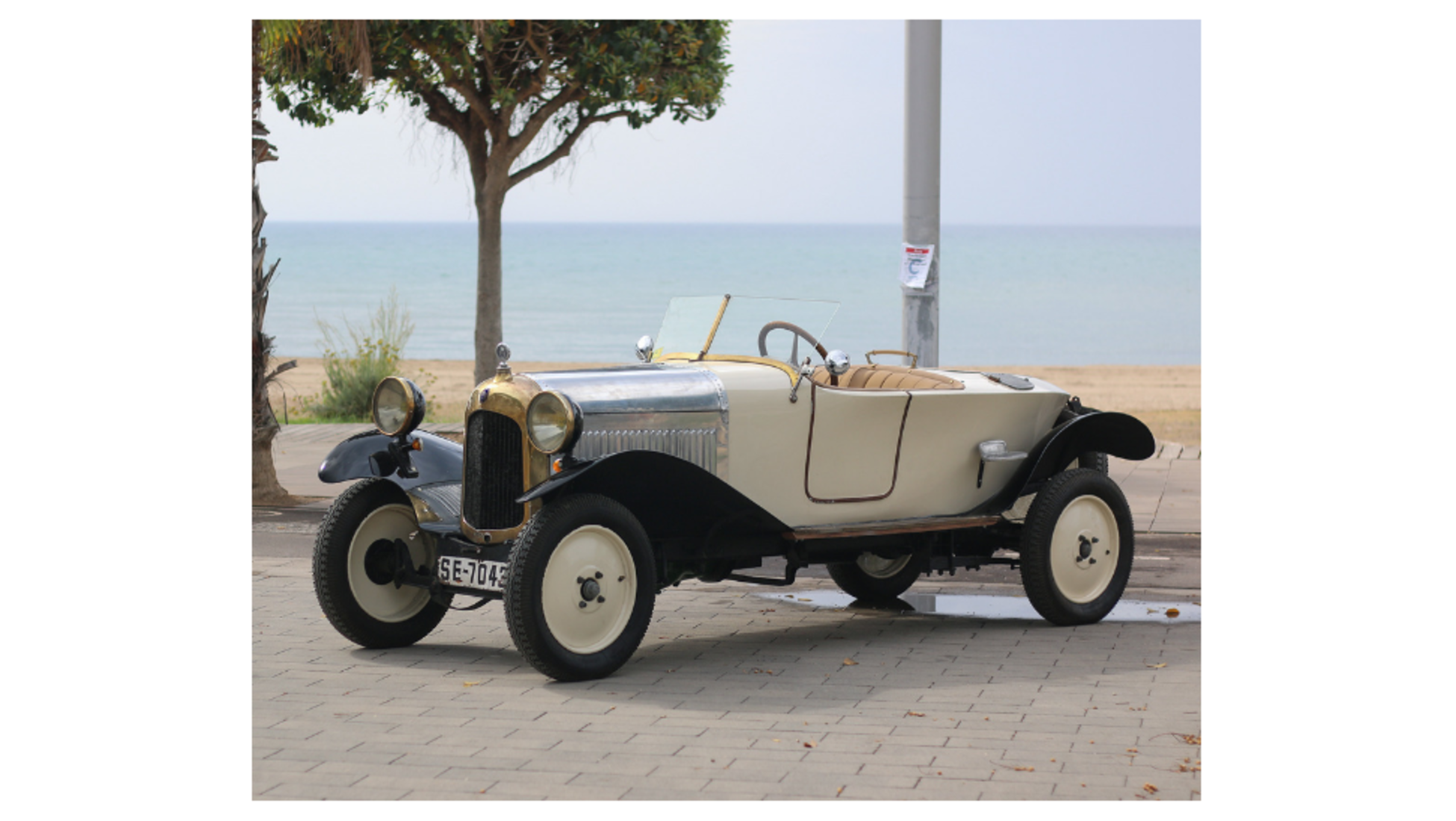 This rare Citroën B2 Caddy is available on Catawiki until 30th July.
Francisco Carrión, a classic car expert at Catawiki, is impressed by this find: "The car was discovered in the early 1990s as part of a huge collection based in Madrid, and still retained all its original main parts. The car has just finished a recent restoration and is in working condition, ready to be enjoyed. This would be the perfect addition to any serious Citroën Collection, for sure."

Citroën Traction Avant
The car that founder André-Gustave Citroën really poured his heart, soul and fortune into was the Traction Avant (literally 'Front-wheel drive' in French), which went on to become one of the most innovative cars of the century. One of the most tragic aspects of André-Gustave Citroën's life is that he did not live to see its success. André-Gustave Citroën passed away in 1935, one year after the company declared bankruptcy and was taken over by Michelin, but before the car gained any real traction.
On a happier note, the Traction Avant pioneered mass-production of three revolutionary innovations that have been widely adopted since, and are still being used today: front-wheel drive, four-wheel independent suspension and the use of a crash-resistant, unitary, monocoque body. It was one of the earliest mass-production adopters of rack and pinion steering and stood out from other cars of the time because of its much lower profile and stance.
Classic car expert Luca Gazzaretti explains the impact: "Citroen has always been a very innovative brand, more than any other for both design and mechanical solutions. The Traction Avant has been the benchmark for front-wheel drive and unitary body/chassis. It inspired other companies like Lancia to make cars the same way."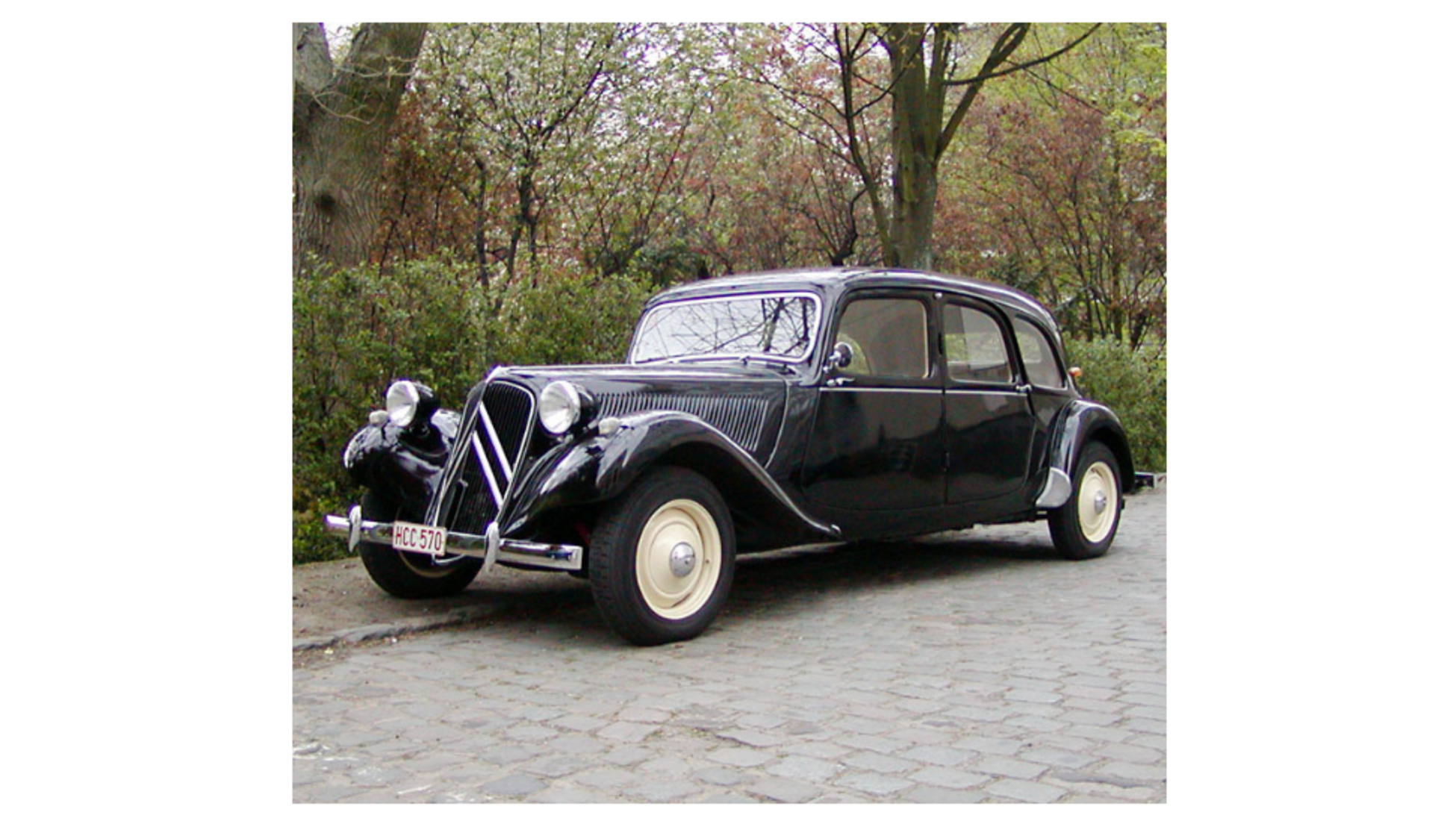 Find an original two-tone 1954 Traction 11B without reserve price here.
Citroën 2CV
One of the company's most successful and iconic cars is, of course, the 2CV. The car was specifically designed for the rural population of France that could, at that time, not afford any type of car. The design brief described the need for a low price, rugged 'umbrella on four wheels' that would enable four people to transport 50 kg of farm goods to market at 50km/h, if necessary across muddy, unpaved roads, and also specified that the car must be able to drive eggs across a freshly ploughed field without breakage.
Classic car expert André Dekker explains why the 2CV was so popular: "The 2CV was certainly the most successful Citroën. It quickly became the most popular 'social car' of the 20th century. Derivatives like the Mehari, the Dyane, the Ami and Bijou brought new life to the '2CV' concept in the years to come, with low costs, simplicity and innovation, yet the 2CV actually survived all of its derivatives that were meant to replace it, and in Portugal, the 2CV was even made until 1991."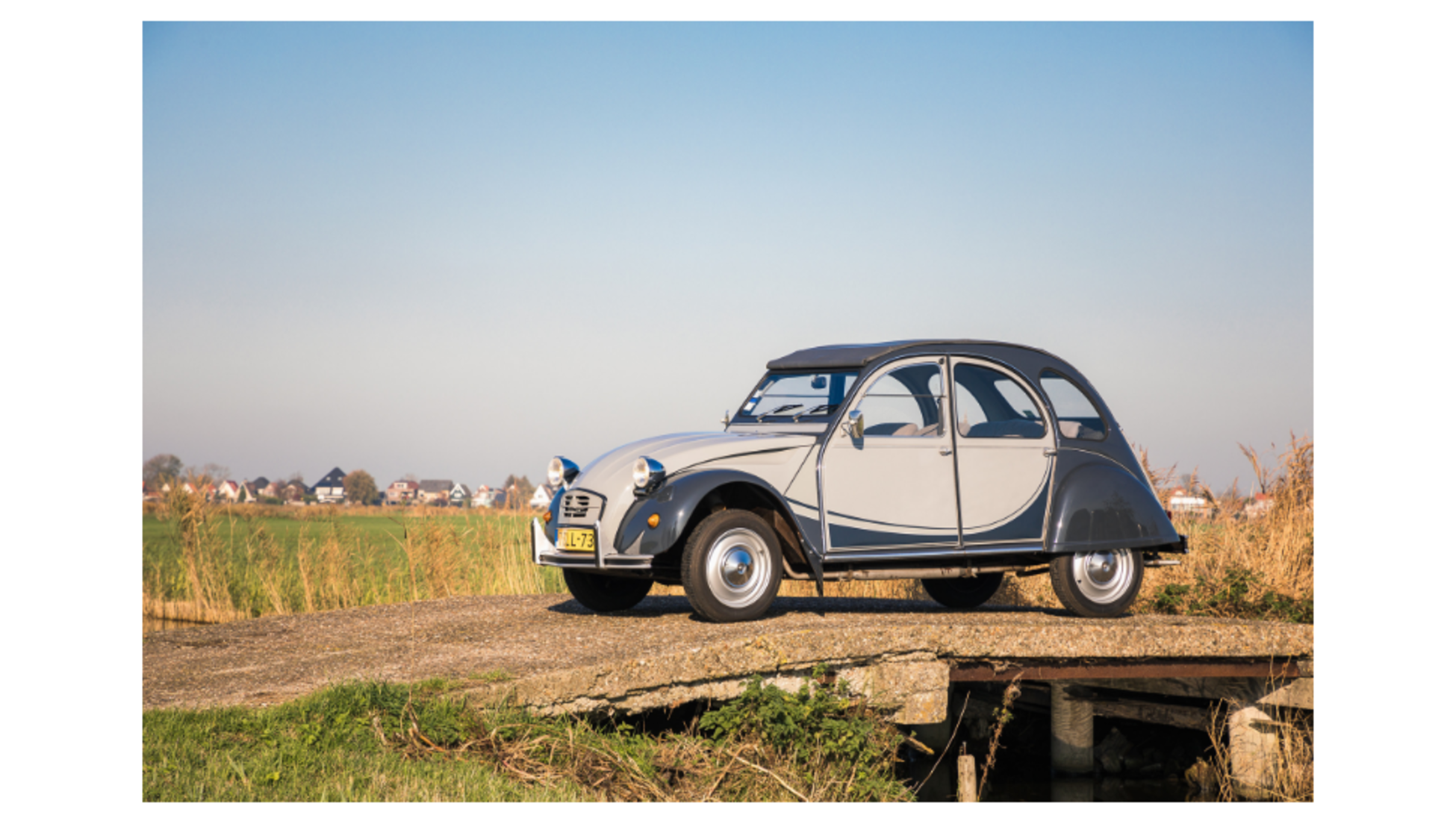 Citroen 2CV in Charleston version (shutterstock.com)

So here we are, 100 years after André Citroën turned his factory to produce automobiles. Using revolutionary technology, innovative designs and savvy marketing techniques, Citroën has survived one of the most competitive industries for a century.
____________________
Discover more Citroën | classic cars
You might also like these articles: