Written by Simone | 02nd October 2019
As with any item that is remotely valuable, there are fakes floating around – even in the wine world. How do you make sure the Grand Cru you're eyeing is authentic and the Petrus you want isn't glorified grape juice? Wine expert Patricia Verschelling is here to help.
Different types of wine fraud
It can be quite complex determining whether a bottle of wine is real or fake, as there are numerous ways to forge one. If a forger is any good, it can be years until they're discovered, as bottles rarely get opened and simply move from seller to cellar. There's a vivid market for empty, original bottles, labels and even corks.
"Refilled original bottles can be especially difficult to spot," Patricia tells us. "And we're also seeing some very well-made new fake bottles, which could be manufactured by organised crime."
Organised crime, you say? Yes, indeed. In February 2019, Europol reported having "dismantled a sophisticated criminal network involved in counterfeiting trademarks and distinctive labels of a famous winery in Florence, Italy, as well as counterfeiting at least 11,000 bottles of red wine." This 'wine mafia' was running quite an operation; at least 3,000 corks and 10,000 laminate caps were found, as were a bottling and capping machine.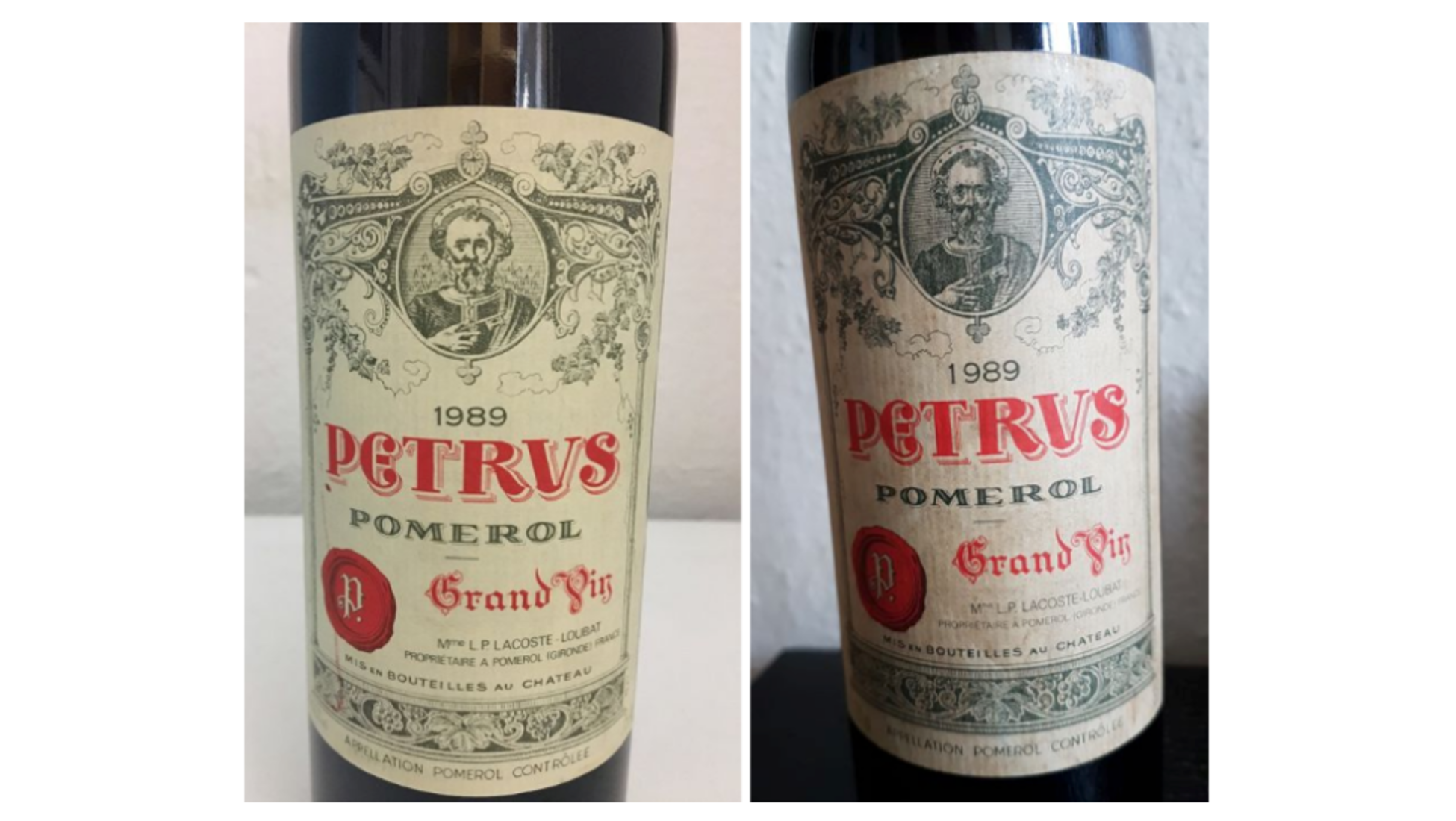 The left is the real Petrus 1989, the right bottle is a fake. The black ink that was used is too dark, the paper structure is different and the logo is messy.
Luckily not all forgers have this kind of equipment available to them. "You also have the homemade bottles with copied labels and messy capsules. These are easy to recognize. And then there are the ones that have been tampered with by pushing a needle through the capsule and cork, something we come across quite frequently. Without opening the bottle, the content can be checked for cork taint or altered [removing wine or adding other wine to improve the condition]."
Measures from the vineyards
So now we know how frauds work, what are vineyards doing to combat forgeries?. "For new bottles, Petrus uses a special pattern printed on the label which you can only see with a special light," Patricia explains. "Holograms, as used for banknotes, can also be an option. Other wineries use special tags with a QR-code on the bottle to track its whereabouts: from the date of release from the chateau, to which distributor bought it and which customer the distributor sold the bottle to."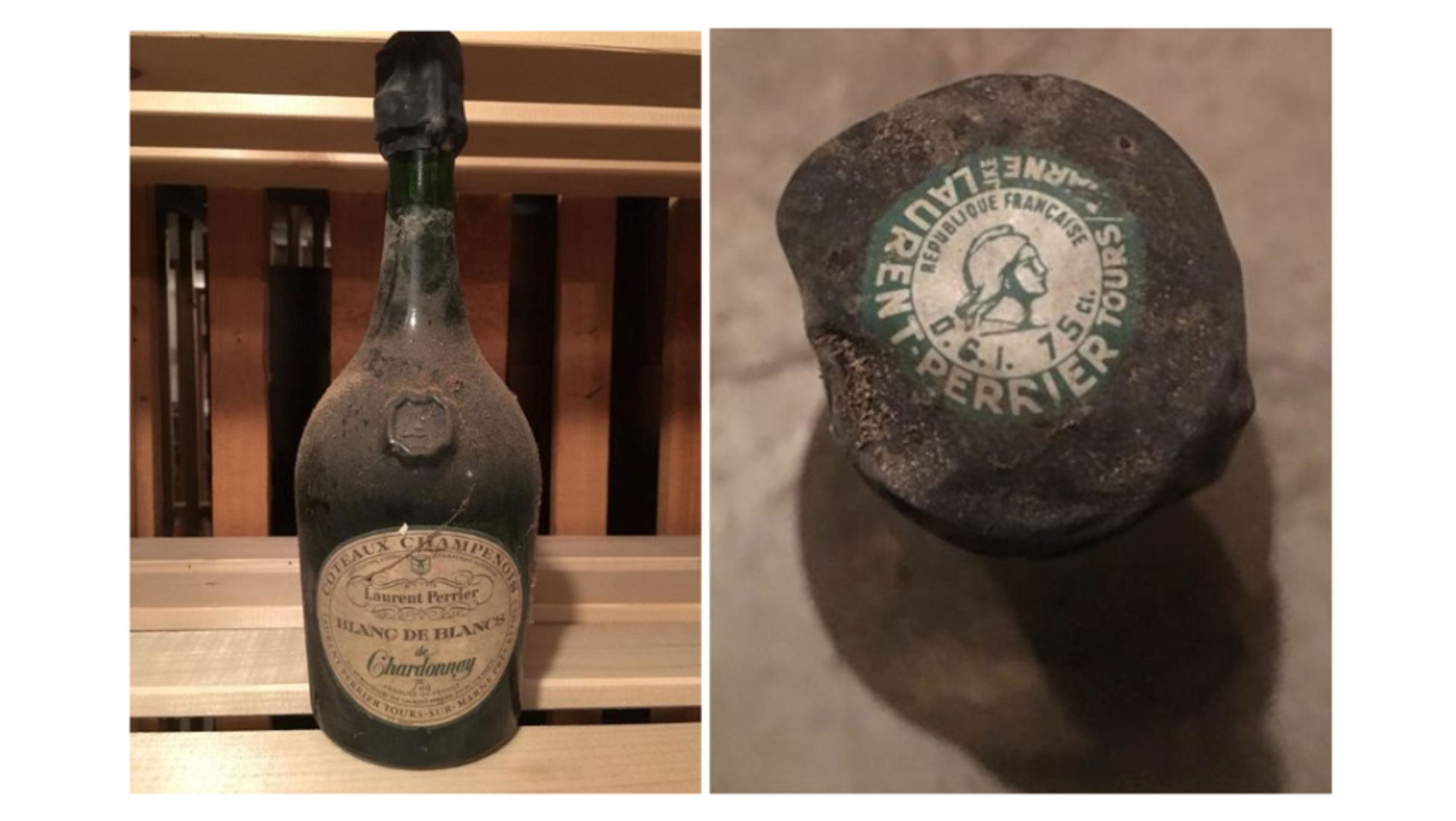 The seller of this bottle of Laurent Perrier - Coteaux Champenois Blanc de Blancs claimed it was collected during WWII and should be from 1941, but the tax-paid capsule-congé on top was only introduced in 1960.
It's not just the vineyards that take action against these fraudsters; there are some serious Sherlocks in the wine world as well. "The famous American wine-detective Maureen Downey helped track down master forger Rudy Kurniawan, who is still in jail." He was the first person ever to be convicted of wine fraud.
Kurniawan once sold $24.7m of wine in a single auction in 2006, beating the previous record by more than double the amount. But when he started selling Clos St Denis from Domaine Ponsot vintages between 1945 and 1971, his reputation started to crumble. The Ponsot family had only started making this particular wine in 1982 after all.
"Bill Koch, the billionaire wine collector, tracked down another illicit fraudster: Hardy Rodenstock," Patricia adds. Rodenstock famously sold a 1787 Chateau Lafite to an auction house for $150,000, claiming it was formerly owned by former US president Thomas Jefferson. Koch, who paid another $311,804 for four other bottles of wine supposedly belonging to wine aficionado Jefferson, hired a private investigator after the Jefferson estate was unable to confirm the bottles' provenance. He discovered the wine was no older than 1962. The empty bottles, blank wine labels and corks found in Rodenstock's house might also have given it away.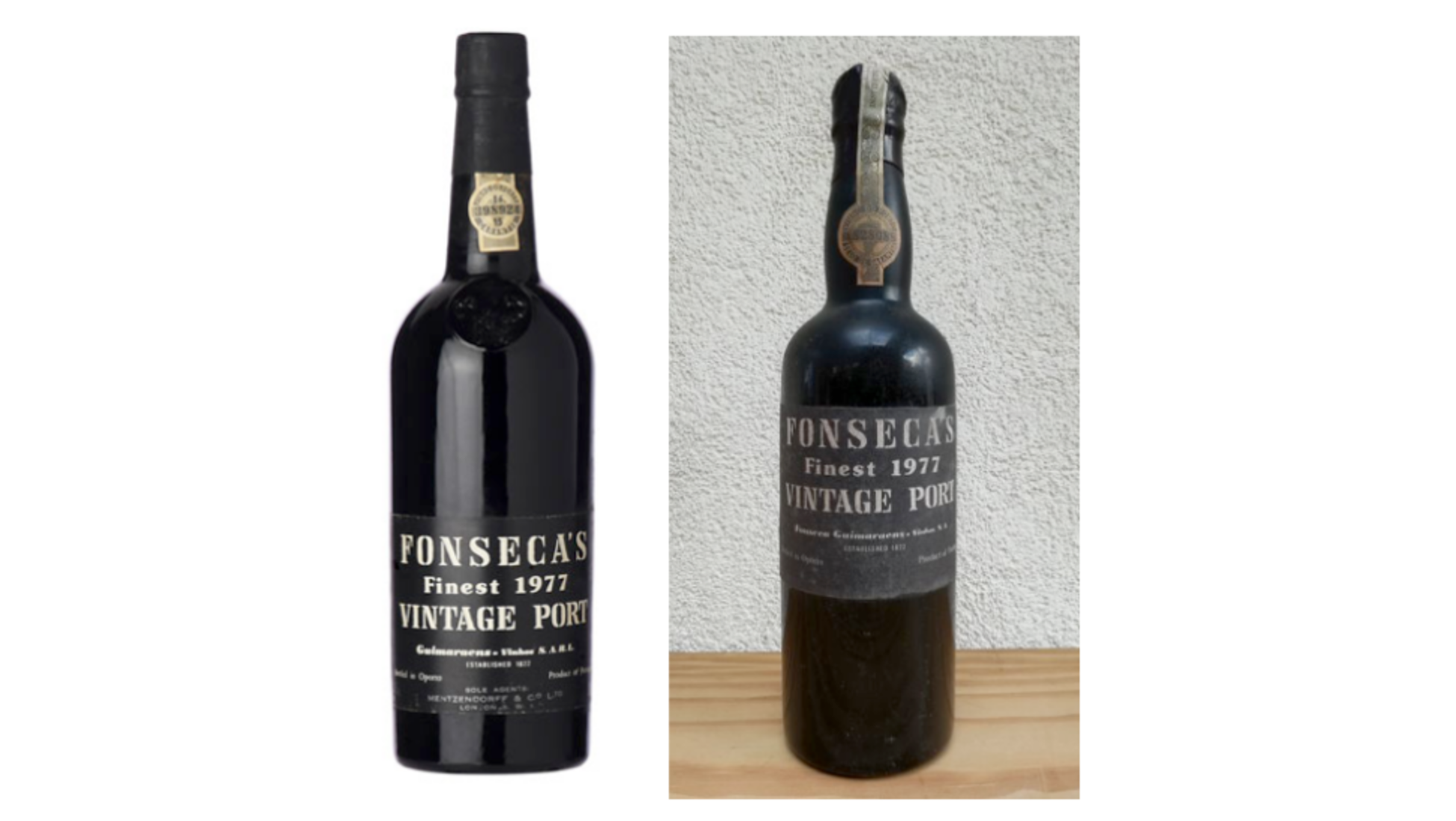 To the left is a real bottle while to the right is a fake. You can see the left bottle has a metal capsule and a 'modern' paper seal. The right bottle has an altered wax capsule and an old paper seal, among other incorrect details.
What you can do
It's a lot to take in, but what are the things you can do to tell if your bottle of wine is authentic? Patricia has listed a couple of questions you can ask yourself and the seller to determine whether a bottle is real or if you're being conned:
1. Are the layout and design of the labels correct?
2. Are the capsules still intact and do they match the original ones?
3. Do the corks have the original chateau branding on the side?
4. Does the bottle shape and glass type resemble the original bottle?
5. What is the provenance of the bottle?
It all comes down to educating yourself on how the wine you want to buy is supposed to look and on its history. Patricia advises: "Don't buy on emotion and do some homework before you buy expensive bottles." That way you can prevent yourself from any kind of disappointment.
____________________
Check out our latest Wine auctions or register as a seller with Catawiki.
Discover more wine
You might also like these articles: