Written by Tom | 5th May 2020
Delays in shipping can mean that you're having to store items in your home longer than you were expecting. To help you create more space, we've put together a simple, budget-friendly guide, from smart interior hacks to strategic pivots, to boost your storage quickly.

Look beyond the obvious
Shelves, cupboards and attics are all built for the purpose of safekeeping but there are other parts of your home that could yet surprise you. If you've got a set of stairs, consider adding under-stair storage compartments beneath each step. Drawers can be filled with all manner of things and it's a great space-saving tactic that boosts practical and visual appeal. This is especially true for sellers who sell small-to-medium sized objects: think stamps, coins, video games and toys, which can easily be filed in these secret cubbyholes.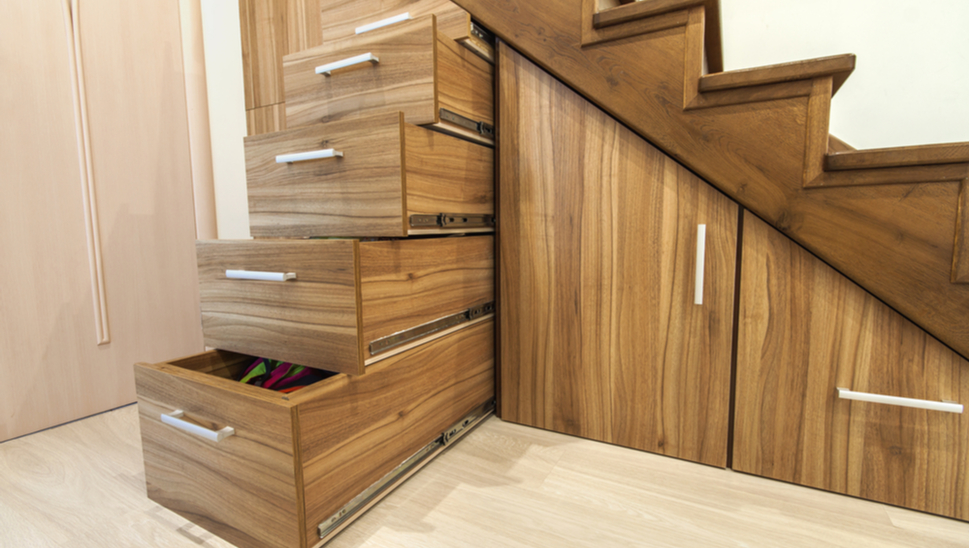 Under-stairs storage, where possible, is an excellent way to create a functional, clever and stylish space
And on the topic of under-storage, if you have a home or a ground floor flat, consider under-floor storage. It's a great way to use up what's otherwise dead space. These little trap door spaces have the dual function of keeping children's toys tidy, while also offering a safe space to store valuable, breakable items. Which is especially useful if the whole family is stuck at home.
Maximise every corner
If you're living in a small apartment or studio, stairs and flooring may not be an option and you'll have to work a bit harder to embolden your creative vision. A corner is a great place to pop a small desk for a mock-home office which you can then build around. Vertical storage is the best option and building around a space not only creates room for you to store your objects, it can become a design feature. If you don't want to put in fixed shelving units, try hanging shelves (a little hook or two and some rope will do the trick).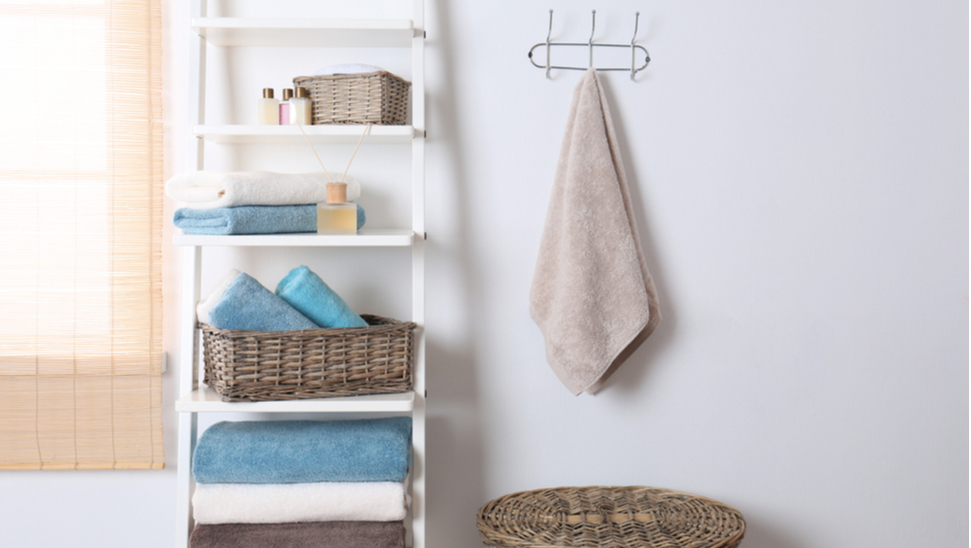 Ladders can make the most of any tricksy space while also providing aesthetic appeal
Ladders are another slim, space-saving and storage-boosting piece you can use. Prop one up in a corner and hook a few boxes onto each rung (you may need to attach the hooks yourself) or invest in a custom ladder with shelf-style steps, and you'll have another spot to admire your objects.


Perfect your fold
This might seem less intuitive but hear us out. Good folding is more than just an immensely satisfying feeling when you open a drawer, it also has a knock-on effect for boosting storage. Wherever you can, fold clothes, either into squares or parcel shapes in a nod to cleaning goddess Marie Kondo. Some dedicated time spent folding will mean you'll reap the rewards later when you're moving some smaller objects in and you've finally got drawer space.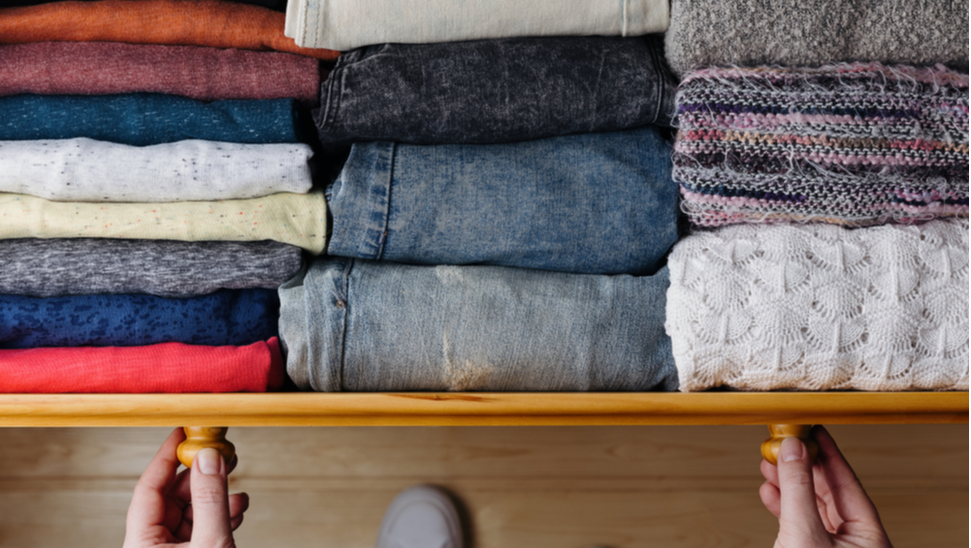 Try folding your clothes into squares which will take up the least space and leave the most room for your items
Don't fear under the bed
A lesson for children and adults alike, the space beneath your bed is not one to be feared. In fact, it's yet another example of a dead space that can be crafted into a well-loved storage unit. Many contemporary platform beds already come equipped with a pull-out drawer, but if yours isn't one of them, invest in a few storage cubes. These come in a variety of sizes so you can adjust based on the height of your bed. They're a great way for sellers with very specific categorisation rules (like comics and stamps) to keep their objects both organised and out of mind.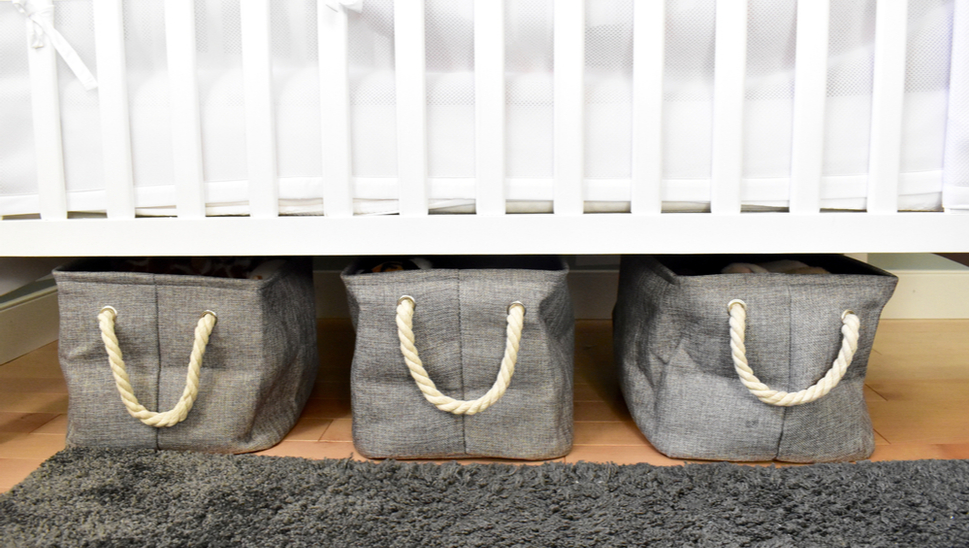 The area under the bed is usually dead space, so capitalise on this lesser-known floor space with a few storage cubes


Display your favourite finds
The focus as a seller is on selling, so use this opportunity when you have your pieces suddenly around the house to showcase your objects. An awkward alcove or tricky windowsill can be a great chance to photograph objects like furniture and art in a different setting to the traditional white background (which we recommend) and fill up that space. These kinds of images work especially well on social and for broader marketing purposes, so use this time to add a bit of colour and verve to the items you're selling with great photos.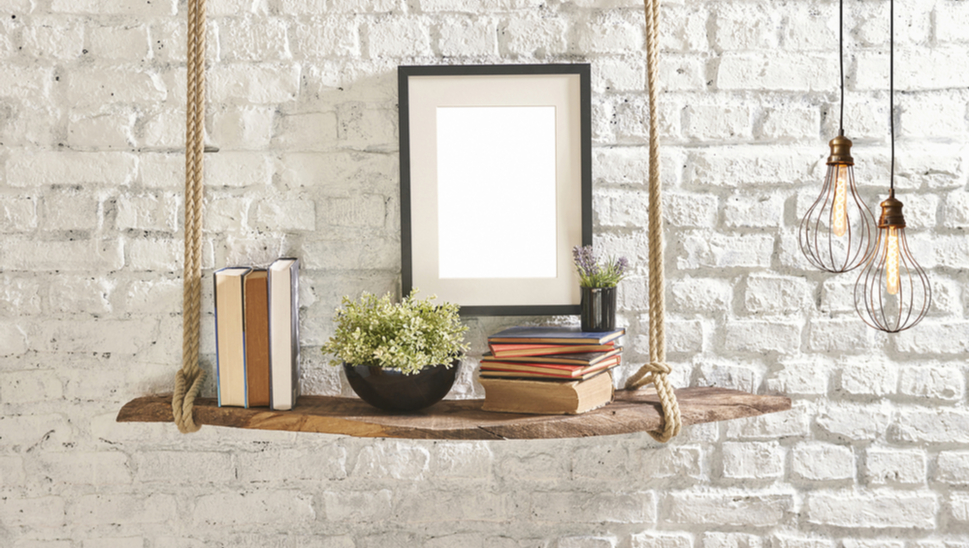 Try hanging up your objects with a bit of rope and spare wood for an easy storage hack that's beautiful and space-boosting
Similarly, if you have bookshelves, this is the time to quite literally dust off those books and line them up. It's practical and aesthetic. Your comics or vinyl may need to be preserved and encased but there's a workaround here too; get a simple set of easily adjustable frames and hang these up or prop them up on the floor. They will be protected and you'll have something to entertain you when you're not admiring your newly minted office storage system.
____________________
This is part of our regular series about how you can optimise your sales on Catawiki. The only thing left to do after that is to start uploading lots!
You might also like:

Selling from home: improving your home security
Selling from home: your guide to creative packaging
Selling from home: how to sell in an eco-friendly way