Written by Tom | Published on 4th January 2022

Sex and the City is a mainstay of the modern pop cultural canon, as much due to its characters as its fashion. Led by Patricia Field, the show's long-time chief costume designer, the outfits in Sex and the City have been influential in surfacing trends and catapulting designers to stardom. In celebration of the show's continued impact and reboot, we revisit some of the show's many iconic sartorial choices from designer heels to whimsical bags, which other than looking good, were mouthpieces for Sex and the City's most redeeming qualities.
Few shows have endured as much criticism and debate as HBO's Sex and the City. Both lauded and lamented for its four central characters, Sex and the City was groundbreaking for the attention it gave to women on screen and what female friendships could look like. And the fashion remains impervious.
This was a show that lived indulgently and did it well. Rarely did an episode go by without some feat of fashion or on-screen retail therapy. Some episodes were even dedicated to the pieces entirely which served as lessons for the characters; like the Birkin bag that Samantha craved which ended up costing her a celebrity client (the lesson being: don't cross Lucy Liu).
Field's stylings paired high fashion with fast fashion on the one hand, but these outfits helped each character to tell their own distinctive story while also providing a counterpoint to each other's. Where Carrie's glitzy purses and typographed necklace presented whimsy and femininity, Miranda's tailored suits and turtlenecks provided minimalism and androgyny. And for every colour-blocked outfit and tight-fitted dress Samantha wore for power and sex appeal, we had demure trenches and floral-patterned skirts from Charlotte to counter with tradition and modesty.
The foursome's fashion choices were a way for viewers to relate to them and their contrasting styles enabled different and lesser-represented expressions of femininity to take stage. But in a sea of one-pieces and accessories, which were the most iconic?
Manolo Blahnik pumps
If any sartorial choice captured and reflected the star power of Carrie Bradshaw and Sex and the City, it's the Manolo Blahnik pumps. These shoes were so beloved by Carrie that in one episode, when held at gunpoint, she's prepared to surrender her ring, her Fendi Baguette bag; anything but her Manolo Blanik's. And across the six seasons, the appearance of the Spanish designer's footwear and Carrie's love for them is unrelenting. While visiting the Vogue office and its infamous closet, she stumbles upon a pair of Manolo Blahnik Mary Janes; navy leather pumps she lovingly describes as "an urban myth". In another episode, Carrie sports a pair of Manolo Blahnik Sedaraby d'Orsay pumps that she has to remove for a party (no shoes allowed) only for them to be stolen and later reimbursed by the party's host, simply because they mean that much to her.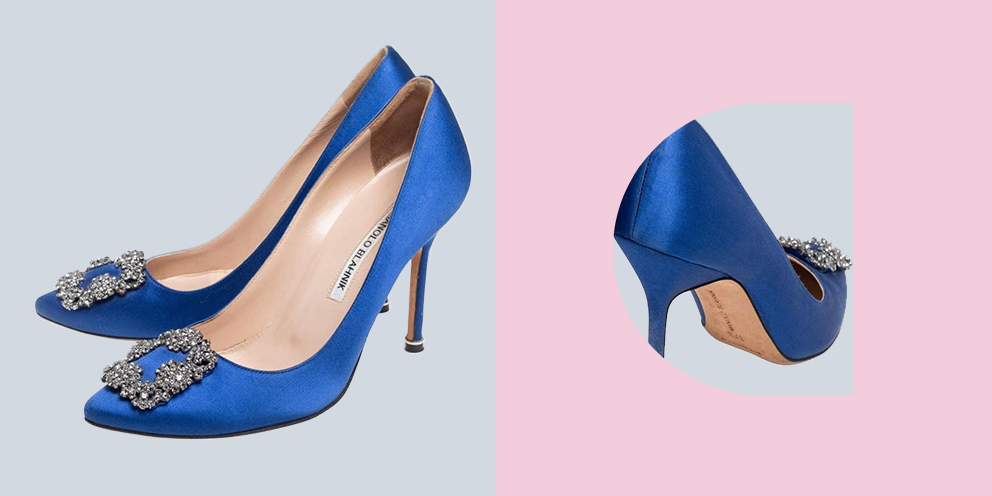 They're the shoes we know Carrie for and are continuously ones that signal key plot points for her character, whether that's standing up for herself or embracing her own frivolity. That the now-legendary blue pair of Manolo Blahnik Hagisi pumps—which Carrie sports in the current revival and are still regularly sold out—are Big's choice for an engagement ring makes perfect sense. And that these are the shoes Carrie is seen wearing when Big dies in the series return, is a tragic but poignant nod to the true beauty of fashion; its eternal power to preserve memories of the moments in life that matter.
Judith Leiber clutches
Few pieces articulate Carrie's fashion whimsy better than the Judith Leiber clutches. Leiber was an American-Hungarian designer who first made her name making bags for political figures and first ladies that included Mamie Eisenhower, Barbara Bush and Hillary Clinton. However, her trademark style of crystal minaudières—small purses studded with crystals and painted to resemble items like dogs or watermelons—captured the attention of Patricia Field and it wasn't long before these outlandish designs landed on the show.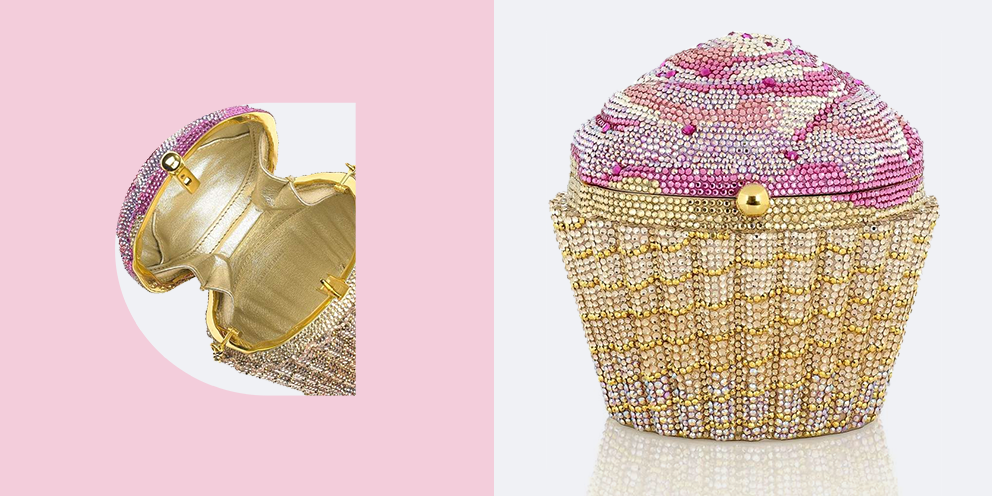 While more recent Sex and the City fans will likely recall the sparkling, pink cupcake clutch as seen being played with by Charlotte's daughter Lily in the Sex and the City film, seasoned viewers will know that a Leiber bag was part of a pivotal scene back in season 2. Back when Carrie and Big are first dating, Big gives Carrie a swan-shaped Leiber bag which Carrie describes as "wrong, just wrong" and an ominous sign of the troubled waters ahead. Despairing about how she should react, she instead opts for "I love you" which leaves Big, in his inevitable aloofness, not saying it back. And while there is some respite for Carrie much further down the line, the Leiber bag forever embedded itself into the Sex and the City conscience as the bag that almost said I love you.
The nameplate necklace + Kenneth Lane's butterfly
No credible fashion review of Sex and the City would be complete without a nod to its jewellery. While Carrie's flower pin flourishes deserve a mention, it's the necklaces that set off a fever like no other with viewers. Kenneth Lane's filigree butterfly necklace worn by Carrie in Season 3 was yet another example of Field's pastiche of modern-day style and classic pieces, and remains one of the show's most sought-after pieces.
Yet it's arguably Carrie's necklace nameplate that is the piece immortalised into the memory of every SATC fan. Inspired by customers visiting Patricia Field's own boutique, it became a touchstone of Carrie's style and a motif for her friendship and independence. Its role as a vehicle for Carrie's independence is realised when she loses it after relocating to Paris, only for her to be bought a replacement by her then lover Aleksandr Petrovsky. It's a sign that something's off in love and location. And proof that the right accessory goes a long way.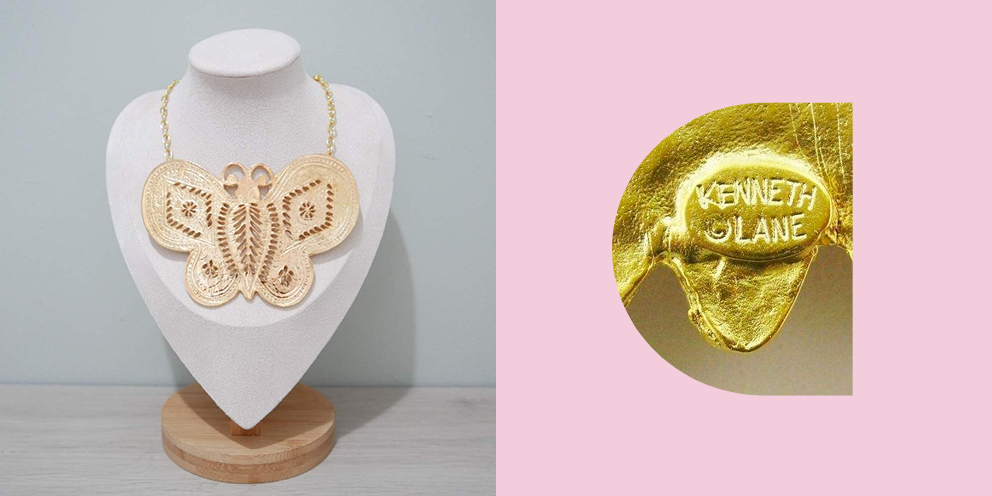 Fashion in Sex and the City has always been more than a sartorial choice. Some might argue it's never been about that at all. The high camp outfits were a celebration of dressing, but they did as much to eke out a space for each character's identity, while providing viewers with escapist aspirationalism along the way. For a show often critiqued for its Jekyll and Hyde relationship with reality, you can't help but wonder that its fashion decisions represent Sex and the City at its most aware.
____________________
Discover clothing, accessories and bags in our dedicated fashion auctions.
Discover more Fashion | Bags | Shoes
You might also like:
Why Hermès scarves are still the ultimate symbol of style
Scandal and style: the rise and revolution of Gucci