Written by Tom Flanagan | 27 July 2022
Watches are a statement accessory for every occasion, from a day at the office to playing sports. Certain work even combines the two, like professional athletes or pilots, meaning a watch that can adapt to the job at hand is essential. There are so many timepieces out there that do this, including pilot (otherwise known as aviation watches) and diving watches. We asked our Expert in Watches Joaquín Fernandez Cebrian to help break down what constitutes a sports watch, their characteristics and the best watches—from diving to pilot watches—to invest in.
What is a sports watch?
A sports watch goes beyond just its chief purpose as something to wear while you're playing a game of football; it's also indicative of certain features and functionalities. "On the one hand, a sports watch is a watch you can wear in any circumstances without worrying about it getting damaged", explains Joaquín. "It's usually a watch fixed with a rubber strap, a stainless steel strap, or even a nato strap (a fabric strap) these days. However, in my opinion, a true sports watch goes beyond this. It should be at least 100m water resistant, have a screw-down crown, and be fixed with lume, essentially luminous watch dials".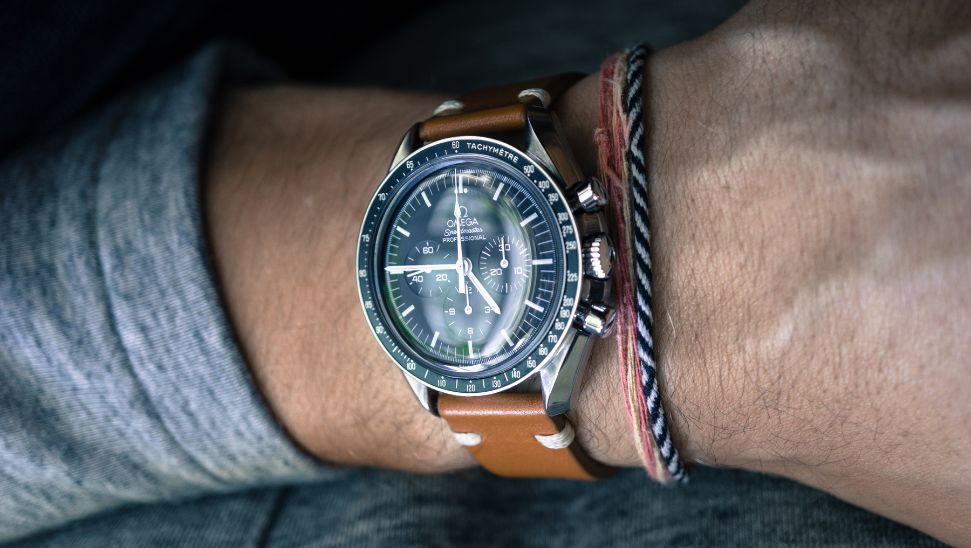 Sports watches are often more technically equipped than your standard wristwatch, with features like speed/distance meters and luminous dials
There are watches optimised for every sporting endeavour. Hiking and running require watches that track distance primarily, as well as speed and heart rate. For cyclists, there tends to be a little more complexity required, which is why smart watches tend to be the go-to option. Heart-rate is a staple, but functionalities like a built-in GPS and the ability to load routes, temperature measurement, and music are increasingly useful and sought after by riders. Screen legibility, however, is an important feature that almost all watch wearers require. "Another type of sport watches worth mentioning are navigation watches", says Joaquin. "For example, the Skipper model from Heuer - not TAG Heuer, which is used for regattas.
While these watches represent more mainstream use, there are more sports watches out there that are both specimens of craftsmanship as well as technical prowess. Notably, pilot and diving watches.
What is a pilot watch?
Pilot watches developed from a pilot's basic need to tell the time, without losing control of their aircraft. Originally, pocket watches were the timepiece of choice for those piloting hot-air balloons but as aircrafts developed, so did the complexity in steering them; meaning a few moments with your hands off the wheel could be dangerous. The story goes that one of the first pilot watches was designed by Louis Cartier, who after hearing a pilot friend complain of the unwieldiness of pocket watches, created a wristwatch that would be more accessible.
Soon watches became a staple of flying. These watches enabled pilots to calculate speed, time and distance, alongside practical considerations like fuel usage. Naturally, they're more complex than the average watch, says Joaquín.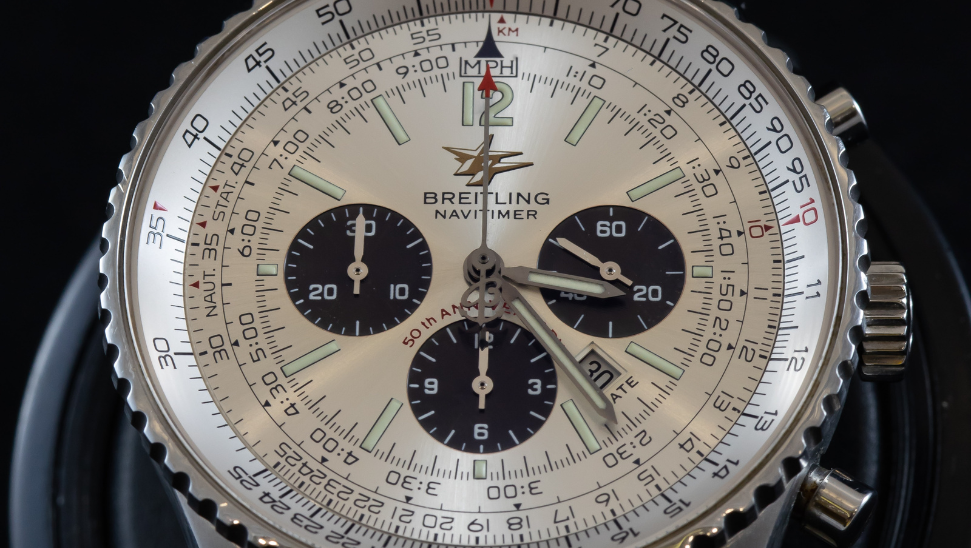 The Breitling Navitimer is considered to be one of, if not the most, prestigious pilot watches ever released
"An aviation or pilot watch is usually more complicated because of the number of features it has. For a watch to be considered as an aviation watch, it should have these characteristics: first, a large and highly legible open dial with prominent, high-contrast hands, Arabic numerals and indexes. Second, flight computer bezel markings to assist with fuel burn, wind correction angle, and other calculations. It should also be able to display dual time or GMT functions to track local time, destination time, and UTC. And finally the watch should have a chronograph function; a type of stopwatch that can measure intervals of time".
While many of these features sound technical, they make a lot of sense. A large crown—the dial on the watch side—originated from a time when pilots had to wear gloves in unheated cockpits, and meant they could make easy adjustments, even when the elements were against them. Equally, the bezel on the watch—the outer ring—is often anti-magnetic to avoid electrical or radio interference.
What is a diving watch?
Diving watches are watches designed for underwater, and like their airborne siblings, have a similarly lofty history. Back in 1919, a patent was filed by Gruen Watch Company to create a hermetic two-piece case for watches, so that the watch face could be sealed inside and, ultimately, waterproofed. While the watch couldn't be adjusted, which rendered it as slightly impractical, the design stuck around for a few years until Rolex released their own version. In 1926, the Oyster Rolex was released, which consisted of a one-piece case that was sleeker and more practical than its two-piece predecessor. Yet the first official diving watch was released in 1932 by Omega.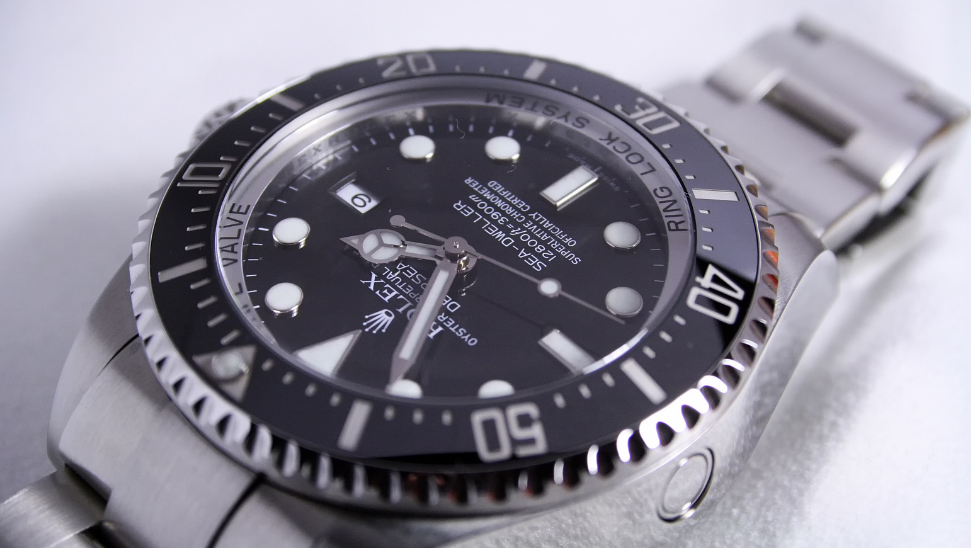 The
Rolex Sea-Dweller Deepsea 116660 Wristwatch
Enter the Omega Marine: an entirely waterproof watch that came with an adjustable strap and specifically tested for diving. It could function at a water depth of 135 metres meaning it became the watch of choice for those under and on the water. These became some of the hallmark traits of a diving watch, alongside legibility. When divers hit the depths they do, it's not just air that's a premium—it's light too. Thankfully, Italian manufacturer Officine Panerai were the first to develop luminous dials for watches, later used by frogmen commandos during World War II.
Depth measurement is a key feature of both diving and pilot watches
Fast forward a few decades and diving watches have developed technically but the core characteristics have stayed the same, says Joaquín. "To me a diving watch is a watch that is waterproof, obviously. That means it can function at a water depth of at least 50m. These watches are usually made of steel, with either a rubber band or stainless steel bracelet. And the watch comes complete with a rotating Diving bezel, or should do most of the time. To use a dive bezel, set the zero marker opposite the minute hand; as time passes, you can read off elapsed time on the bezel without having to do any mental calculations".
What watches should you invest in?
Even though diving and pilot watches have specialist appeal, they're also examples of beautiful craftsmanship and have mainstream appeal too, meaning they're great for everyday use too. "Some of the best diving watches include: the Submariner from Rolex; the Seiko SKX or Prospex Collection; Omega Seamaster; Rolex Sea Dweller; Audemars Piguet Royal Oak Offshore Diver Chronograph and the Certina DS'', says Joaquín.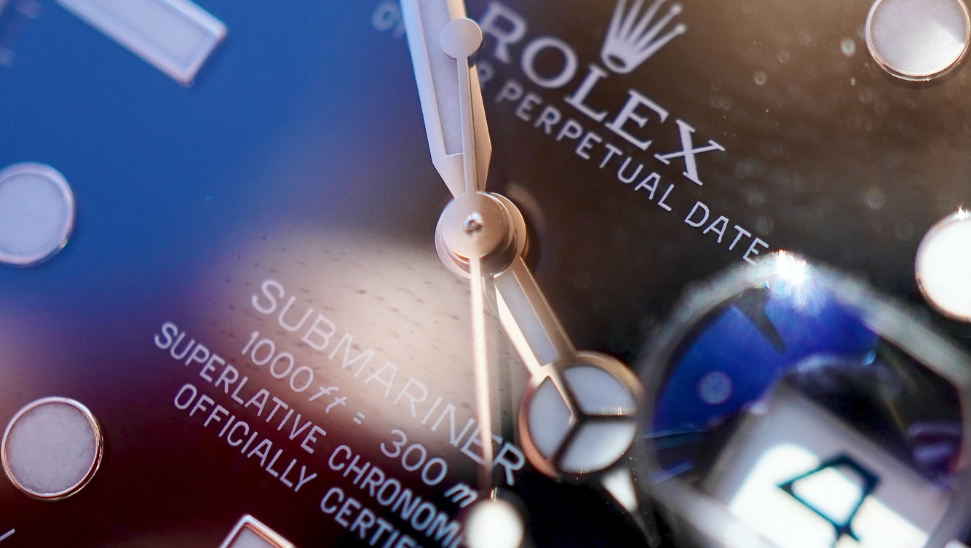 Investing in a Rolex watch is a surefire way to acquire a piece that will keep its value, and likely increase in it too.
"In terms of pilot watches, the best options include: the Breitling Navitimer Top Gun or Fliegeruhr; IWC Big Pilot; Bell & Ross aviation collection and the Longines Avigation watch".
It's important to note that in buying these, many of the watches are good investments too, even when bought second hand. "Invest in popular brands like Breitling and IWC, as these tend to keep their value because they're synonymous with quality and reliability, and tend to last for a long time. But if investment is your primary thing, definitely opt for Rolex and Patek Philippe. Both brands are the most desirable for collectors and people who would like to obtain some profit playing with market speculation".
____________________
Explore our selection of sports watches in our dedicated watches auctions. Or register as a seller and sell your watch now.
Discover more Vintage Omega | Vintage Watches | Vintage Rolex Watches | Watches
You might also like these stories:
In defence of 'flashy' Rolex watches
Why you should invest in pocket watches
How the Omega Speedmaster won the space race