Written by Marieke | 18 October 2023
Most jewellery pieces and loose stones on Catawiki come with a certificate. A stone's certificate explains details of that stone, and a jewellery certificate will feature reports for both the centre stone and the metal and all gems. Jewellery is carefully assessed by specialised experts at independent laboratories to create these certificates.
In collaboration with Clémence Devaux, our Category Lead for New Jewellery, we'll cover the basics of understanding laboratory grading – and how to use certificates to find exactly what you're looking for.
How does Catawiki work with lab reports?
For any stone in auction valued over €2,000, Catawiki requires sellers to provide a certificate. This price applies to a single stone, excluding the value of any other material, such as gold or platinum.
Why is certification helpful?
When shopping for jewellery, gemstones or diamonds, you likely have aesthetics in mind. Having certification for the pieces helps you feel confident in your purchase. A gemological laboratory tests and grades the gemstones and diamonds set in a piece of jewellery, and then produces a certificate to confirm their findings.
What information can I find in a lab report?
The content of a certificate may vary slightly between different laboratories. Generally, a report will feature the following information:
- Lab information – including the date of assessment, case number and QR code for digital laboratory verification
- Illustrations or photos – visualising proportions and characteristics
- Identification – stating what the stone is, e.g. a natural sapphire
- The '4 Cs' – grading cut, clarity, colour and carat weight
- Shape and measurements – detailing the exact cut and size
- Cut grade – describing polish, symmetry and inscriptions
- Treatment – indicating if a stone has been treated with heat, filling, clarity or colour enhancement
- Comments – explaining any other specifics, or going into more detail on one of the above topics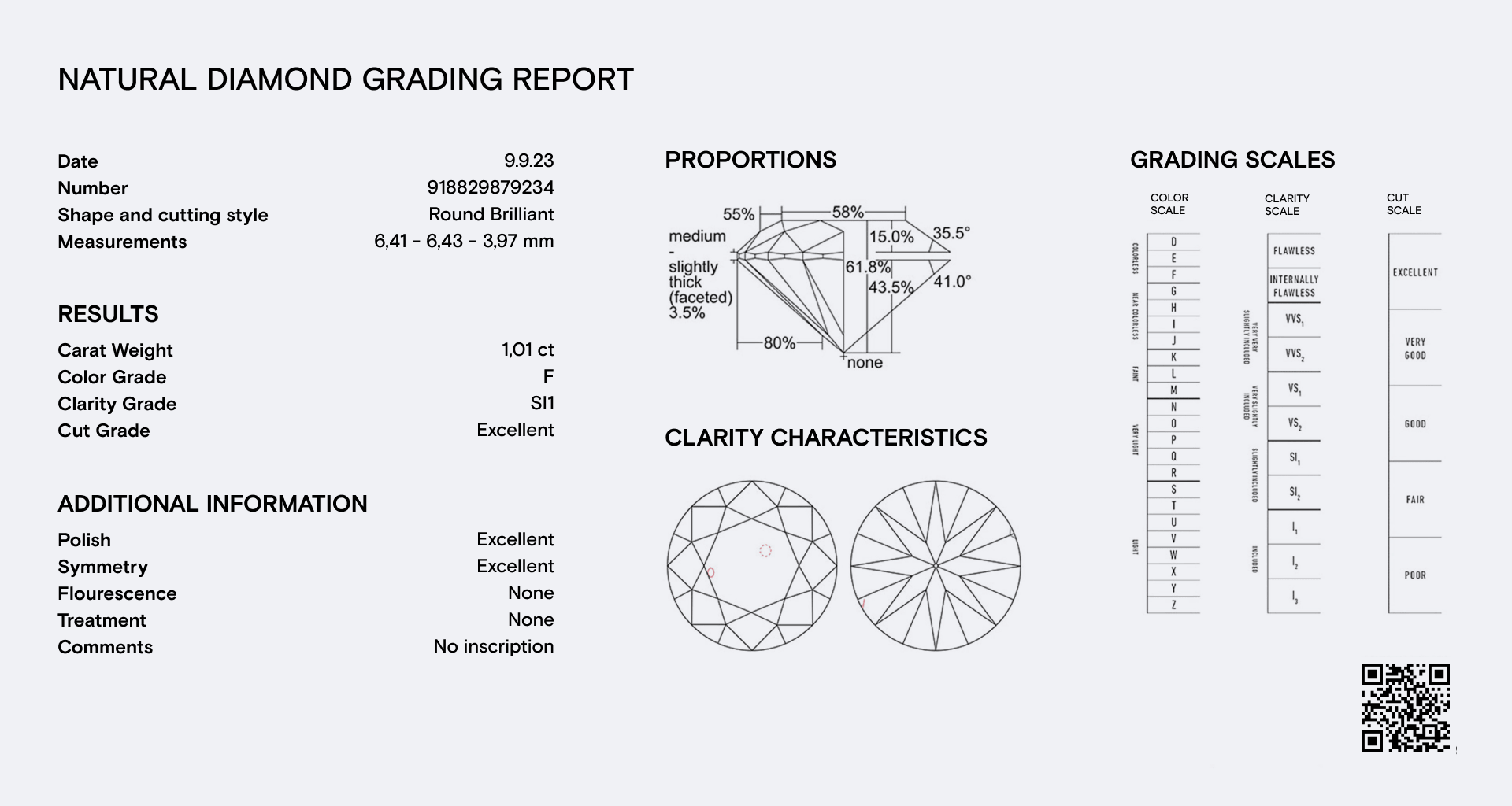 Natural Diamond Grading Report
Naturally, different qualities result in different grading, and different prices. Understanding this is key to making empowered purchases.
Does certification add value?
Sometimes referred to as 'the fifth C', a stone's official certification can significantly impact its price. Moreover, certification from highly reputable labs are an added value to a piece of jewellery. It reassures the buyer of a stone's quality.
The five most prestigious laboratories are: the Gemological Institute of America (GIA), the International Gemological Institute (IGI), Gübelin, the Swiss Foundation for the Research of Gemstones (SSEF) and the Hoge Raad voor Diamant (HRD).
Certification from any of these gemological laboratories is valuable and represents the industry standard. They pride themselves on being precise, strict, and transparent, so this increases confidence in purchasing and is added value for the entire lifespan of a piece.
____________________
We trust this information will help you to explore Catawiki with confidence.

Find your next conversation piece in our Jewellery & Precious Stones auctions.

You might also like:
The '4 Cs' of diamonds explained
The most expensive diamonds in the world

Natural fancy coloured diamonds explained