How it works
Step 2: Winning your special object
Step 2: Winning your special object
Now that you've found your unique item, it's time to win it! Before you start bidding, there's two things to be aware of:
Minimum bid - this is the next possible amount you can bid on a lot. Your bid needs to be greater or equal to this amount.
Reserve price - some lots may have a reserve price. This is the minimum price that a seller is willing to sell their lot for. Once the reserve price is exceeded, the lot can be sold.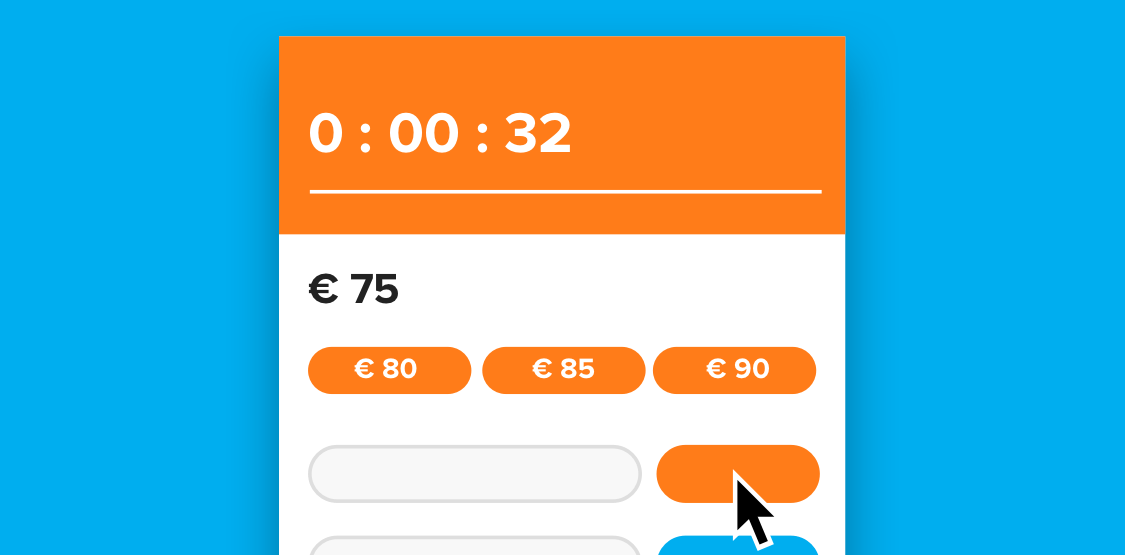 Now let's get to bidding! There are three ways that you can place a bid:
Manual bid
Quick bid
Automatic bid
With a manual bid, you can enter any amount that you want as long as it's a complete number and higher than the next minimum bid. This is a one-time bid. If you're outbid, you'll have to place a new one.
Don't want to enter a specific value? Place a quick bid! You can choose any of the three given bids just by clicking on them and we'll place the bid on your behalf. Easy, right?
And if you don't want to keep track of the bidding all the time, you can enter an automatic bid. Just enter the maximum amount of money that you are willing to spend on the lot. Whenever you're outbid, we'll place the next minimum bid on your behalf. But don't worry, we'll only do this until we've reached the maximum amount that you've entered. Once your maximum has been reached, we'll notify you.
Before placing a bid, make sure to check out the shipping costs first. You can also see if it's possible to pick up the lot, this way you can save having to pay the extra shipping costs.
Now that you know how to bid, let's give it a go. Good luck!
---
Frequently asked questions
What makes buying through Catawiki safe and secure?

Your payment will run through a very secure method of payment. We will ask the buyer to pay for the lot within three days after the auction on a secure account. We then inform the seller that the buyer has transferred the payment and ask him to ship the lot. The seller will receive payment shortly after shipping. If you have not received the lot within 10 days after paying the purchase price, we ask you to inform us so that your payment to the seller can be withheld.

I've lost my password and can't sign in. What can I do?

You can request a new password easily by using the 'forgotten your password' link on the sign in page. You'll be sent an email with a link to the password creation page.

Why hasn't my bid been accepted?

Your bid will not be accepted if it is invalid. 'Invalid bid' messages can occur when the amount entered is not high enough, when the amount entered includes a symbol other than a digit (such as a letter, comma or hyphen), or when the auction has already closed.

I'd like to place a bid on a lot with a reserve price. What does this mean?

Some lots have been fixed with a 'reserve price'. This is a hidden minimum price which a seller is willing to let their lot go for, set in consultation with the expert. Reserve prices may only be set for lots with an expected revenue of at least €200. If a reserve price has not been met once the auction ends, that particular lot will not be auctioned off.

I have won a lot. How do I pay?

After the auction ends, buyers will receive an email containing a link to the payment page. It's possible to pay by credit card (Visa, MasterCard, American Express), bank transfer or by using one of the following online payment methods: iDEAL, Bancontact, Giropay, SOFORT, EPS, Multibanco, Przelewy24. Please be aware that payments using American Express are only possible for amounts over €1,000/$1,100/£900.

Only buyers who bid in euros will see the manual bank transfer option. It is really important that they use a European SEPA Credit Transfer for the payment. Stripe, our online payment processor, cannot process SWIFT transfers (also known as wire transfers) and these payments will bounce back to the bank account of the buyer. If a buyer claims that the SWIFT transfer did not bounce back, we need a letter from the bank that states this. Only then can Stripe check what happened to the payment.

What are the differences between SEPA (Single Europe Payments Area) and SWIFT (Society for Worldwide InterBank Financial Telecommunications)?:
- SWIFT enables money transfers internationally, while SEPA payments can only be made within the SEPA area.
- SWIFT transfers can be executed in various currencies and the SEPA initiative encompasses transfers in euro alone.


I have a valuable individual piece. Is it suitable for auction?

Our experts are always looking for interesting items to include in our auctions. You can offer your valuable piece for your desired auction, or, after you submit it, an expert will advise you on which auction would best suit your lot. Our experts are also here to provide feedback so your lot is presented in the best way possible.

If you are unsure whether your piece is suitable for auction or would like a free valuation of your item, you can proceed with submitting your lot and send any questions you may have to the expert through the 'Message for the expert' text box in the final stage of the submitting process. Our expert will then get back to you as soon as possible.
View all frequently asked questions
---