By: David MacGregor, Catawiki Classic Guitar Auctioneer
If something a little cooler and more rock and roll is somewhere you'd like to put your cash, then guitars are a good investment and will out-perform most basic savings accounts. After all, what's the fun in collecting and playing share certificates? And sorry, but none of your friends will be impressed by the collection of Building Society savings books hanging on your wall. If you know what you like and tend to buy good condition guitars with no major repairs or replaced parts, the worst that could happen is that you end up with a wall full of cool guitars!
Generally a vintage guitar is one that is 25 years or older. An exclusive, custom shop or boutique guitar is usually over £2000 and a rare guitar is, well, just that - a limited run or one-off guitar, although these can be sometimes be a difficult sell as they are not immediately recognisable to the guitar-buying public should you require a resale.
The vintage guitar market took a large hit in 2008, which presented buyers with opportunities to build collections at prices lower than when the market was at its peak in 2000.
The market for rare vintage and high value is like any other market in that it has a set of rules, but these can be quite subjective and it is possible to "beat the dealer" purely by buying on your own instinct. For instance, the general rule was that American guitars are the most sought after and Japanese guitars were largely inferior 'copy' instruments. Brands such as Tokai and Ibanez produced such fine replica guitars in the 1980's that the whole thing ended in lawsuits as American producers sued the copyists for trademark infringements. As a result a whole market has grown up around these "Lawsuit Era" instruments and some prices of the rarer models outstrip American guitars of the same period.
Signature & Endorsement guitars
There is a also school of thought that in general, signature and endorsement guitars are a poor buy, after all you have to find a buyer with the same musical taste as your own. The recent deaths of a number of famous rock musicians have led to the values of the type, make and model of instruments they played rapidly rise in value. Even special signature models for artists still living can represent significant added value for the collector this custom graphics Rolling Stones guitar was a recent and very welcome addition to one of Catawiki's exclusive guitars auction.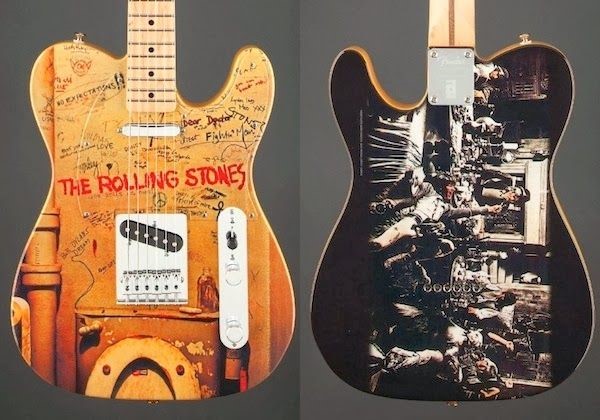 1980's Superstrat guitar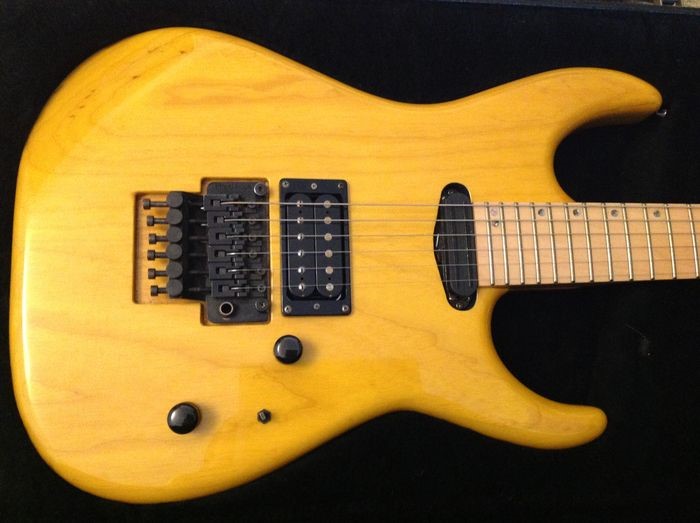 One undervalued area of the market is the brightly coloured 'pointy headstock' Superstrat guitars of the 1980's. These will be a sought-after trend in collectibles due to a general nostalgia for all things 1980's and the 30 and 40-something buyers who wanted those guitars when they were younger now having more disposable income. This 1985 ESP guitar is a perfect example of this type of "Superstrat" and the market has not quite caught up with these instruments. This item did not make its relatively low reserve in a recent Catawiki on-line auction.
Electric guitars from the 50's and 60's
In the electric guitar world, the great classic guitars of the 1950's and 1960's have passed into the private collections of the rich and famous. Much of what remains is player rather than collector grade. That said, do not be put off by an instrument that has had a life and been well played; all guitars are subject to play wear and patina from the day they are first taken out of the case. This really very nice 1962 Fender Jaguar recently sold on Catawiki for a very reasonable £2,000 and is in excellent condition with an acceptable level of patina.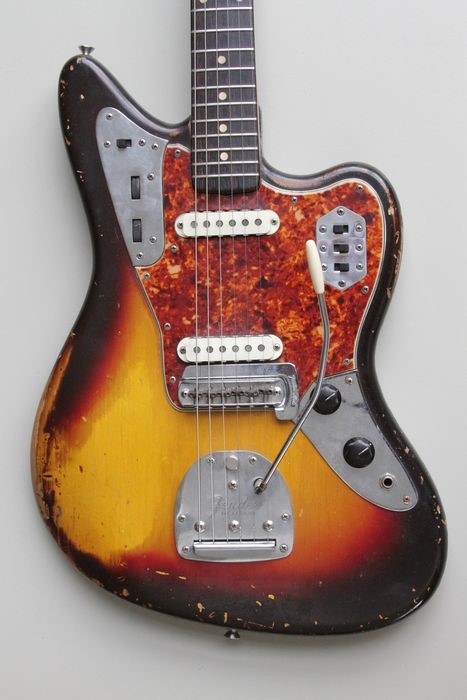 1970's Stratocasters
At the moment 1970's Stratocasters are selling at a premium and whilst it is perfectly possible to find a nice lightweight, all-original 70's Strat at a good price, there are many 70's Fenders that are heavy or have quality issues due to Fender and Gibson being major volume producers in the 1970's. Looking beyond the 1970's into the 1980's Fender began to get its act together and this Lake Placid Blue Metallic 'Dan Smith' era Stratocaster from the early 1980's was sold recently on Catawiki.com for just under £900.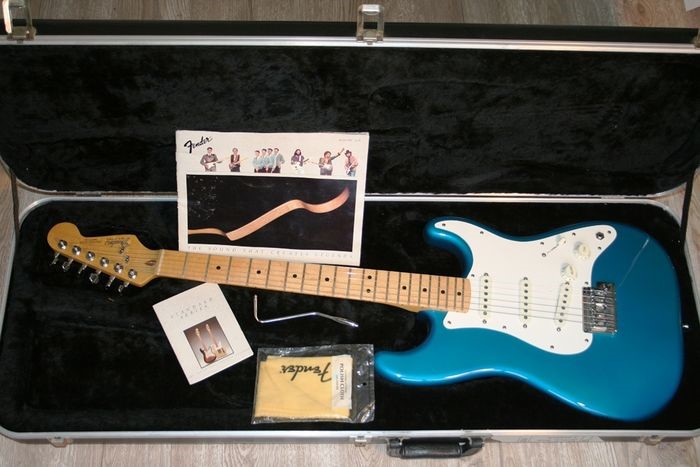 The "just under £1,000" guitar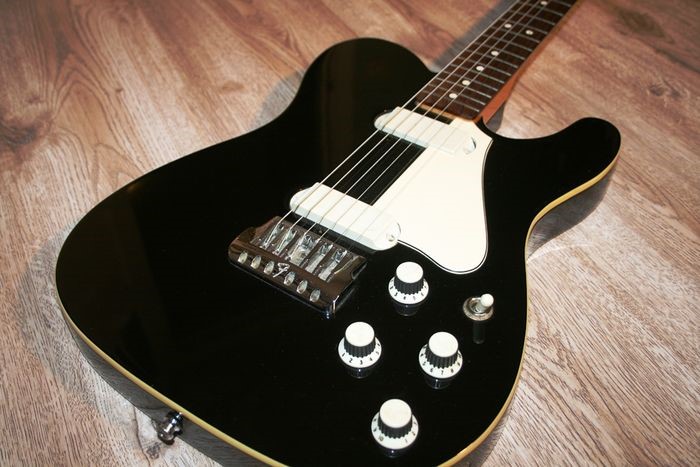 Buying the right guitar at just under £1000 is a great strategy for the potential guitar investor. £750 - £999 is a great price band to buy the right instrument in as the "buy for hundreds sell for thousands" approach often works, especially for the guitar buyer looking to realize a longer term return with the joy of owning a cool and very playable instrument.
This 1985 Telecaster Elite is a nice of a example of a guitar just 'bubbling under' the £1000 mark that would represent a useful investment for the collector who wishes to see his or her guitar collection appreciate.
Or for those seeking something more exotic how about this Fender Japan Blue Flower Telecaster a replica of Fender's rare late 1960's Psychedelic Guitar. These were very reasonably priced guitars when first introduced to the market in the early 1990's, but their popularity with collectors meant values have shot up! This one was recently auctioned on Catawiki and didn't stay around long attracting some "far out" bids!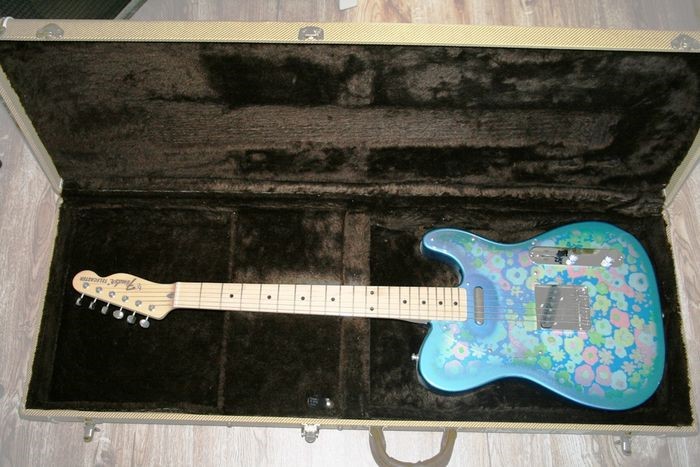 Boutique & exotic guitars
So-called high value "boutique" guitars, whilst not strictly vintage, can represent a useful and appreciating asset in any guitar collection. These quality-built, exotic, and often rare guitars are akin to owning an exotic Italian sports car, without the obvious running costs.
A fine example is this Melancon Artist T-style Guitar with P90 Pickups, handcrafted in Louisiana by a small team of builders. This really does represent a high value alternative to Fender Gibson or PRS. It recently sold at auction for around £500 and is an excellent bargain for a collector wanting a high value craftsman made instrument for a mid-market price.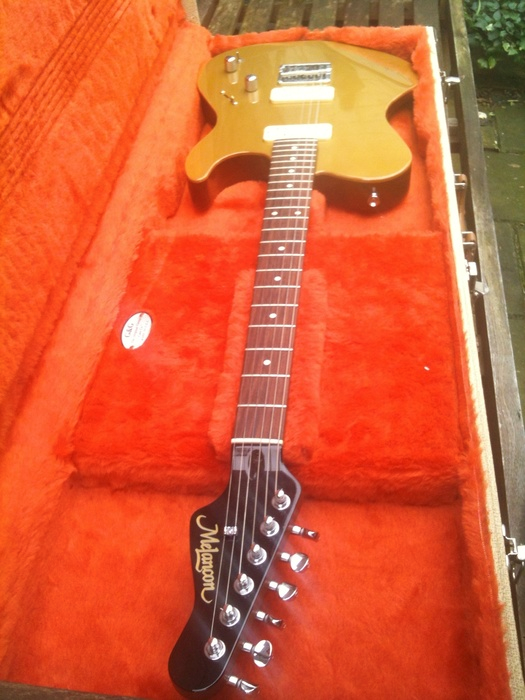 Acoustic guitars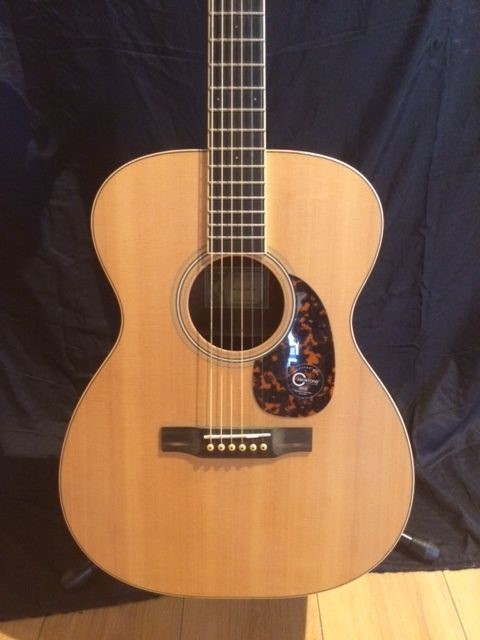 Finally, for those who think the electric guitar and rock and roll lifestyle is just a bit too noisy, we are probably in the middle of what is being referred to as 'the second golden age' of acoustic guitar building, with wonderful handcrafted instruments built by Larrivee, Santa Cruz Martin and Bourgeois in the USA and Patrick James Eggle, Atkin and Brook here in the UK. These guitars represent both fabulously playable instruments and a wonderful piece of furniture that would grace any living room, study or loft apartment.
This lovely Larivee was recently offered for auction through Catawiki. If your investments do end up 'heading south,' there is always the potential to raise some funds by busking on the High Street!
________________________________________________________________________________
Follow the link below to see the coolest vintage guitars on Catawiki's weekly auction!