There is a crown jewel of Catawiki's auctions this week - literally. This 5.65 carat fancy-cut Imperial Padparadscha sapphire is estimated at a £67,000-£90,000 value, and deserves nothing but the royal treatment. Wonder how it got its remarkable colour and name? Read on below!
​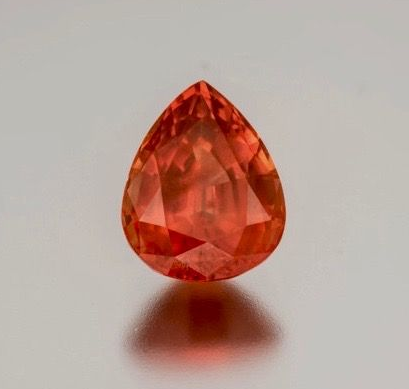 Sapphire origins
Sapphires are mined all over the world in small quantities. The most notable and fine gems, however, originate in Africa and Asia. Sapphires are traditionally thought of as blue, the most recognisable colour of the gem. Ancient tribes in Madagascar called them "pieces of the sky that were in the Earth," and considered them divine and precious objects.
Other than blue, sapphires can come in virtually all colours of the rainbow depending on their chemical composition and how it interacts with light. From blue to yellow to cognac to purple, it is a purely natural process: whatever nature puts in the stone will be the colour shown. This speaks to their rarity: sapphires are completely unique one stone to the next, and no two are the same. Therefore, rare and unusual coloured sapphires are invaluable and irreplaceable.

The term 'fancy gemstone' sounds a lot like what you'd think it means: a gemstone that is above average, dressed-to-impress, and elaborate. While this sapphire certainly fits that description, it actually means a gemstone cut in a non-round shape, such as emerald, marquis, oval, and pear.
The 'Imperial Padparadscha'
The sapphire featured at our auctions this week is classified as an Imperial Padparadscha. It was named this in 1980, after only a few of these natural colours came out of Malawian mines. Sapphires were originally found in the country in 1958, and since have been discovered in small quantities. This gem's most striking qualtiy is the colour. Its unique mix of red-orange hues puts it in the Padparadscha sapphire family, which are among the rarest gems in the world. Traditional Padparadscha sapphires are of pink-orange saturation and are found in Sri Lanka.
Other gems in the auction
Besides the Imperal Padparadscha, Catawiki is featuring an array of rare and impressive African gems. An 8-carat blue sapphire (middle) from Madagascar represents another brilliant compliment to the sapphire family. The green, oval-cut Paraíba tourmaline gem (left) is from Mozambique. Its origins, however, reside in Brazil, in the Paraíba locality where the gem was first mined. Or, if you're more of a ruby person, there is a cushion-cut ruby (right) from Mozambique available as well. The gems are all-natural and all ready for your bid.
This is just a sampling of the gemstones you can find in our African gemstone auction and on Catawiki every week. Follow the link below to get your crown jewel today!