Brought to you by René Jung - Watches Expert
An extremely rare Navigator Deck watch, the so-called "combined sidereal and mean time watch" has graced our auctions and our expert is excited to explain just what makes this watch so special. There are only 4 of this 100-year-old watch known to exist today. One of these pocket watches was sold at auction in 2007 for over €30,000. Another one is on our Exclusive Pocket Watches auction which ends on Sunday, 11 June!

It was designed by talented Danish watchmakers Svante Elis Strömgren, Jens Olsen and Cornelius-Knudsen in the early 1900s. Its purpose was for astronomical navigation at sea. On the 11th of February 1918, they received a patent for their invention.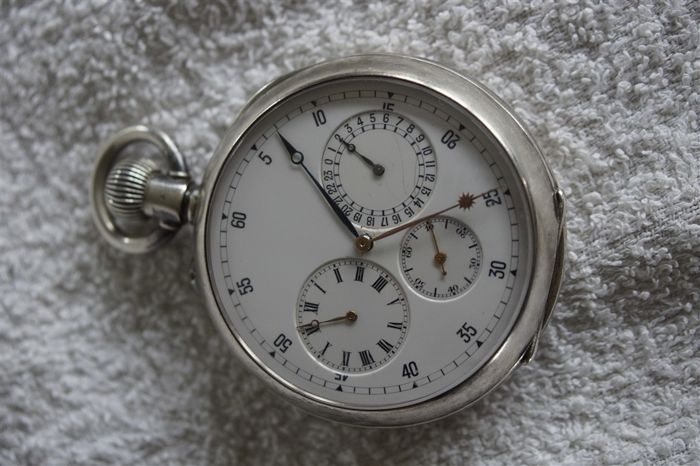 The case is made of polished silver, the dial enamelled. It contains 3 sub-dials. The dial at 3 o'clock is a 24-hour dial. At 9 o'clock a 12-hour dial can be found with roman numerals. The 3rd and smallest sub dial is a subsidiary dial with auxiliary seconds. This watch provides continuous 24h star time and a selected time zone or Greenwich time. The main dial has 2 hands: a blued Breguet hand and a golden sun indicator hand.
Sidereal time is the time the Earth needs to make a full rotation on its axis. Since it is based on the rotation of the earth in relation to the fixed position of the stars, it is called sidereal time (sider is Latin for star). Literally, this watch combines mean time with star time.
Now that you know a bit about this history, functionality and why this watch is so rare, this is your chance to own a piece of century-old history. With the right bid, you can take home this magnificent watch. Don't wait to place your bids, however, because the auction is only open for a few more days! If you're in possession of a rare watch or simply need to make some room in your collection, you can register as a seller here and experience the thrill of the auction from the seller's side as well.