Sit down and relax, because it's time to delve into the most famous seats in film and TV history. From sitcom hangout spots to a super-villain's seat in his lair, these on-screen chairs, couches and places to sit are almost as memorable as the people and characters which have sat on them. Are you sitting comfortably? Then let the countdown begin...

10. Bathtub Chair from Breakfast at Tiffany's
The set design in 'Breakfast at Tiffany's' (1961) is a fabulous thing to behold. Holly Golightly's New York apartment is as eccentric as her personality. Do you remember her unusual claw-foot bathtub chair? It's a bathtub sliced in half and adorned with colourful cushions, casually placed in the middle of her living room. It's city chic meets the off-beat. Along with the black Givenchy dress and jewels combo worn by Audrey Hepburn in the film, the costumes, props and sets firmly place 'Breakfast at Tiffany's' at one of the most stylish and iconic-looking films in cinema history.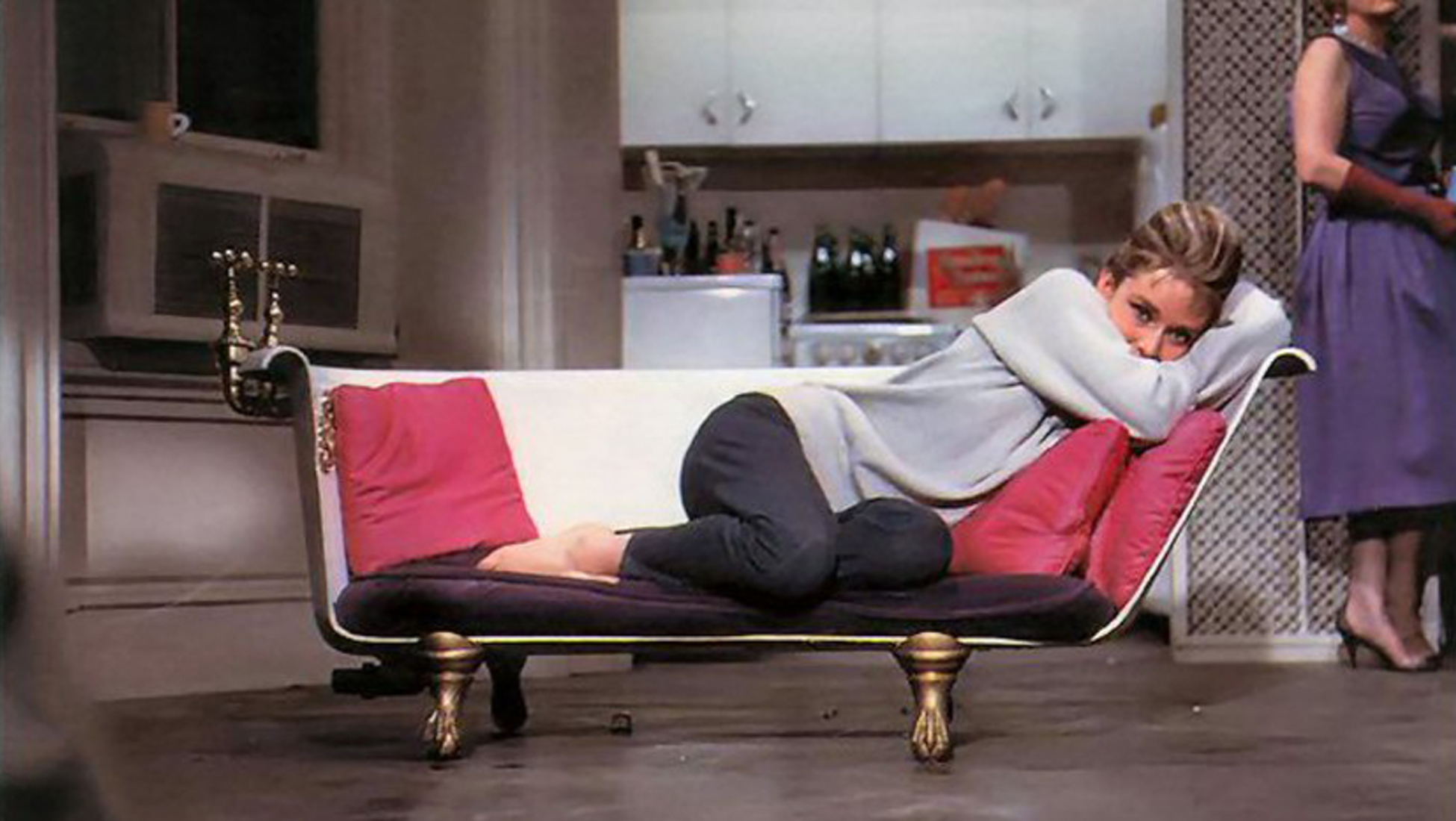 Image Source: Filmandfurnture
9. Couch from Married... With Children
There are many sitcom seats we could have chosen for this list. But the one which takes our number 9 spot is the couch from 'Married... With Kids.' Al, Peggy, Kelly and Bud gave the world many laughs during the show's run from 1986–1997. And perhaps some of the most iconic and memorable scenes happened on the Bundy sofa, where Al would sit and watch TV. You'll notice another 90s sitcom sofa on this list... but which one? Keep reading to find out.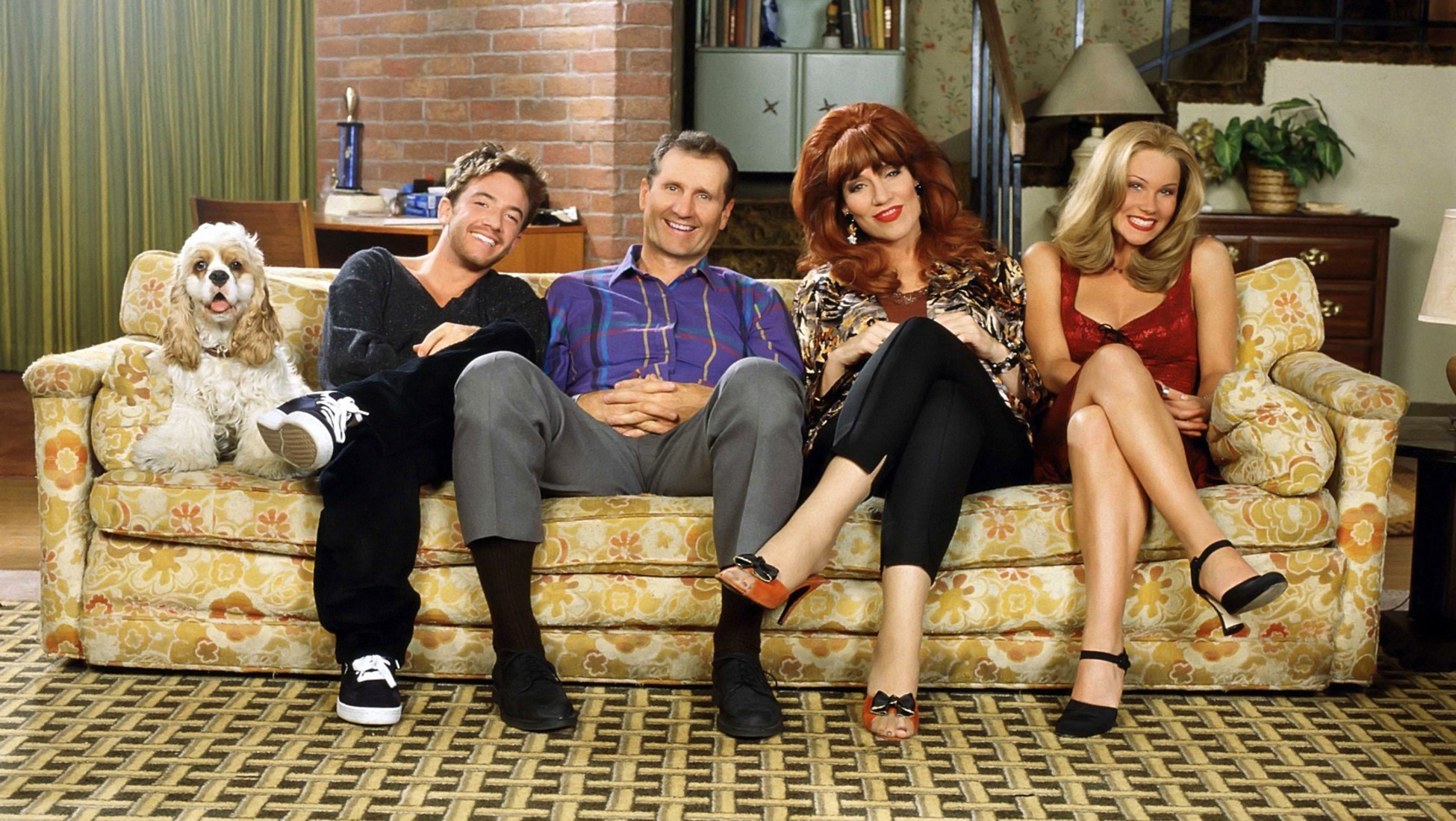 8. Egg Chairs from Men in Black (1997)
Here come the 'Men in Black' - the movie franchise where everything screams futuristic and out of this world, from the weapons to the characters to the furniture. But the space-related items which gained most attention and are most memorable, are the famous 'egg' chairs, which are named for their unusual oval curvature and the fact that they look like, well, eggs. First seen in the 'written test' scene, featuring Will Smith's character trying to fill in his test paper, their presence are used to great comedic effect. But these art-deco seats went on to become the movie series' most iconic pieces of marketing.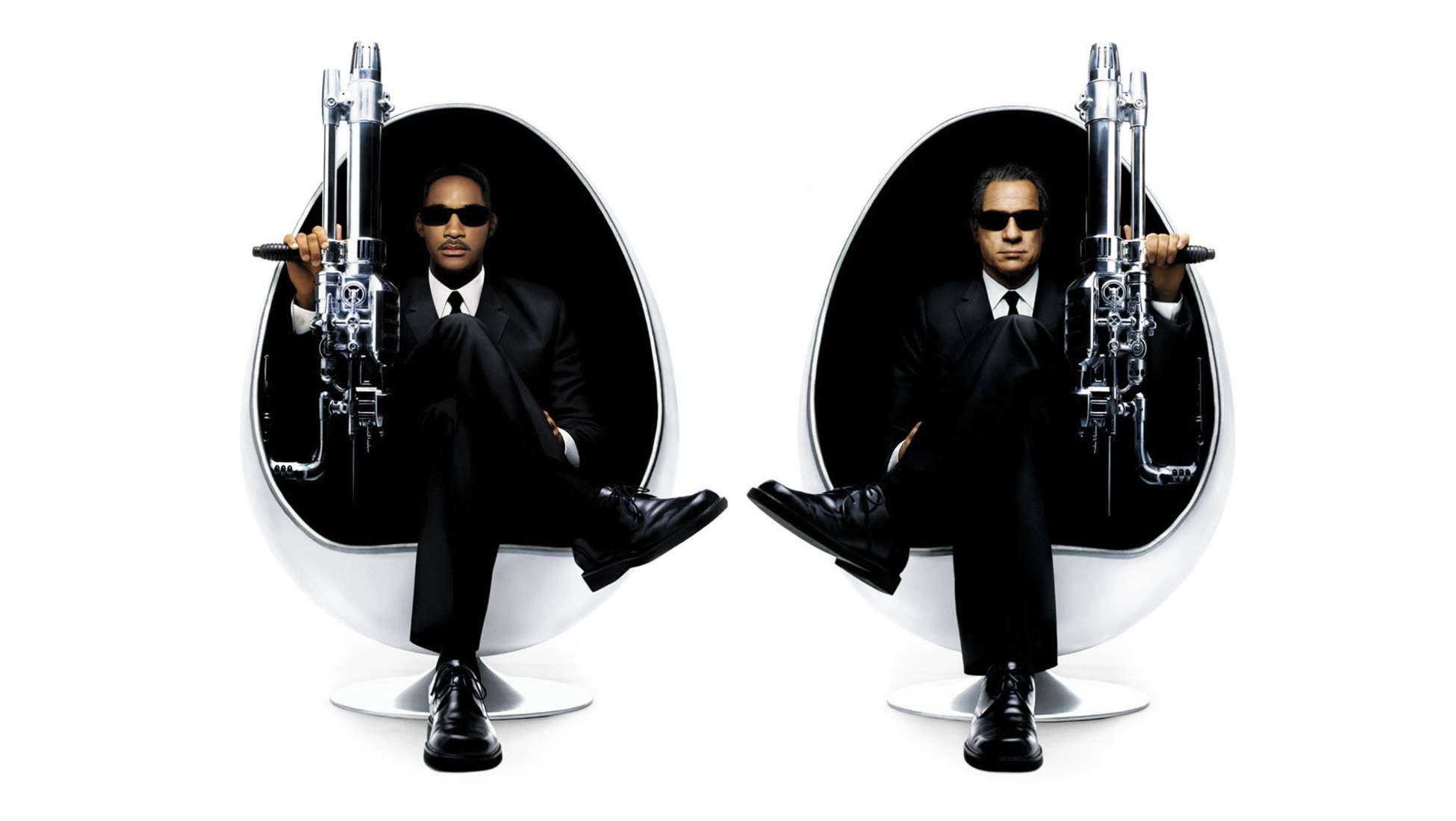 Image Source: wall.alphacoders.com
7. Oprah's Couch
Oprah started a brand new daytime TV talk show called 'The Oprah Winfrey Show' in 1986. She was the first black woman to be given this type of a national on-screen platform and she used this opportunity to start a revolution: from transforming traditional journalism to breaking down the barriers surrounding visual minorities. All from a simple studio sofa. And who can forget Tom Cruise's infamous jumping on the couch, mid interview with Oprah in 2005? This outburst made TV history.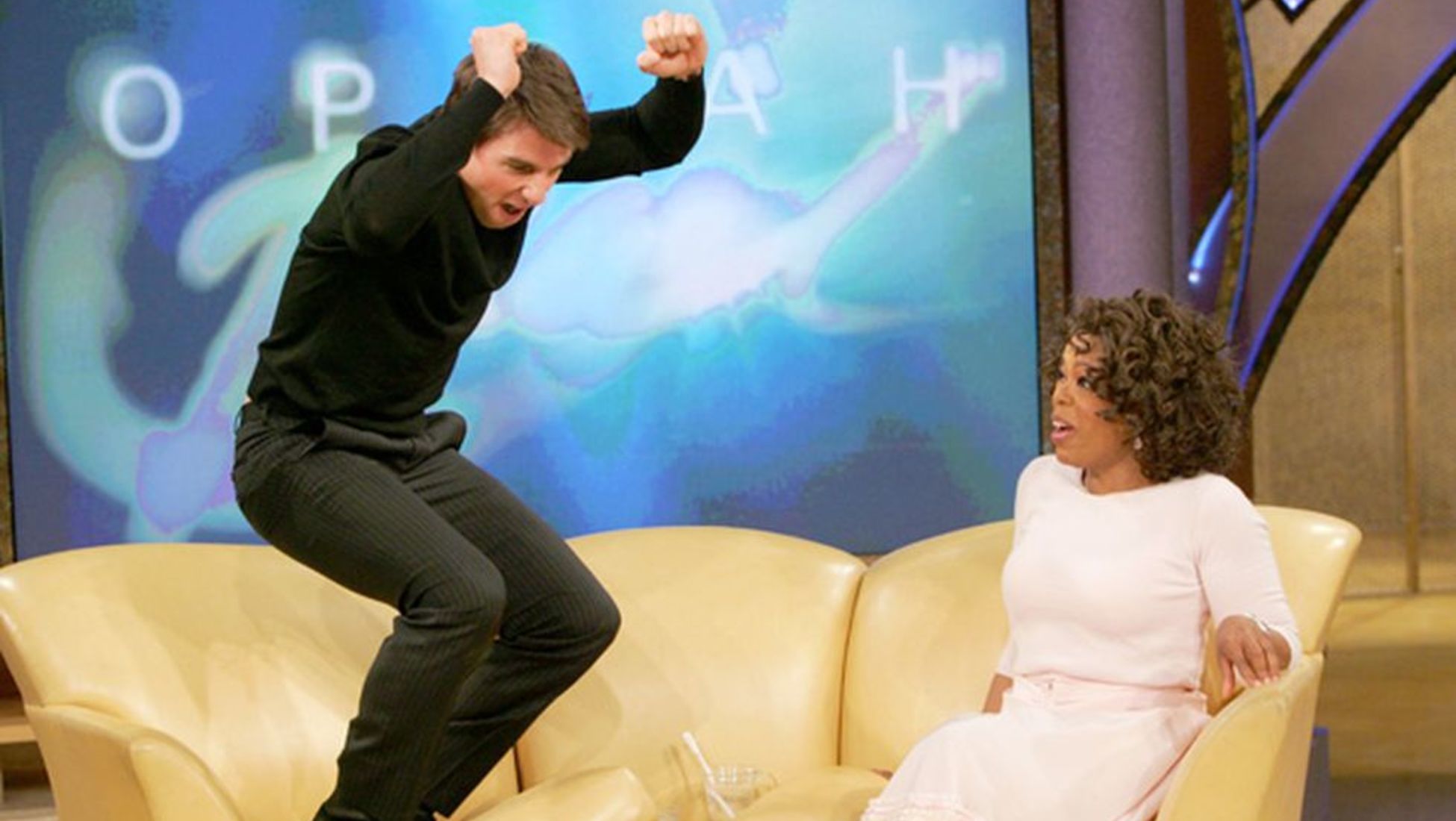 Image Source: vh1.com
6. Bench in Forrest Gump (1994)
Tom Hanks' portrayal of the dim-witted, but loveable Forrest Gump has given the world many memorable quotes and unforgettable movie moments. Sitting on a lowly bench chatting to various strangers, Forrest precedes to tell the story of his unbelievable life. From inspiring Elvis' infamous hip thrusting to becoming a successful shrimp fisherman, Forrest's tales are filled with adventure, emotion and inspiration, all recalled from that bus stop bench. Because after all, "life is like a box of chocolates… you never know what you're gonna get."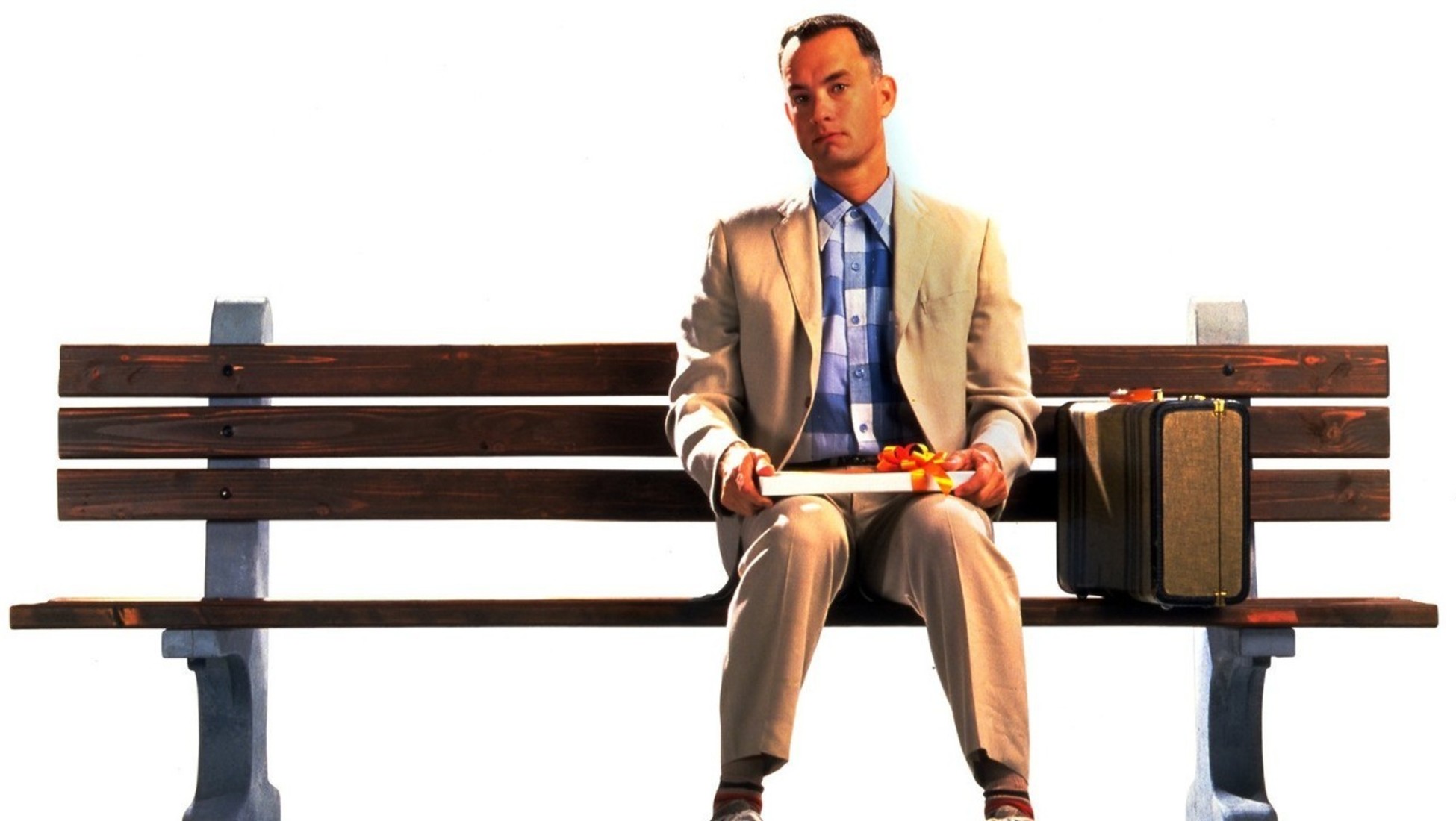 Image Source: earnthis.net
5. The Simpsons' Couch
We see The Simpson family's living room couch featured at the end of the legendary opening credits of this US favourite cartoon show. Since 1989, we've seen Homer, Marge, Bart, Lisa and Maggie all run into their living room, and enact some sort of couch-related gag before the episode begins. From an elaborate coordinated circus line performance to running towards the couch only to find out that the Flintstones are already sat there (a witty nod to another long-running cartoon show), these jokes have made 'The Simpsons' sofa perhaps the most famous cartoon couch on TV.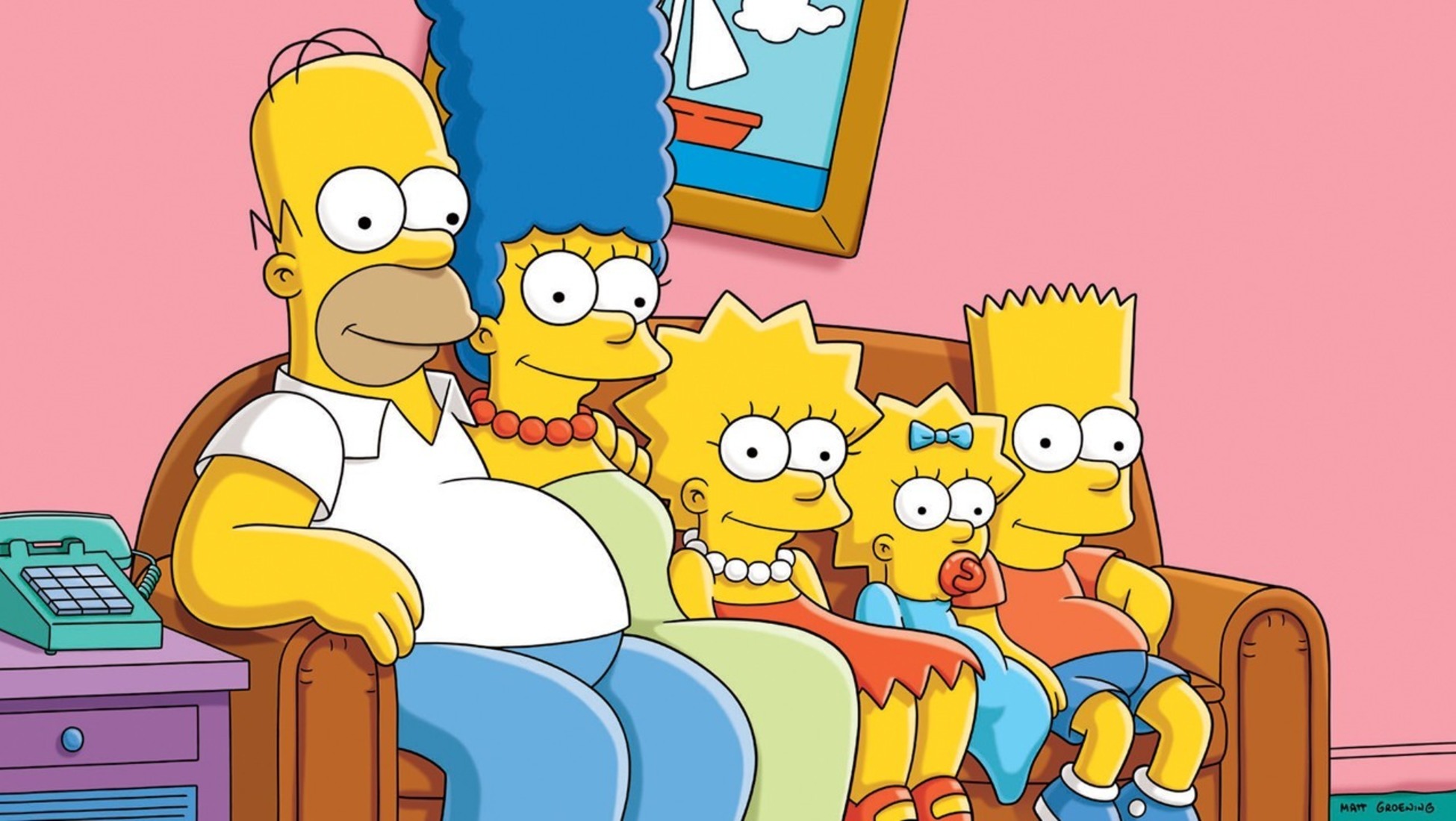 Image Source: ing.com
4. Captain's Chair from Star Trek
The first ever episode of Star Trek aired in 1966 and has been one of the most legendary science fiction franchises ever since, turning out numerous films, TV series, books, games and other merchandise. The show is set aboard perhaps once of the most famous spaceships in the galaxy, the USS Enterprise, and at the heart of this Starfleet vessel is the commanding officer's chair. Trekkies all over the world all know and love what is now known as 'Star Trek: The Original Series', and it's the original 60s version of the chair which is perhaps the most well-remembered of all.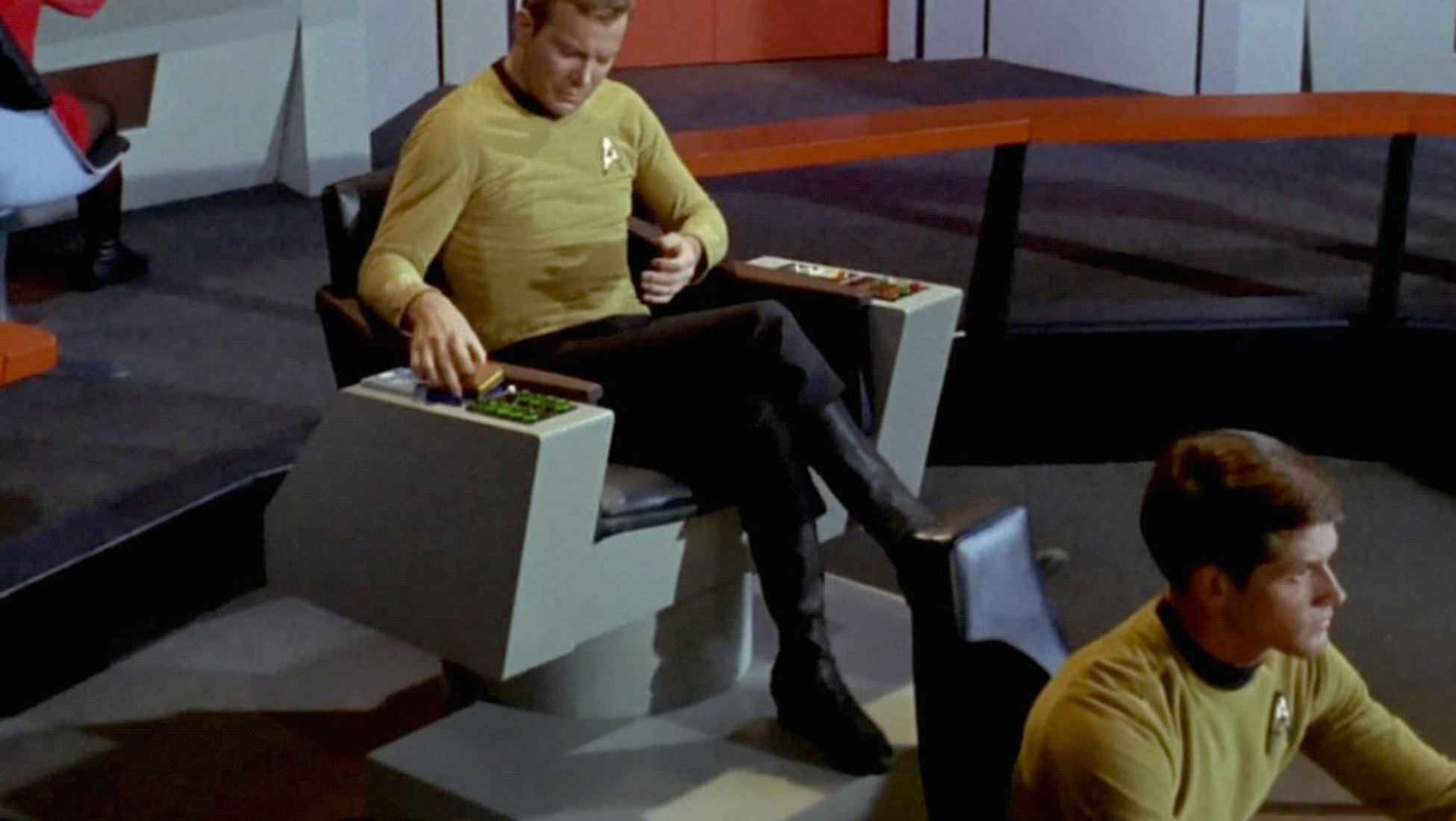 Image Source: redshirtsalwaysdie.com
3. Games of Thrones Chair
What would a show called 'Games of Thrones' be without, well, a throne? The Iron Throne belonging to the Lord of the Seven Kingdoms is forged from over 1,000 jagged swords which were surrendered by the defeated enemies of the first king, Aegon the Conqueror. Within the franchise, the seat is often used as a symbolic device to refer to the king's authority. In real life, fans of the show have been lucky enough to sit on the chair in pop-up 'Game of Thrones' promotional experiences which tour around the world. What do you think it would be like sitting in the throne of Ice and Fire?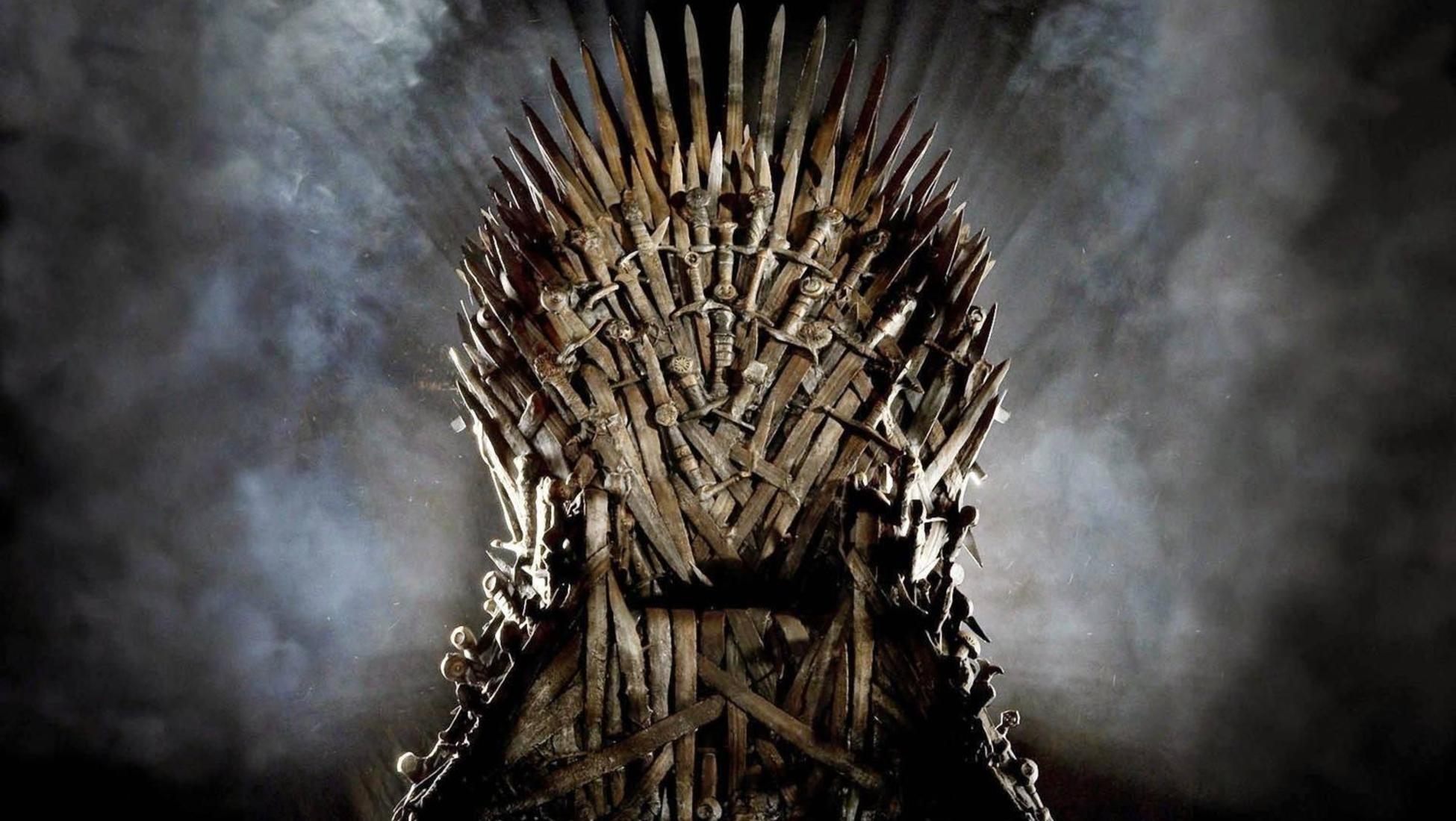 Image Source: watchersonthewall.com
2. Blofeld's Chair from James Bond - You Only Live Twice
One of the most illustrious chairs in film and TV history (but not quite our number 1 seat) is supervillain Blofeld's swivel chair from the 1967 James Bond film, 'You Only Live Twice'. The chair itself was created by the British company G Plan in 1962 and helped create an iconic villainous character identity which is known world-wide: Stroking a white cat, spinning around on a chair and facing your enemy. This archetypical villainous identity has been parodied many times and has become a fixture of 'bad guy' culture. Thanks to Blofeld, swivel chairs will never be the same again.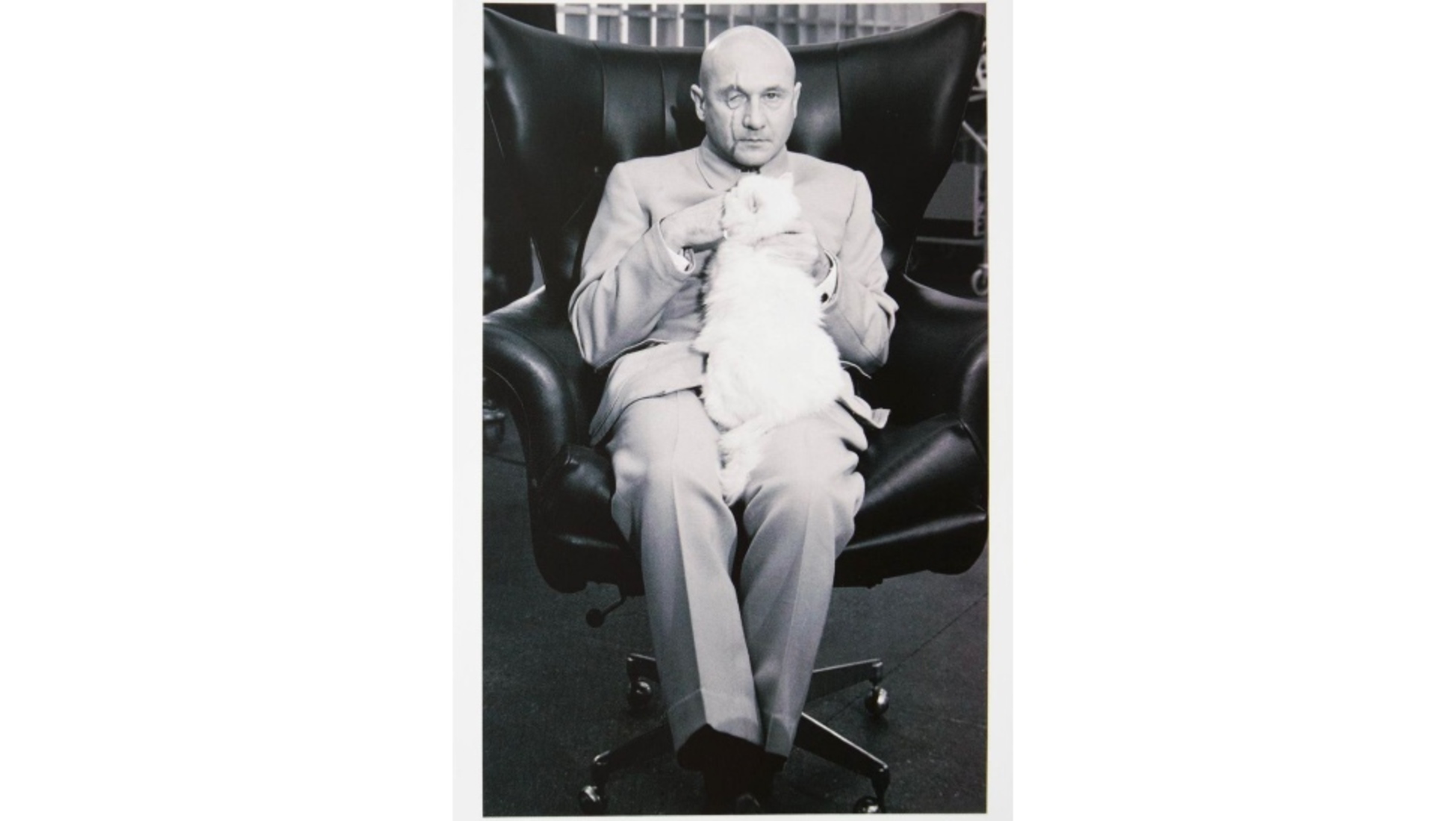 1. The Sofa From Friends
This classic 90s sitcom paved the way for American comedy TV shows. A show about six New Yorkers in their twenties sipping coffee and dealing with everything life has to throw at them became a worldwide success and defined a generation. We shared their ups and their downs and many, many laughs throughout the 10 seasons of the show. And the backdrop for this hilarity to ensure? A big comfy-looking orange sofa in a cosy coffee house called Central Perk. Looks like a fun gang.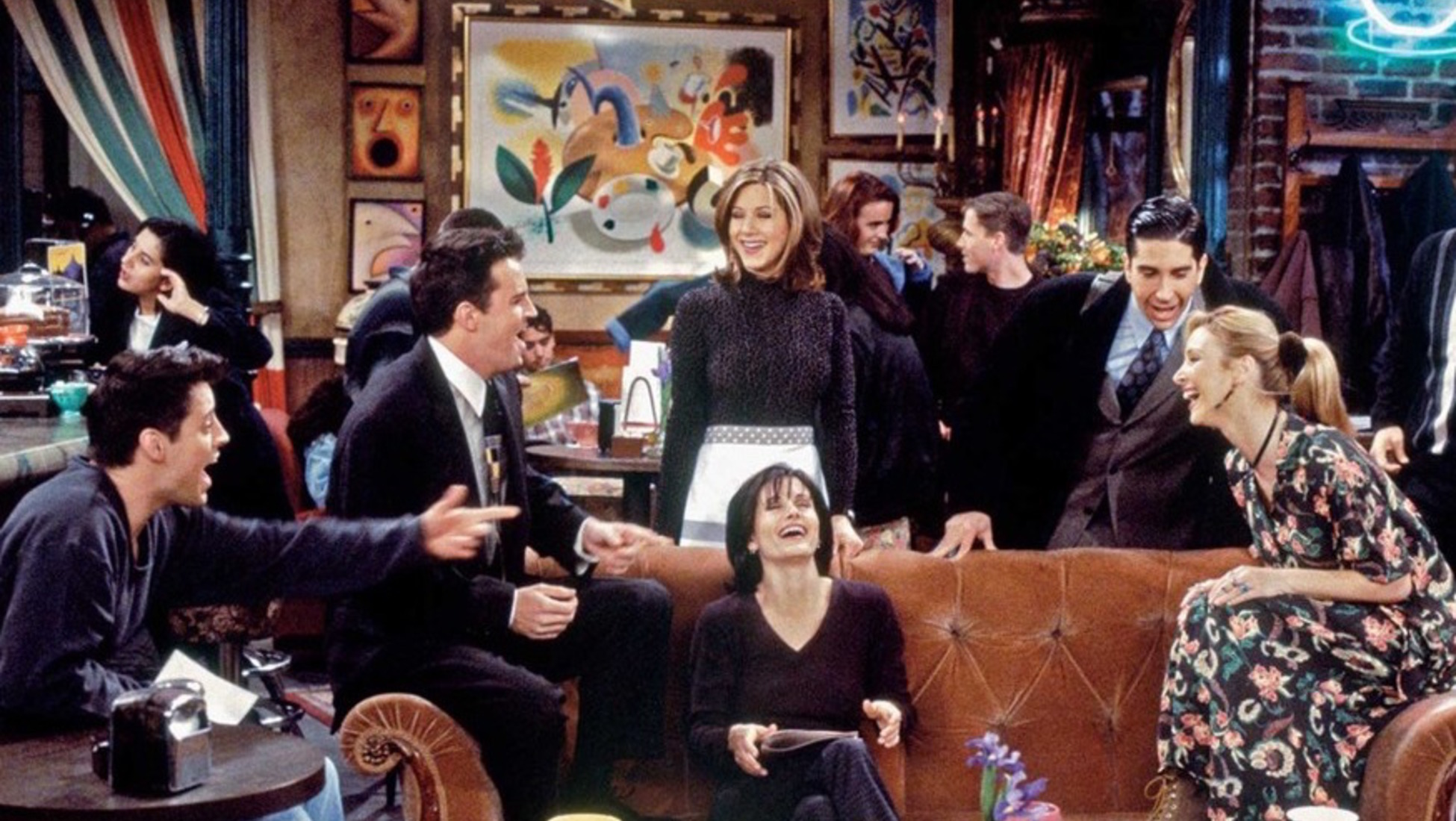 Image Source: konbini.com
Of course, we couldn't squeeze all of our favourite on-screen seats into this top 10 list. Honourable mentions go to the red leather armchair from The Matrix (1999), the Emperor's Throne from Star Wars (1980-1983) and the bar stools from 'Cheers' (1982-1993).
If all this chair talk has you wishing you could start sitting in style, our Design Furniture auction is the place for you. Or if you have stars in your eyes, then gaze upon our exciting Movie Memorabilia auction to see what - or who - is featured. Did you know you can sell your special objects at Catawiki? We're always looking to see what treasures you have in store. You can sell your furniture or sell your movie memorabilia by easily registering and then offering up your items for auction. All from the comfort of sitting in your own home!