Written by Peter Reynaers | 16th October 2018
In our Expert Talks, we hand over the metaphorical pen to one of our experts to discuss a subject in their field of expertise. In this edition, archaeology expert Peter Reynaers explains what new collectors should look for when collecting Egyptian Bronze statuettes – illustrated with pieces from our own auctions and the Exclusive IADAA dealers auction.
____________________
1. Almost everyone can own a bronze from Ancient Egypt
You don't have to be rich to afford a statuette from the Ancient land of the Pharaoh, as you can find something nice from as little as €500. Bigger bronzes do tend to go for higher prices, which can hover between €1,000 and €3,000. The lower-end prices are usually for pieces made in the Late Period, which are available in large quantities. The key is to buy the best your budget allows you to.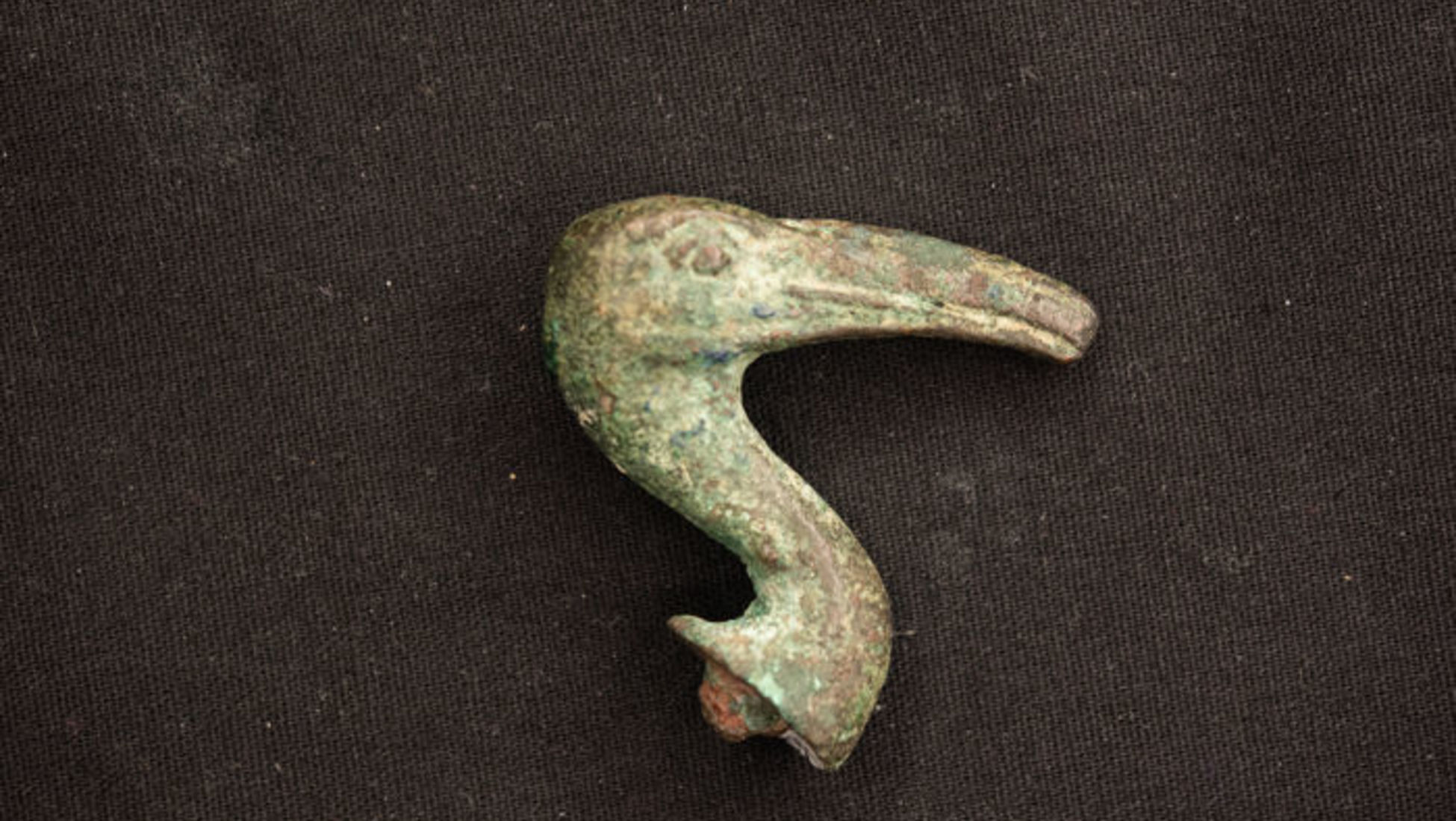 This small head in bronze of a statuette representing the God of Wisdom and Writing, Thot, is currently on offer in our auction with an estimate between €650 to €850. This shows that even a younger or beginning collector can afford to own a genuine piece of Ancient Egyptian Art.

2. Feel the cold and the heat of your bronzes
The best way to see if there are any patches of plastic or resin like restoration is to kiss your bronzes. You read that correctly, the best way is to kiss it; to touch it with your lips. With your hands or lips, you can feel these restorations, as the metal will be cold and restorations will feel warmer to any heat-sensitive part of your body.
3. The better the artist, the higher the price
Bronze casting came to Egypt after having been developed by the Mesopotamian people and especially by the Sumerians. This was possible through trade routes that connected the ancient people. Immediately after the technique was imported to Egypt, the statuary became more sophisticated. Before that, it was mainly made out of stone or clay. The heyday of the bronzes in Egypt came with the Saïte Renaissance in the 7th century B.C. Later, with the Greek Rule over Egypt, the bronze casting became mass produced and the quality and craftsmanship dropped.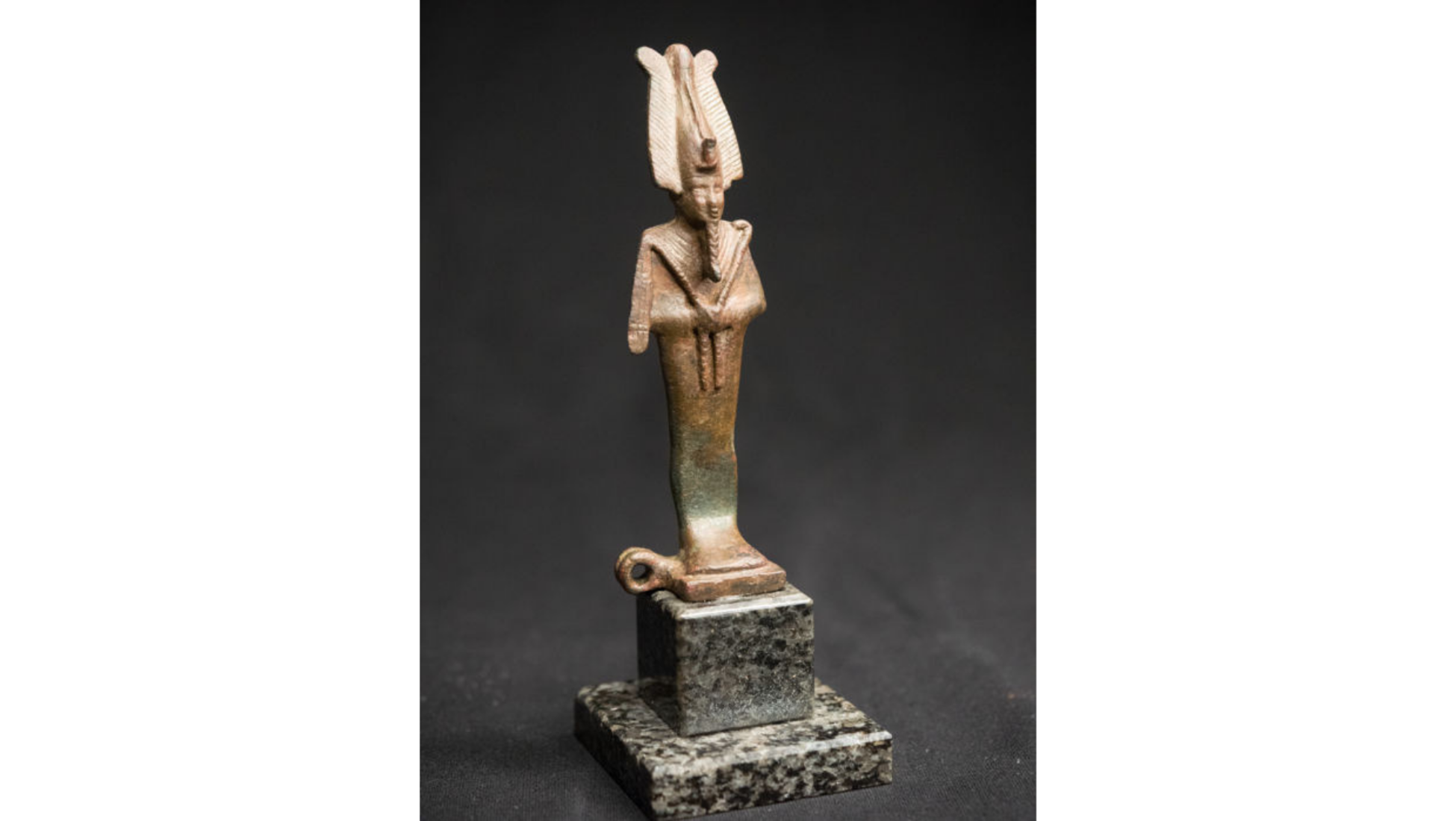 This piece shows all the characteristics of a nice work of Egyptian art that we all love these days: the mummy form of the deity, the insignia of the royalty in his hands, the crown with plumed headdress and the cobra that is sitting on the front of the crown. Collected early in the past century, it is now up for auction this month at Catawiki to find a new owner to care for it.

4. Invented in ancient times, still used today
The material, an alloy of copper and tin, was seen as the prime metal to make a statue. This is because it stays in a liquid state for a longer time than pure copper, making the end result stronger. The lost wax process used to do this still is the best way to make a statue these days. A model that is made in wax is put in a clay casing and exposed to heat as to melt the wax out of it. The void that is left is filled with molten metal – bronze – and after cooling the statue comes out of the casing that is smashed with a hammer. It is very special to be aware of the fact that modern-day artists are still using this same method. Sometimes the bronzes were also inlaid with gold or silver as to mimic the jewellery or hair of a subject.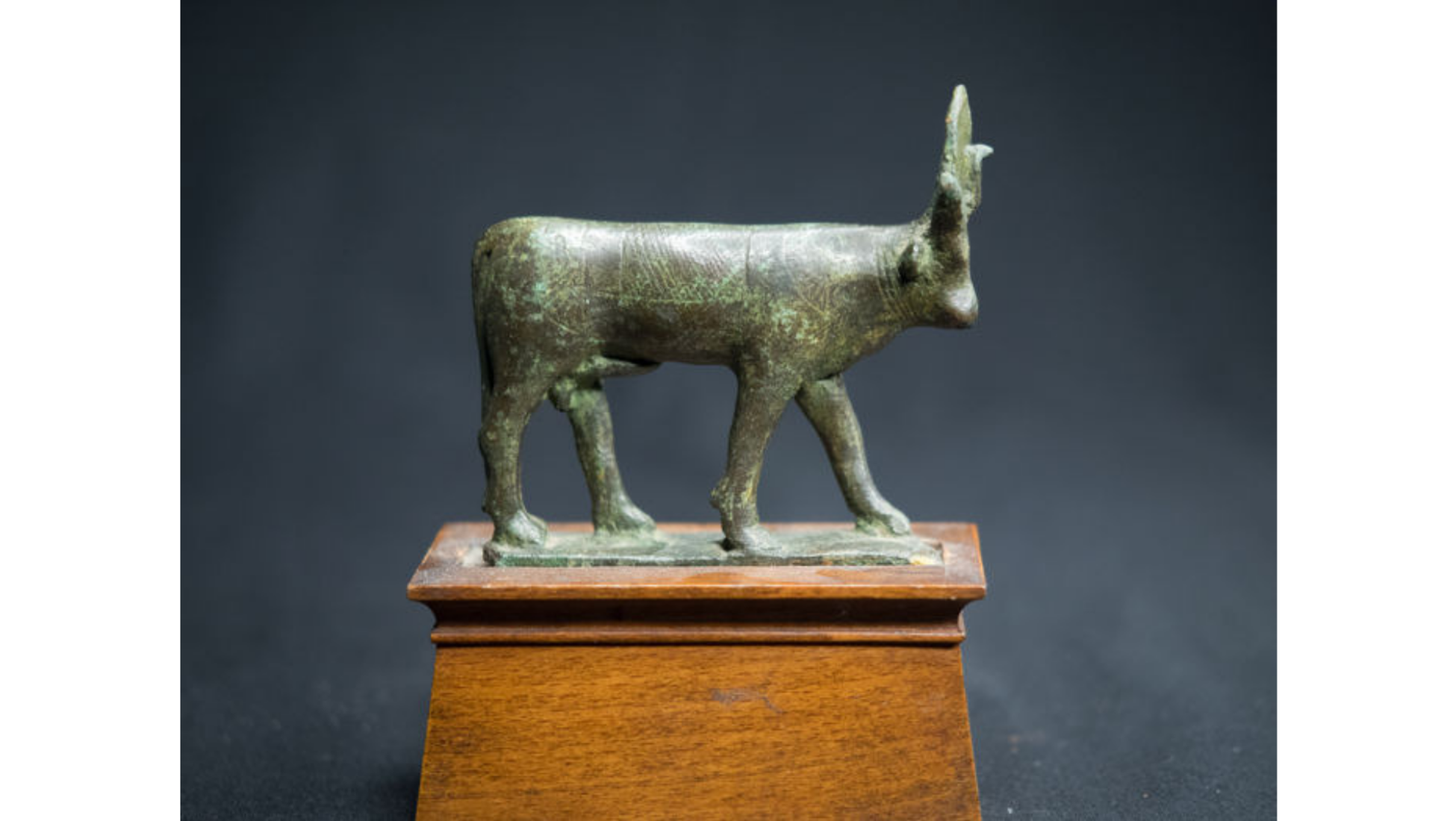 This bronze, currently on offer in our Exclusive auction, depicts the Apis bull. Estimated between €2000 – €2800, it is a bargain for any serious collector, with a solid provenance from the Dampierre collection formed in the 1920's.

5. Kittens are cool, not only on social media
The majority of the bronzes represent deities and were used to be worshipped in a temple or a private home. Most of these were placed in a tomb to offer divine protection. Mostly the goddess Isis is represented, because of her role as the wife of Osiris, the divine mother offering protection to households and also because she was known to be a magician.
Besides these depictions of celestials, there are a lot of cats. They were symbols of the Basted (or Bast): the cat-goddess of warfare and a protector against evil in all kinds, such as contagious diseases and evil spirits. But let us not forget that cats in Egypt were especially loved as pets because of their character and for their role as pest-control, killing mice and other vermin.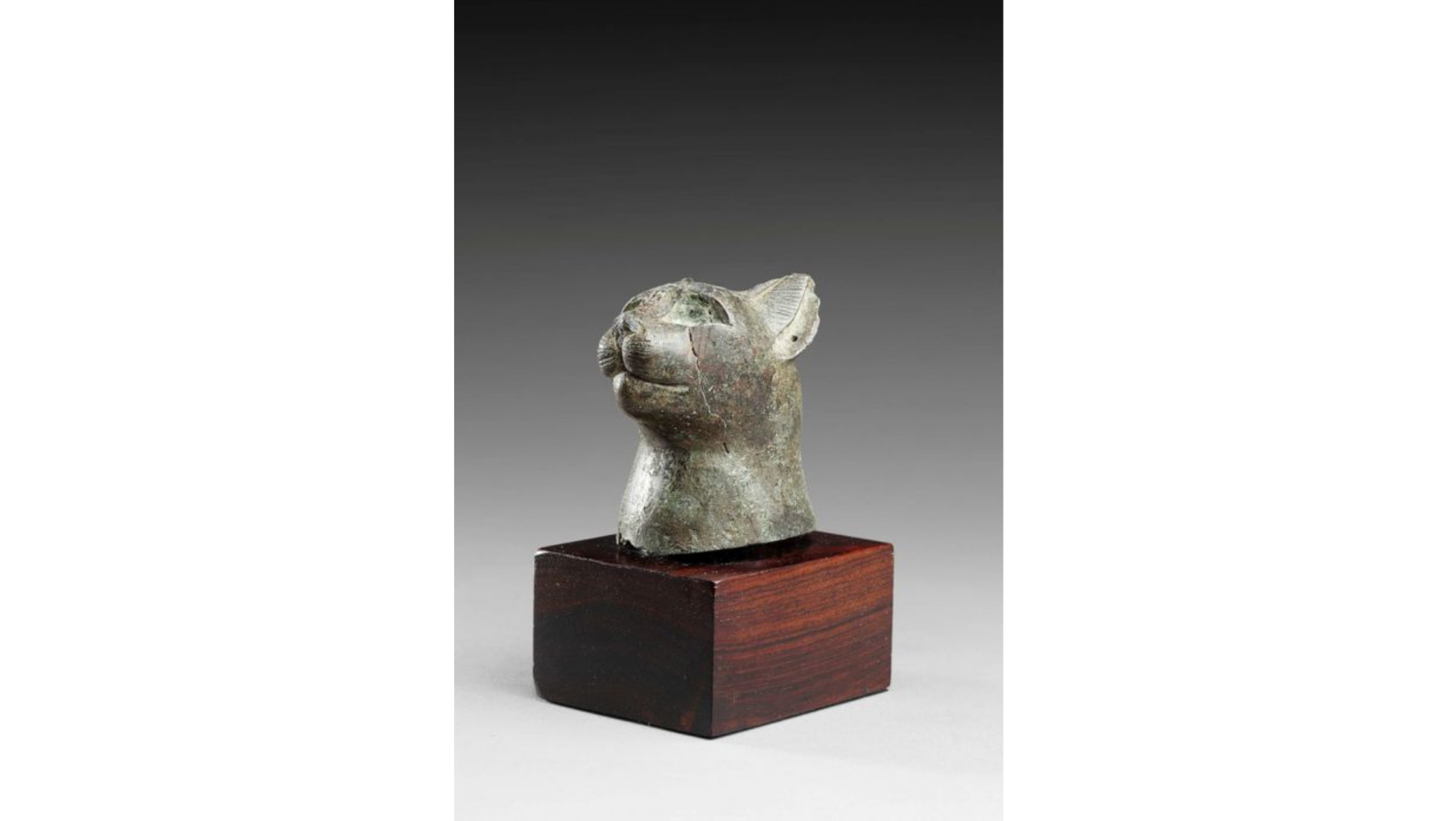 A nice bronze head of a statuette of an Egyptian cat. This piece was offered some time ago in one of our auctions.

6. Size does matter
Most Egyptian bronzes are small (5 - 6 cm), but bigger pieces exist and are extremely sought after. Larger pieces are seen as more expensive because it is rarer for them to have survived the test of time. Especially so, because the material itself becomes more brittle with age. Therefore you should always be gentle with your archaeological bronzes because they are as fragile as glass.
7. Provenance is key
Pay attention to when and where a piece was collected for the first time. The modern Egyptian state banished all dealing in ancient art from 1983 onward: the date that the shop of the Egyptian Museum stopped selling genuine ancient art and no ancient artefacts could be removed out of the borders of Egypt as from that date on. If the piece has a nice provenance, the value will always stay high and will appeal to future generations of collectors.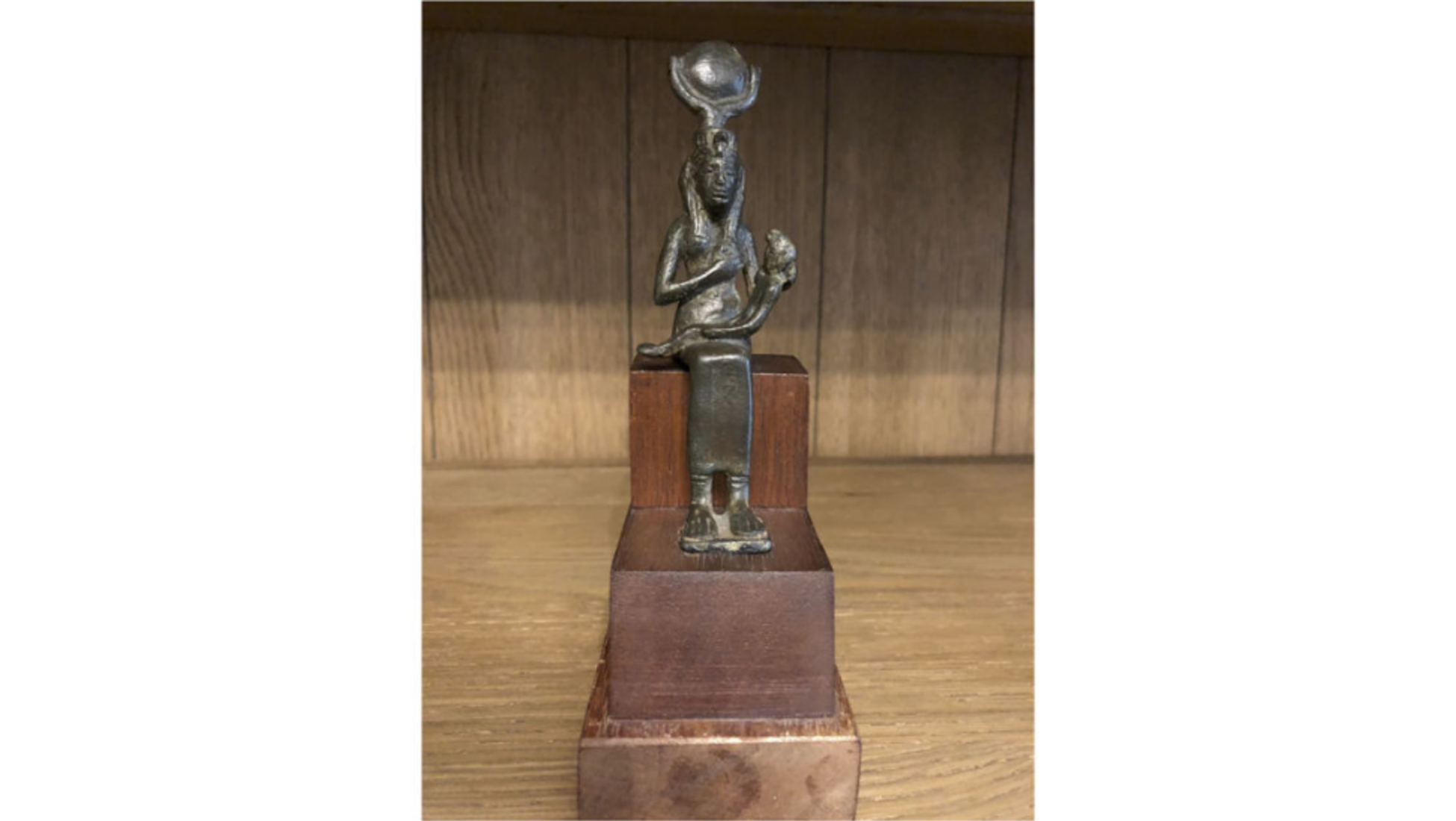 This bronze Isis, recently sold on Catawiki for €14,500. A very good price considering its small size, but here the provenance was important: it came out of the collection of Gustave Jequier (1868-1946). Ex-Billy Jamieson Collection, 2009 (1954-2011) - an important collector from the U.S. who put it up for sale at Catawiki.

8. Beware of bronze disease
When buying an ancient piece of bronze, you have to be on the lookout for any kind of disease that's attacking the metal. This form of decay, though rare, can ruin any work of art. It shows itself as a powdery verdigris on the surface of the metal, forming patches. It is difficult and expensive to treat and can affect also other pieces in the collection.
9. Fakes are to be recognised easily
There has always been a high demand for Egyptian antiquities over the centuries and thus fakes are naturally around. One way of spotting them is to look at the sides of the piece. The ancients cast their pieces in one single piece, so a real piece should be whole. Modern fakes make use of casting moulds made from different pieces, which result in lines and uneven patches. You should also look closely at the patina, as the patina on ancient bronzes is natural and not artificial. The artificial patina gives a uniform and brighter green hue, whilst ancient pieces have generally a more uneven patina from dark green to light coloured green with lighter or darker patches. Sometimes the copper bleeds through this patina, which results in a red colour called cuprite.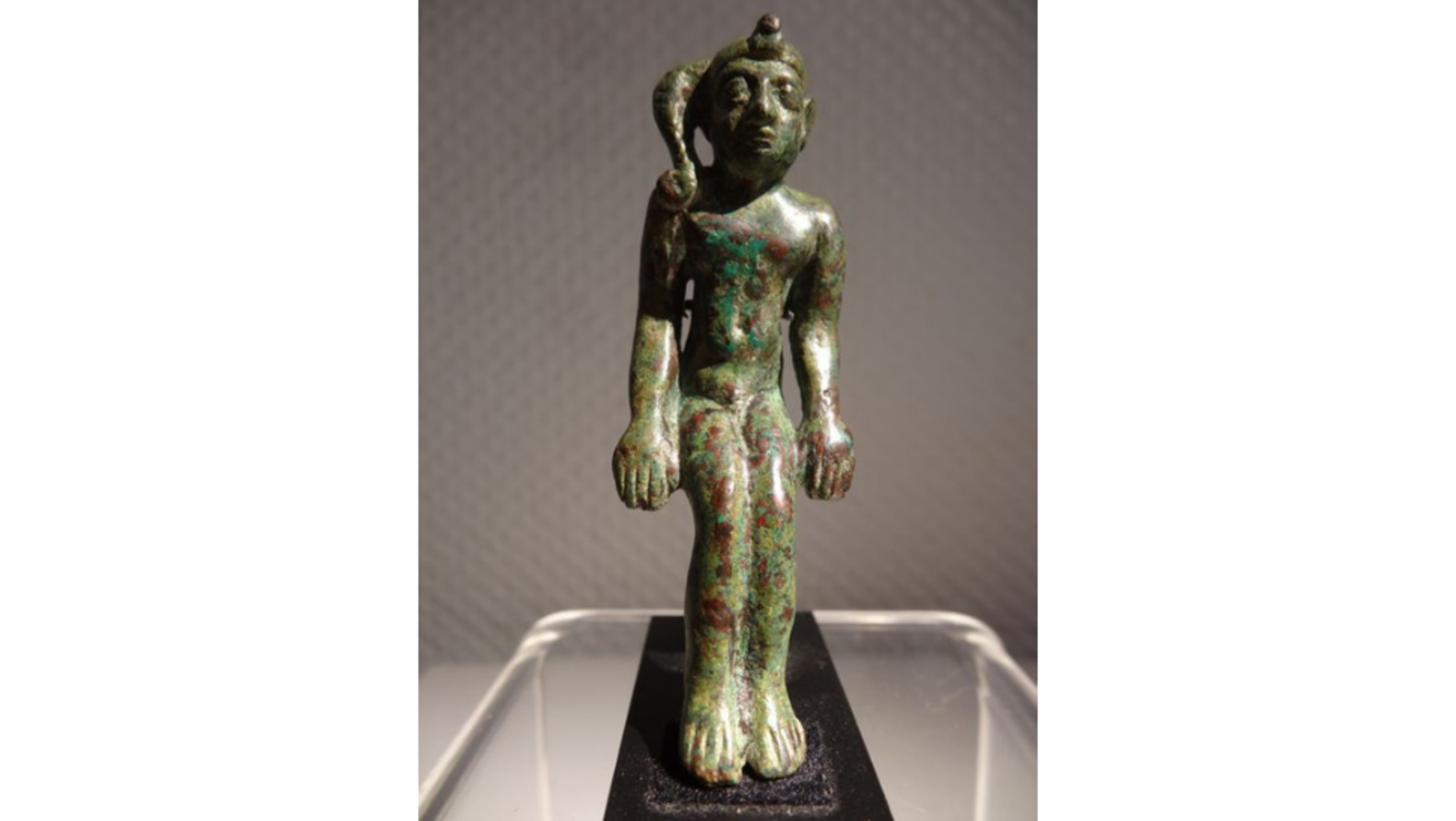 A fine small bronze of the god Harpocrates or even the Child Horus, clearly showing the bronze and the patina one can expect from ancient Egyptian bronzes, including the red colouring coming from the cuprite that is in the bronze. This is often a sign of quality and authenticity. This piece was sold in one of our past auctions.

10. Visit the Great Collections and learn!
Many such beautiful bronzes reside in the great museums in the world as there are the Louvre in Paris or the British Museum in London. Even if it is protected by glass, you will still be able to see and learn a lot, even without touching them. In these bronze collections, you can find sculptures of the main gods of Egypt: Amun, Horus, Isis, Osiris, Thoth and Anubis, but also striking examples of statues or statuettes of cats, mice, fish and bulls. These pieces have a timeless quality that inspires many collectors and art-lovers today.
____________________
Discover more ancient art | ancient bronze | ushabti
You might also like: