Written by Thomas | 31st October 2018
In our Expert's Choice feature, one of our experts shares their favourite items currently in auction. This week our coins expert, Eric Toonen, selects five exceptional items from our coins and banknotes auctions for you to enjoy.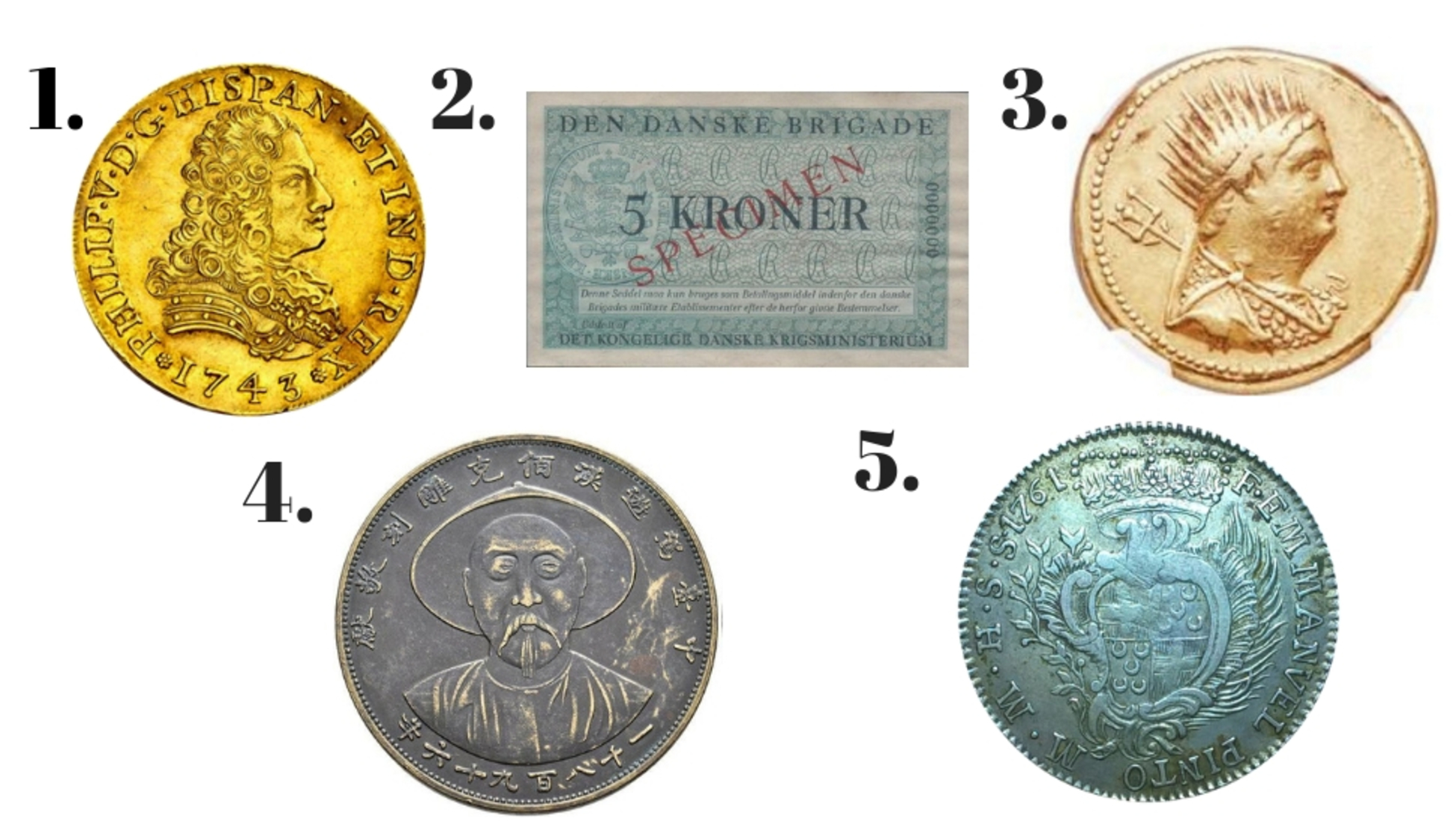 1. Spain - Felipe V (1700 - 1746) - 8 escudos - Ceca de México, 1743. Ensayador M.F. - Gold
Now is your chance to possess a true treasure! In this week's Spanish Coins Auction, you can find three of the most iconic and sought-after Spanish coins. This 8 Escudos from Mexico was struck in 1743, as a symbol of the prominence of King Felipe, who wanted to bring French centralism to Spain. This rare coin is in extremely fine condition and is almost completely made of gold.
2. Denmark - Den Danske Brigade - 5 Kroner (1947-1958) - SPECIMEN - Pick M11 - SB 705s
The Royal Danish Ministry of War released this army issue for a small contingent of Danish soldiers, who were stationed in occupied Germany after the Second World War. These denominations are lithographed with common designs on paper and have an unidentified line watermark and silk threads. Not often do you see the specimens of these notes up for offer! In this week's Exclusive Banknote Auction, you can discover this and many more denominations, which are all specimens.

3. Ptolemaic Egypt - Ptolemy III Euergetes (246-222 BC) - AV mnaieion or octodrachm - Posthumous issue of Alexandria, under Ptolemy I
One of the highlights of our Exclusive Ancient Coin Auction, is this NGC certified VF (5/5 - 4/5) AV Mnaieion or Octodrachm of Ptolemy III Euergetes (246-222 BC). This interesting posthumous issue of Alexandria (ref: Svoronos 1117. SNG Copenhagen 196), was struck under Ptolemy IV, ca. 221-205 BC. The obverse shows the bust of the deified Ptolemy III, wearing a radiate diadem and aegis, and holding a trident over his left shoulder. The coins also depict the central tine ornamented with lotus finial. The reverse bears the legend 'ΠTOΛEMAIOY-BAΣIΛEΩΣ' and shows a radiate and filleted cornucopia, with a bunch of grapes hanging at the side. The characters 'ΔI' are shown below.
4. China, Germany - Medaille 1898 - Visit From Li Hung Chang in Germany - Bronze
The first time the Chinese government visited Germany, was on 3 July 1895. After visiting the Tsar Nicholas II coronation ceremony, the Chinese minister Li Hongzhang, took - together with his delegation of 45 man – a train to Berlin, where they stayed in the Caesar Hotel. The German government made detailed arrangements for this visit. They pleased Li Hongzhang with his hobbies: smoking cigars and listening to thrush birds. On 24th June, the Chinese minister went to Hamburg to visit Bismarck. For this occasion, this medal was created to commemorate his trip to Hamburg. You can find this medal in this week's Chinese & East Asian Coins Auction.
5. Order of Malta, Portugal - Manuel Pinto - 30 Taris 1761 - Silver
D. Manuel Pinto da Fonseca deserved the right to decorate his coat with the royal crown, just like a king. Da Fonseca was responsible for the development of the island of Malta and contributed to its pacification, where he had this minted coin in his name. The tram that runs the route of the city is called 'Pinto'. Those marks left by the legacy of this Grandmaster are still evident today.
____________________
You might also like these articles: