Written by Thomas | 14th November 2018
In our Expert's Choice feature, one of our experts shares their favourite items currently in auction. This week our coins expert, Eric Toonen, selects five exceptional items from our coins and banknotes auctions for you to enjoy.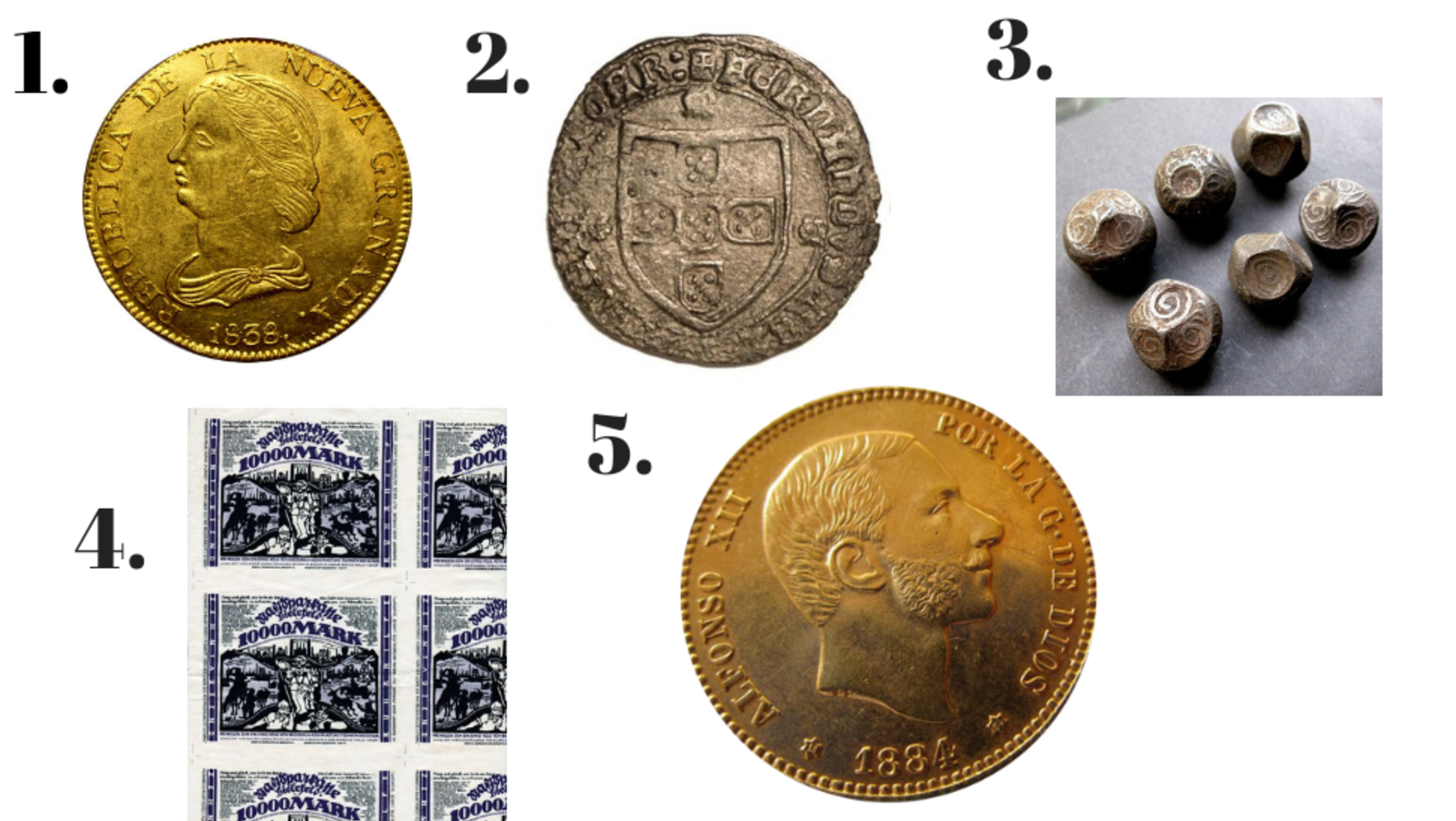 1. Colombia - 16 pesos - Republica de Colombia, 1838. Popayán. RU - Gold
In this week's Spanish Coin Auction, you can find this 16 Pesos coin from Colombia. This beautiful gold coin is very well-preserved, and remains of its original shine are still visible. Coins with such a high grade of conservation are extremely rare.
2. Portugal - Monarquia - D. Fernando I (1367-1383) - Tornês de Escudo (72 Dinheiros) - Milmanda - Bolhão
This Tornês Escudo (72 Dinheiros) was coined in Milmanda, somewhere around the year 1370. It was struck during the war between D. Fernando I and Henry II of Castille, and was used to pay the troops. Milmanda (Miranda) was an important Castilian square, located a few kilometers from Miranda do Douro, and was part of their line of defense against the Portuguese invasions. When the treaty of Alcoutim came into existence on March 1371, all the coins created by D. Fernando I in Castile had to be destroyed, making this coin a very rare find. You can find this coin and many others in our Portuguese Coin Auction (Exclusive Selection).

3. Indonesia - Java, Surabaya "Iron Bullet Money"
In Indonesia, locals carried this bullet-money named 'Peluru Pitunang' or 'Peluru Bahari' as an amulet, as they believed it will help hunters to catch more animals when they were out hunting. According to the locals, the amulet helps to improve their aim, even so much, that when a hunter shot to the south and the animal was north, the target will still be hit.
4. Germany - Sheet of 12 notes of 10,000 Marks Bielefeld 1913 – Linen
Banknotes were not always made from paper. They've been made from many different raw materials throughout the years, such as leather, aluminum foil, paper, cardboard, wood, polyester, jute, cotton, and silk. In the city of Bielefeld in Germany, the local government printed emergency money from linen, during the interwar period. Some people used the uncut sheets as a tablecloth. In this week's Banknote Auction, you can find an uncut sheet of 12 x 10,000-Mark banknotes, which is rarely offered.
5. Spain - Alfonso XII - 25 pesetas de Alfonso XII. 1884 – Gold
In this week's Spanish Coin Auction, you can find one of the most desirable and rarest of the 25 Pesetas gold coin series. This specimen was minted in 1884 and is still in extremely fine condition.
____________________
Discover more coins | banknotes
You might also like these articles: