Written by Thomas | 16th November 2018
In our Expert's Choice feature, one of our experts shares their favourite items currently in auction. This week our Books expert, Mark Harrison, selects five exceptional items from our book and cartography auctions for you to enjoy.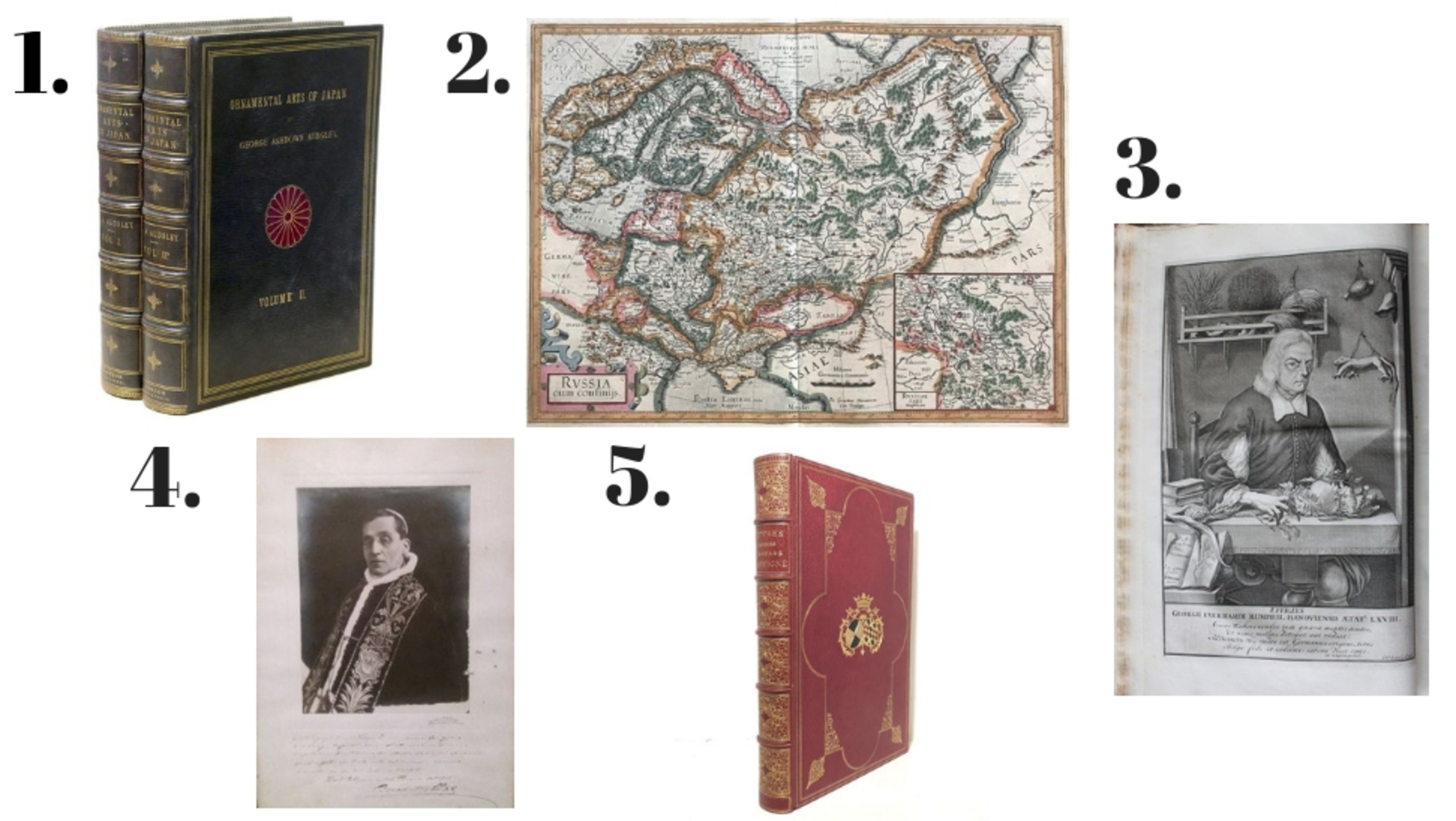 1. George Ashdown Audsley - The Ornamental Arts of Japan - 1882
You can discover quite a scarce find in this week's Books (Exclusive Art) Auction! These two volumes, crafted in full-leather bindings, describe the many Japanese art forms in great detail and are supported with hundreds of stunning illustrations. Many celebrated scholars, Japanologists, art historians, and authors of that period contributed to this marvelous book, such as Sir T. Mc Clatchie, Louis Gonse, and others. To top it all off, this work comes with an autograph letter from its author, where he discusses his ideas and the planning of this work.
2. G. Mercator / J. Hondius - Russia cum confinijs - 1601-1620
This beautiful map was published in Amsterdam during the 17th century. It depicts Russia and other Eastern European countries, as they were formed at that time. The map is still in good condition and gives you a unique insight into the past. You can find this map and many more in this week's European Cartography Auction.
3. G.E. Rumphius - d'Amboinsche Rariteitkamer – 1741
The author of this remarkable book, Mr. Rumphius, was originally a merchant of the Dutch East India Company, stationed in Ambon, where he spent most of his time researching and describing the Ambonese nature. When Rumhius turned blind at age 42, he decided to work together with authors and illustrators to finish his work. Unfortunately, Mr. Rumhius died before his book was first published in 1705. You can find this piece of history in our Old & Rare Pre-1800 Books Auction.
4. Benedictus XV Pope - Autograph; Framed photograph with signed inscription and benediction – 1914
In this week's Books (Autographs, Manuscripts & Weekly Specials) Auction you can find a photograph of the 258th pope; Benedictus XV. This photograph is signed and blessed by the pope himself and comes in a beautiful frame.
5. Madame de Sévigné - Lettres Choisies de Madame de Sévigné – 1871
This gorgeous binding is signed by Adolphe Bertrand and bears the Coat of Arms of de Sevigne. The bright colours and its very good condition make this book a true eye-catcher on any bookshelf! You can find this book in our special Marché du Livre Auction.
____________________
Discover more books | manuscripts | autographs
You might also like these articles: