Written by Thomas | 21st November 2018
In our Expert's Choice feature, one of our experts shares their favourite items currently in auction. This week our Comics expert, Jacques Pels, selects four exceptional items from our comics auctions for you to enjoy.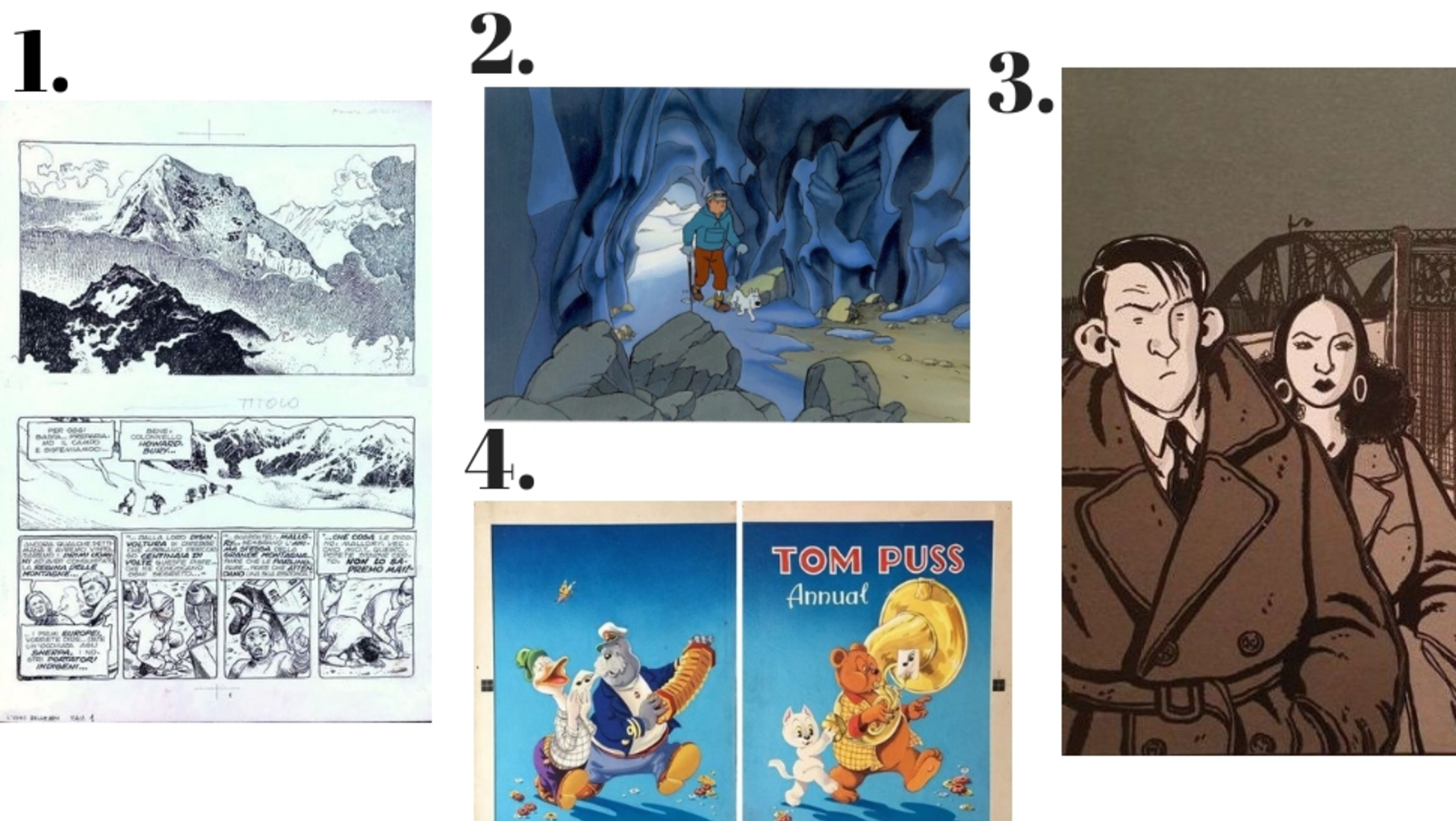 1. Milo Manara - original page "l'Homme des Neiges /L'Uomo delle Nevi" - Loose page - First edition - (1978)
In our special Milo Manara Comic Auction, you can find an original first splash page from the master himself. This page depicts the opening scene from "L'Uomo delle Nevi", which is one of Manara's few non-erotic stories. The story tells the adventures of reporter Kenneth Tobey, who meets the abominable snowman, the Yeti.
2. Ellipse - Original Production Cel + Copy Background - Tintin au Tibet - (1992)
Did you know that the process of creating a comic is very similar to the preparatory work that goes into making an animation? The so-called storyboards are essentially comic books panels, used to showcase characters, dialogue, and camera angles. No wonder there are so many animated adaptations of comic books! In this week's Original Animation Art Auction, you can discover an impressive selection of unique cells, production drawings, and preliminary art from the animated adaptations of Tintin, Astérix and Lucky Luke. Among these, you can find this original production cell from a scene of Tintin au Tibet, made by Stéphane Bernasconi in 1992.
3. Nestor Burma - Brouillard au pont de Tolbiac - Couverture 'A Suivre' 40 - (1981)
Have you ever wanted to own original artwork from Jacques Tardi? In our special Comic Albums & Original Drawings Auction, that is packed with comics that will be exhibited at the BD Boum festival, you can find this truly exceptional piece. This signed artwork of 'Brouillard au pont de Tolbiac', is the original cover of the 'A Suivre' Magazine N°40. A classic scene featuring the character Nestor Burma; French hard-boiled private eye.
4. Tom Poes - Original cover and back cover Birn Bros. 'Annual' - Tom Poes, heer Bommel, Wammes Waggel & Kapitein Wal Rus - (1948)
A few years ago, the former Birn Bros Publishers' archives were discovered in the United Kingdom. All items were stored in mint condition which made the find even more exciting! Among these discovered items, was this original diptych of Holland's most famous comic book heroes; Tom Puss and Mr. Bumble (Tom Poes en Heer Bommel). It's truly a once in a lifetime chance to get your hand on such a unique piece. You can find this original gouache, and many more, in this week's Exclusive Comics Auction.
____________________
Discover more comics | original animation art | US comics
You might also like these articles: