Written by Thomas | 21st November 2018

In our Expert's Choice feature, one of our experts shares their favourite items currently in auction. This week our Stamp expert, Nicolas Pereira, selects five exceptional items from our stamps and postcards auctions for you to enjoy.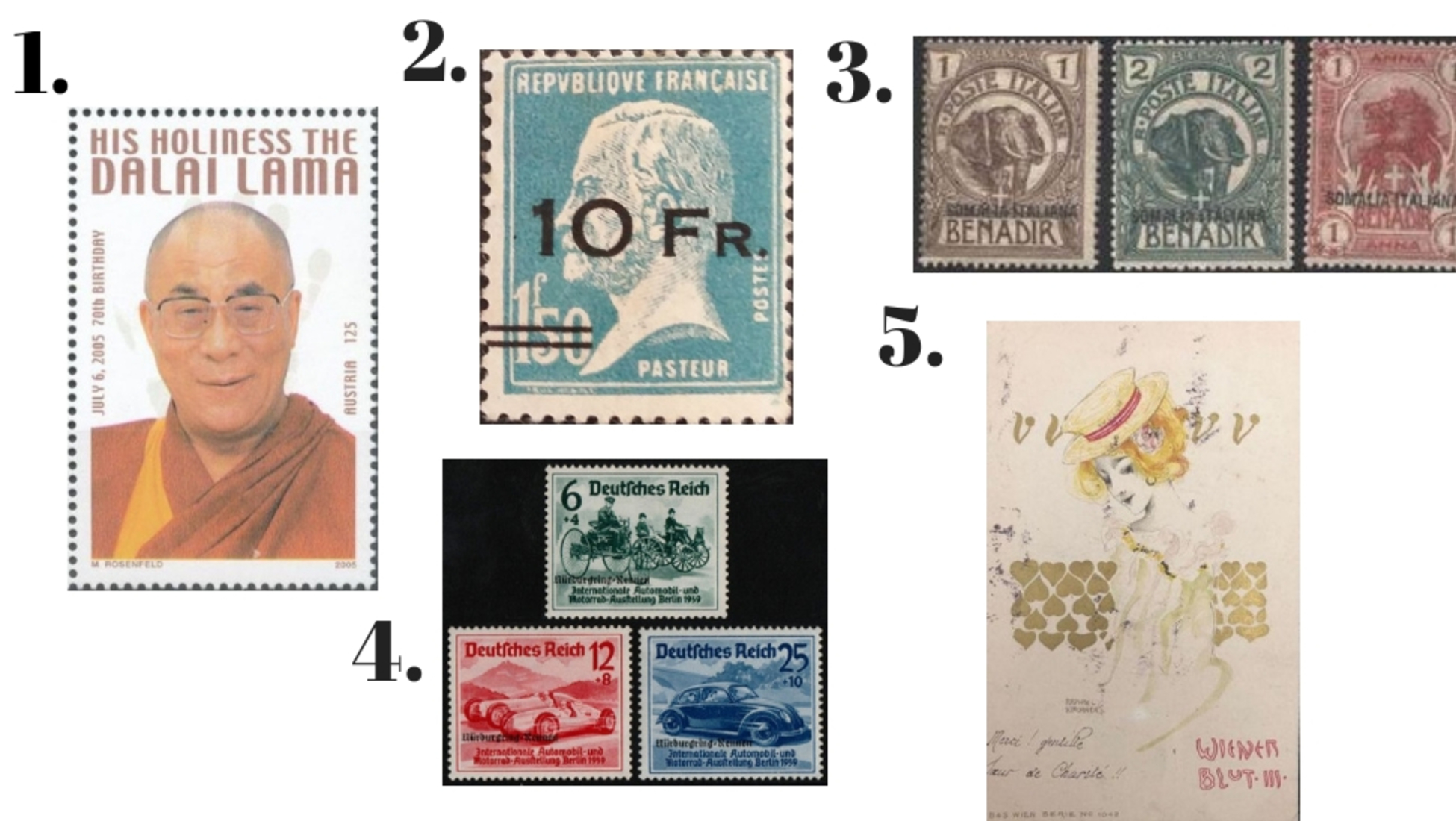 1. Austria 2005 - 125 C 70. Born of Dalai Lama Tenzin Gyasto - ANK IX
When the 14th Dalai Lama turned 70, these series of stamps were designed and printed on sheetlets on ten pieces each. They were ready to be issued on the 6th July 2015, but the government of the People's Republic of China put a halt to its circulation, which makes these stamps rather hard to find. You can find these rare stamps in our Exclusive Austrian & Swiss Stamps Auction.

2. France 1928 - Pasteur, 10f on 1f 50 blue - Yvert Poste aérienne 4
In this week's French Exclusive Stamps Auction, you can find this rare 1928 10 Francs on a 1,50 Franc airmail stamp. It could be one of the most valuable of its kind in France, probably even of all of Europe! The stamp is in mint hinged condition and has a Brun certificate. A unique opportunity to fill this gap in your collection.

3. Italy - Italian Colonies, Somalia, 1921 - Unissued series - Lions and Elephants - Sassone no. 23A/23G

It's not often you find a set from this Italian Somalia colony, since there are only 50 sets known to exist! And even if you'd find a set, most of them are faulty or incomplete. This complete and fault-free set is definitely a rare find and comes with two certificates (Diena and Raybaudi). You can find this beautiful set, and many more, in our Italian Exclusive Stamp Auction.

4. German Empire 1939 - "Nürburgring race" with overprint - Michel 695/697
In 1939, the German Grand Prix was held at the Nürburgring on 23th July. This event was so important that a set of stamps were issued to commemorate this race. These stamps feature a variety of cars from different periods in time, making this set appealing to both Germans and car-stamps collectors.
5. Five postcards by Raphael Kirchner, M.J.S and Sarah Bernhardt - Art Nouveau

Raphael Kirchner was an Austrian artist who spent his life as a portrait painter and illustrator, best known for his Art Nouveau and early pin-up work. He specialized in pictures on postcard formats. These days, his postcards are highly appreciated by postcards-collectors. You can find these Kirchner's Art Nouveau postcards in our International Postcards Auction.
____________________

Discover more stamps
You might also like these articles: