By Simone | 22th November

At Catawiki we are always seeking to bring the most special and unusual items to our auctions. Beginning on 30th November, we are bringing a truly superb antique Limoges salt cellar to our auctions. Our Antiques expert Desi van Rhee explains what makes this salt cellar so special.
There are still undiscovered treasures in this world; as this special little salt cellar proves. The current owners found the treasure carefully wrapped and tucked away in a shoebox, whilst they were cleaning up the house of their deceased uncle. At first, they had no idea what kind of object they were dealing with, but after some research into their uncle's papers, they came across the original catalogue entry and the invoice of both the auction house and the antiques dealer, and they knew they had found something special.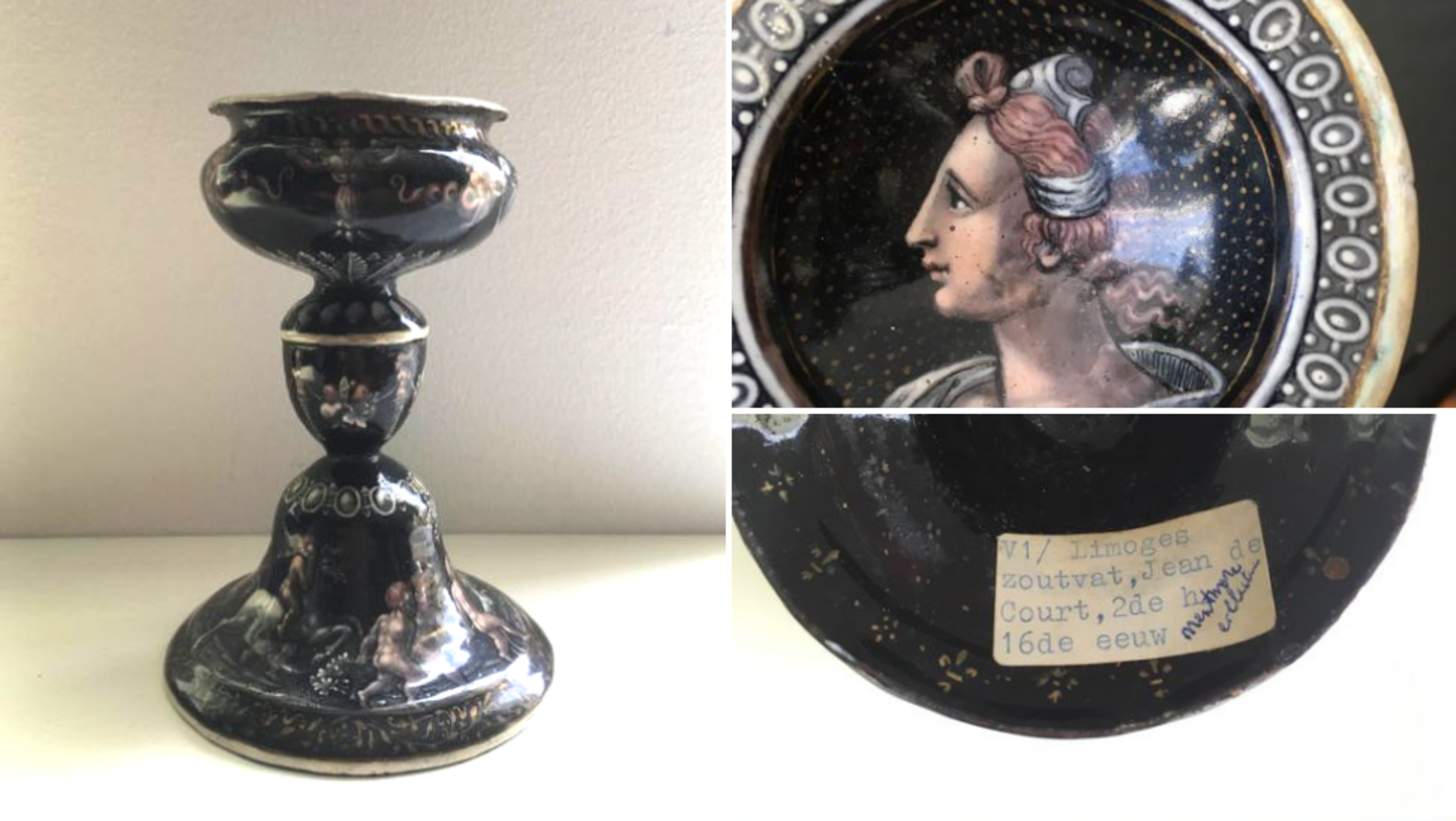 The Limoges enamel salt cellar with the profile of a woman in a classical dress - France - second half 16th century (Master I.C. (workshop active circa 1550-1615)) Monogrammed I.C. to the underside of the foot; partially gilt and grisaille painted enamel on metal (probably copper). Height 13 cm.
Limoges
The salt cellar is made of Limoges enamel, which means it was produced by craftsmen at Limoges in south-western France. Painted enamels from Limoges were considered luxury items in the 16th and early 17th centuries and their ownership was largely the preserve of the nobility. Although utilitarian in design, an object such as the present salt would not have been used at the table but exhibited in Kunstkammer displays as a symbol of the owner's wealth and sophistication. The present salt cellar is painted with coat of arms belonging to the Rouveyre family of Dauphiné (France) and was probably made in commission.
On the underside of the foot, the salt cellar bears the monogram I.C., indicating that it was produced by the eponymous enamelling workshop in Limoges. The identity of this maker's mark has long been the subject of debate in scholarship and still remains partially unresolved. Traditionally associated with the name of Jean de Court, the mark is currently thought to have been used by a major workshop which operated for several decades, from the mid 16th to the early 17th century, and which seems to have been led by successive enamellers with the name of Jean de Court.
With its distinctive shape and decorative grisaille (monochromatic painting in shades of gray) scheme, this salt cellar is indeed a characteristic product of the Master I.C. workshop. Several examples of this rare object type are found in collections, all following the same basic decorative scheme. The damaged salt cellar at the Louvre is most similar to the one at hand, with the profile of a woman in classical dress in the receptacle, the mythological god-like figures on the bowl and putti frolicking amongst various animals on the foot. Another similar grisaille salt cellar of this shape is housed in Braunschweig, likewise depicting putti and beasts, whilst showing the profile of a man in classical armour in its receptacle.
Works signed I.C. exist in several major collections of Limoges enamels including in the already mentioned Musée du Louvre, in the Herzog-Anton-Ulrich Museum in Braunschweig, and in the Wallace Collection in London and in the Frick Collection in New York. These vary from objects painted in grisaille, usually dated to the second half of the 16th century, to those that use polychromy and are thought to be of a slightly later date.
Provenance:
Collection Earl of Rosebery / Baron Mayer de Rothschild, Mentmore Towers, Buckinghamshire, England. Sold by Sotheby's Parke Bennet, Mentmore - Works of Art & Silver - Volume II, 1977, lot 1147.
Purchased at Van der Ven Antiquairs Den Bosch, 1977.
Private collection in the Netherlands and thence by descent to the present owner.
Literature:
Sotheby's Catalogue, Treasures, London, July 2015, lot 6.
S. Baratte, Les Émaux peints de Limoges, cat. Musée du Louvre, Paris, 2000, pp. 317-361.
I. Münsch, Maleremails des 16. Und 17. Jahrhunderts aus Limoges, cat. Herzog Anton Ulrich-Museum, Braunschweig, 2002, pp. 223-234
.V. & H.V. Rollands, Illustrations to the Armorial Général, P. I CC 1.
____________________
Discover more antiques | ceramics
You might also like these articles: