Written by Thomas | 28th November 2018
In our Expert's Choice feature, one of our experts shares their favourite items currently in auction. This week our coins expert, Eric Toonen, selects four exceptional items from our coins and banknotes auctions for you to enjoy.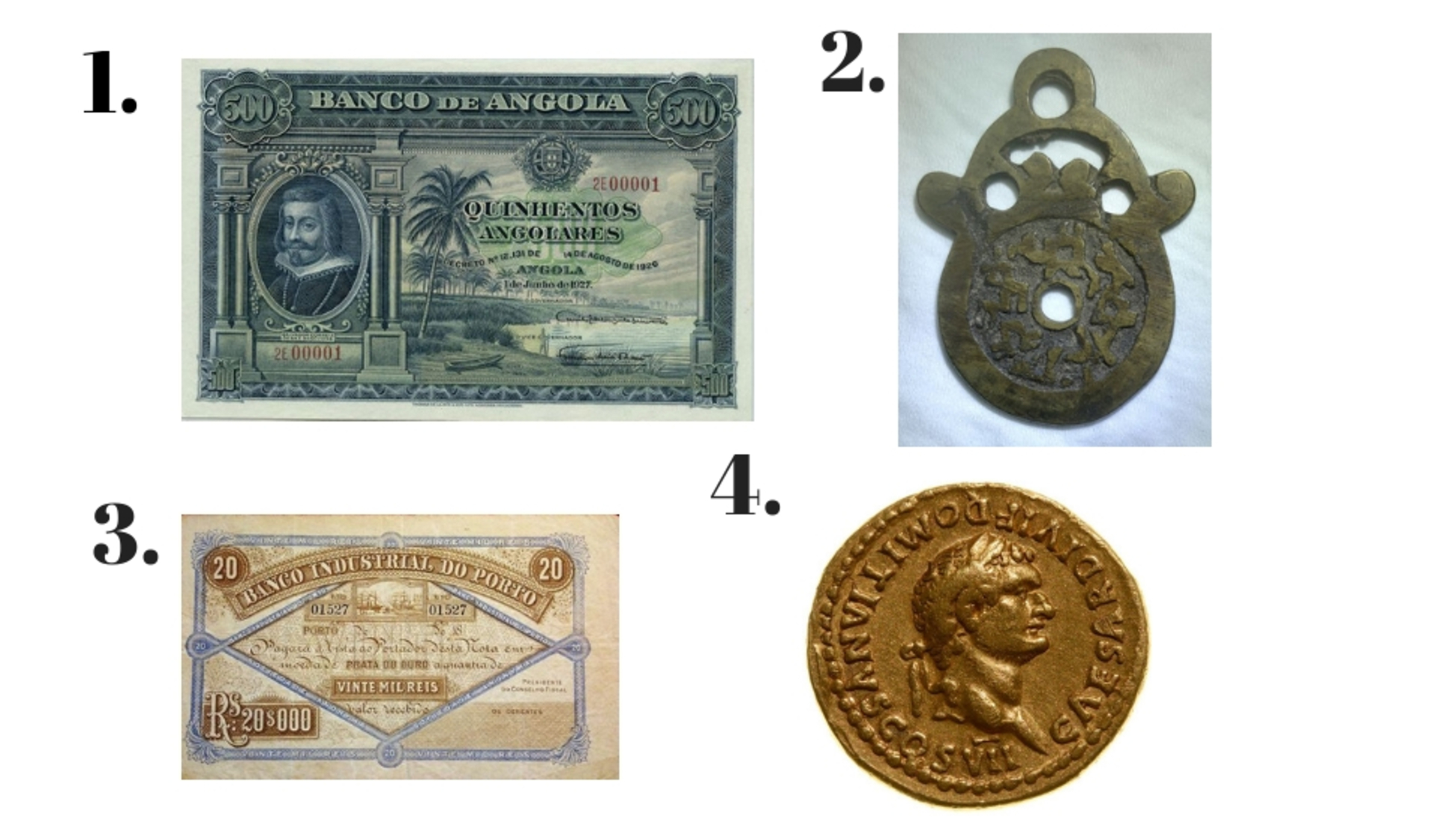 1. Angola - 500 Angolares 1927 - Pick 76 - Serial number 00001 - PMG 64 Choice UNC
Salvador Correia de Sá e Benevides was a Portuguese admiral and crown administrator. In 1625, he fought the Dutch invasion of Salvador in Brazil and regained Angola and São Tomé Island from the Dutch in 1647. He was governor of Rio de Janeiro, Southern Brazil, and Angola. In this week's Exclusive Banknote Auction, you can find this extremely rare 500 Angolars 1927 - Pick 76a. This banknote carries serial number 00001 and is graded by PMG 64 Choice UNC!
2. China - Qing Dynasty, Erotic amulet coin / Sex token (ca early 19th Century) - 'Long life and prosperity' - Copper

Sex education was not a topic people discussed freely in ancient China. However, it was important for newlyweds to have a very basic understanding of how sexual intercourse was done. An easy way to pass down sex-ed was to give them this erotic amulet coin. Sexual positions are depicted on it, which should help to guide the new lovebirds on their wedding night. The Chinese usually refer to these kinds of coins as 'mixi qian' which means "secret play" or "secret fun" coins. You can find this erotic amulet and many other interesting Asian items, in this week's Chinese & East Asian Coins Auction.
3. Portugal - Banco Industrial do Porto - 20 000 Reis 1800's - Pick S 182
This very rare banknote is still in its unissued form, given the fact that Portugal's central bank, Banco de Portugal, has an unissued note of this series (numbered 01428) in their collection as well. The banknote remains unpriced in Krause, and it is unknown if these were ever officially issued. This banknote is in very fine condition and still has outstanding colours considering its age.
4. Roman Empire - AV Aureus, Domitian (as Caesar, 69 - 81 AD). January 80 - March 81 AD - PRINCEPS IVVENTVTIS, Garlanded and lighted altar - Gold
In this week's Exclusive Ancient Coin Auction, you can find this Imperial AV Aureus of Domitian (as Caesar, 69 - 81 AD) that was struck under Titus (79-81 AD), January 80 - March 81 AD). This coin is a scarce type and is pictured in one of the important reference works (Calicó, The Roman Aurei (2003), S. 189, Nr. 918a). The obverse of this Aureus bears the legend 'CAESAR DIVI F DOMITIANVS COS VII' and shows the laureate head of Domitian right. The reverse bears the legend 'PRINCEPS IVVENTVTIS', which means 'the first of youths'. This was an honorary title given to young princes of the imperial family who were destined to reign. The reverse also shows a garlanded and lighted altar. This Aureus is of beautiful style and grade (VF+) and with decent provenance (Ex Auktionshaus HD Rauch).

____________________
Discover more coins | banknotes

You might also like these articles: