Written by Thomas | 5 December 2018
In our Expert's Choice feature, one of our experts shares their favourite items currently in auction. This week our Stamp expert, Nicolas Pereira, selects five exceptional items from our stamps and postcards auctions for you to enjoy.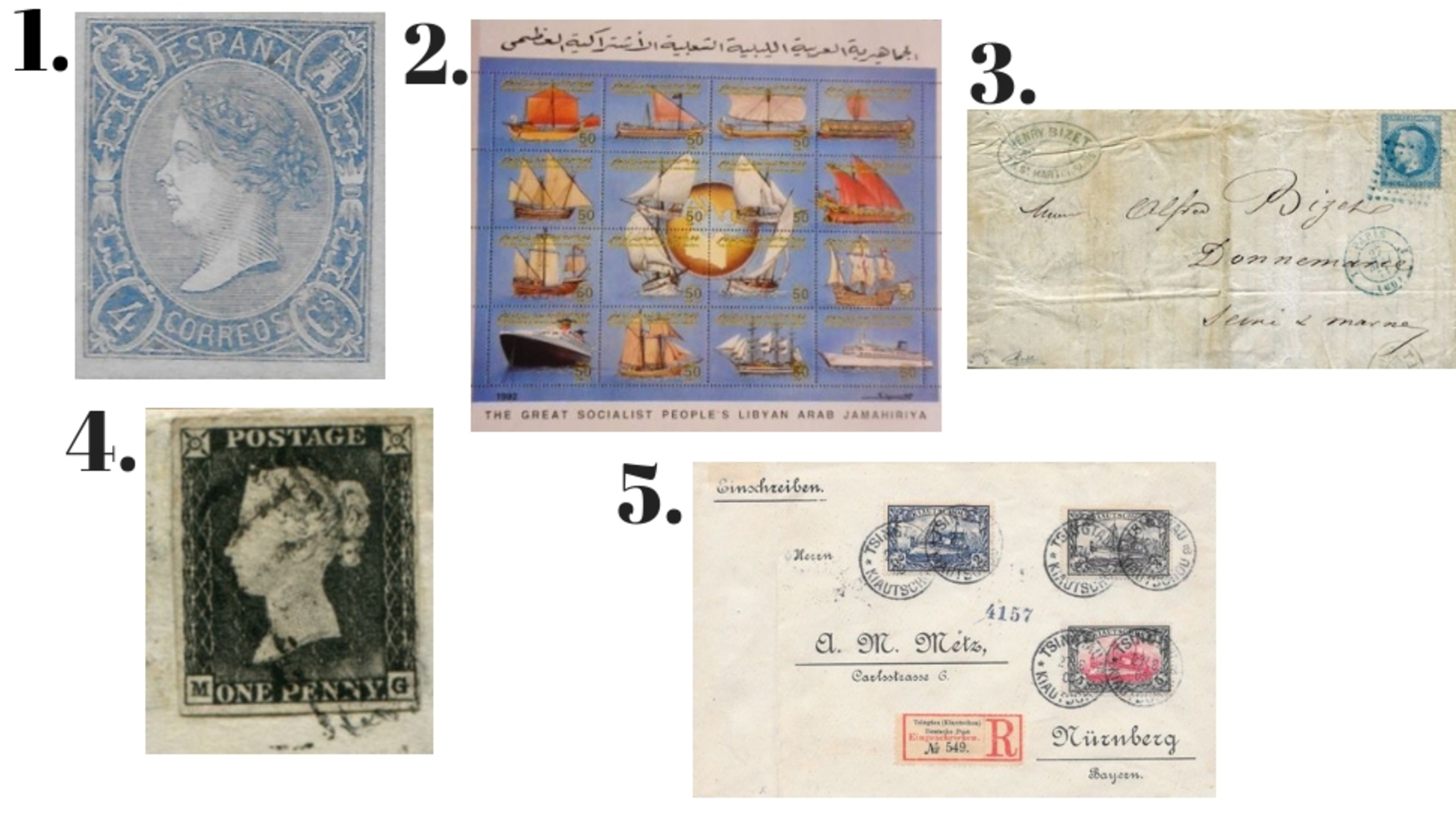 1. Spain - Isabella II. 4 Cuartos blue, imperforated. Sempere certificate - Edifil 75s
In 1865, Spain started to perforate their stamps for the first time. Throughout that year, both perforated and imperforated stamps were issued. The 4 Cuartos stamp was supposed to be only perforated, but by mistake, a sheet of imperforated 4 Cuartos stamps was sold in Salamanca. Nowadays we only know of a few mint- or used stamps from this sheet, making this imperforated 4 Cuartos rather hard to find. You can find this, and many more exclusive stamps in this week's Exclusive Spanish Stamp Auction.
2. Stamp Auction (Private Collection)
What kind of theme stamps do you collect? In our special International Private Collection Auction, you can find the most varied thematic stamps out there. From ships and trains to butterflies and mushrooms, this auction has it all!
3. France 1871 - Letter from the Paris commune - Semaine Sanglante RR
After the capture of French Emperor Napoleon III, the Paris Commune, which was a radical socialistic and revolutionary government, ruled Paris from 18th March to 28th May 1871. The Commune governed Paris for two months until it was suppressed by the regular French Army during the so-called "Bloody Week". As the name implies, this week was one of great violence. Around ten thousand Parisian lives were taken during this period. In this week's Exclusive Stamp Auction (France) you can find a letter written during the Bloody Week. This letter is a unique piece of French history and it deserves a place into the most advanced collection of French postal history.
4. Great Britain - England 1844/1844 - 1d Pl.1a 'MG' Very Worn Plate + 1844 Type Numeral - Stanley Gibbons
At the beginning of the philatelic period, plates were gradually degrading, since they were being used to print millions of stamps. As a result, some stamps show the effects of these worn plates. In this week's British Commonwealth Exclusive Stamp Auction, you can find this 1840 Penny Black printed with a very worn plate.
5. Kiautschou - Mi.# 15-17, Used on 1903 Registered cover with certificate
Kiautschou Bay was part of German territory in Imperial and Early Republican China, which existed from 1898 to 1914. Not many postal pieces remain of those 16 years that this area existed as a German colony. That's why it's so remarkable to have this registered cover from Tsingtau Kiautschou to Nurenberg up for auction. You can find this registered cover with its colourful franking at this week's Stamp Auction (Germany - Ancient & Classic).
____________________
Discover more stamps
You might also like these articles: