Written by Thomas | 19th December 2018
In our Expert's Choice feature, one of our experts shares their favourite items currently in auction. This week our Stamp expert, Nicolas Pereira, selects several exceptional items from our stamps auctions for you to enjoy.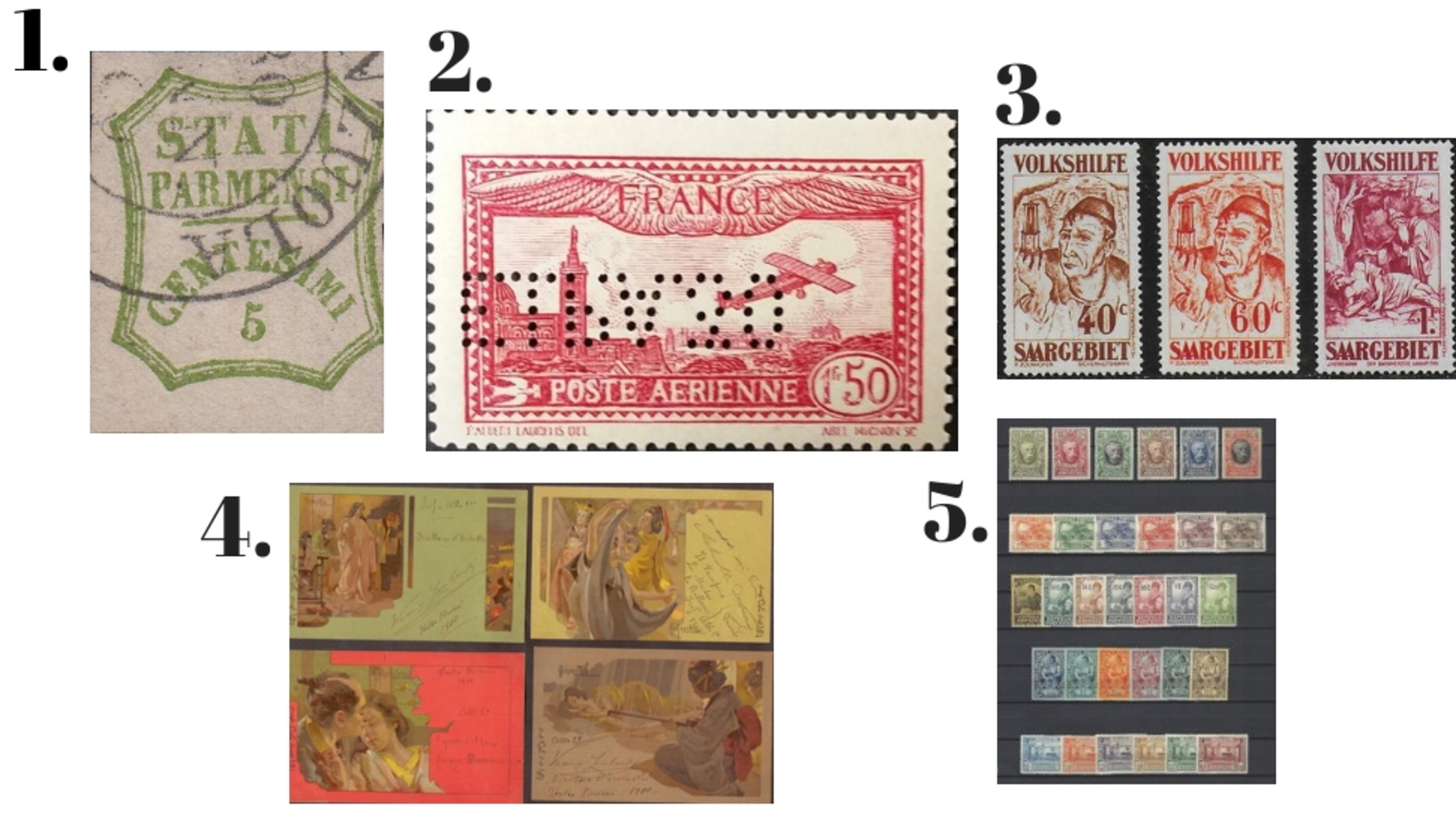 1. Parma 1859 - 5 cents - green-yellow with 'Fiorenzuola' cancellation - Sassone N. 13
Did you know that some stamps that are in used condition, can be much more valuable than stamps that are in mint condition? A good example is this 5 cents green yellow stamp from Parma that was used in Fiorenzuola. You can find this oddity and many other interesting stamps in this week's Exclusive Stamp Auction (Italy).

2. France 1930 - Marseille, 1 f. 50 red, perforated EIPA 30 – Yvert Airmail 6d
The first International Airmail Exposition took place in Paris, in 1930. To commemorate this event, existing airmail stamps were perfined with the acronym EIPA30. Stamps that show this perfin are really scarce! In this week's French Exclusive Stamps Auction, you can find a 1,50 Franc airmail stamp that shows this perfin. The series comes with a certification which is signed by several experts.
3. Territory of the Saar Basin 1931 – Volkshilfe Gemälde III - Michel 144 / 150
Philately has always had an altruistic nature. Hundreds of stamps sets have been issued by national postal services all over the world, to help people in need. A good example is this Sarre region 1931 stamp set that was issued to help its starving population. You can find this stamp in this week's Stamp (Germany - Ancient & Classic) Auction.
4. Hohenstein - Puccini Theatre - Postcards (collection of 6) - 1900
Adolfo Hohenstein was a German painter, advertiser, illustrator, set designer, and costume designer. This multi-talent was seen by many as the father of the Italian poster art and as an exponent of the Stile liberty, the Italian Art Nouveau. In this week's International Postcard Auction you can find this set of postcards that were designed by Hohenstein himself, featuring the Puccini Theatre.

5. Portuguese Stamp Auction
In this private Portuguese Stamp Auction, you can find some of the most important stamp sets from the 20th century, as well as some high-value postal history items. Among these, you can find blocks, Ceres, Caravelas, Independencia, Airmail, OTAN, Nuno Alvares, and more. This auction can be a great opportunity for you to add these missing sets to your collection!
____________________
Discover more stamps
You might also like these articles: