Written by Thomas | 21st December 2018
In our Expert's Choice feature, one of our experts shares their favourite items currently in auction. This week our Comics expert, Jacques Pels, selects several exceptional items from our comics auctions for you to enjoy.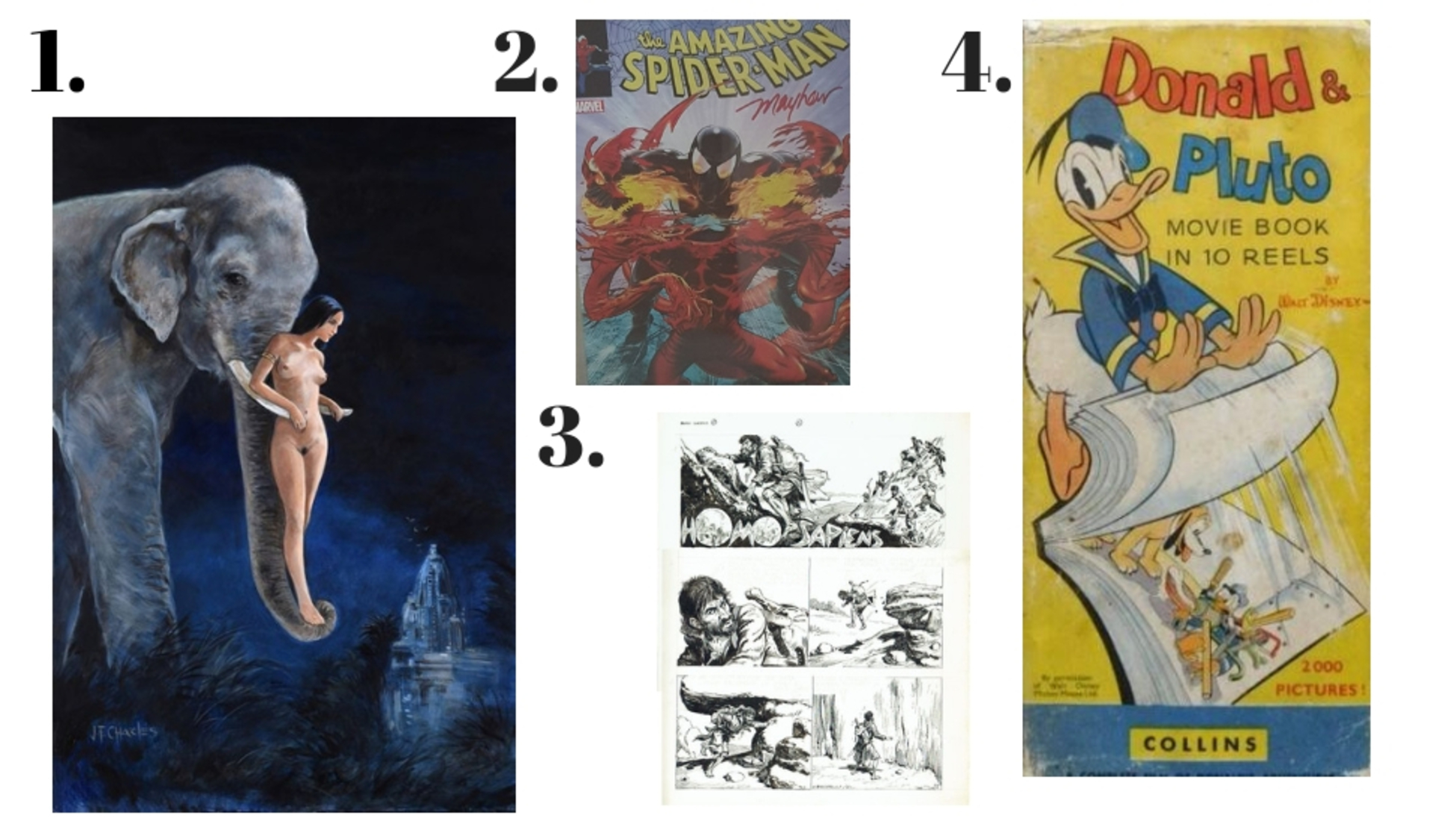 1. Jean-François Charles – "Avatara" - Large oil painting on canvas

This stunning painting is just one example of the many beautiful artworks Jean-François Charles made in his career. Over the last four decades, he and his wife Maryse have created several comic series and albums. He developed a distinct graphism that was strongly influenced by their travels to the Orient. This week, you can find many of his original artworks, sketches, and original pages in our specially dedicated J.F. Charles Archives Auction. Among other titles, you can find original artwork from his debut 'Le Bal du Rat Mort' in 1978 (published in 1980), as well as the series such as 'Les Pionniers du Nouveau Monde', 'Fox' and 'India Dreams'. Each of these beautiful works is signed and come directly from Jean-François Charles' archives!

2. The Amazing Spider-Man #800 - Comic Mint / Mayhew Ultimate Edition

Mike Mayhew is one of the greatest artistic talents currently working in the comic industry. In this week's US Comics & Original Comic Art Auction, you can find this beautiful Ultimate Edition variant cover, made by Mike Mayhew for the Amazing Spider-Man #800. This rare signed edition was limited to a production of only 300 copies worldwide and has a CGC grading of 9.8.

3. Guido Buzzelli - original artwork "Homo Sapiens" – First Edition

Guido Buzzelli is seen by many as the master of Italian Comics. He got famous for his apocalyptic visions, giving him the nickname "Michelangelo of the Monsters". In this week's Italian Comics & Original Art Auction, is this wonderful original page that has never been published.

4. Walt Disney - Movie book in 10 reels - Donald & Pluto - hardback - EO - (1939)

One thing Carl Barks and Donald Duck have in common is that they both started out in animation. Barks initially worked at Disney as an "inbetweener". This means that he was responsible for the drawings between the key poses of the character's action, which creates the illusion of movement. In this week's Disney Auction, you can find a very special Donald & Pluto movie book from the late 1930s. This was during the time that Barks was employed in the animation department. The book contains ten flip-book reels and has more than 2000 pictures, forming an entire animated short. The pictures truly come to life when you're flipping through this book, giving an interesting insight into the magic of animation.

____________________
Discover more comics | original animation art | US comics

You might also like these articles: