By Simone | 21st December 2018
In our Expert's Choice feature, one of our in-house experts shares their favourite items in auction. This week, natural history expert Peter Reynaers shares five highlights from our Pax Romana collection personally vetted from Antiquities and Ancient coins specialist Dr. Ivan Bonchev. With the mixture of all periods and cultures and various wearable jewellery, there is a great selection of items for anyone; from a beginning collector to a professional historian.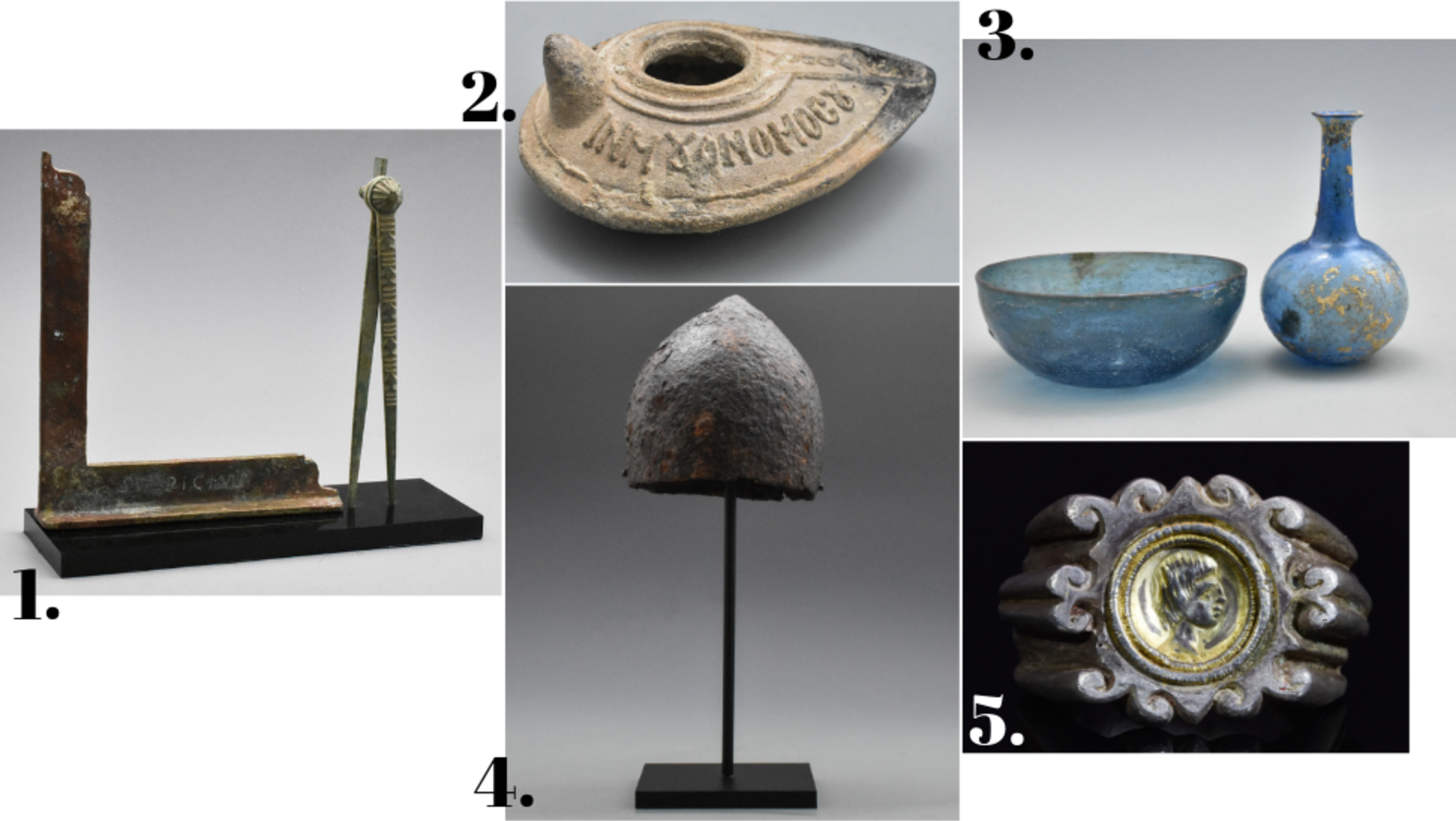 1. Ancient Roman bronze architect's set with compass & angle ruler
The ruler from this unique Roman architectural set is inscribed with the name of the architect who owned this set which makes the artefact extremely interesting and valuable. Roman architecture was based on Greek model but advanced greatly by inventing the arch and the dome.
2. Ancient Romano-Jewish Golgota Hill terracotta inscribed oil lamp
A stunning religious artefact, both unique and attractive, a Romano-Jewish oil lamp with an inscription referring to Jesus Christ as Bringer of Light. This beautiful artefact came from an old Jewish collection, discovered in the 1960s not far from the Golgotha hill where Jesus was crucified. A breath-taking object with strong biblical relation, once owned by a highly devoted Christian.
3. Ancient Roman glass pair of blue bottle and bowl
The condition of this delicately made and decorated glass flask and glass bowl is superb, with no restoration and with the original incrustations still preserved. The unique blue colour is breathtaking and the items come with good provenance and Jewish export license. Decorative set, ideal way to bring history and inspiration in your home or office.
4. Medieval Viking era iron four plate helmet on display stand
This style helmet appeared throughout Western Europe late in the 9th century and became the predominant form of head protection till the enclosed helmet and great helm were introduced in the 12th and early 13th century. A nice specimen of ancient armour once used by a brave Viking warrior who crossed the stormy sea in a search for wealth and adventure!
5. Ancient Roman gold-gilded silver centurion ring with a portrait on the bezel
A unique Roman Legionary seal ring of substantial size – over 50 grams of solid silver. The bezel depicts the owner of the ring and is elegantly gold gilded with most of the gilt still present. This chunky seal ring was once worn by a brave Roman military official with significant power and wealth – possibly a centurion. A unique artefact with an enigmatic and inexplicable character which will bring the feeling of power and might to its new owner!
About Pax Romana
Pax Romana is a gallery for authentic artefacts from Neolithic to Post Medieval periods including Egyptian, Chinese, Greek, Roman, Viking, Crusaders and others. The gallery is located in London, near the British Museum. All lots are available for viewing in the gallery at 25 Bury Pl, Bloomsbury, London.
____________________
Find these items and more in our Archeology auction from 21st to 30th December 2018.
Discover more archeology | ancient art | ancient jewellery
You might also like the following articles: