Written by Thomas | 9th January 2019
In our Expert's Choice feature, one of our experts shares their favourite items currently in auction. This week our coins expert, Eric Toonen, selects several exceptional items from our coins and banknotes auctions for you to enjoy.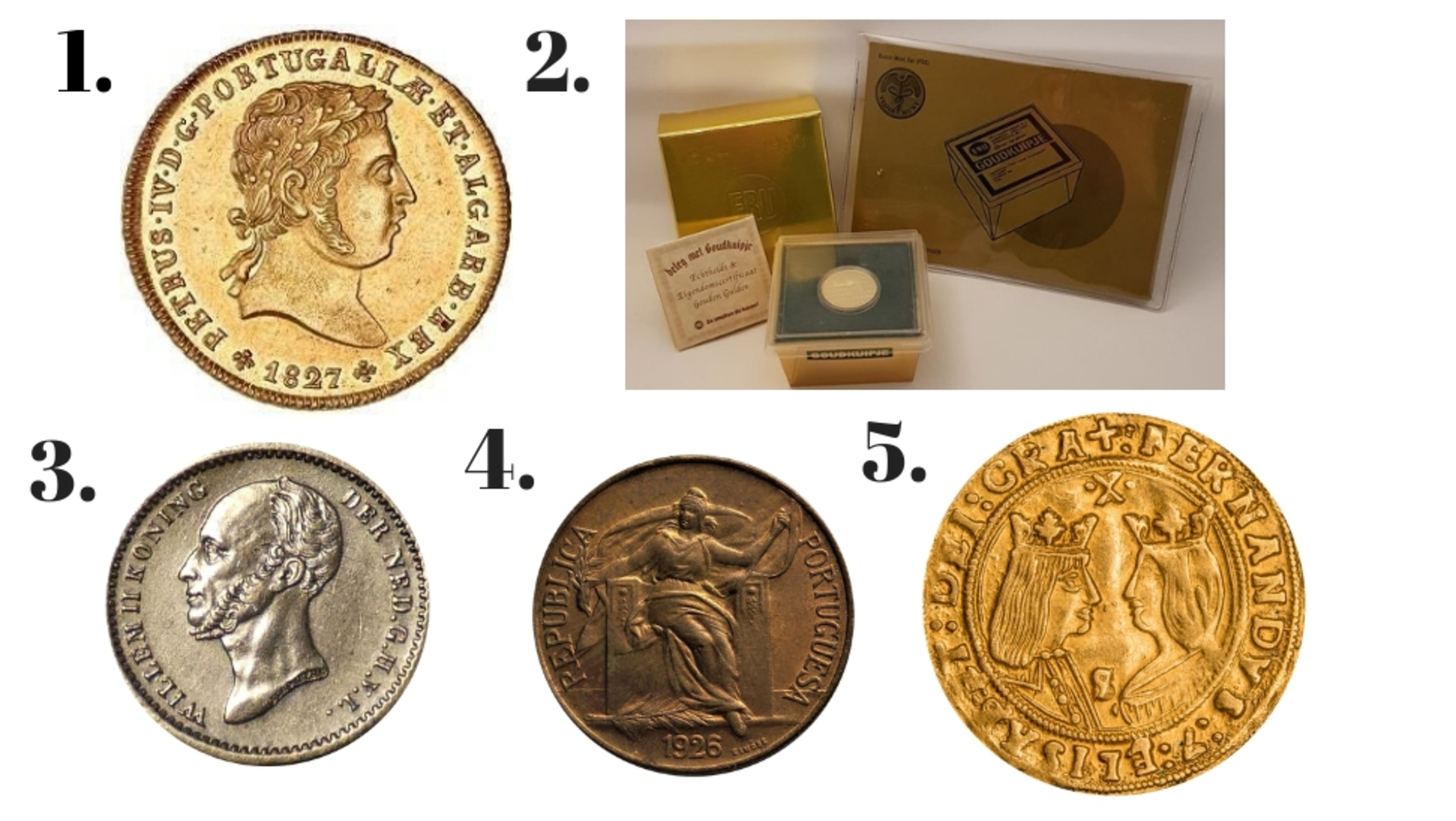 1. Portugal - Monarquia - D. Pedro IV (1826-1828) - Meia Peça (3.750 Reis) 1827 - GENI - UNC Details - Gold

The Portuguese monarch D. Pedro IV, who was nicknamed "The Liberator", ordered the minting of gold coins during his reign. He only ordered to mint "Peças" which had a value 7.500 Reis, and "Meias Peças", which were worth 3.750 Reis. In our Portuguese Coin (Exclusive Selection) Auction, you can find a Meia Peça in a resounding state of conservation.

2. The Netherlands - ERU Goudgulden 1999/Jaarset 1988 'ERU Goudkuipje'


The only gold guilder that was privately minted, is the guilder 1999 from cheese factory Eru, which is located in Woerden, the Netherlands. This remarkable coin is presented in a so-called 'Goudkuipje', which roughly translates to 'golden tub'. The year-set has a mintage of 5.000 pieces. You can find this interesting Eru set in this week's Dutch and Belgian Exclusive Coin Auction.
3. The Netherlands - 5 cent 1848 A Willem II – Silver


Another interesting coin that you can find in this week's Dutch and Belgian Exclusive Coin Auction, is this rare 5 cent piece that was struck under Willem II in 1848. It is the only 5 cent coin that was minted under his reign and has a mintage of only 230 pieces. These coins were the first of its type until they got replaced in 1907.
4. Portugal - República - 1 Escudo 1926 - Escassa - Bronze-Aluminum

When a new regime came to place in Portugal on 5th October 1910, the image of the Republic was adopted by the new Portuguese Republic. The bust of the republic was sculpted by Simões de Almeida, following the generic model of Eugène Delacroix' "Freedom". In 1912, the bust of the Republic became the official standard of the image of the Portuguese Republic. In this week's Portuguese Coin Auction, you can find this beautiful coin that carries this distinctive image.
5. Coin Auction (Spain - The Catholic Kings)
This week you can discover a special auction dedicated to a decisive period in world history; the Catholic Kings Reign. The "Reconquista" was a long period. It began in 722, just 11 years after the troops of Tarik Ibn Ziyad invaded Hispania. The last period of these 700 years was under the reign of Isabella I of Castile, who married Ferdinand of Aragon, which unified Spain under one ruler. Isabella I moved the war to conquer the tributary kingdom of Granada, which was ruled by the moor Boabdil. The Pope gave Queen Isabella I and King Ferdinand the title of Catholic King and divided the world into two halves, giving the eastern to the Portuguese and the Western to Spaniards. During the Reign of Catholic Kings, a sailor named Christopher Columbus from Genoa, convinced the Queen to finance an adventure: reaching Indies sailing west. And in 1492 he did "discover" a new land, but it wasn't India, it was America. In our Spain - The Catholic Kings Coin Auction, you can discover many rare coins from this important period.

____________________
Discover more coins | banknotes
You might also like these articles: