Written by Thomas | 8th February 2019
In our Expert's Choice feature, one of our experts shares their favourite items currently in auction. This week our Books expert, Mark Harrison, selects several exceptional items from our book and cartography auctions for you to enjoy.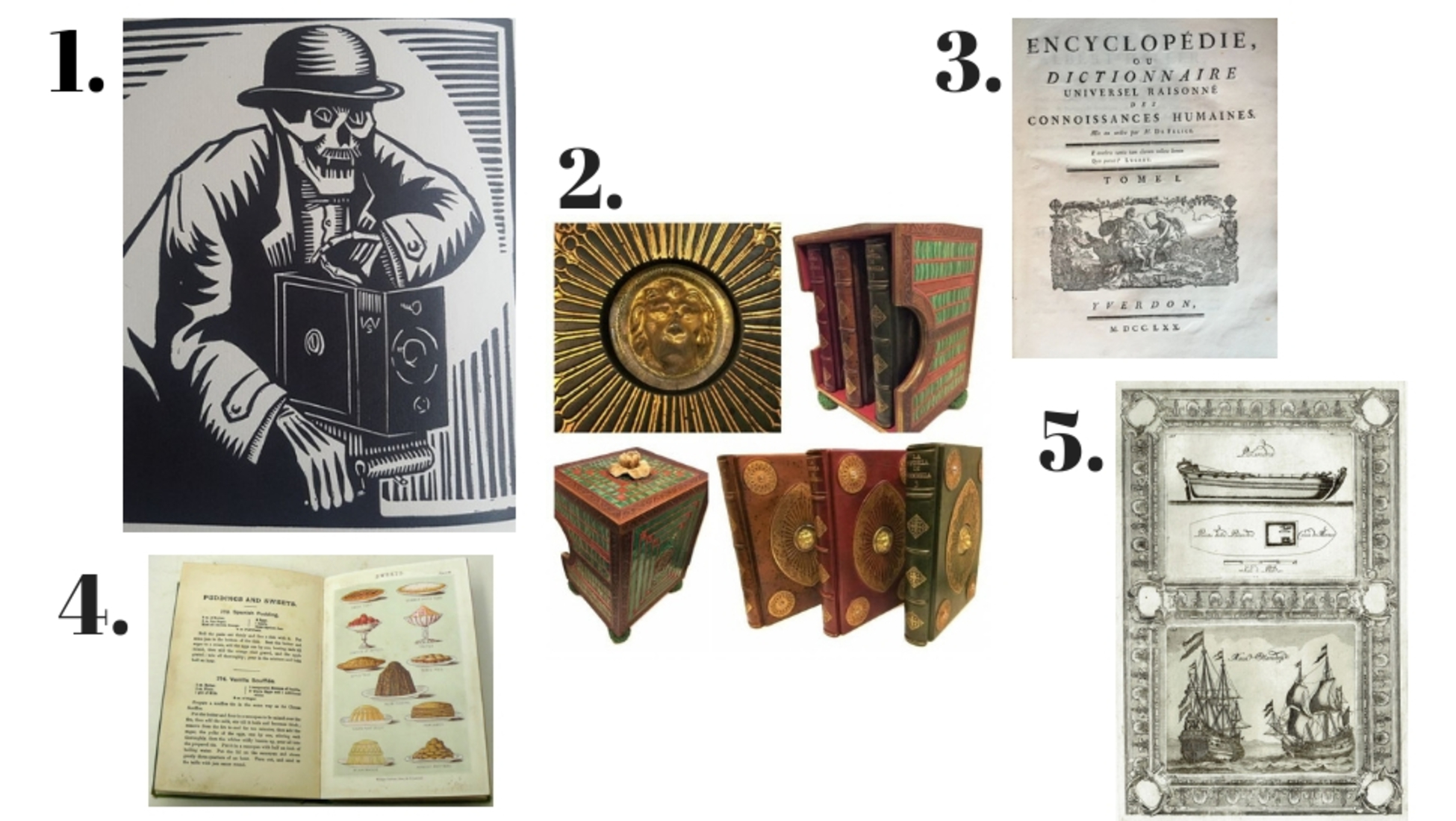 1. Raymond Limbosch & Walter Sauer – "Symphonie Macabre" – 1921 - French
In this week's Book Auction (Art & Photography), is this numbered limited edition of 'Symphonie Macabre' ('the Dance of the Death' in English). This remarkable book from 1921 is written by Belgian poet Raymond Limbosch and contains 13 full-page woodcuts, and two woodcut vignettes, that were created by Belgian symbolist artist Walter Sauer.
2. Pompeo Molmenti – "Storia di Venezia nella vita privata" – 1928 - Italian
These three complete volumes tell one of the most famous stories of the history of Venice. The bindings are made from full calf leather and come in a luxurious wooden slipcase that is embellished with Murano glass. This beautiful set is a feast for the senses and is in fine condition. You can find this beautiful set in this week's Books (History & Geography) Auction.

3. M. de Felice – "Encyclopédie ou Dictionnaire raisonné" - 1770/1780
This complete encyclopedia was published between 1770 and 1780 and comes in 48 volumes. It was known to be Voltaire's favourite encyclopedia! You can find this interesting piece of 18th century French history in this week's Old & Rare Books Auction.

4. Francatelli/Black – "Modern Cook / Superior Cookery" – 1901 - English
Have you ever wondered what a queen eats for dinner? Francatelli was a chef for Queen Victoria and published the royal menus in his work "Modern Cook". Black's offering here is aimed more at the domestic setting with her book "Superior Cookery". Both books can be found in this week's Books (Sports & Hobbies) Auction.

5. Vincenzo Coronelli - Palandra - "Navi Olandesi" (Dutch Galleons) - 1681-1700
In this week's Cartography (Rest of the World) Auction are these fine copper engraved prints that came from an Italian atlas. The beautiful prints show several Dutch galleons, including their construction plans with the position of its cannons.
____________________
Discover more books | manuscripts | autographs
You might also like these articles: