Written by Thomas | 15th February 2019
In our Expert's Choice feature, one of our experts shares their favourite items currently in auction. This week our Comics expert, Jacques Pels, selects several exceptional items from our comics auctions for you to enjoy.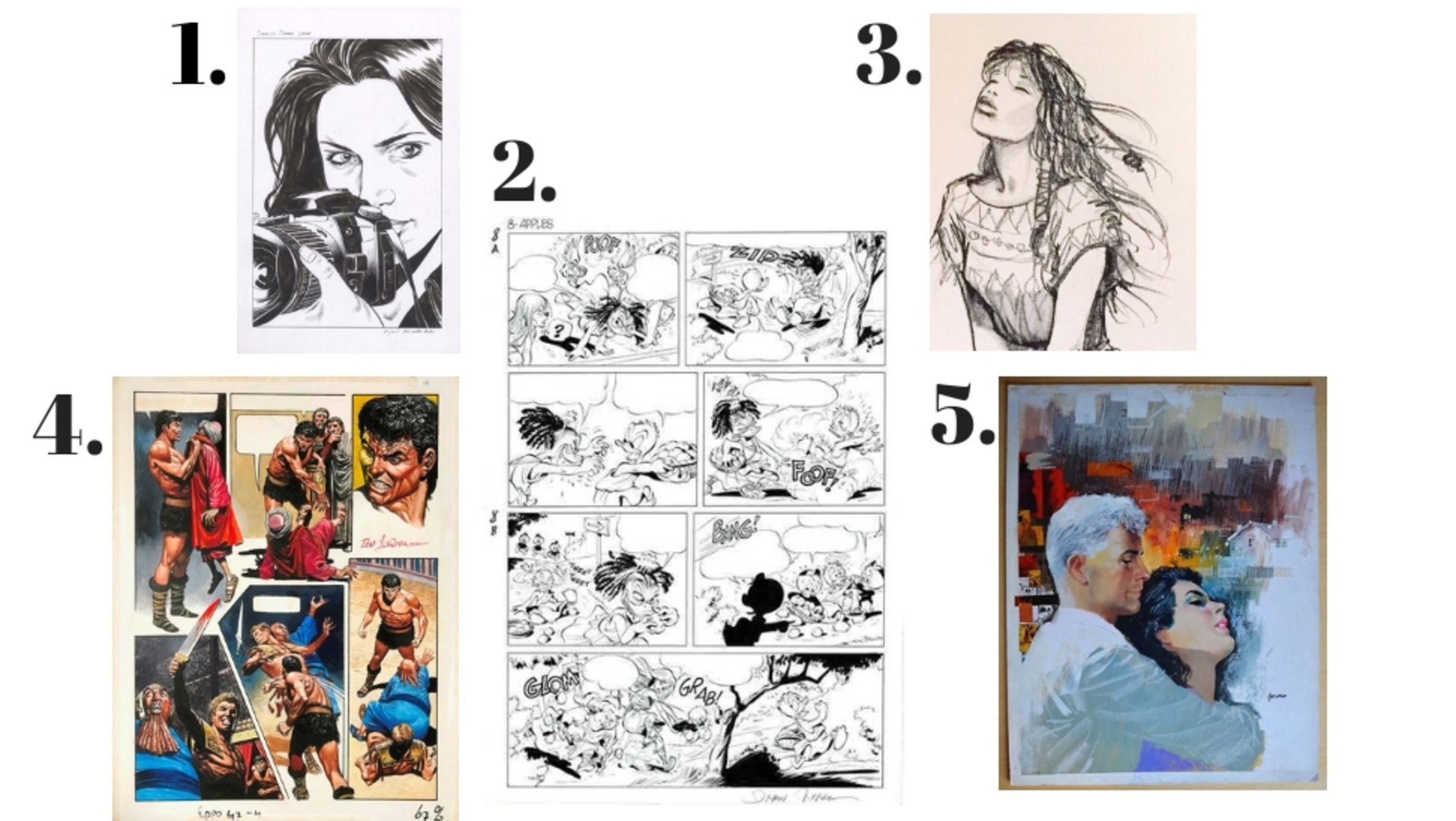 1. Jessica Jones #12 - Original art, variant cover – Signed - (2017)

In this week's US Comics & Original Art Auction is this beautiful, original cover art from Jessica Jones, created by French-Canadian artist Djibril Morisette-Phan. The stunning piece was published as the variant cover of Jessica Jones #12 and is signed by its author.
2. Jippes, Daan – Original page (p.8) – Signed - D/D 2002-012 – "Golden Apples" - (2007)
Comic artist Daan Jippes started out working for the Dutch Donald Duck magazine, located in the Netherlands. His vivid style and extraordinary interpretation of the ducks reminded many of Carl Barks' style. To no surprise, Jippes caught the attention of the Burbank Disney Studios in the USA. He got employed at the comics and merchandise department of the Disney Studio, as well as in the animation department where he worked as a designer and storyboarder. In this week's Disney Auction, you can find an original signed page from the comic story 'the Golden Apples', based on a scenario that was created by Carl Barks.
3. Milo Manara - "Lapin Blanc" - large size 69x100 cm – Original drawing
This week you can discover an auction specially dedicated to Milo Manara; Italian's award-winning comic writer and artist. An example of what you can find in this exciting auction is this original pencil drawing of 'Coniglia Bianca', the enchanting Indian protagonist in the story 'L'Uomo di Carta'. This drawing is in unusually large and is signed by Manara.
4. Lawrence, Don – Original page in Gouache (p.13) - Storm 2 – "De Laatste Vechter" - (1979)
Expressive characters, intense colours, and extraordinary details. This original signed page from the 'Storm' series, created by Don Lawrence, definitely grabs your attention. You can find this gorgeous original page in this week's Exclusive Comics Auction.
5. Carlo Jacono - Original illustration - Signed - Separate page
Carlo Jacono is remembered for the many realistic cover illustrations he made for detective novels and comics. His distinctive style is recognized and loved by many. In this week's Italian Comics Auction you can find this original artwork that was signed by Jacono himself.
____________________
Discover more comics | original animation art | US comics

You might also like these articles: