Written by Thomas | 20th February
In our Expert's Choice feature, one of our experts shares their favourite items currently in auction. This week our coins expert, Eric Toonen, selects several exceptional items from our coins and banknotes auctions for you to enjoy.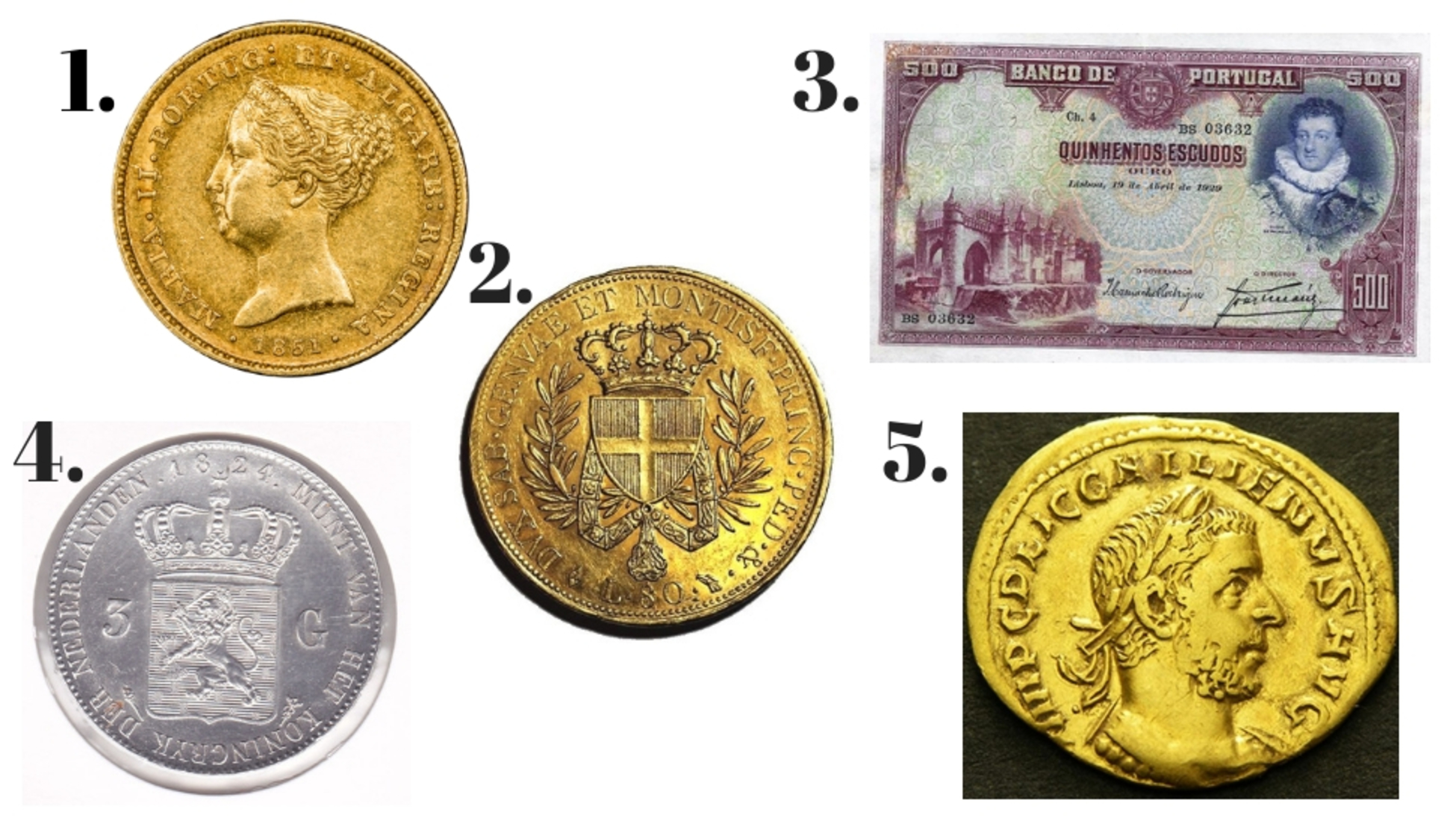 1. Portugal - D. Maria II (1834-1853) - 2500 Reis 1851 - Gold
Many important changes happened during the reign of Portugal's first constitutional queen, D. Maria II. She ruled over the Kingdom of Portugal after a troubled period with French invasions. During her reign, the installation of the Court in Brazil came to place, and Brazil became independent. In Portugal, the Civil War broke out between liberals and absolutists and the country adopted the decimal system during this time. This so-called 'Half Crown' 2500 Reis, represents the emblem of the first coinage of this period. You can find one of these coins, in an above average state of conservation, in this week's Portuguese Coin Auction.

2. Italy - 80 Lire 1821 - Turin - Vittorio Emanuele I - Gold
Vittorio Emanuele I retook the throne of Sardinia after Napoleon's defeat in 1815. The decimal system was just introduced in Sardinia and a new coinage that was based on this system came with it. In this week's Exclusive Italian Coin Auction is a stunning coin of 80 Lire that was struck during this period. The coin is still in extremely fine condition and is one of the few coins that remain from the originally 965 produced.
3. Portugal - 500 Escudos 1929 - Pick 141
D. Pedro de Sousa Holstein was the first duke of Faial and Palmella between 1781 and 1850. He also served as Portugal's first official prime minister and was seen as one of the most important Portuguese diplomats and statesmen of his time. This rare 500 Escudos from 1929 bears the portrait of this well-known duke. This banknote, among many other rare banknotes, can be found in this week's Banknotes Auction (Portugal & Colonies).
4. The Netherlands - 3 Guilder - 1824 Willem I - Silver

Did you know that the largest coin minted in the Netherlands is not the 2½ Guilder, but the 3 Guilder? These unusual large coins were struck between 1817 and 1832. They have a diameter of 40 millimeters and weigh approximately 32.298 gram. In our Dutch & Belgian Coins Auction (Exclusive Selection) is one of these 3 Guilders in XF/UNC condition.

5. Roman Empire - AV Aureus, Gallienus (253 - 268 AD) – Gold
One highlight of this week's Exclusive Ancient Coin auction is this Aureus of Gallienus (AD 253-268) that was struck in Rome in AD 253-254. The obverse of this coin features a beautiful laureate and the cuirassed bust of Gallienus, along with the legend 'IMP C P LIC GALLIENVS AVG' or 'Imperator Caesar Publius Licinius Gallienus Augustus'. The reverse of this Aureus bears the legend 'IOVI CONSERVA' or 'Iovi Conservatori to Jupiter the Protector'. The reverse also shows Jupiter standing left, holding a thunderbolt and scepter. This scarce 3rd-century gold issue is in gVF grade, for further reference please see: C 350; RIC 76; Calicó 3515.

____________________

You might also like these articles: