Written by Thomas | 6th March 2019
In our Expert's Choice feature, one of our experts shares their favourite items currently in auction. This week our coins expert, Eric Toonen, selects several exceptional items from our coins and banknotes auctions.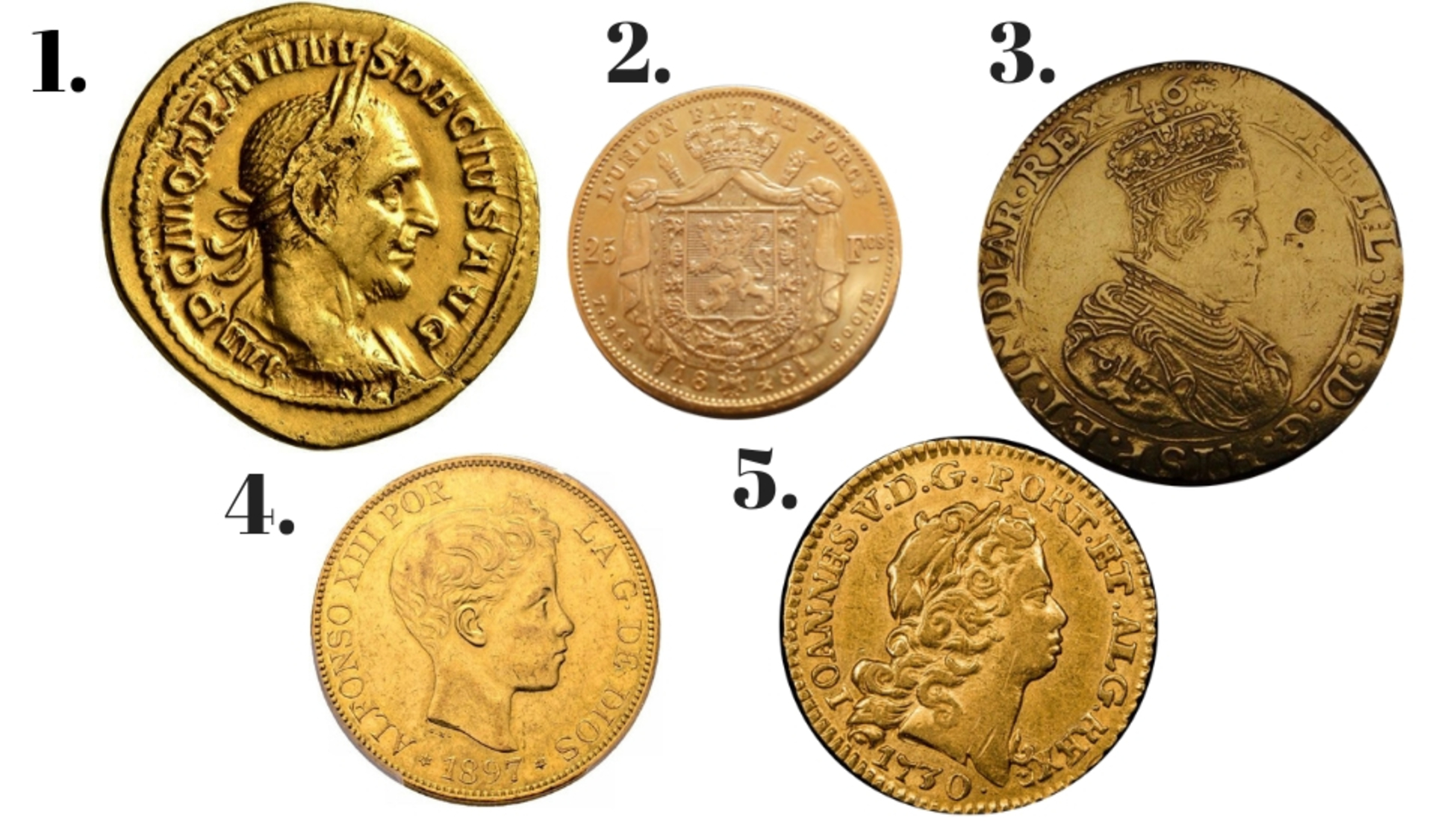 Five coins from this week's coin and banknote auctions

1. Roman Empire - AV Aureus (Gold, 20 mm, 4.66 g, 12 h), Trajan Decius (249-251 AD) - Rome - Gold
In this week's Exclusive Ancient Coin Auction you can find this rare gold Aureus of Trajan Decius (AD 249-251) that was struck in Rome. The obverse of the coin features the laureate and cuirassed bust of Trajan Decius, who is depicted facing right. The legend reads 'IMP C M Q TRAIANVS DECIVS AVG' which means 'Imperator Cæsar Messius Quintus Traianus Decius Augustus'. The reverse of this remarkable coin bears the legend 'VBERITAS AVG', which stands for 'VBERITAS AVGVSTI, to the fruitfulness of the emperor. The reverse also shows Ubertias, who was the personification of richness and fruitfulness, holding a purse in her right hand and a cornucopia in her left. This rare issue is in a VF grade and was previously with Leu Numismatik. For further reference please see Calicó 3299; Cohen 104; RIC 28.

2. Belgium - 25 Francs 1848 L.Wiener – Gold
Our special Belgian Coin Auction contains some very interesting coins this week. An example of what this auction has to offer is this rare 25 Francs, L. Wiener variation that was issued in 1848.
3. Belgium - Brussel - Double Sovereign - Philips IV 1641 – Gold
If you're looking for even more exclusive coins, then this week's Dutch & Belgian Exclusive Coin Auction might be to your liking. In the auction, you can find a great selection of both gold and silver coins. Among them is this Double Sovereign gold coin that was struck under Philips IV in 1641.
4. Spain - Alfonso XIII (1886-1931), 100 pesetas - Madrid, 1897. Ensayador SG-V. Magnífica. - Gold

Did you know that the largest circulating Spanish gold coin was struck under the reign of Alfonso XIII? The 100 Pesetas weighs 32 grams and was issued as an Essai before, during Spain's Provisional Government in 1870 and under the reign of Amadeo I. This beautiful coin is extremely well preserved and still has remains of its original shine. You can find this rare coin in this week's Spanish Coins Auction.
5. Portugal - Monarquia - D. João V (1706-1750) - Meio Escudo (800 Reis) 1730 - Gold
King D. João V of Portugal was seen as a powerful king, known for boosting the country's industry and developing arts. Of course, as an absolutist monarch of Portugal, the king's golden coins needed to be equally impressive. What the king left behind was an extraordinary monetary series, which are now considered to be one of the most important series in the world! In this week's Portuguese Coin Auction is this Meio Escudo (800 Reis) from 1730, in an extremely fine condition.
____________________
Discover more coins | banknotes
You might also like these articles: