Written by Thomas | 8th March 2019
In our Expert's Choice feature, one of our experts shares their favourite items currently in auction. This week our Books expert, Mark Harrison, selects several exceptional items from our book and cartography auctions for you to enjoy.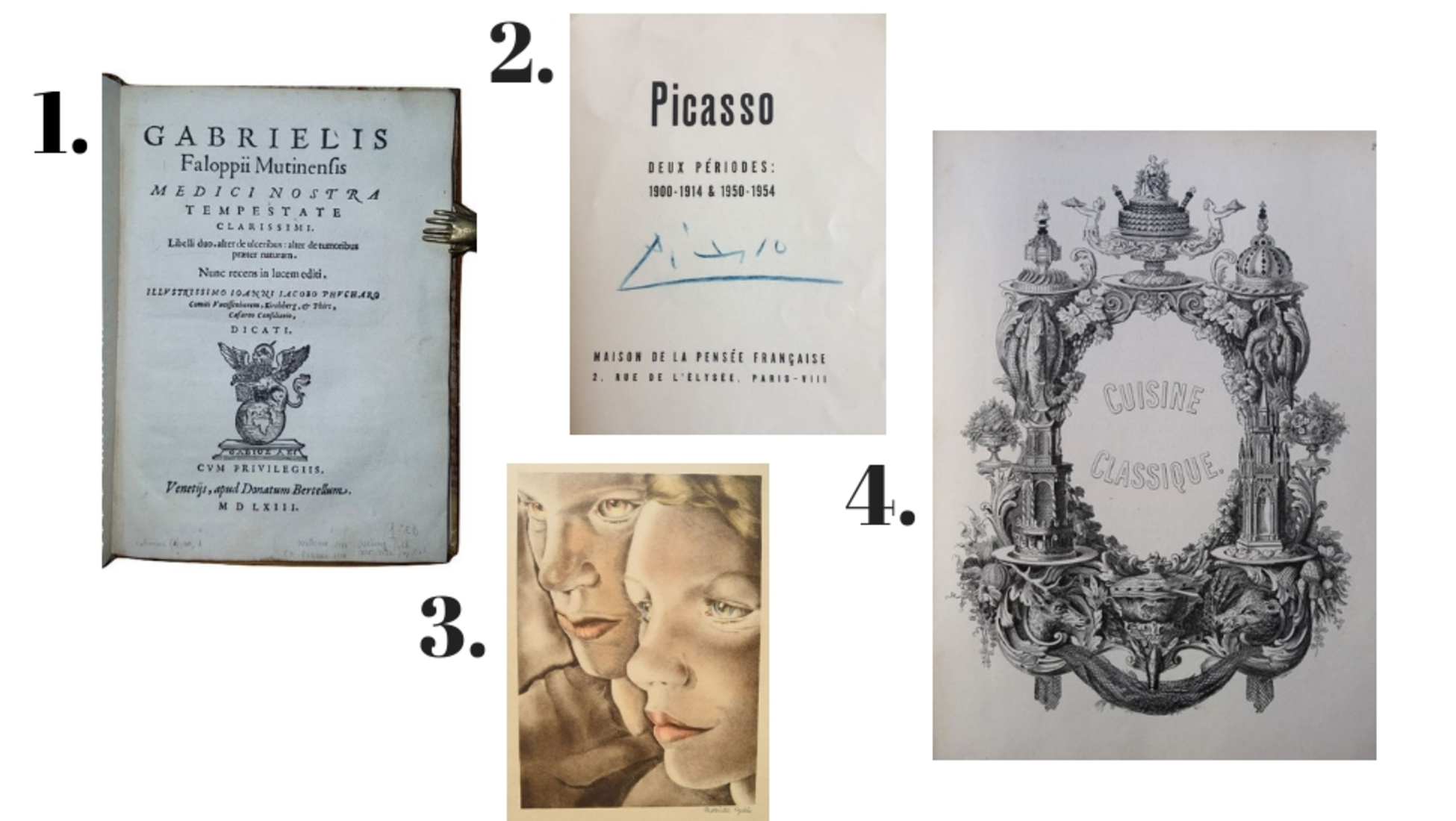 1. Falloppio Gabriele (Fallopius) – 'Libelli Duo, Alter De Ulceribus: Alter De Tumoribus' – 1563 - Latin
Sometimes it can be hard to imagine how many great minds contributed to the medicine we know today. Falloppio was definitely part of that group! He is seen as one of the most prominent anatomists of the 16th century and wrote several impactful medical books in his life. One of those books, 'Libelli Duo, Alter De Ulceribus: Alter De Tumoribus', is an important treatise on skin diseases that was published in 1563. In this week's Old & Rare Books Auction is a rare first edition of this extraordinary book.
2. Picasso - 'Deux Périodes: 1900-1914 & 1950-1954' – Signed - French
Did you know that Pablo Picasso's career lasted 78 years? During that period, he created more than 13,000 paintings, made 100,000 prints and engravings, and did over 34,000 illustrations. It's no surprise that his work had such a huge worldwide impact. In this week's Books (Art & Photography) Auction, you can find an exhibition brochure of Picasso's paintings that were exhibited at the Maison de la Pensée Française (House of French Thought). What's most remarkable, is that the first page of this book is signed by Pablo Picasso himself!

3. Mariette Lydis – 'L' Art d'Aimer' – With a suite and original drawing – 1931 - French
Mariette Lydis was a French painter, known for her delicate book illustrations and moody portraits. In this week's French Literature & Illustrated Books Auction you can find one of seven copies of Mariette Lydis' beautiful work that were printed especially for Henry de Montherlant. One of these drawings is her original work and is dated and signed by Lydis.

4. Urbain Dubois, Emile Bernard – 'La Cuisine Classique' – 1905 - French
Urbain Dubois was a famous French chef who worked for many important figures, like Prince Alexey Orlov and William of Prussia. Not only was he a chef, Dubois also wrote many recipe books that became the classics of French Cuisine. You can find one of his most famous books, 'La Cuisine Classique', in this week's Sport & Hobby Books Auction. This beautifully illustrated cookery book contains 462 engraved drawings and more than 3700 recipes!
____________________

Discover more books | manuscripts | autographs
You might also like these articles: