Written by Thomas | 13th March 2019
In our Expert's Choice feature, one of our experts shares their favourite items currently up for auction. This week our Stamp expert, Nicolas Pereira, selects five exceptional items from our stamp and postcard auctions for you to enjoy.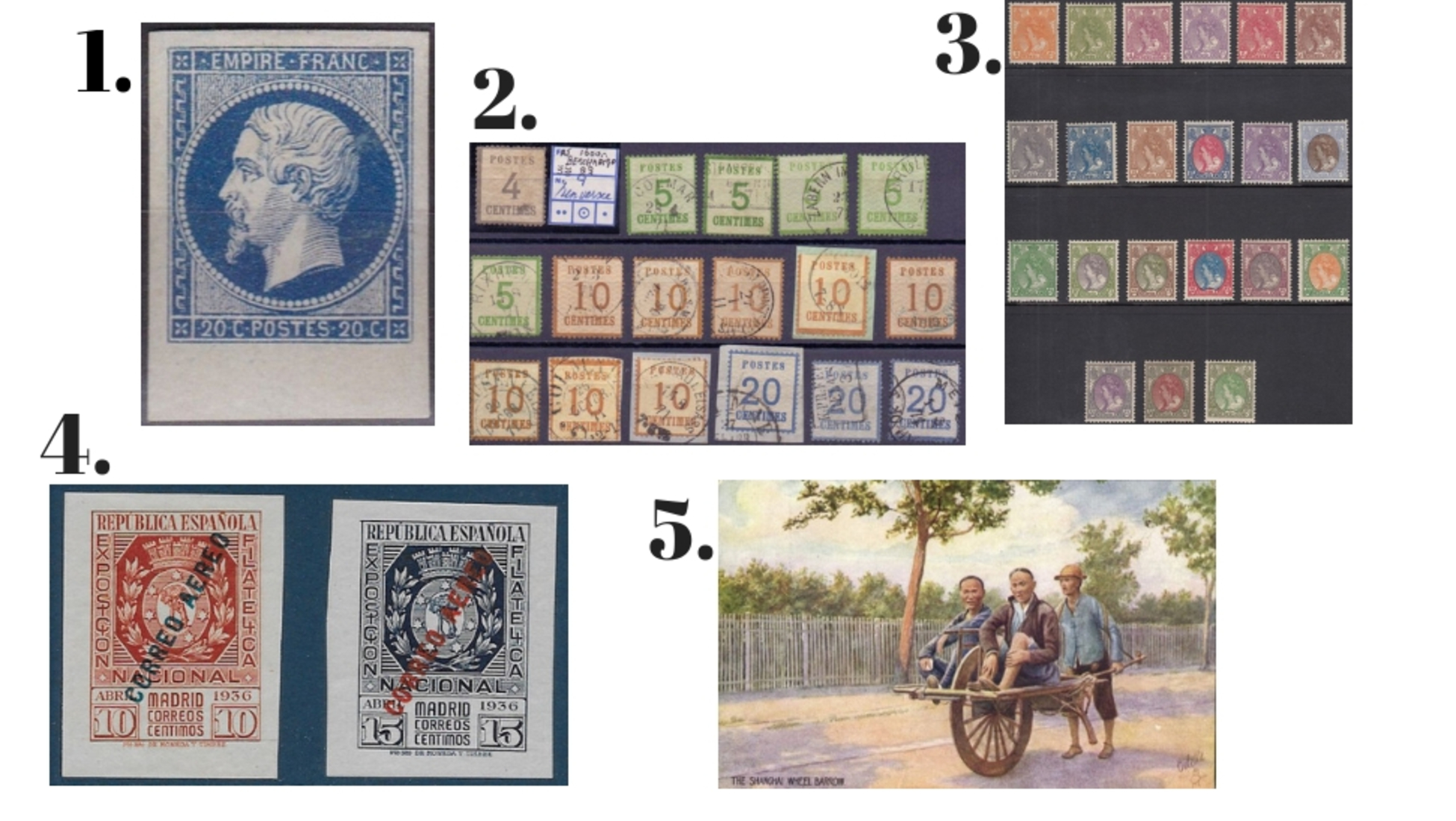 Five highlights from this week's stamp and postcard auctions.

1. France 1860 - Napoléon III 20c bdf - Yvert 14A
Dedicated philatelists are never really finished with collecting, as there are always stamps to find in in a better condition to replace the ones they already have. In this week's French Stamp Auction is a Napoleon III 1860 stamp Yvert 14A, that due to its bright colours and visible sheet edge, is worthy of replacing the existing stamp in most collections.
2. North German Postal Area - Occupation Elsass-Lotheringen 1870 - Michel
The regions of Alsace and Lorraine (which is now Alsace-Lorraine), located on the French-German border, has been fought over for centuries. During the German occupation of Alsace and Lorraine in 1870, Germany issued stamps with values in French currency for this province. A total of seven denominations were issued in two different varieties. You can find a nice selection of used stamps from these regions in this week's German Stamps Auction.
3. Netherlands 1899/1921 - Queen Wilhelmina 'Fur collar' - NVPH 56/76
At the age of 15, Queen Wilhelmina of the Netherlands visited the British Queen Victoria. The year was 1895 and chronicles state that Queen Victoria wrote the following about the Dutch queen: "The young queen still has her hair hanging loose. She is slender and graceful, and makes an impression as a very intelligent and very cute girl. She speaks good English and knows how to behave with charming manners". This young lady grew up to become one of the most popular Dutch queens. In this week's Dutch Stamp Auction you will find a complete 1899/1921 Queen Wilhelmina set in MH condition.
4. Spain 1936 - Philatelic Exhibition in Madrid – Airmail - Exfima certificate - Edifil 729/730
In April 1936, the first official Spanish National Stamps Exhibition took place in Madrid. To commemorate this event, the Spanish Postal Service issued two sets of stamps, one for regular mail and one for airmail purposes. The stamps show the Madrid coat of arms as the central motif. Nowadays, these stamps are highly appreciated by collectors. You can find two complete sets with Exfima certificate in this week's Spanish Stamp Auction.

5. Asia – China, Hong Kong, India, Japan, Indonesia - Postcards (Collection of 50) – 1900
In this week's International Postcard Auction is this remarkable collection of 50 Asian postcards from the beginning of the 20th century. These beautiful postcards depict landscapes, cities, buildings, people, and other subjects from these Asian countries that fascinated the European inhabitants of that time.
____________________
Discover more stamps
You might also like these articles: