Written by Thomas | 15th March 2019
In our Expert's Choice feature, one of our experts shares their favourite items currently in auction. This week our Comics expert, Jacques Pels, selects several exceptional items from our comics auctions for you to enjoy.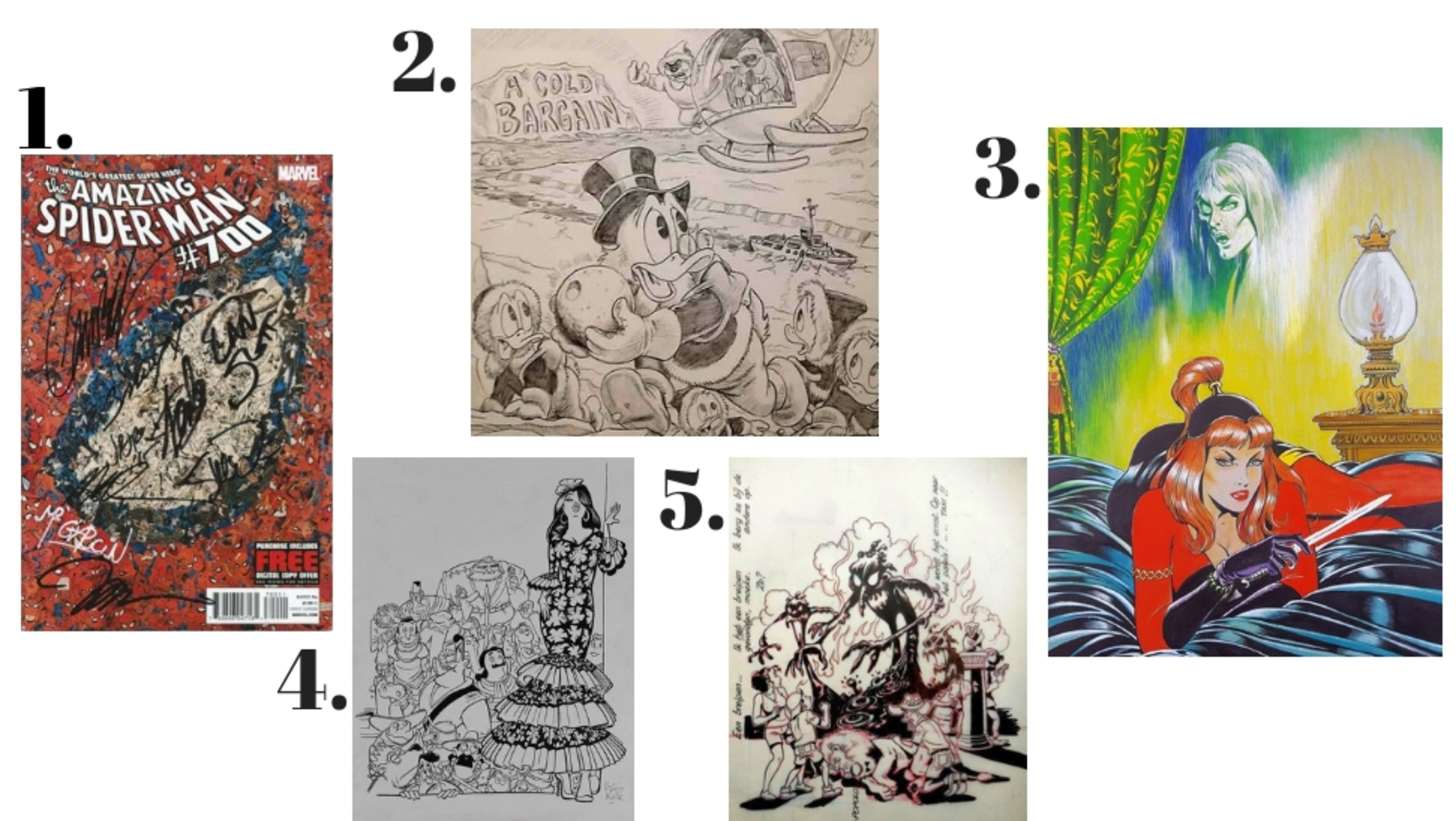 1. The Amazing Spider-Man #700 – Signed by Stan Lee, Dan Slott, Mr Garcin, and others – First Edition – (2013)
This week's US Comics & Original Comic Art Auction has a very special edition of The Amazing Spider-Man #700. The comic's cover is signed by nine Marvel legends, including Stan Lee, J Scott Campbell, Dan Slott, and even cover designer and pop-art icon; Mr Garcin. The fact that you rarely see all these signatures together makes this comic even more unique.
2. Original pencil cover art by Don Rosa for Carl Barks story – 'A Cold Bargain' - Loose page - First edition – (1989)
Don Rosa's distinctive 'dirty and detailed' style is appreciated by many, especially European comic fans. Rosa has always been fascinated by the works of Carl Barks, the famous American cartoonist known for his collaboration on many Donald Duck albums and for introducing characters like Scrooge McDuck and the Beagle Boys. Inspired by Barks, Don Rosa provided background and origin stories for many of the characters in the Duck universe and, in the Gladstone Comic Album Series, Rosa created new covers for the classic Bark stories. You can find an original pencil cover for Walt Disney's Uncle Scrooge: A Cold Bargain in this week's Disney Auction.
3. Satanik - G. Romanini - original illustration - Loose page - Signed
Satanik is an Italian noir comic, written by Max Bunker and illustrated by Magnus; a dream team who were also responsible for the Kriminal and Alan Ford series. Italian cartoonist Giovanni Romanini revisited the character of Satanik and created a beautiful original illustration which you can find in this week's Italian Comics & Original Comic Art Auction.
4. Hanco Kolk - Large Original drawing for Catawiki – 'Tableau de Gilles' – original specially made for this auction – Signed - (2018)
Hanco Kolk is a Dutch comic artist who won many international fans, thanks to his distinctive style. Kolk was even asked to create a series of illustrations for The New Yorker. Our current Artist & Series Special of the Week 'Hanco Kolk Archives' Auction is filled with works from Kolk's archives. Especially for this auction, Hanco created 150 numbered limited edition prints called 'Tableau de Gilles' and every winning bidder will receive a copy. The original drawing of that limited print can also be found in this auction, meaning that you'll receive both the original and the coloured print when winning this lot!
5. Suske en Wiske – Original cover design - 'Het labyrinth van de leeuw 3 - De verboden tempel'
Flemish comic artist Dirk Stallaert worked on many famous Belgian comic series, such as Nero, De Kiekeboes, and Bob & Bobette. In our Vandersteen Auction is an extraordinary original cover design for the Bob & Bobette album; Het labyrint van de leeuw 3 - De verboden tempel. This beautiful cover design was drawn in 2013 and is a prime example of Stallaert's graphic skills.

____________________

Discover more comics | original animation art | US comics
You might also like these articles: