Written by Beulah | 13th June 2019
M.C. Escher's tessellation prints are instantly recognisable and continue to be used everywhere; from Hollywood blockbusters to train stations. In comparison, his nature-inspired prints tend to be overlooked, despite the fact that they represent an important step in Escher's development as an artist. As some of Escher's nature-inspired prints come up for auction, we speak to art expert Michiel Vliegenthart about what makes these artworks so special.
"The more you dive into M.C. Escher's mind-boggling oeuvre, the more fascinating it becomes and the more puzzles it creates at the same time," Michiel explains. "It is not only extremely clever but also timeless and completely unique, which you will not find in any other artist. Following his artistic journey is very interesting."
Genesis
Escher's artistic journey intensified during his travels around Italy and it was a place where he spent some of the happiest and most creative years of his life. After a childhood plagued by illness and a youth spent recovering from varied maladies; the warm weather and beautiful landscapes of Italy encouraged Escher to explore the natural world.
Italy's flora and fauna fascinated Escher, and throughout his life, he would return to the leaves, insects and even lichens that he observed while travelling through Tuscany. Unsurprisingly for such a precise, near-obsessive, artist: Escher soon became interested in repeating patterns that so often crop up in the natural world, as can be seen in lino prints like Rippled Surface.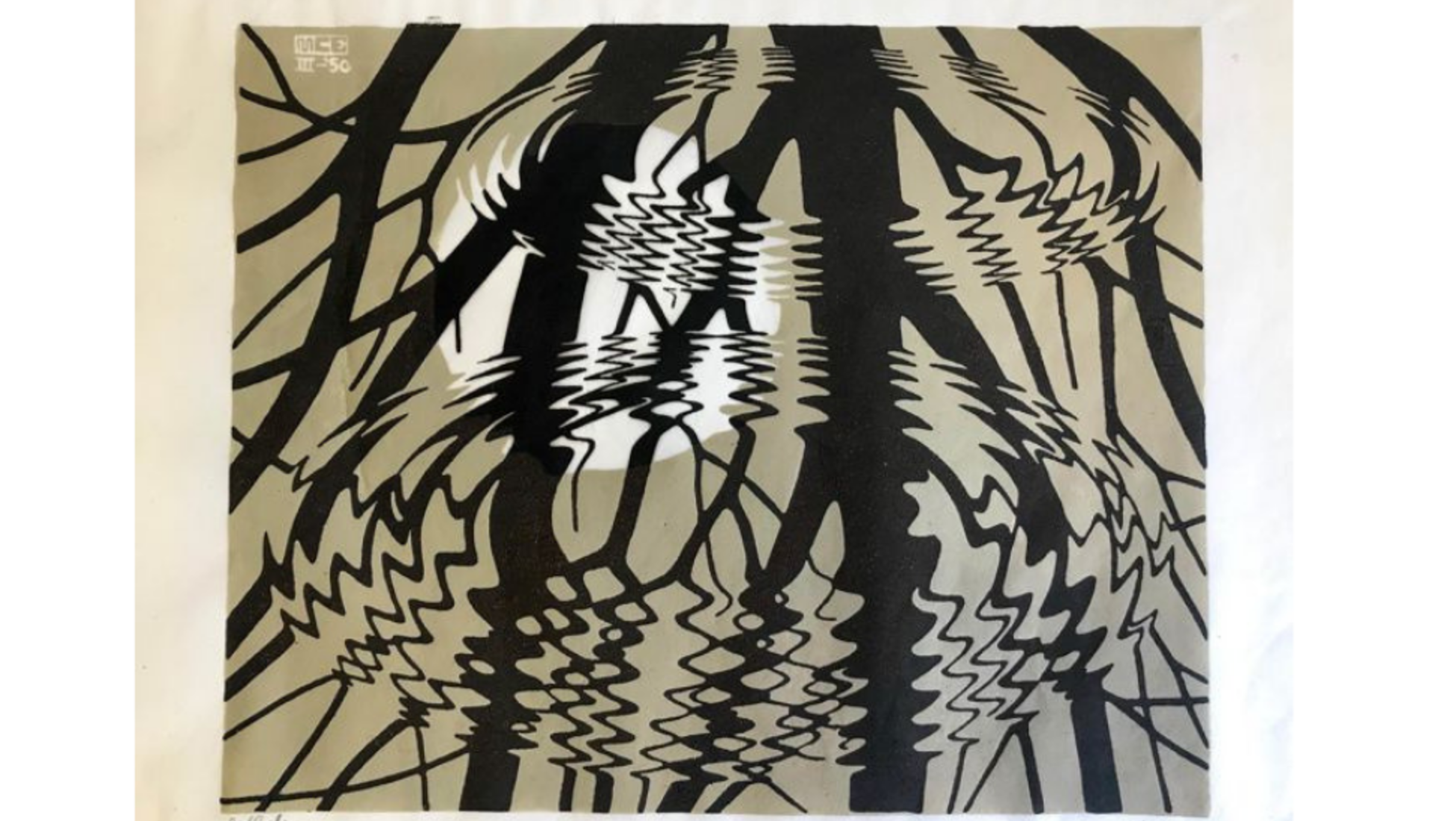 Maurits Cornelis Escher - Rippled Surface (Bool 367)

Escher's travels also extended to Spain, specifically the regions of Toledo and Granada. The Moorish architecture and Islamic gardens that Escher encountered in Alhambra would cement his interest in tessellation. A distinctive feature of Islamic design is it's geometric, interlocking patterns and use of mosaic; influences that Escher quickly adopted for his own work.
Legacy
Just as nature is full of near-identical yet still unique patterns (picture the individual compositions of a snowflake, or a fingerprint); Escher's nature-inspired prints all carry subtle variations. Michiel elaborates:
"The sky [in many of the prints] is of different tones of colour. The colour of the ink and the pressure Escher applied with his bone egg spoon as he produced one print after another would undoubtedly have meant that each print had subtle and unique variations in colour. Prints are meant to be identical, but there are always slight differences in Escher's prints because of the care with which he applied pressure with the little spoon."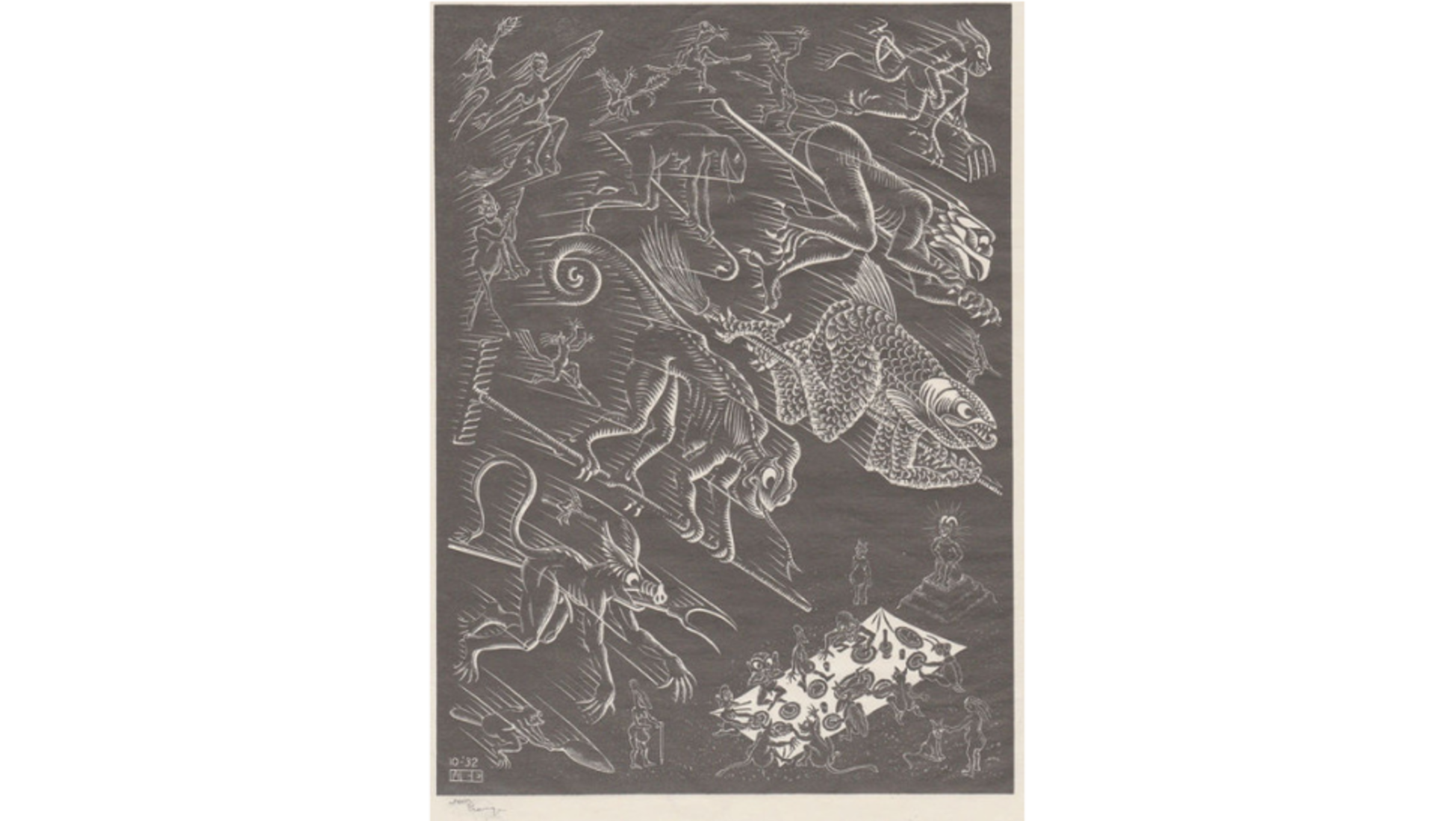 A gift from Escher to J.M. Prange, printed on Japanese paper
Escher carried this love of nature through his life, and it's strikingly noticeable in his final completed work. Snakes, for example, is a woodblock print of interlocking circles, interwoven with three seemingly never-ending snakes. In Islam green is associated with paradise and is often used in Islamic artwork. Escher's use of green and the interlocking circles clearly recalls the architecture of the Alhambra, while also paying tribute to the Christian significance of gardens and snakes.
____________________
M.C. Escher was born in Leeuwarden 121 years ago on 17th June. In honour of his birthday, our classical art experts have curated a special auction.
____________________
Discover more classical art | antique prints pre-1800 | prints from 1800 to 1945
You might also like:
Different Printing Techniques Explained by our Art Experts
Fantastic finds: an exclusive book about M.C. Escher's obsession with tessellation