Written by Simone | 05 August 2019
Fifty years ago, a 245-hectare dairy farm near White Lake in Bethel, New York, was turned into a legendary music festival. Billed as '3 days of Peace & Music', it is regarded as a pivotal moment in music history. To celebrate this milestone, we're taking a look at how the women that took to the stage experienced that remarkably rainy weekend, and where they are now.
Melanie
Melanie Safka was just 22 years old when she stepped on stage to perform for the Woodstock crowd and was, in her own words "terrified out of her mind". She was even hoping the rain would force people to leave. But the crowd stayed, and instantly embraced her when she started singing Beautiful People, waving their lighters in the air. A couple of years later she would memorialize this moment by writing the song Lay Down (Candles in the Rain).
Where is she now? 50 years and 30 albums later, Melanie is still performing all over the world, often with her equally talented son Beau-Jarred.
Janis Joplin
Janis Joplin was already one of the most successful and widely known rock stars of her time when she performed at Woodstock, despite being just 26 years old. She arrived at the festival terrain by helicopter on Sunday, 17th August and was initially eager to perform. Other bands were contractually obliged to perform ahead of Joplin, so she had to wait ten hours before she finally could take the stage. Although she was clearly inebriated during her performance, one of the official photographers at Woodstock, Henry Diltz, got to see her from only a few meters away: "Everything she sang, it was nothing held back."
Where is she now? In 1970, a year after Joplin performed at the Woodstock Festival, she passed away due to an overdose. Her legacy still stands, however. Her music is loved by each new generation and she continues to inspire contemporary artists such as Florence Welsh (of Florence and the Machine), P!nk, Alicia Keys and P.J. Harvey.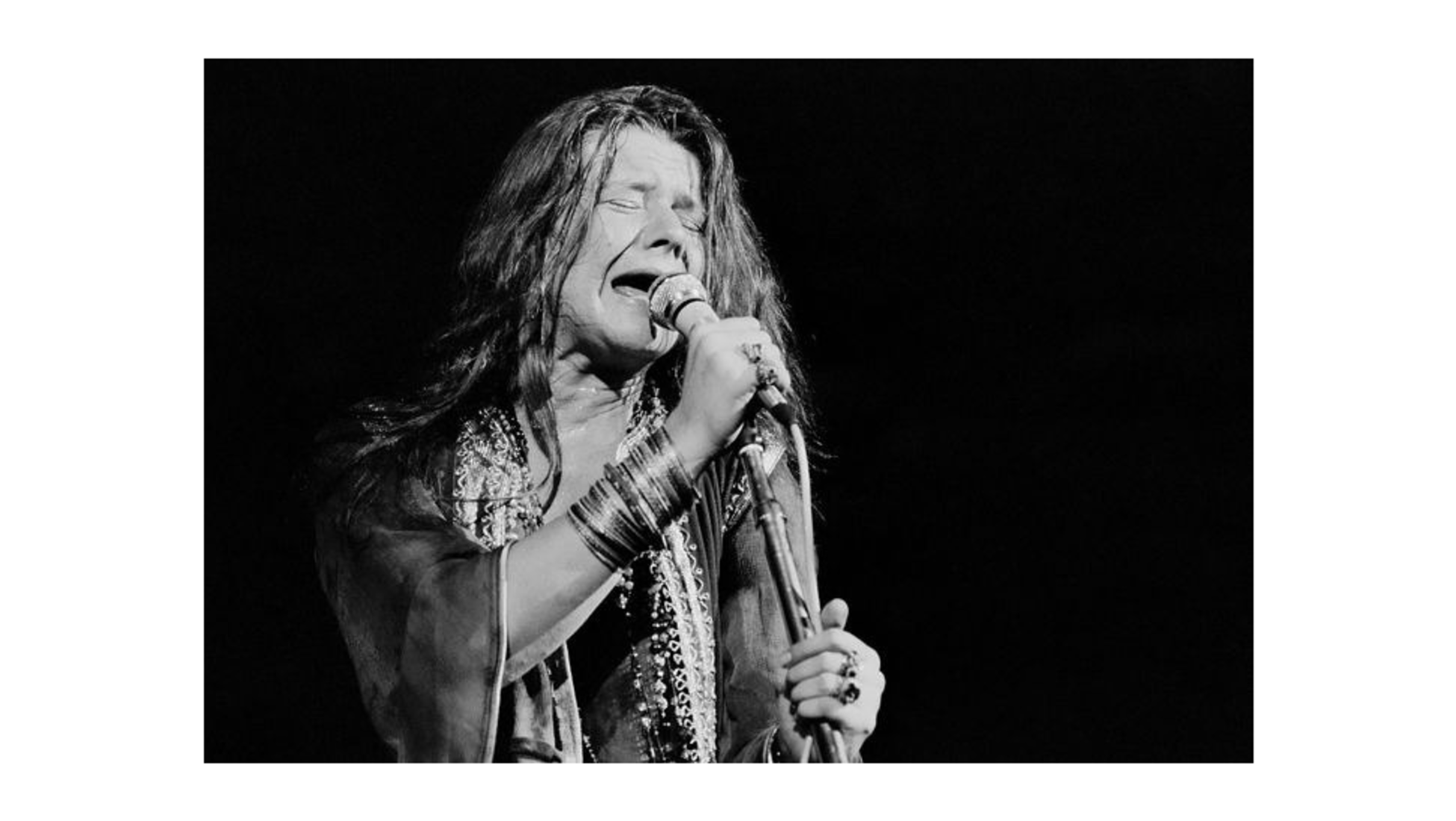 Janis Joplin at Woodstock, 1969. Photograph by Henry Diltz (1938-)
Joan Baez
Already an acclaimed international artist, Joan Baez surprised everyone when she decided to perform not just on the main stage, but also on the free stage that was open to anyone. She was the only booked artist to play there. Her husband, David Harris, had been arrested for draft resistance and just started a 15-month prison sentence at the time of the performance. In her memoir, And a Voice to Sing With, she described her performance:
"I just stood up there in front of the residents of the golden city who were sleeping in the mud and each other's arms, and I gave them what I could at the time. And they accepted my songs. It was a humbling moment, in spite of everything. I'd never sung to a city before."
Where is she now? In her incredible 60+ year career Baez has made more than 30 albums that gained her a spot in the Rock 'n' Roll Hall of Fame. And although the Woodstock festival is known for its free spirit and as a mark of change, Baez is one of the only performers to really live by it. She has been an activist her whole life, standing up against the Vietnam War, death penalty and fighting for LGBTQ-rights, amongst other causes. She has just finished her Fare Thee Well Tour all over the world, which, as the name indicates, will be the last. At the 50th anniversary of Woodstock, a live recording of her performance was (finally) released.
Grace Slick (Jefferson Airplane)
Performing on Sunday, somewhere around 8.00 am, singer Grace Slick introduced Jefferson Airplane: "Alright friends, you have seen the heavy groups, now you will see morning maniac music, believe me, it's the new dawn..." About her experience, she told Best Classic Bands: "Woodstock was unique in that there were a half million people not stabbing each other to death. That was its main claim to fame. And it was a statement of, look at us, we're 25 and we're all together and things ought to change."
Where is she now? Slick has been very outspoken on the fact that she finds rock 'n' roll to be a young people's game: "You can do jazz, classical, blues, opera and country until you're 150, but rap and rock and roll are really a way for young people to get that anger out", she said in 2007. "It's silly to perform a song that has no relevance to the present or expresses feelings you no longer have." Slick is now retired from the music business, aside from a performance here and there. She spends her retirement painting.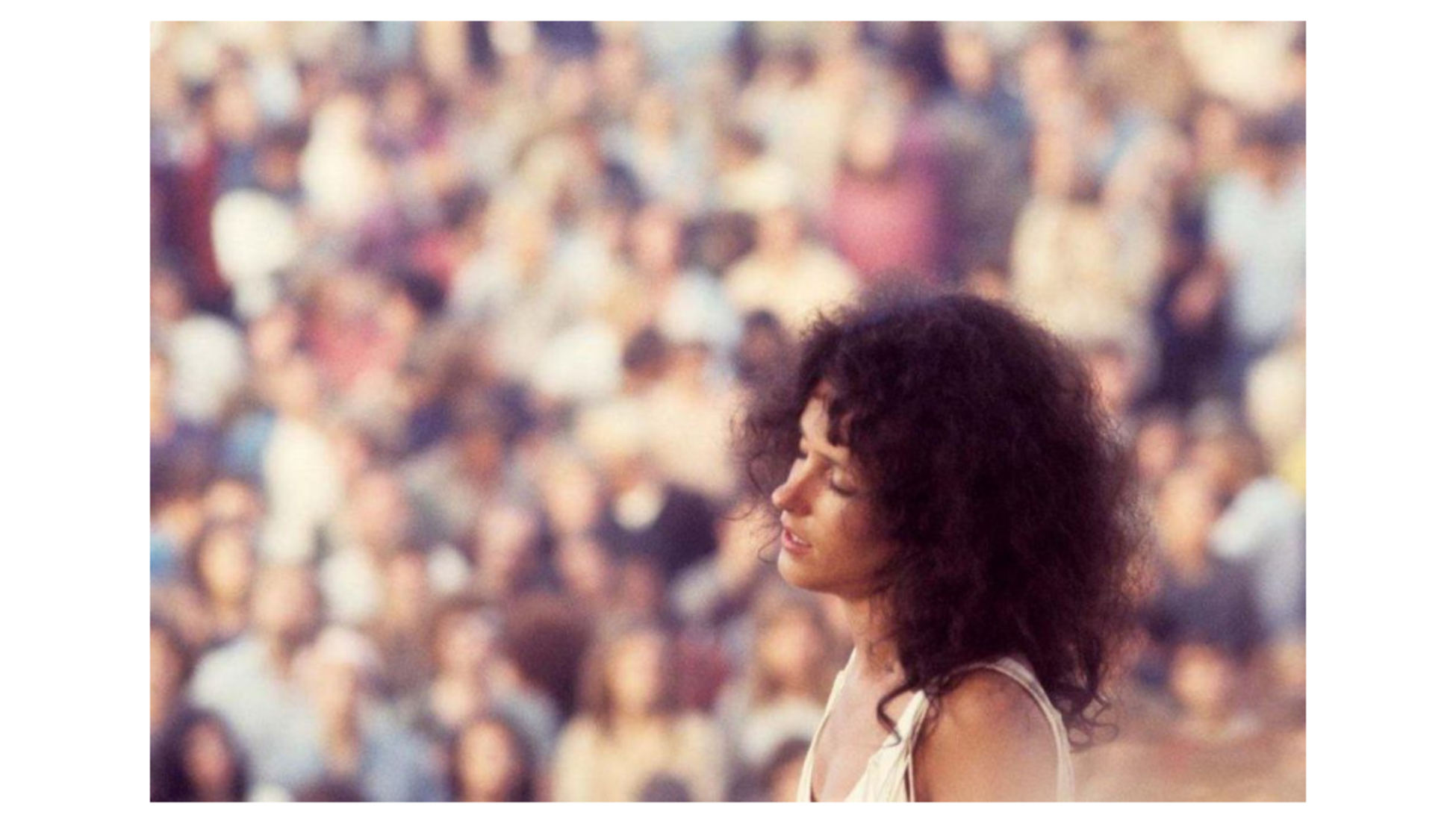 Grace Slick at Woodstock, 1969.
Nancy Nevins (Sweetwater)
Sweetwater was one of the first acts to go on stage at Woodstock, which was… an honour? Not really, according to lead singer Nancy Nevins: "We were definitely the soundcheck!" At just 17 years old, Nevins was most likely the youngest performer at Woodstock and her band, Sweetwater, was not only one of the biggest ensembles to perform (with eight members), they were one of the first North American rock groups to use Latin Percussion.
Where is she now? A few months after the Sweetwater debut, Nevins was seriously injured after a drunk driver slammed into her car. She was in a coma for a while and suffered the consequences of brain damage. She also permanently lost the use of one vocal cord. Sweetwater broke up shortly after, and she went solo for a while. There is a happy ending to all of this though; they reunited for Woodstock '94 with three original members and have been performing together ever since.
___________________
Discover more vinyl | hi-fi & radio | music
You might also like these articles: