Written by Beulah | 19th September 2019

90 years on from its creation at a polo match, the Jaeger-LeCoultre Reverso watch is a true classic. An androgynus art deco timepiece that was also the first sports watch and revolutionised watch design, it recently became the most expensive watch ever sold on Catawiki. Here to talk to us about how The Reverso went from sporting equipment to elegant classic is watch expert, Tom Tombeur.
Hi Tom, thanks for chatting! Can you tell us a little bit about how The Reverso came into being?
Tom: In 1931, the slightly violent nature of the Polo matches played between British Army officers stationed in India wreaked havoc on their wristwatches. The swinging, bobbing and sheer force needed to hit a cricket ball one-handed, from atop a galloping horse, was enough to shake up even the sturdiest timepieces.
Swiss businessman César de Trey witnessed one of these matches, and when he returned home he commissioned the creation of a watch that could slide, spin and even flip over itself as needed. The result was The Reverso. Since then, this watch has become a design icon for both men and women. At least 100 different models have been created; some with bigger or square cases, watches decorated with diamonds, etc.
The Reverso was originally popular with all buyers because of its androgynous design, yet this doesn't seem to have inspired the creation of more unisex watches. Why is that?
Tom: I think it's very hard to create a watch that appeals to both women and men. Only the greatest can pull this off. I can think of the Cartier Tank and the Rolex Datejust. Simple yet very distinguished designs.
You mention that The Reverso has become a classic: can we still expect to see athletes wearing them at the next Olympics?
Tom: I don't think we will see many Reversos on the polo field. It's more likely we'll spot them on the wrists of some of the guests in the VIP seating area.
Bearing in mind that they seem to offer very similar benefits: why are gyrotourbillon watches so much more expensive than the tourbillons?
Tom: The answer is very complicated but also simple: the gyrotourbillon is much cooler than a normal tourbillon. You can find good Swiss Made Tourbillons from 15k and up, while we recently auctions a Jaeger-LeCoultre Reverso Gyrotourbillon 2 for €92,000. The Gyrotourbillon 2 ran on the JLC Caliber 174. The movement is pure gyrotourbillon, and JLC had stripped it off the perpetual calendar, EOT, but made it in a form movement fitting exactly (and only) the rectangular case of the Reverso.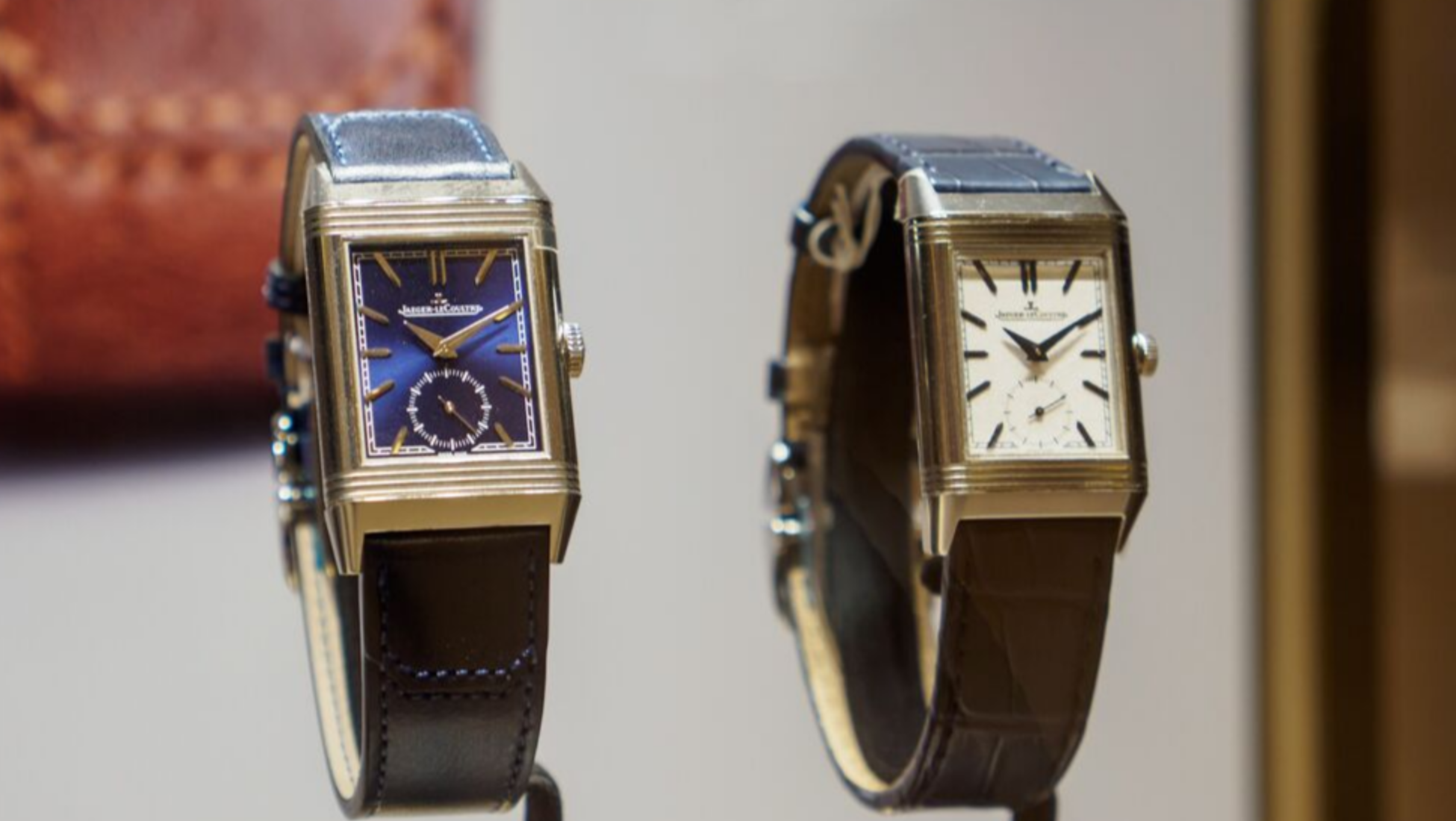 Contemporary Jaeger-LeCoultre Reverso watches, up for auction in Bangkok
So was there anything else particularly special about the case?
Tom: Well, as mentioned, it was massive. The case dimensions are 55mm long, 36mm wide with a thickness of 15.8mm. And in platinum, it was very heavy. The case was so heavy that it required a locking mechanism to secure it within its carriage so it does not accidentally slip out. It had a front dial which is enamel, and it had a rhodium plated gold back dial. The Caliber 174 featured an evolution on the JLC hairspring technology, and featured a spherical hairspring. This hairspring followed the form prescribed by a sphere and JLC claims it to allow the hairspring to breathe more regularly than any other hairsprings.
You mentioned the Reverso Gyrotourbillon 2, which recently became the most expensive watch ever sold on Catawiki. Who was the seller? Was it a private collector?
Tom: The seller is called WOSHK. They are a big company in Hong Kong specialising in the wholesale of watches, jewelry and fashion. Besides the Gyrotourbillon they also sold some very expensive Breguet, Roger Dubuis and Cartier watches and Tiffany and Bulgari jewellery.
And how did you authenticate the watch?
Tom: It's actually fairly easy to authenticate a highly complicated watch like this. The functions are so complex and the finishing so detailed that it would probably costs more to recreate something that even has a 10% resemblance than buying a real one. Because of WOSHK's position in the market and their long term relationships with the brands their pictures and descriptions are always top notch and they sell all lots with the original packaging and paperwork. Which makes it much easier for us to authenticate the lots they submit. We have a growing number of sellers based in SEA that are selling remarkably nice items of high quality with low or no reserve prices. We have visited some of them and witnessed that professionalism and eye to detail is second to none.
____________________
Check out our latest Jaeger-LeCoultre auction or register as a seller with Catawiki.
Discover more Watches | Jaeger-LeCoultre Watches
You might also like:
How the Omega Speedmaster won the space race