Over 1 million people, more than 50% of them new to Catawiki, bid on one or more special objects during the past year
Over 3.5 million objects up for auction, by over 200,000 sellers
In 2021 Gen Z hobbyists showed a staggering interest in online auctions, growing over 20% on Catawiki
Consumers treated themselves to the finer things in life during the second pandemic year
AMSTERDAM, 27 January 2022 - Catawiki, the leading online auction marketplace for special objects, publishes today an in-depth look back at 2021 - with figures that outline an unprecedented popularity for the online auction sector. With over half a billion euro spent on original and exclusive items on Catawiki in 2021, online auctions are proving increasingly hot especially for younger generations, with a burgeoning appetite for sustainable, one-of-a-kind finds.
Record numbers all across the board
Over 1 million people placed at least 1 bid on Catawiki in 2021, spending on average over €1,000 on the platform. Over 50% of bidders turned to Catawiki for the first time in 2021, the second year marked by the pandemic, attracted by the platform's long-standing expertise from over 250 in-house experts across a range of categories.
Over 3.5 million special objects were put in auction by over 200,000 sellers in 2021. Offering an over 80% first-time sale chance, Catawiki was a real source of income for regular people - which counted for the majority of sellers - granting them €3,000 average yearly earnings. This may be due to more time at home being a silver lining for many last year: whether it's valuable items people forgot existed or newfound treasures they never knew about, they put them to use. Many professional sellers kept choosing Catawiki as their sales channel to grow their business in the second pandemic year, selling more than 1.1 million objects through the platform, and generating a yearly average income of €60,000.

''We're witnessing a true societal trend. While years ago the auction industry was perceived as elitist and niche, interest in online auctions for unique and special objects is now touching unprecedented levels. With more than 1 million people placing bids last year on Catawiki, and continued double-digit growth among younger generations, Catawiki is at the center of this shift. We're thrilled about these results, and very excited about what we will achieve in 2022 and beyond.'' said Ravi Vora, CEO at Catawiki.
Gen Z auction hobbyist surge
Last year, the Gen Z demographic became the platform's fastest growing visitor age group - reflecting the increasing demand a younger, technology focused generation is bringing to the online auction industry. With a 21% user increase - Gen Z's love of discovering second-hand gems online can partly be linked with a wider desire to live and consume more sustainably - one of the key trends driving the auction market today according to Catawiki 2022 Trend Report. As today's youth population prioritize saving the planet - the green credentials of platforms like Catawiki speaks to a conscious movement against mass consumerism.

Consumer's treated themselves during the second year of the pandemic
From original furniture imbued in memory to chic Parisian pearls - Catawiki's most popular interest categories illustrates how consumers treated themselves to the finer things in life during the second year marked by Coronavirus - with Interiors & Decorations, Jewellery, Modern & Contemporary Art and Wine topping the list. Perhaps an antidote to the emotional long-haul of the lockdown-era - consumers sought rare design pieces to decorate their homes, rich fine wine (over three quarters a million bottles of wine were sold on the platform last year), refined jewellery and diverse modern art.
"A desire for sophistication prevailed in consumer choices this past year. To cope with months of persistent lockdowns, a touch of finery and a unique, comfortable environment is what made the days less similar to one another," says Jan Van Diermen, Catawiki's General Manager for Luxury. ''While the historical period has influenced these purchases, 80% of our revenues is currently generated by returning users, which shows consumers' preference for Catawiki as the destination for their unique special objects."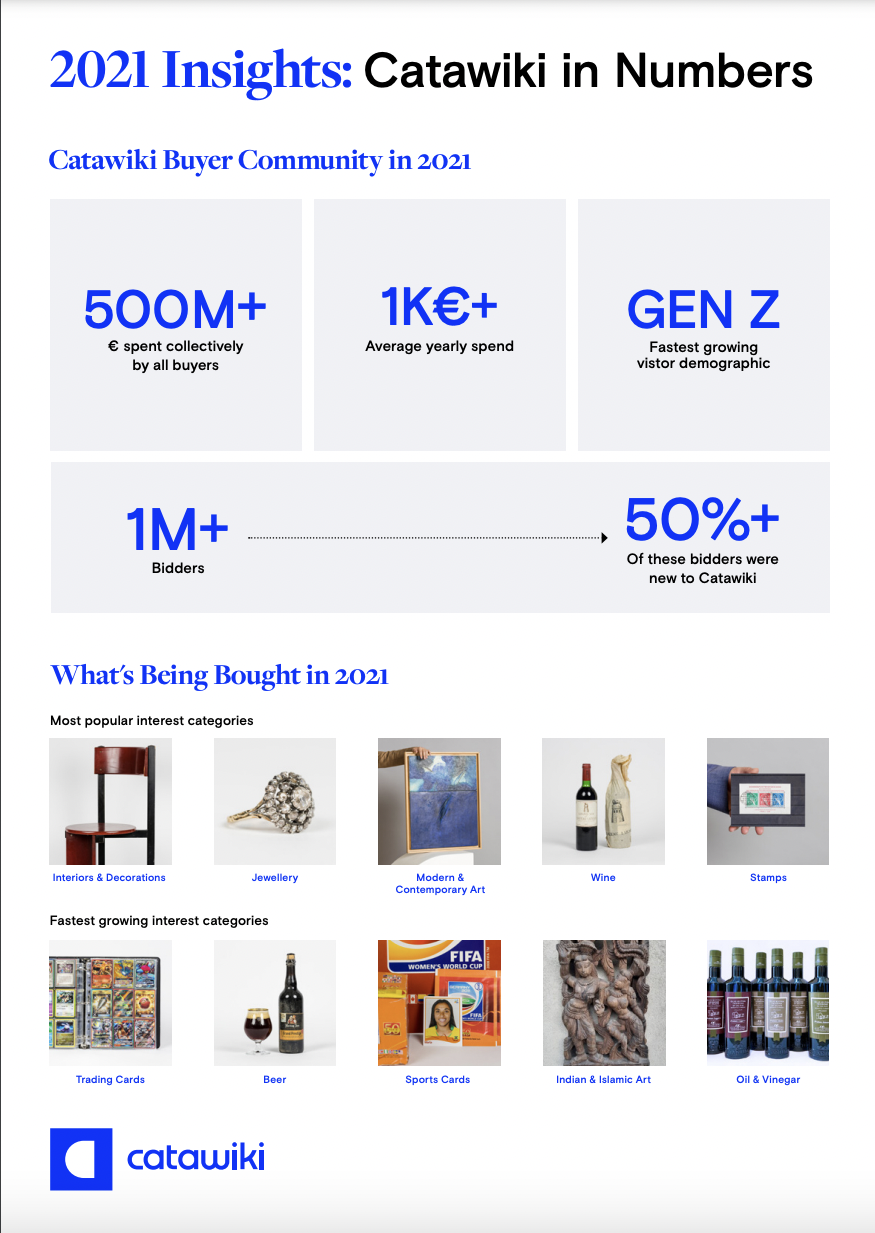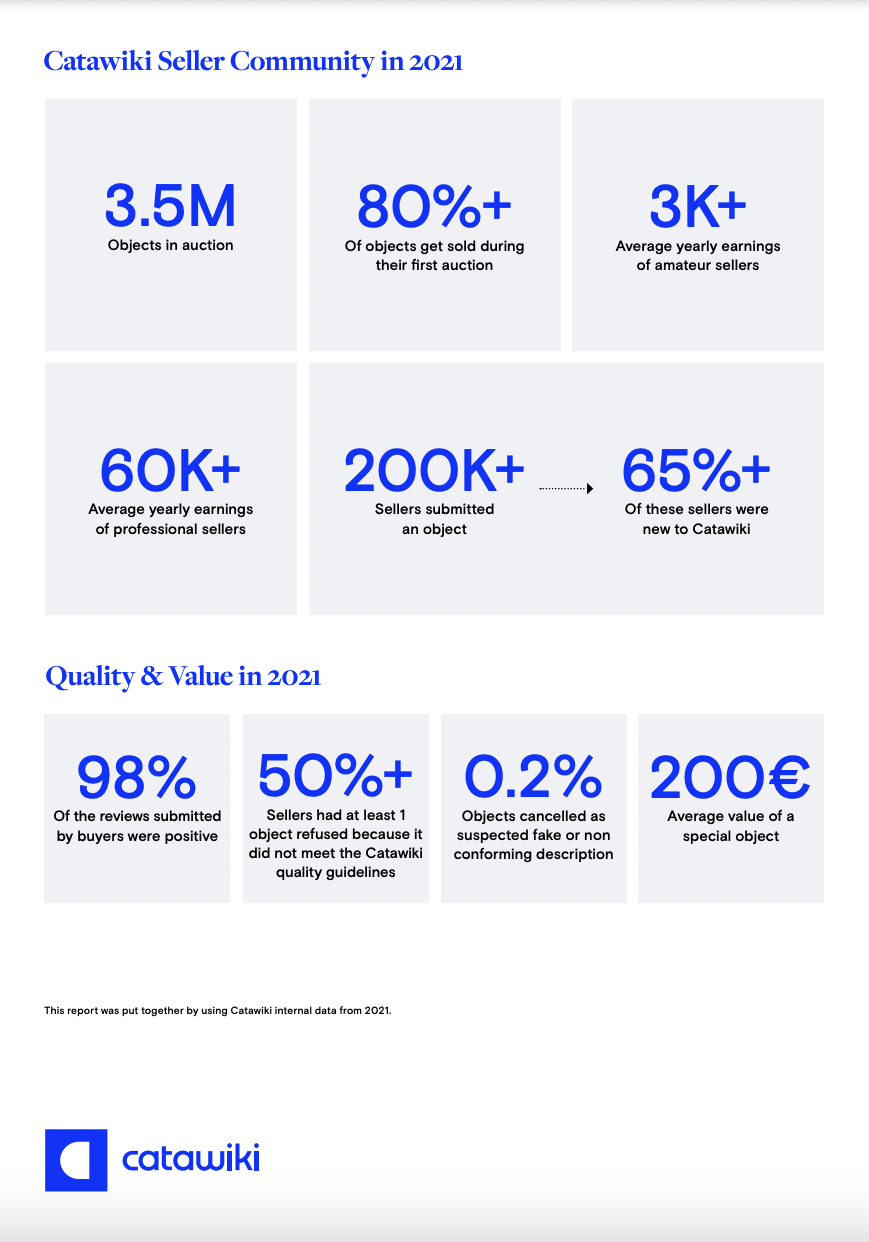 *Notes to editors
Some of the best internationally renowned objects sold on Catawiki in 2021: