In memory of Charles Eames who left us 45 years ago on this day, Catawiki is releasing new figures and facts about the iconic designer;

Sales of Eames have almost doubled every year on Catawiki since 2019;

Eames as designer name is as famous as the renowned brands like Kartell, Vitra and Artemide;

A. Fahl, Senior Design Expert at Catawiki says: buying vintage Eames pieces is the way to go. The quality of the design is outstanding and the pieces remain in top condition. The prices of vintage design, especially the earlier periods, are steady and strong.
AMSTERDAM, 21 August 2023 - Celebrating 45 years since the passing of Charles Eames, Catawiki, the leading online marketplace for special objects, is unveiling unseen figures and facts about the legendary designer and the brand he left behind. Over the past four years (2019-2022) sales of Eames objects on Catawiki have grown with an annual average of 77% - or almost doubling every year. Pieces by Eames are highly sought after by French/Italian/Dutch buyers. Eames objects are seen as a stable investment, over time and even might increase in value. Eames is also ranked amongst the top 20 search terms on Catawiki in 2022 (out of 5.000 search terms) together with Rolex, Banksy and Porsche.
Reasons behind the popularity
Quality: Much of Eames' popularity is driven by the functional construction and high-quality manufacture of the furniture. The quality of wood, steel and leather used in chairs, tables and lounge sets is outstanding, so much so that broadly the same materials that were used in the 60's and 70's are still used today. Manufactured with these top-end materials, these objects are made to last.
Timeless design: Talking about design by Eames, is talking about form and function. Their mid-century classics are known for minimalist but comfortable shapes. The design of the various pieces have barely changed in the last half century, increasing Eames' feeling of timelessness. Asked if design is an expression of art, Charles Eames answered: "I would rather say it's an expression of purpose. It may, if it is good enough, later be judged as art."
Popular Culture: Eames furniture has captivated people worldwide, from interior designers to movie directors, in the office and at home. Hollywood in particular has taken a shine to Eames furniture, as seen in true classics such as Sunday in New York (1963) and the Executive Suite (1954). Today these chairs play leading roles in popular movies and shows like Mad Man (2007-2015), Iron Man (2008), and in the popular series Shark Tank USA.
The most sought-after Eames pieces sold on Catawiki are the Lounge Chair and Ottoman, often bought as a complementary set. They were designed in 1956, as a gift for the movie director Billy Wilder, known for several movies such as Sunset Blvd (1950) and Some Like It Hot (1959) starring Marilyn Monroe.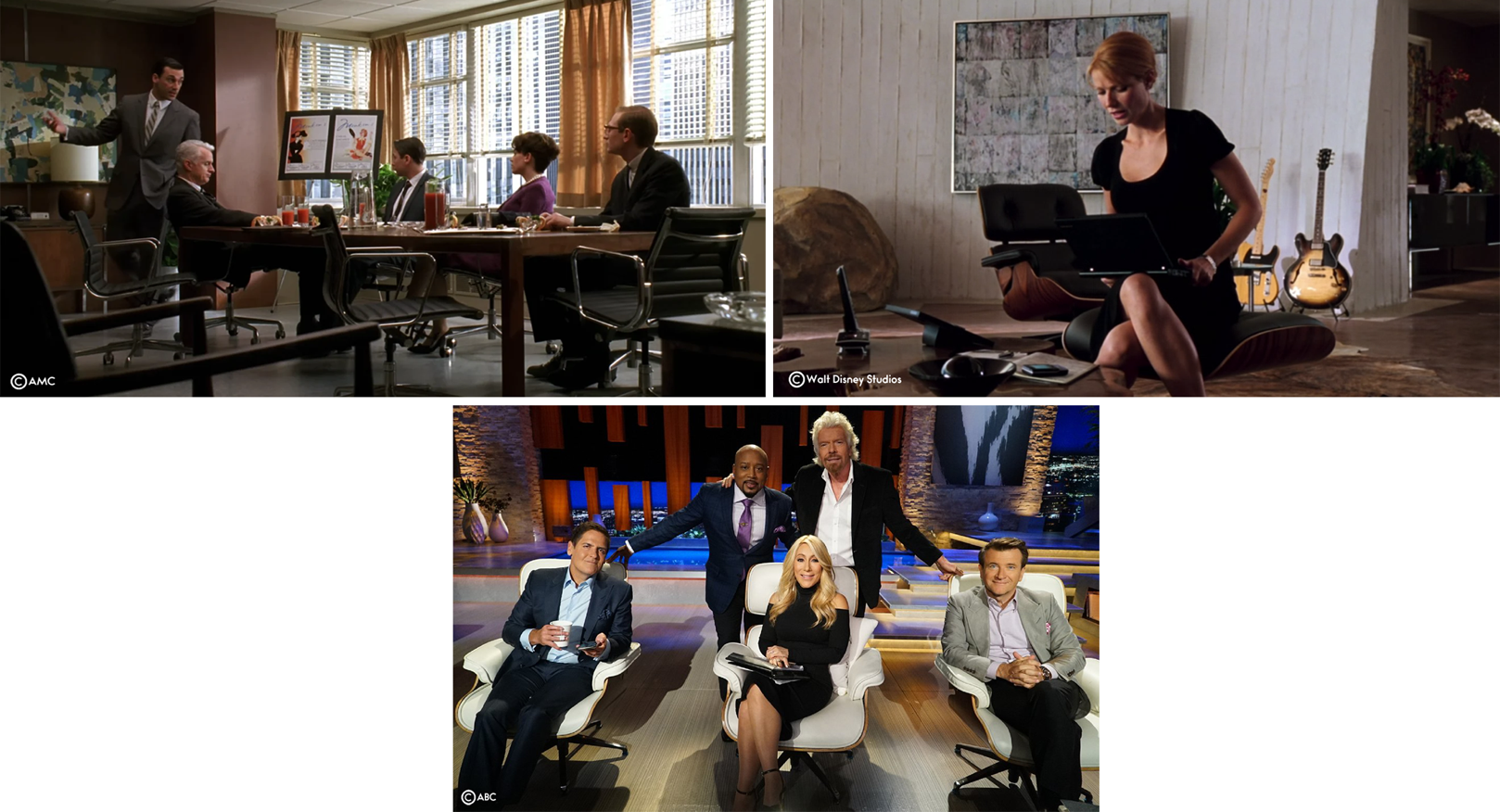 Clockwise: Eames Aluminum Group Management Chair in Mad Man Scene, copyright AMC; Eames Lounge Chair in Iron Man (2008), copyright Walt Disney Studios; 'Sharks' in Eames Lounge Chair in Shark Tank USA (2009 onwards) Copyright ABC
Value: Eames objects are notoriously known to hold their value very well. While their retail value was only a few hundred dollars in the 60s/70s, the value increased rapidly in the last 50 years. Last year for example, a 1960s Eames Lounge Chair and ottoman changed hands for €13.600 on Catawiki. The average Eames object hammer price on Catawiki has increased over 30% since 2019.
"Design by the Eames is one of the pinnacles of style of all time," says Senior Expert in Design, Alexander Fahl. "No matter what interior you have, these pieces will fit and elevate the room. They are true modern classics in their timeless design and outstanding craftsmanship. The appetite for these objects seems unstoppable and this is reflected in the prices in the vintage market as they remain strong and stable. This is especially true for the pieces from the 60's and 70's, but also for the pieces produced more recently."
Tips when Buying an Eames Chair
Catawiki asked its Senior Design Expert Alexander Fahl what to look for when buying a vintage Eames chair
Consider your purpose: Design history or just a chair to relax in? If you value significant history, look for one of the first three generations of Eames chairs produced until 1974. Enthusiasts may already have some insights, but you can also seek advice from experts, such as those at Catawiki. On the other hand, if you seek a timeless, stylish, and comfortable piece of furniture without historical significance, more recent and less expensive chairs can be enough.
Value for money: Opt for vintage sets. While a new Vitra lounge chair plus ottoman may cost around €10,000, a vintage set can be found starting at €4,000. The upper-end of the market for vintage pieces in exceptional condition can reach up to €14.000 on Catawiki. Vintage Eames chairs tend to hold their value well. So if a set is offered less than €4,000 this can be a treasure or too good to be true.
Know legitimate manufacturers. Eames Lounge chairs and ottomans were produced under licence by two legitimate manufacturers: Vitra for Europe and the Middle East, and Herman Miller for the Americas and the rest of the world. Older versions were made with Brazilian Rosewood, which is difficult to replicate. After 1991, production shifted due to environmental issues relating to different types of wood veneer, leather colours, and finishes, making variations more common.
Inspect the condition thoroughly. While a vintage patina on leather can be a personal preference, be cautious of damages, restorations, repairs, and replacements, as they affect the chair's value. Damaged leather can be expensive and difficult to repair properly. Check the chair's frame for breaks and cracks, especially around the mounts, which are common weak spots.
Specific Details. Authentic Eames chairs have specific details to look out for. Start by looking for labels or stamps, but exercise caution as some fakes may have labels from genuine chairs. The inclination of the backrest and the number of plywood layers (usually seven) are also very specific for an Eames Chair. Lastly, scrutinise the leather quality and cushion fill, as they should reflect the chair's alleged quality and age. Chairs that have been used for decades should show signs of wear on the armrests and other appropriate areas.
#END RELEASE#
Note to editors
Examples of Eames objects sold on Catawiki:
Catawiki
Catawiki is the leading online marketplace for special objects that fulfil people's passions. Over 75,000 objects are offered in auction every week - each reviewed and selected by one of Catawiki's hundreds of in-house experts specialised in Art, Design, Jewellery, Fashion, Classic Cars, Collectables and much more. Catawiki is headquartered in Amsterdam with over 750 employees across the world. Fulfil your passion on catawiki.com or download the app.
PRESS CONTACTS
Catawiki
JP Verhagen, j.p.verhagen@catawiki.nl | +31 642567225
The Netherlands/Belgium/Luxembourg
Ovide Agency
Kitty van Muiswinkel | catawiki@ovide.agency
Germany
Tonka Communications
Stefanie Bickert | stefanie.bickert@tonka-pr.com | +49 17658851839
Lena-Marie Kern | lena-marie.kern@tonka-pr.com | +49 17615779241
Italy
Edelman Italia
Luna Maltese | luana.maltese@zenogroup.com | +39 3371076467
Eleonora Pizzocir | eleonora.pizzocri@zenogroup.com | +39 3355929508
France
Matriochka Influences
Stephanie Constantin | stephanie.constantin@mtrchk.