Catawiki, leading online marketplace for special objects, is auctioning two pieces of the first Hot Air Balloon that crossed the Atlantic Ocean;

This flight was manned by the famous and legendary entrepreneur and serial record chaser Lord Richard Branson at the age of 36 years;

These historical pieces are on auction without a reserve price.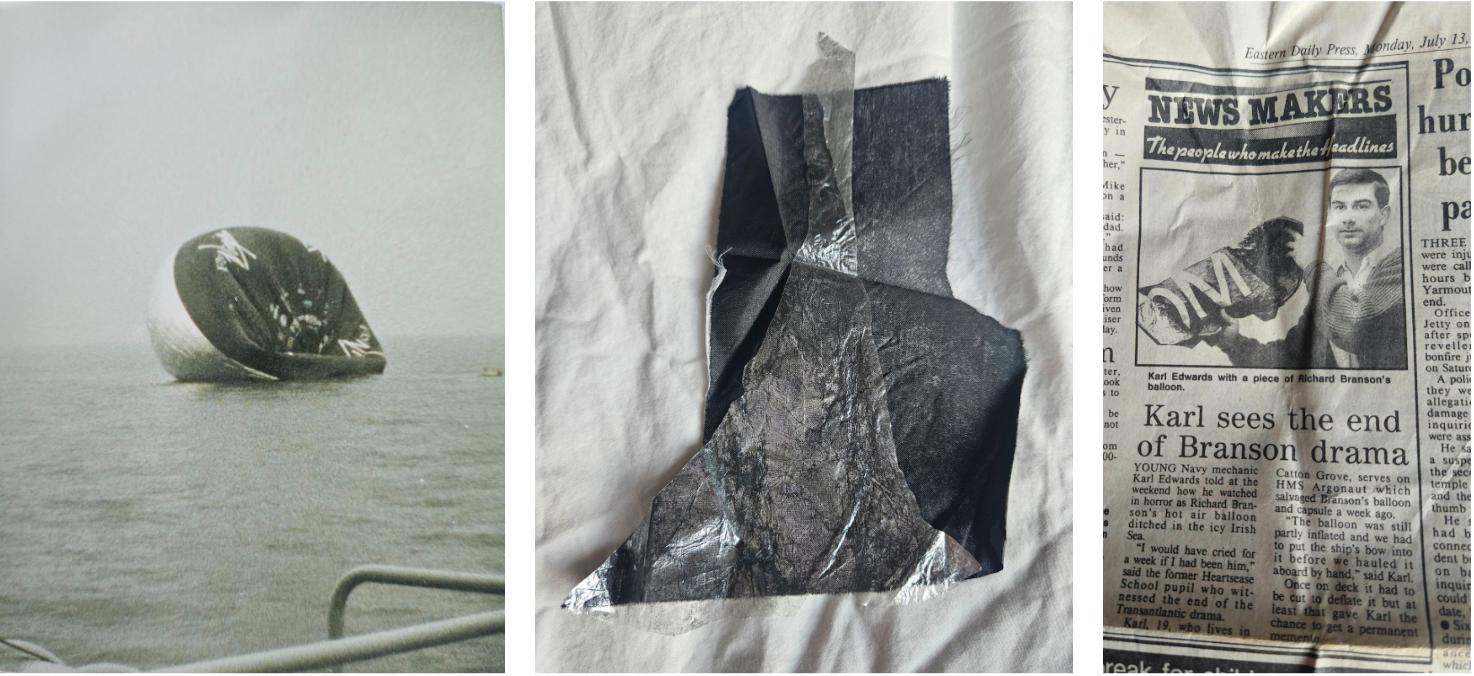 (Amsterdam, 9 October 2023) Catawiki, the leading online marketplace for special objects, is thrilled to announce the auction of two remarkable pieces, together with press clippings and photos of the first hot air balloon that crossed the Atlantic Ocean in 1987. Piloted by the famous entrepreneur Lord Richard Branson, the 'Virgin Atlantic Flyer' journey covered over 3,000 miles setting this world record in 1987.
The two pieces are at auction until 15th October. Follow this link to visit this lot at Catawiki.
The record-breaking, 31 hr and 41 min during, flight across the Atlantic Ocean was done by the largest balloon up to then, designed by Swedish adventurer Per Lindstrand, who joined Branson on his trip. The journey started in Sugarloaf in Maine, USA and they landed in Limavady in Northern Ireland. With a total volume of 2.3-meter cubic feet and a maximum speed over 130 mph (209km/h) on the Atlantic jet stream at 27,000 ft (8,229 m), this first successful attempt to bridge the 4.947 km distance in a Hot Air Balloon Across the Atlantic has been added to the Guinness World Records.
The journey had a spectacular end. After touching ground, Branson and Lindstrand took off again to avoid nearby power cables. The balloon lost flotation bags during a failed beach landing afterwards and plunged into the waves at 100mph (161 kmh). Co-pilot Per Lindstrad bailed out, while Richard Branson steered the balloon before parachuting from 60 ft (18 m). Both survived, rescued by HMS Argonaut and were taken to the hospital. A young Naval mechanic who was involved in salvaging the balloon from the sea, collected these pieces and found their way to the current owner via his mother.
Sir Richard Brandons is a business magnate, commercial astronaut, and founder of the Virgin Group. As one the most successful entrepreneurs of this time, he was knighted in 2020 at Buckingham Palace for his services to entrepreneurship.
# End Media Alert #
—
Catawiki
Catawiki is the leading online marketplace for special objects that fulfil people's passions. Over 75,000 objects are offered in auction every week - each reviewed and selected by one of Catawiki's hundreds of in-house experts specialised in Art, Design, Jewellery, Fashion, Classic Cars, Collectables and much more. Catawiki is headquartered in Amsterdam with over 750 employees across the world. Fulfil your passion on catawiki.com or download the app.

PRESS CONTACTS
Catawiki
JP Verhagen, j.p.verhagen@catawiki.nl | +31 642567225
The Netherlands/Belgium/Luxembourg

Ovide Agency

Kitty van Muiswinkel | catawiki@ovide.agency

Germany

Tonka Communications

Stefanie Bickert | stefanie.bickert@tonka-pr.com | +49 17658851839
Lena-Marie Kern | lena-marie.kern@tonka-pr.com | +49 17615779241
Italy
Edelman Italia
Luna Maltese | luana.maltese@zenogroup.com | +39 3371076467
Eleonora Pizzocir | eleonora.pizzocri@zenogroup.com | +39 3355929508
France
Matriochka Influences
Stephanie Constantin | stephanie.constantin@mtrchk.