Do you keep staring at that empty wall and wondering how to fill up the void? We have an idea: display all of you paintings, prints and photographs by creating a gallery wall full of art! Here's a step-by-step guide on how to do it.
1. Get Inspired
First, you need to figure out what you want to have on your wall and what you want your wall to look like. Do you want it to look very organised and put together or a more random look? Before you buy anything, you might want to think about a recurring theme or colour. You could, for example, choose black & white prints exclusively. The most important thing is that it reflects your taste and that it makes you feel at home! You can use Pinterest to get inspired and make a moodboard.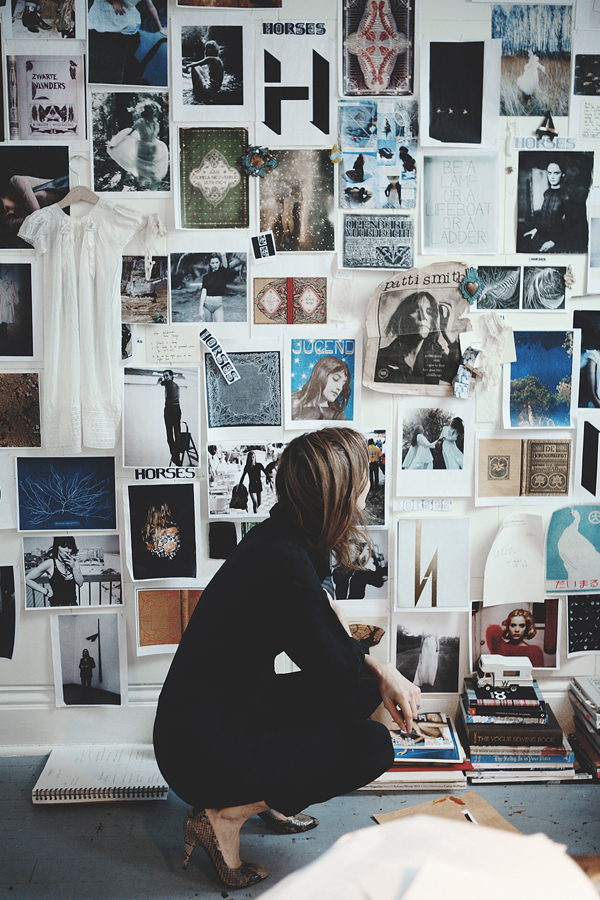 source: Boots and Pine
2. Measure
Keep the dimensions of your wall in mind when you buy anything and consider which type of frames you want, and if they are available for the artworks you have in mind. Decide if you want to cover your whole wall, or part of it. You could choose to have all of the artworks at eye level. You can also start with a small part of your wall and build it out over time.
3. Collect the Pieces
Then you can go online and look for what you want. At Catawiki you can find all sorts of things you can use to decorate your wall. Weekly there are more than twenty photography, classical, modern art auctions where you can find art in all sorts of styles and price ranges. You could also throw vintage posters, your favourite records or a vintage map of your favourite place in the mix. Pick what you like and what you think will look good on the wall!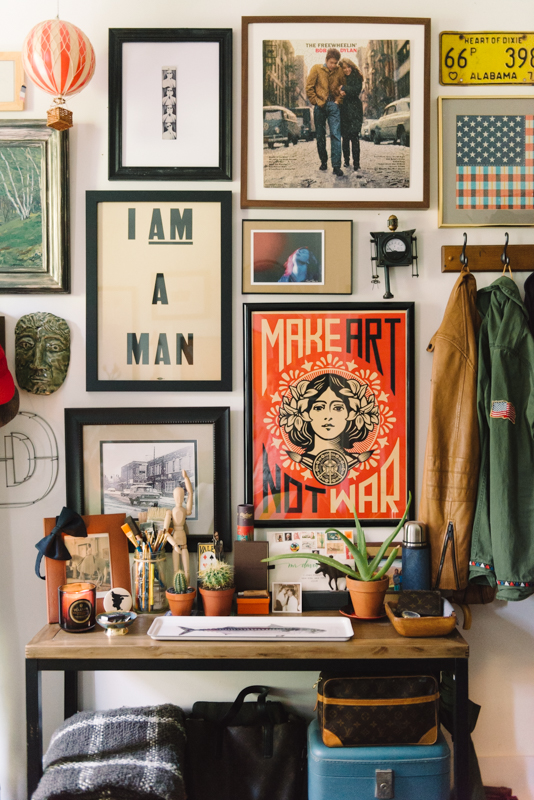 Source: The Every Girl

4. What Do You Need?
Figure out which type of wall you have and the system you want to use to hang the frames. Check the back of the frame to see how it needs to be hanged. Decide if you want to use screws, nails or a traditional picture hook. If the frame is small and light, say under 15 pounds, these are good options. If the frame is heavier you might want to consider more durable hanging devices, such as a spiral anchor or a toggle bolt. The things you definitely will need, are a pencil & eraser, measuring tape, a bubble measure (level), painter's tape and kraft/tissue paper and of course: the frames with the prints. It's also wise to get some extra nails and screws in case something goes wrong.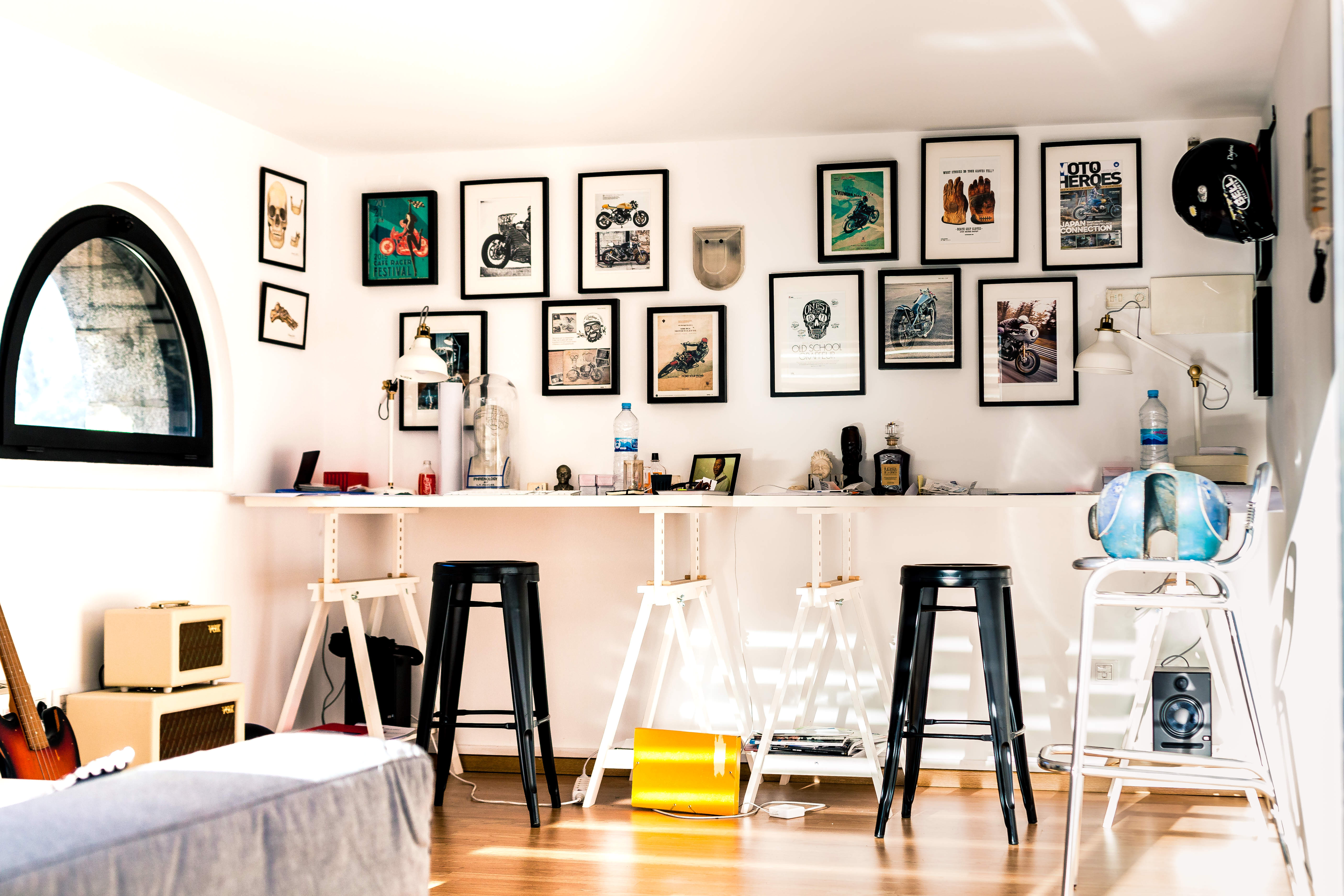 5. Make a Composition
Now it's time to arrange the pieces on the floor into a nice composition. Start with the largest artwork in the middle and build it out from there. This helps to draw the eye in. Make sure the distance between the frames is the same. Take a picture of the arrangement if you have found something you like! You can then try to make a couple more arrangement and select the best one!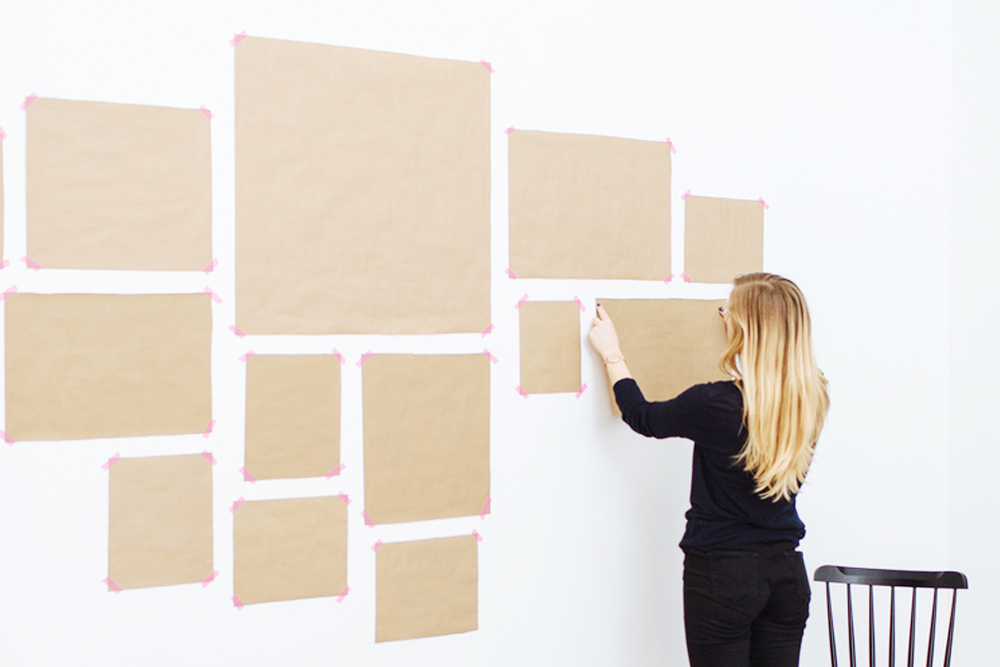 [source: momtastic]
6. Make a Mock-up
To see if your arrangement will actually look good on the wall, you can make a mock-up. This also makes it easier to see where you need to put the nails or screws later. You can make a mock-up by tracing each frame on kraft or tissue paper and cutting it to the right size. Then tape it to the wall onto the composition you planned earlier. You can now see how it will look in the room and still have time to place it slightly differently if necessary.
7. Let's hang
Now it's time to actually get your hands dirty and do some work! For each frame, measure the distance between the hanging device to the top of the picture. Now you can mark each paper with the spot to eventually place the nail or screw. You can then drill the holes or hammer those nails and rip off the paper. If you use nails, be sure to drive it into the wall at a steep 45-degree angle, to give the nail more strength. We recommend you start with the largest frame and then build it out from there, and check after each frame if the distance is any different from what you've measured to correct mistakes early.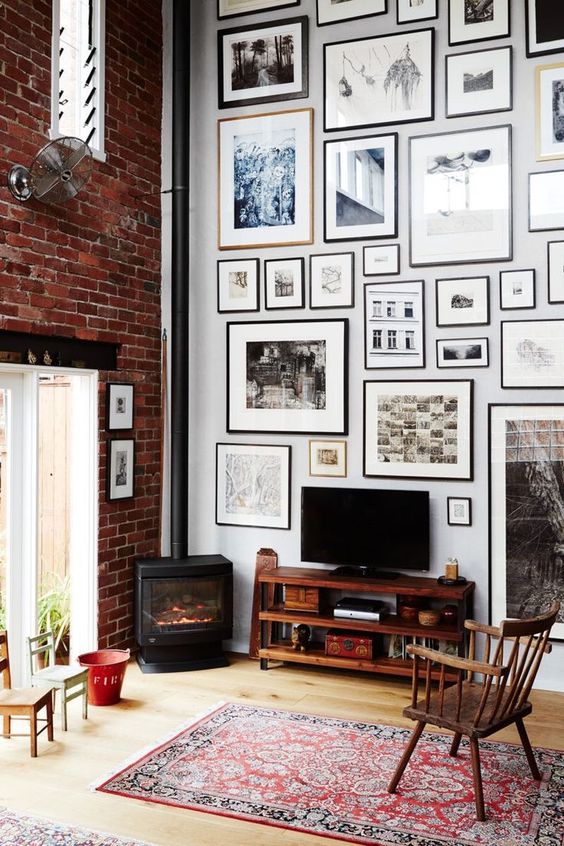 8. Enjoy the view
You can now hang all of the frames on the wall and enjoy the view!
Did you like this story? Then you might also like "Five ideas to redecorate your house with Delftware". Check out our weekly photography, classical and modern art auctions to find art to decorate your house or become a seller.