Forget the free pen you picked up at an expo. Ditch the translucent biro. Today we're talking luxury writing tools. Over the past few years, high-end pens have been increasingly sought after; as a symbol of status and for the feeling of nostalgia for a time before the world went digital, but also as a popular form of investment. Luxury pens are growing in price. In this article we present you the top 10 most expensive pens ever sold.
10. Montegrappa – Ancient Mexican Civilisations Rollerball Pen (€127,433)
Ancient Mexican Civilisations were the inspiration for Montegrappa's 18K gold pen. The intricate pattern is made up of images of Mexican gods and Mayan architecture and is particularly beautiful. Only 20 of these exclusive pens were issued, which is part of the reason why they're so expensive.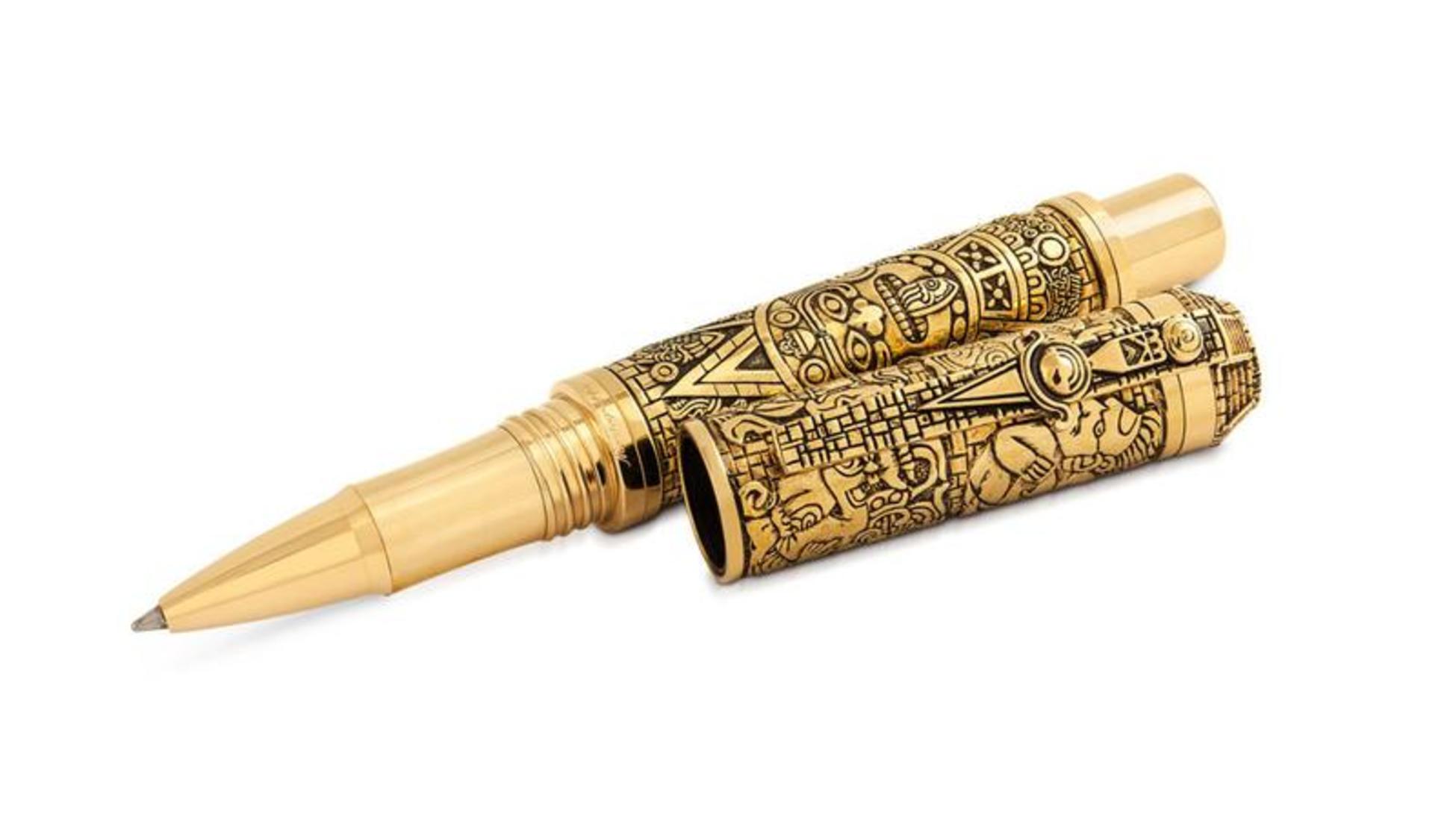 9. Montblanc – Bohème Royal Pen (€147,039)
Although the Bohème Collection of Montblanc is a popular collection of pens, the 'Royal' is made of 18K white gold and 1,351 diamonds, making it rather more luxurious than its 'standard' brother.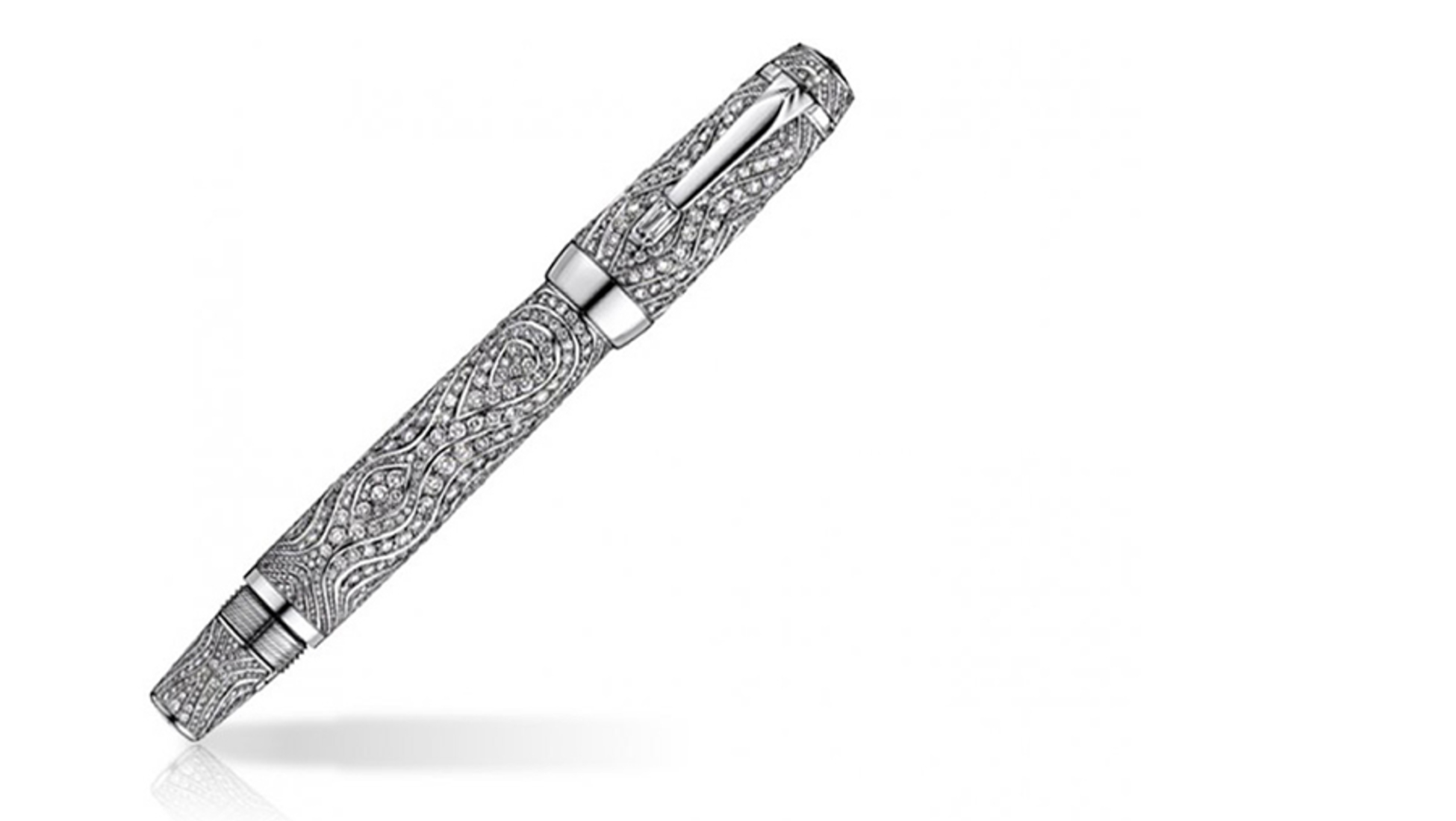 8. Caran d'Ache – 1010 Fountain Pen (€ 155,950)
The name '1010' refers to the time of 10 minutes past 10, which is considered to be the optimum aesthetic point on a clock. The name reflects the beautiful balance and elaborate detailing, matching that of a fine Swiss watch. With ten copies in total, 18K gold and sapphire in the 'glass', this is a Caran d'Ache pen for luxury watch and pen enthusiasts.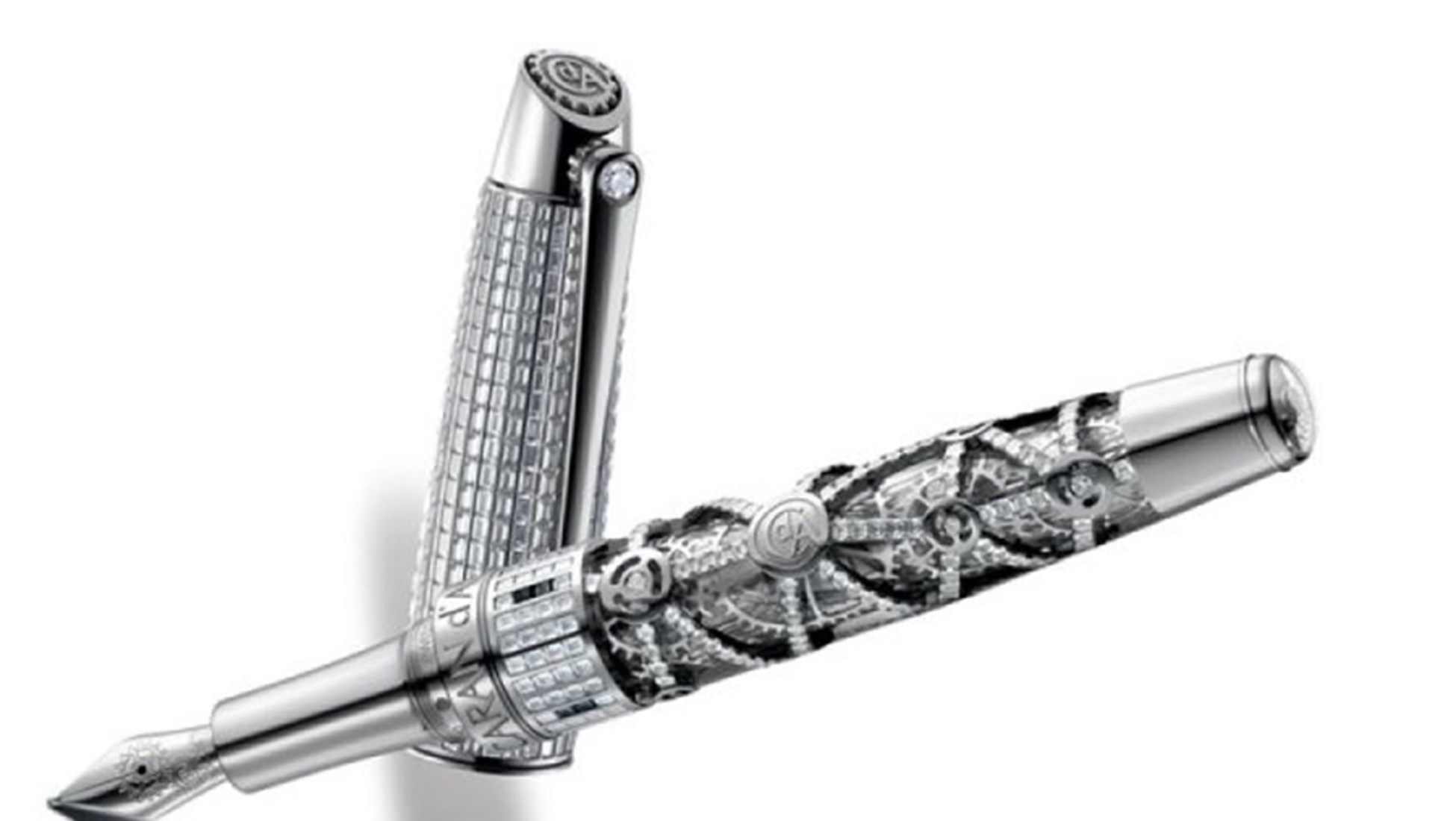 7. Montblanc – Diamond Solitaire Pen (Meisterstück Solitaire Royal LeGrand) (€155,950)
This pen is almost entirely studded with diamonds, adding up to a total of 4,654 pieces, but that's not all. To top it off, the tip of this fountain pen is made of gold.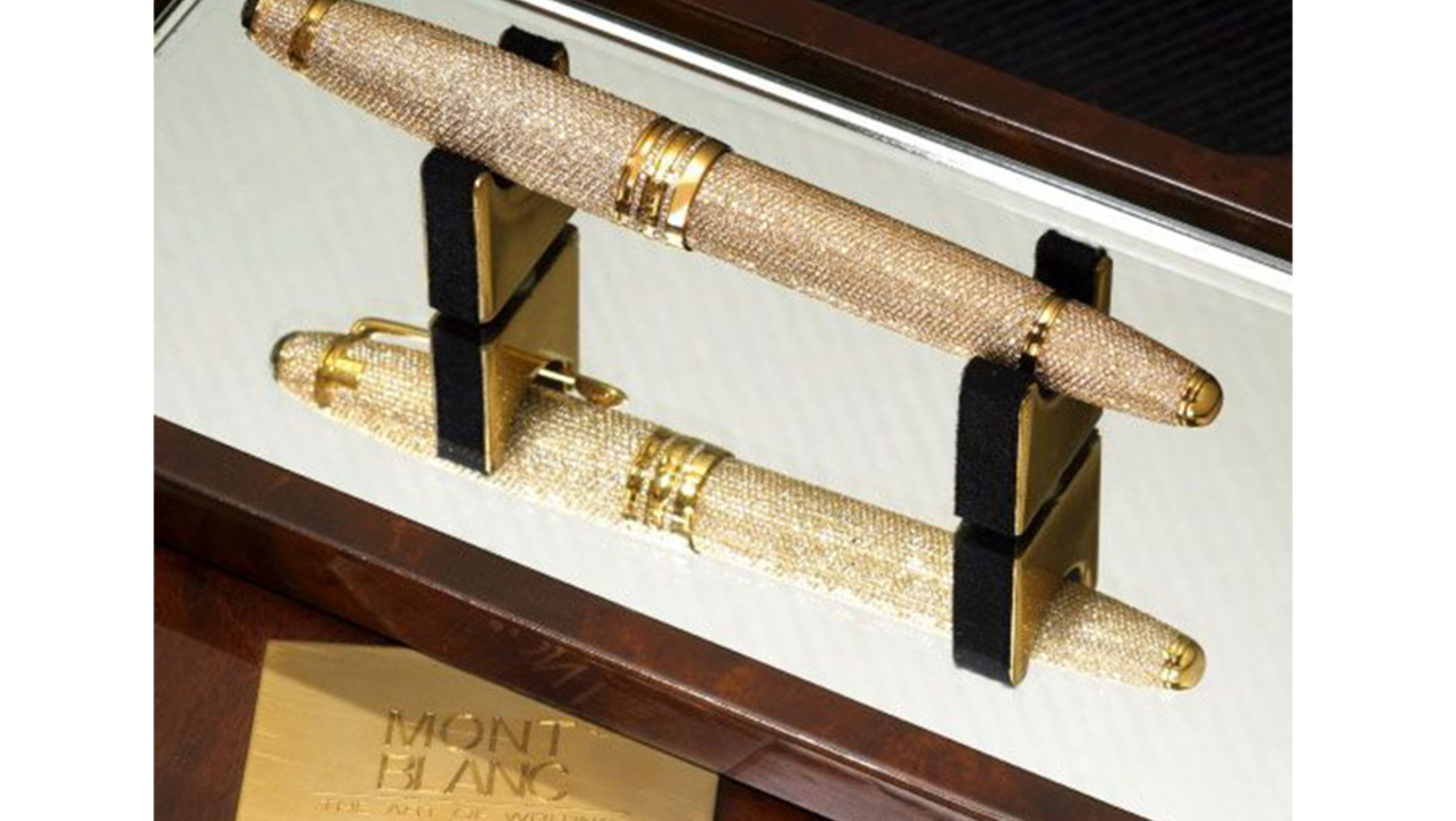 Image source: Luxury Launches
6. Montblanc – Limited Edition Boheme Papillon Pen (€205,329)
Shapes of butterflies and plants, formed in gold and studded in diamonds, fit around the sapphire casing of this pen, making a total of 1,402 diamonds and 37 sapphires. A real gem of a pen.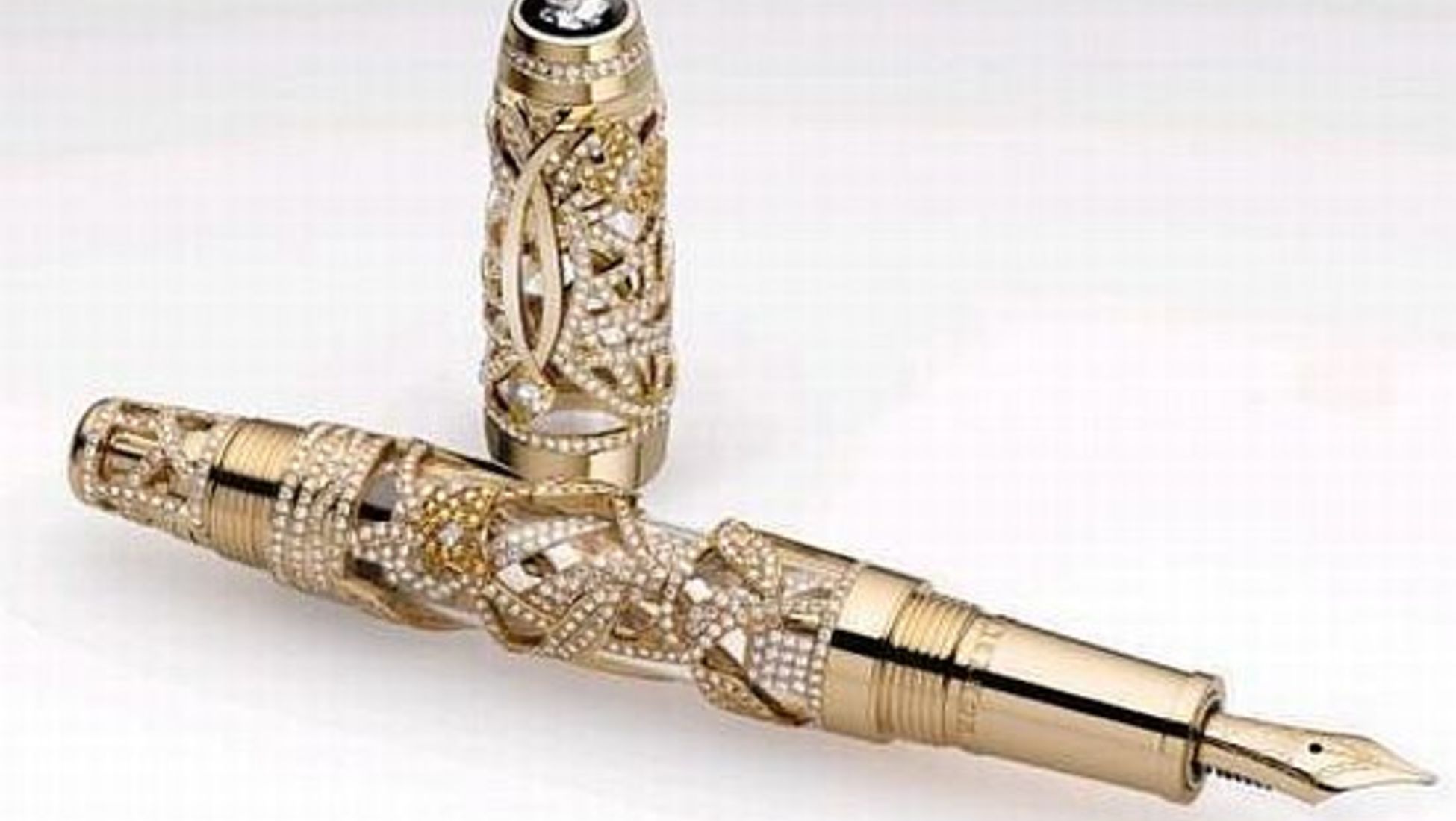 5. Montblanc – Prince Rainier III Limited Edition 81 Pen (€231,876)
In 2005, Prince Reinier III of Monaco died at the age of 81. Two years later, 81 limited edition pens were released to honour the prince. The pen has a white gold diamond motif, with 996 diamonds and 92 rubies, to represent the Grimaldi coat of arms.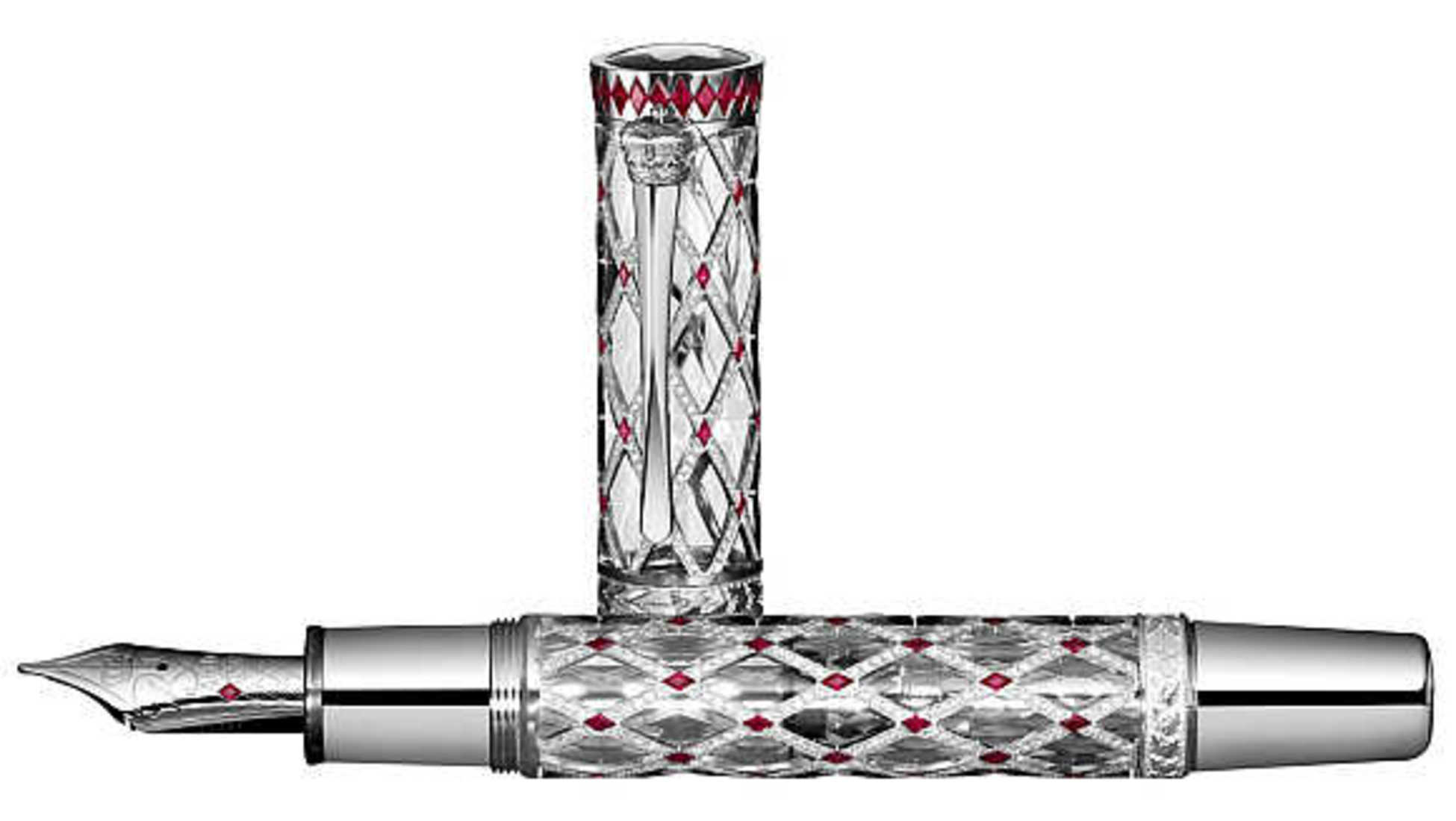 4. Caran d'Ache – La Modernista Diamonds Pen (€236,153)
La Modernista Diamonds of Caran d'Ache was designed in honour of the famous Catalan modernist architect Antonio Gaudi. The pen contains 5,072 diamonds and 100 rubies, which took the jeweller Robert Perron a staggering 6 months to complete!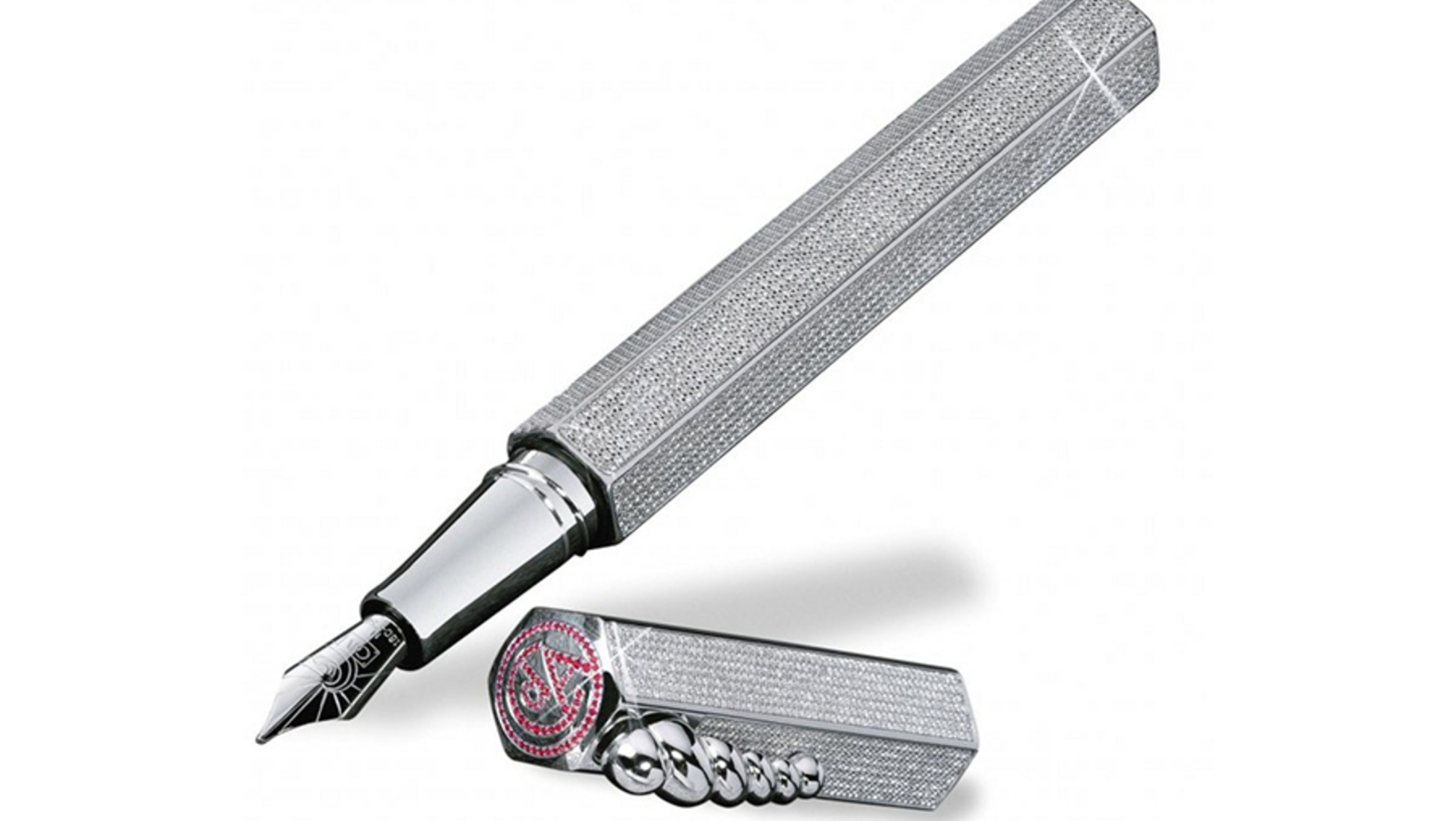 3. Montblanc – Mystery Masterpiece (€650,537)
To celebrate their 100th birthday, Montblanc teamed up with jewellers Van Cleef & Arpels, who were also celebrating their anniversary. The name refers to Van Cleef & Arpels' popular method of setting jewels, known as 'the mystery setting' combined with Montblanc's famous 'Mesisterstük' pen, which in English is translated to 'Masterpiece'. No doubt about it, this winning combination certainly produced a true masterpiece of a pen.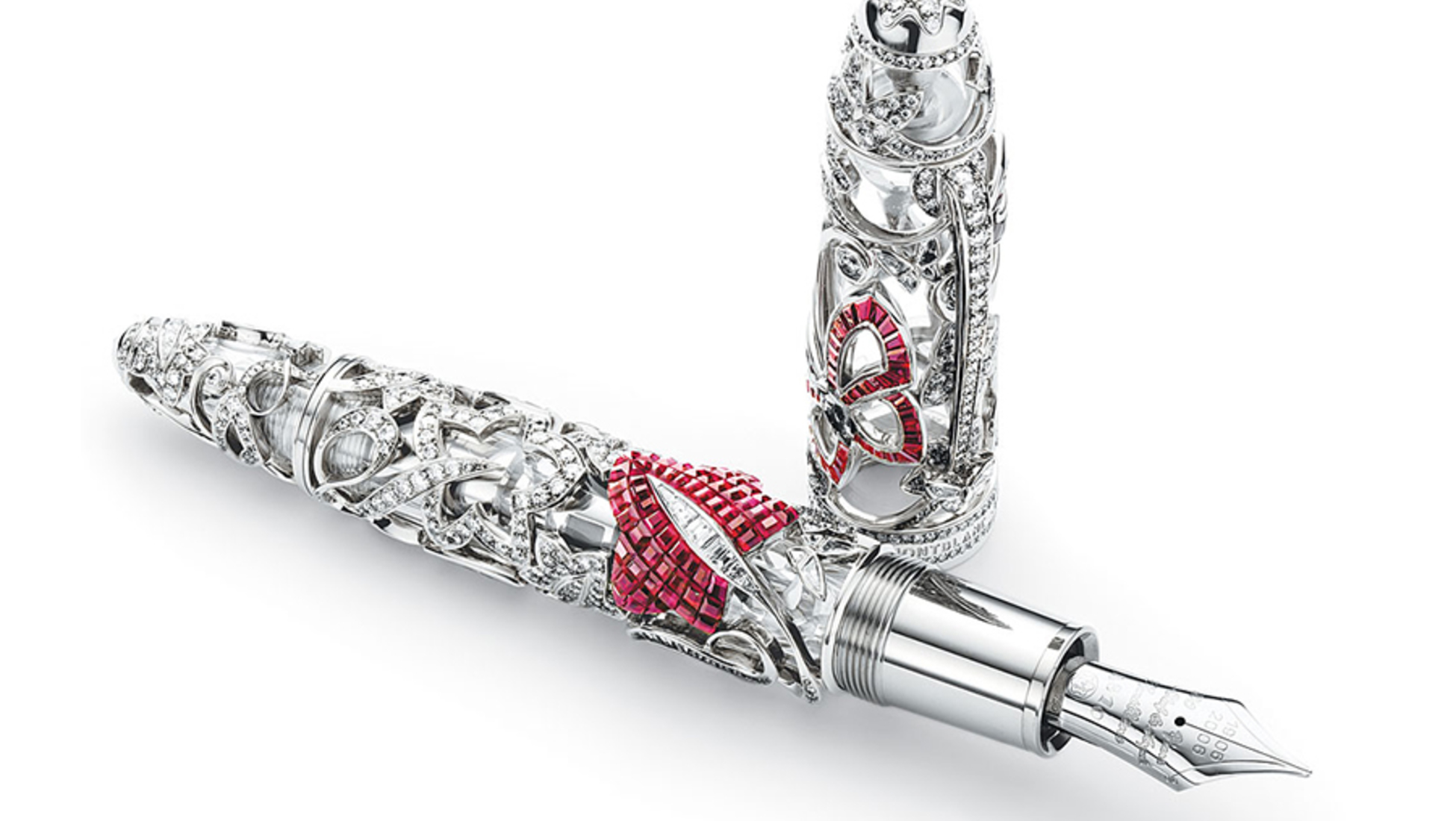 2. Aurora – The Aurora Diamante (€1,310,520)
Only one lucky (and very rich) person can get an Aurora Diamante each year, and as a result they get to personalise it with their coat of arms, signature or portrait. It contains more than 30 carats of diamonds, including one large cabochon diamond.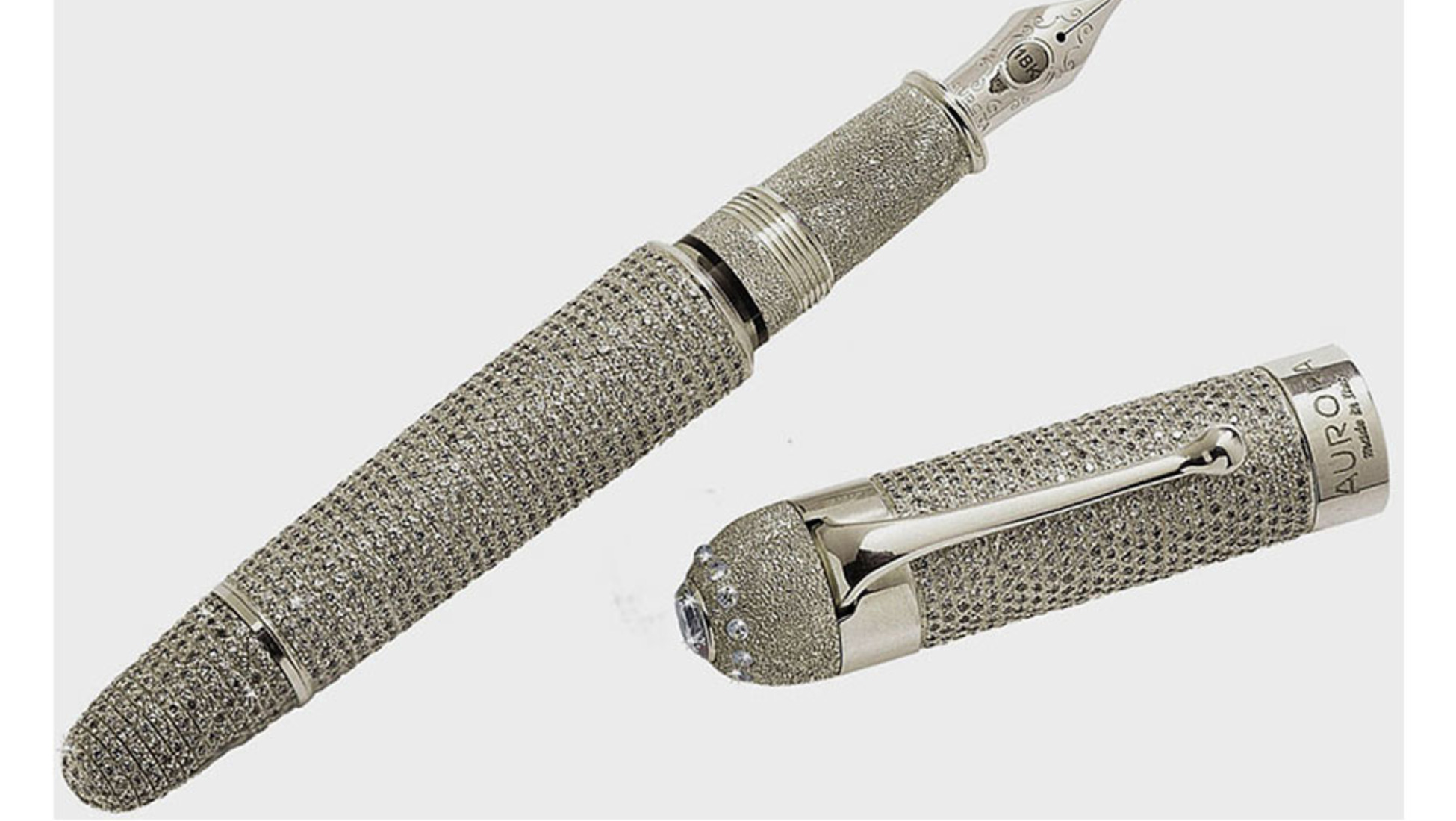 1. Tibaldi – Fulgor Nocturnus (€7,129,172)
Tibaldi made only one copy of this pen, designed using the 'Divine Proportion of Phi' as used in some of the world's greatest masterpieces from the Pyramids to Michelangelo's 'The Creation of Adam'. In 2010, the Fulgor Nocturnus pen was sold for more than €7 million in a charity auction.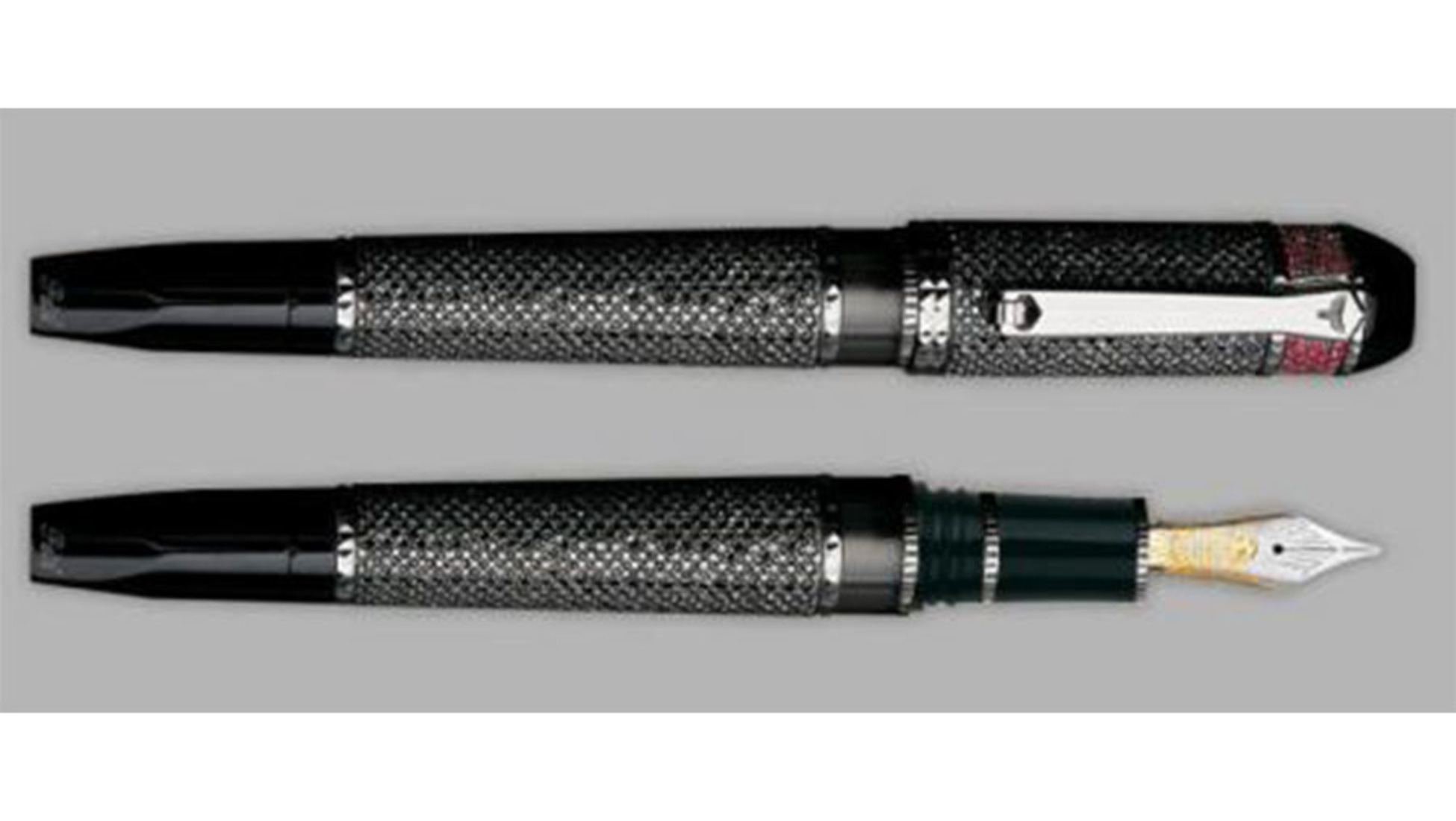 So there you have 10 of the most expensive pens to have been sold. Inspired to buy your own luxury pen? Then take a look at our Pens and Stationary auction. Or maybe you're surprised at how much luxury pens can sell for, and have one of your own you'd like to sell? You can easily register to become a seller as start offering up your objects for auction.
You might also like these articles: