'Please Return to Tiffany & Co. New York.' This was just one of Tiffany's great legacies and is just one of the reasons Tiffany & Co. is the legendary jewellery makers it is today. The idea behind this collection was that if the owner was ever to be separated from their Tiffany bracelet, Tiffany rings or other Tiffany jewellery, they could be reunited at the corner of 5th Avenue and 57th Street in New York. The little details and the universal appeal of Tiffany jewellery really excite our in-house jewellery expert, Ted Coert. After earning his degree in gemology in London, he headed into the high-end jewellery industry which eventually led him to Catawiki. There's nobody better than Ted to introduce our new regular Tiffany & Co. Jewellery auction and to explain why Tiffany jewellery can appeal to everyone. Read on to find out what makes Tiffany jewellery so special and what you can expect in our upcoming auctions according to Ted.
The Tiffany Story
There is absolutely not a more important jewellery company from the United States than Tiffany & Co. Since their founding in 1837, they set the standards in the US for silver, platinum and of course quality. By using materials like silver and gold, together with marvellous gemstones - some of them even named after Tiffany - the company has been a synonym for American Chique for years. Famous gemologists like Kunz (who discovered the pink gemstone Kunzite) and designers like Italian-born Elsa Peretti and Paloma Picasso, daughter of Pablo Picasso, were all appointed by the firm to create brilliant masterpieces. Some beautiful pieces of the well-crafted jewellery they designed will be featured on our new regular Tiffany & Co. Jewellery auction.
Audrey Hepburn wore Tiffany diamonds while promoting the 1961 film 'Breakfast at Tiffany's'

Image source: 1000 Things NYC
Tiffany Jewellery is for Everyone
"As there are so many people with Tiffany pieces in their collections, and because Tiffany has always been producing for different markets, we can find great items that are unique in their own way," says Ted. Just like vintage watches, the US market was different from Europe because of taste. Thanks to Catawiki, all these areas are available to all of us from our homes. This means that no matter where you live, you can bid on exquisite Tiffany pieces that were made for specific markets at our Tiffany & Co. Jewellery auctions.
Tiffany & Co. is absolutely one of the brands that can appeal to everyone because they make beautiful pieces in both silver and gold.
"The great thing about this brand is that you can find contemporary pieces as well as vintage and antiques, which are personally my favourite items." A beautiful vintage Anemone Brooch or the animal brooches which were incredibly popular in the 70s and 80s can all be found in our Tiffany auctions. And with the selection of pieces hand-picked by our experts being updated regularly, you're sure to find a timeless treasure that will delight and dazzle.

What You Can Expect to Find at the Tiffany & Co. Jewellery Auctions
In our Tiffany & Co. Jewellery auctions, you can find Tiffany pieces designed by famous artists like Jean Schlumberger (from 1956), Elsa Peretti (From 1974) and Paloma Picasso (from 1980). Here we have a look at some great pieces which sold on our Jewellery auctions in the past to get you excited about the upcoming Tiffany auctions.
Tiffany & Co. Olive Leaf Cuff Bracelet
This exquisite and intricate bracelet designed by Paloma Picasso for Tiffany & Co. was inspired by the olive branch, a symbol of peace and abundance. Set in 18K rose gold, it is a truly striking piece. Fully hallmarked and signed by Paloma Picasso. Here's what Paloma had to say about her design: "The jewellery I've created pays tribute both to gardens as a refuge of peace and tranquility, and the dove's noble mission of carrying an olive branch."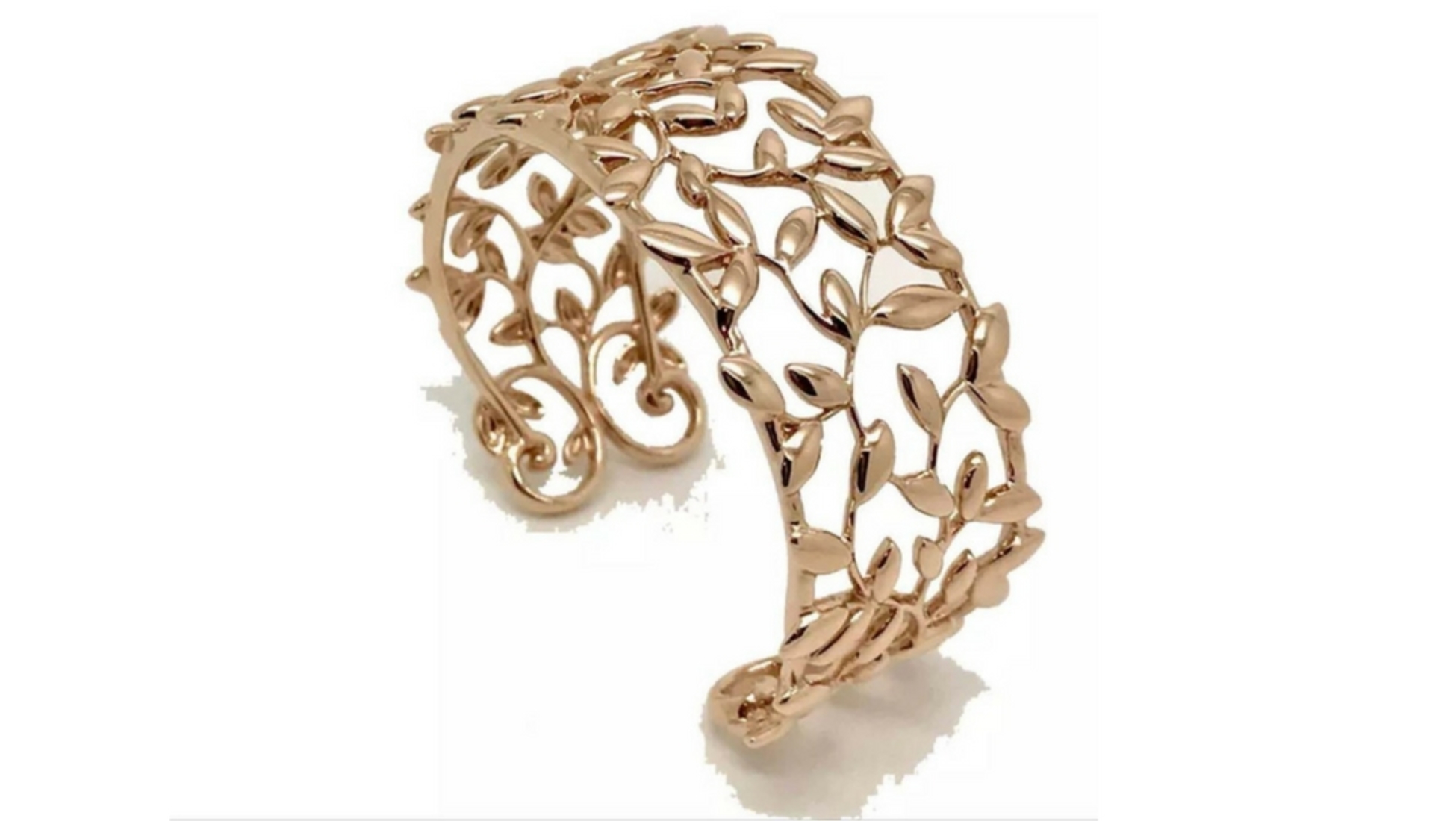 This Tiffany & Co. olive leaf cuff bracelet sold at our Tiffany & Co. Jewellery auction in early 2018
18K Gold Cufflinks from 1995
Tiffany jewellery isn't just for women either. You'll find exquisite accessories for men in our auctions as well. Take for example this set of 18K yellow gold ridged cufflinks that came up for auction. A timeless, elegant addition to add to any outfit and ensure that you're dressed in your best.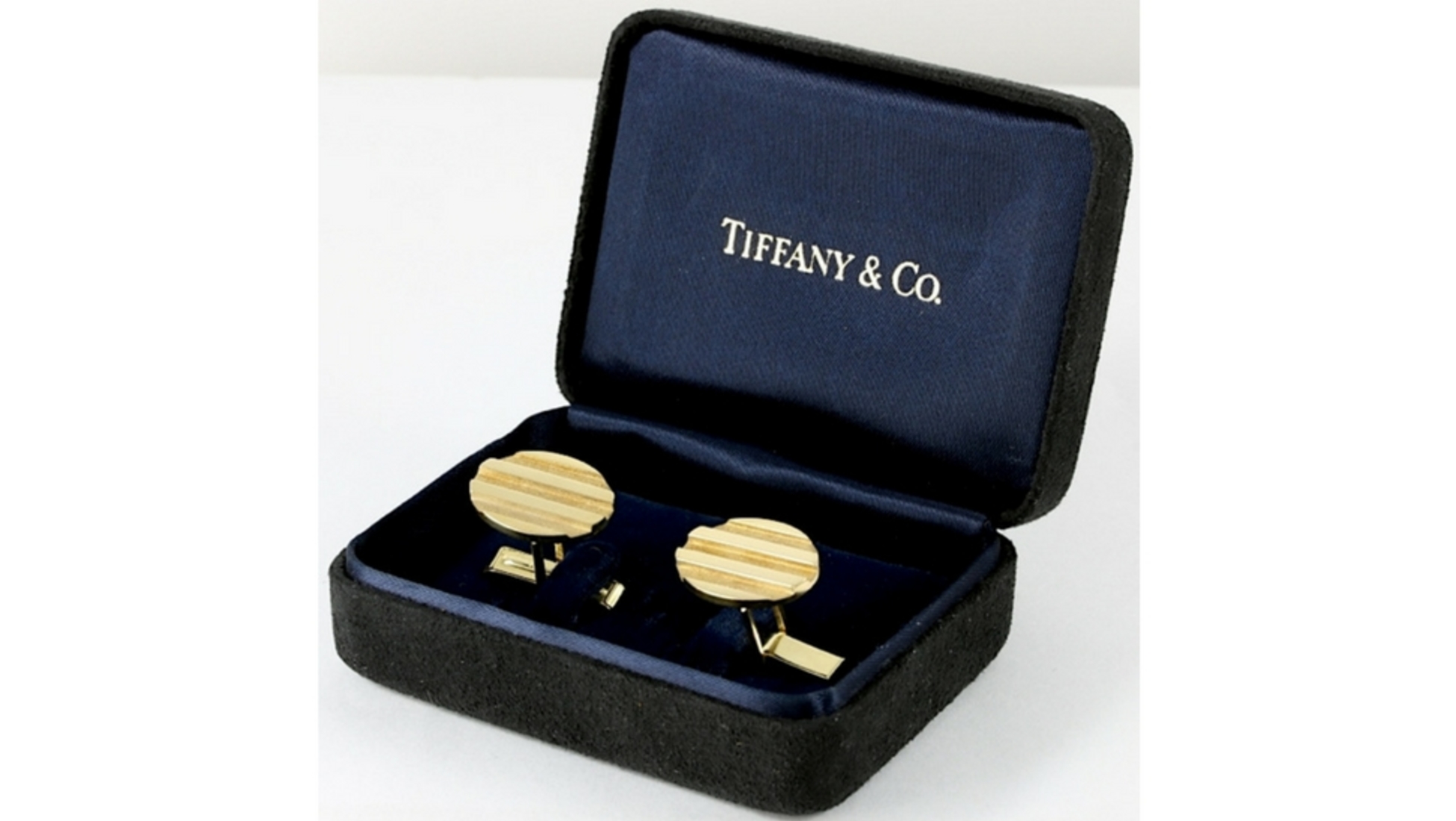 These 18K gold cufflinks from 1995 sold at our Tiffany & Co. Jewellery auction in 2016
Can you picture yourself decorated with Tiffany? Whatever your style, whatever your age, there's a Tiffany bracelet, Tiffany ring or other piece of Tiffany jewellery out there for you. Vintage or modern, you'll find it all at our new regular Tiffany & Co. Jewellery auctions. And if you need to make space in your jewellery box, Ted and his team of jewellery experts would love to see what Tiffany jewellery you have and to help you sell it online. Offer your Tiffany jewellery up for auction and make the most of this opportunity.

You might like these articles: