Written by Simone | 12th June 2018

Have you ever wondered what the tiny pocket above the regular pocket in your jeans is for? Well: around the late 19th century, the rise of railroading meant that keeping the precise time was crucial for railroad guards. So crucial that Levi Strauss, the founding father of jeans, incorporated a tiny pocket into the main front pockets of his jeans solely for the protection of the pocket watch, which is still a part of many jeans to this day. Whether you want a pocket watch for everyday use or as an investment, here are some tips to help you pick the perfect pocket watch.
The first steps
Before you decide which pocket watch you want to buy, take a second to think about why you want the watch. If you just want one because you think they're aesthetically pleasing and want to look good, then this should guide your buying process. If you want to buy one that holds or increases its value, then there are a few more factors to consider.
John Halsted London Pocket Watch c. 1700 - Sold at Catawiki for €4,598

Vintage or fashionable
For serious collectors and investors, the pocket watch will not be considered vintage unless it holds 75 years of ticking to its name. Many even argue that the timepiece must no longer be in production for it to be vintage. As often happens with vintage objects, if all of its original parts are still intact, then it will have higher value and be a much more solid investment in the long term. If a vintage Rolex pocket watch catches your eye, then make sure to look for the original crystal glass that covers the watch's face. Sapphire crystal was introduced in the 1980s and therefore this material should not be present on a vintage Rolex.
Mechanical or quartz
Before you buy a watch, it's important to decide whether you want a mechanical or a quartz pocket watch. Quartz watches are a lot more practical if you're planning to use your pocket watch on a regular basis. The battery can last as long as two years and are available in all sorts of variations. Mechanical watches, also known as 'wind-up watches' have a more classical appearance. Operating this watch is slightly more technical though.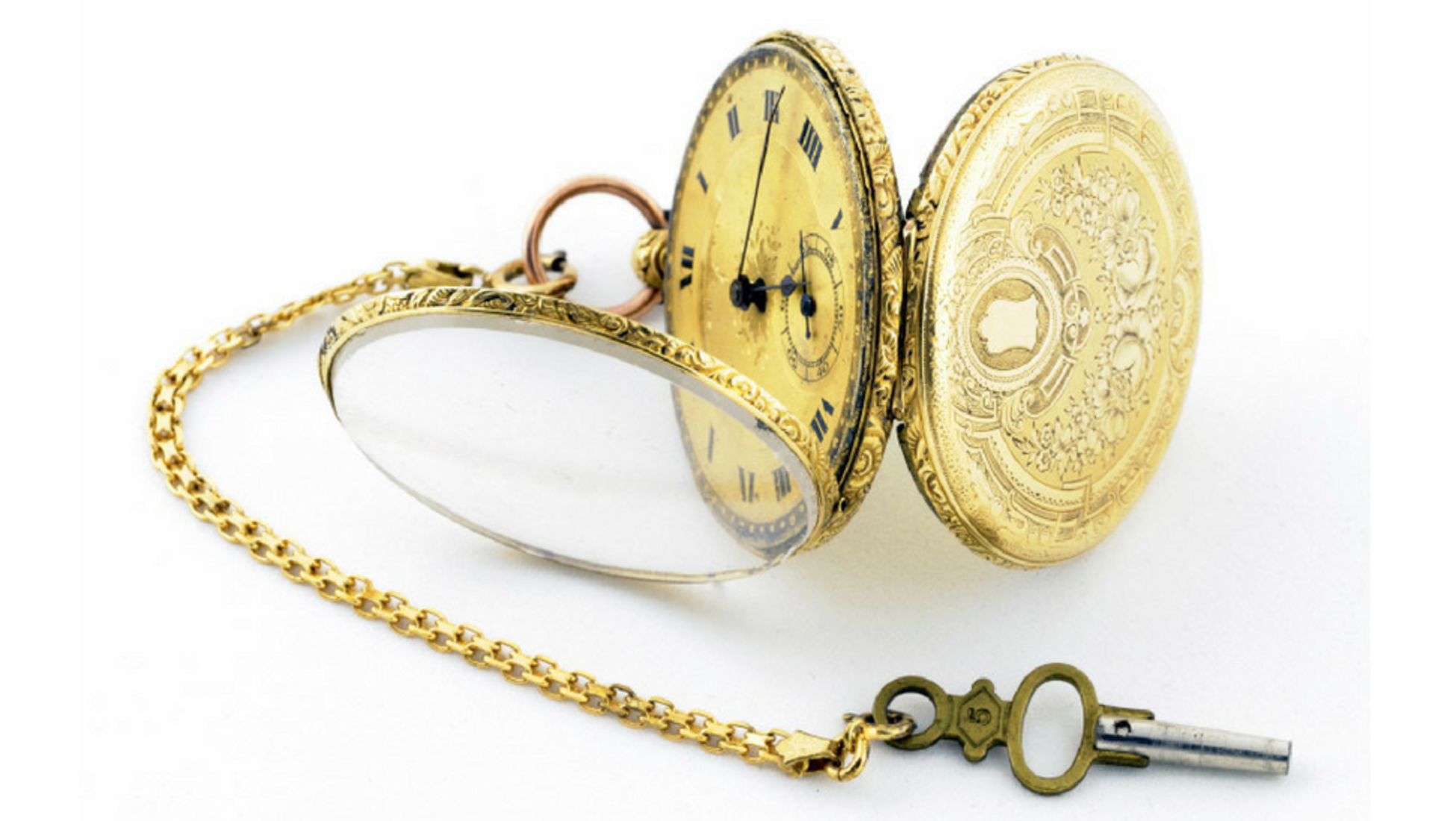 Lepine double half hunter pocket watch. Made in Switzerland ca. 1890.
Condition
The dial is the money maker of any timepiece, so always look at it in depth for blemishes and scratches. Small marks, a broken hinge or missing screws can easily be fixed, but obvious dents and missing components will prove to be a much harder and costly mission to restore. Make sure the gears are made of metal rather than plastic, as this will last much longer. Essential elements such as the bezel - the piece on the metal case that holds the crystal dial in place - should also be undamaged.
Which brand to choose
Different watchmakers use different techniques. High-end brands are always going to be worth more and retain, if not increase their value. Rolex, Vacheron Constantin, Omega, IWC and Patek Philippe are some serious watchmakers that are worth your time. They might be more expensive, but you can be a little more certain to get more than your money's worth.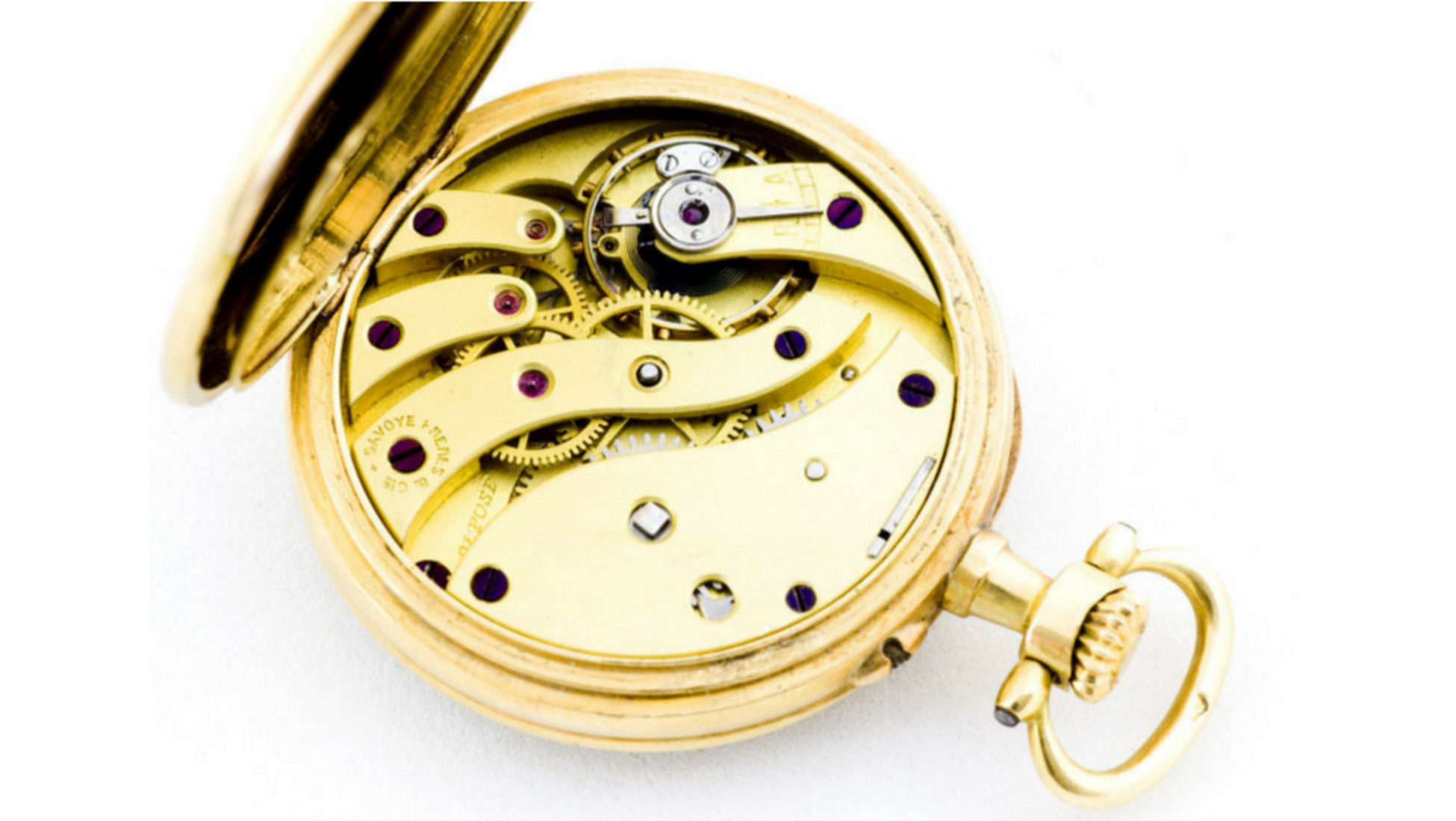 The mechanics of a SAVOYE FRERES & Co. pocket watch ca. 1900.

Types of watches
There are a few styles of pocket watch to choose from: open-face, full hunter, half hunter, double hunter or double half hunter. Hunter styles have a circular metal cover that closes over the watch's crystal and dial. Open-face styles on the other hand do not have this feature. Below you'll find a short description of each individual style. If you want to go for a minimalist style, open-faced is the best choice. If you'd like something a little more decorated, then hunter styles might be more suited to your needs.
Open-face pocket watch
A pocket watch without a cover. These days this style is quite common, but in the 18th and 19th centuries it wasn't, as the watch would be damaged easily.
Half hunter pocket watch
A Pocket watch with a cover that features a hole or crystal, which allow the user to read the time without having to open the watch.
Full hunter pocket watch
A Pocket watch with full cover, often engraved on the outside.
Double hunter pocket watch
A Pocket watch with a full cover on both sides, which allowed the user to not only see the time, but also the mechanical movements at the back of the pocket watch.
Double half hunter pocket watch
Pocket watch with a half cover on both sides of the watch, which allows the user to not only see the time, but also the mechanical movements at the back of the pocket watch. The front cover has a hole or crystal so the time can be read without having to open the watch.
____________________
Visit our weekly Pocket Watch auctions and discover the many vintage timepieces up for auction.
Discover more pocket watches | Omega | Rolex
You might also like these articles: